9 Best Christian Affiliate Programs in 2023 (Based on Data)
By Irene Lopez · Updated Jan 16, 2023
Christian-themed products are experiencing a resurgence notwithstanding a pandemic and the economic downturn, with Bibles and books constituting more than 50% of total sales.
If you align with the Christian faith or have an interest in religious/spiritual themes, it's as good a time as any to explore the world of Christian affiliate programs.
Buyers of faith-based products are often ardent loyalists and repeat customers. And as an affiliate marketer or customer who promotes faith-based products, it's common to see yourself as part of a much bigger mission. Christian affiliate programs are a great way to serve the community while making some income on the side.
With that in mind, we've handpicked some of the best Christian affiliate programs to make it easy for you to pick and choose the right program for your needs. Some of the programs we've listed are 'purely' Christian in nature, while others offer products from other religious/spiritual disciplines as well to cater to more secular website owners.
How we compiled this list
To compile this list, we analyzed 25 of the most popular Christian and Bible blogs to discover which affiliate programs they promoted most often, using our Affiliate Link Scanner.
We then categorized them into the most linked-to affiliate programs on top blogs in the Christian niche. After all, if a blog or website links to the same merchant hundreds of times, there's a good chance it's because it converts.
The result is a data-backed list of Christian affiliate programs based on what's working for top sites in the niche. All based on publicly available data.
Christian Affiliate Programs
Within the Christian niche, there are affiliate programs for buying Bibles, Christian jewelry, home decor, and supplies for operating churches.
Here are the best Christian affiliate programs to promote in 2023:
ChristianBook.com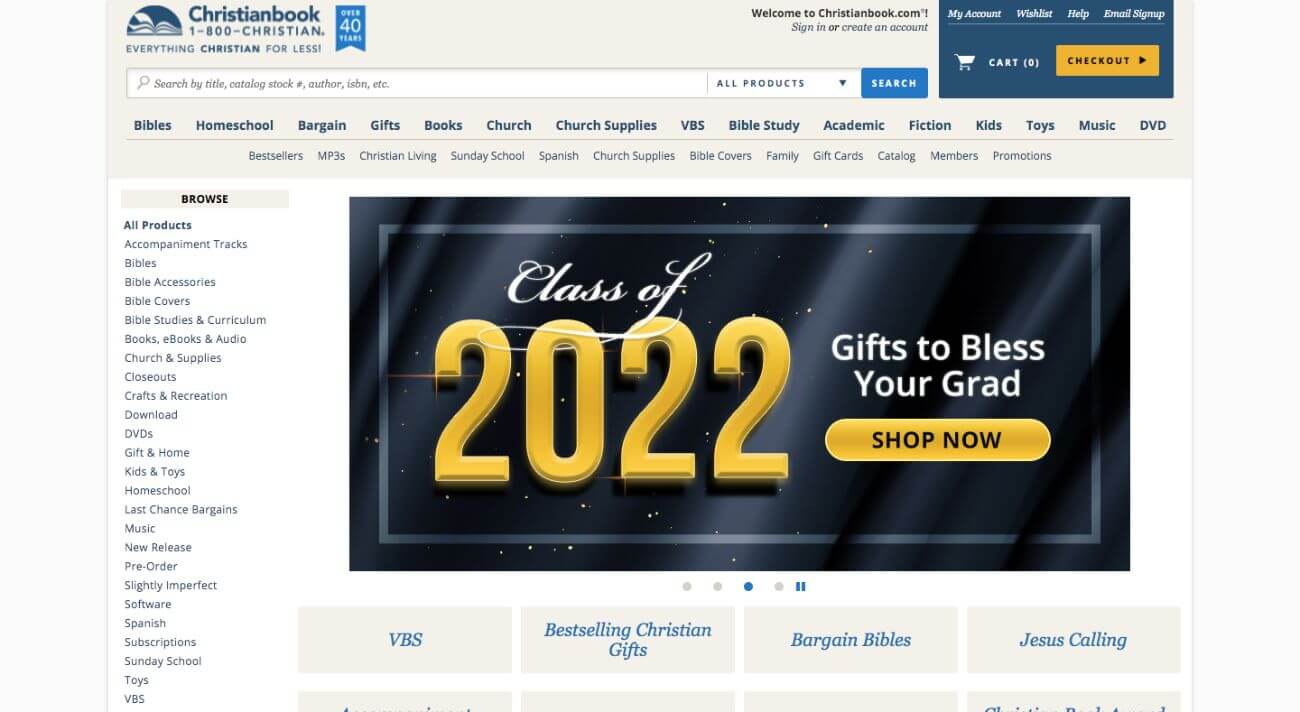 Program name: ChristianBook.com Affiliate Program
Network / Software: Direct
Commission: 8% All Physical Products, 5% Digital Downloads and Media Access
Cookie duration: Not listed
Markets: Global
Alternatives: BibleStore.com at 8%
A veteran in the industry, ChristianBook.com was started as early as 1978 and comes from very humble beginnings. Two brothers, a 19-year-old Bible college freshman and a 14-year-old high-schooler, sold discounted academic titles to pastors and college students from their parents' home in the initial days of their enterprise.
As the orders grew, so did the makeshift store. Today, ChristianBook.com has an impressive staff count of more than 600 employees and a selection of over 500,000 Christian products in a 370,000-square-foot facility. Which makes this online store a no-brainer for affiliates looking for a Christian-themed vendor that's reputable and has an established brand presence.
In terms of the features of the actual affiliate program, ChristianBook.com does check off all the right boxes – dedicated staff, easy-to-upload graphics and links, a large product selection, and frequent promotions. Expect to earn in the range of 5 to 8% commissions depending on whether its a digital download, media access, or a physical product.
Bear in mind, though, that the store does have a few requirements that would-be-affiliates have to meet before they can join the program:
The affiliate must have a functional, reviewable, well designed, English-language website.
The affiliate must be able to use HTML or contract a service for that purpose. HTML incidentally is code used to structure a website and its contents.
The affiliate must be able to generate a minimum of $313 in sales annually.
Book Depository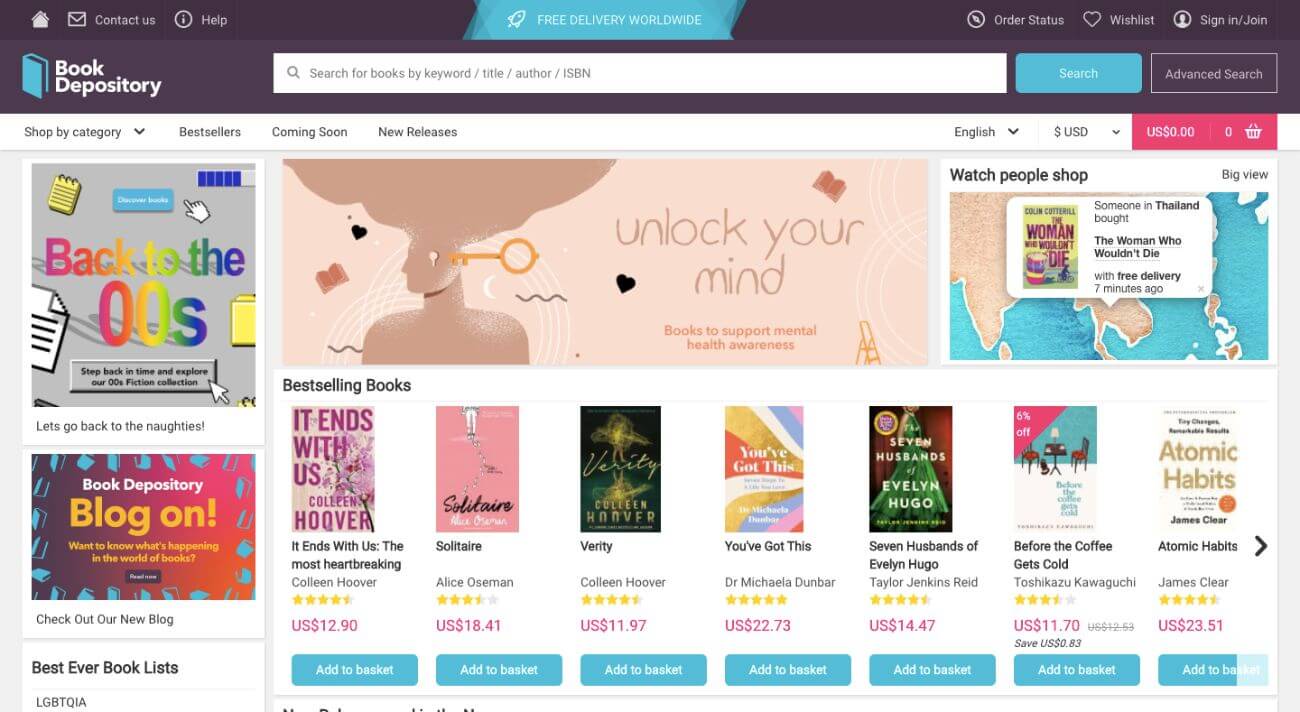 Program name: Book Depository Affiliate Program
Network / Software: Awin, FlexOffers, Commission Factory, Skimlinks, AdmitAd
Commission: 3-11% depending on the type of customer (Awin), 0.8-8.8% depending on the type of customer and service area (FlexOffers), 5% (Commission Factory), 1-5% (Skimlinks), (AdmitAd)
Cookie duration: 30 days (Awin, FlexOffers, Commission Factory, AdmitAd), Not listed (Skimlinks)
Markets: Global (Awin), Global (FlexOffers), AS, AU (Commission Factory), Global (Skimlinks), IL (AdmitAd)
The aptly titled Book Depository is a front-runner for a wide variety of books. Hugely popular with booklovers, the site offers an impressive selection of more than 120 million titles and delivers to over 130 countries worldwide. The best part — no delivery fee at all in line with the company's vision of "All Books Available to All."
The Book Depository affiliate program gives you the potential to earn up to 11% commissions depending on the networking platform, the type of customer, and the service area. The company also shares commissions on pre-orders. Aside from the physical books for adults, the store also offers audiobooks, children's books, digital downloads, stationery, toys, and maps.
Precious Moments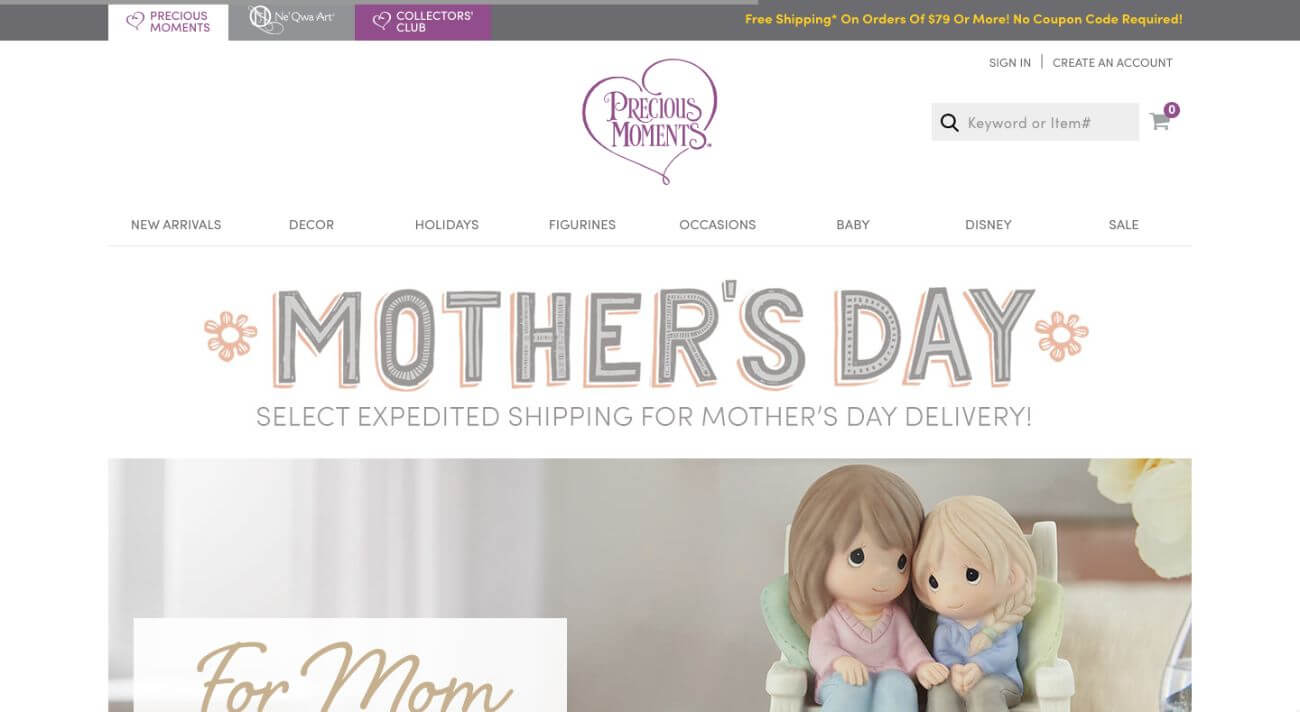 Program name: Precious Moments Affiliate Program
Network / Software: AvantLink, Skimlinks, ShareASale, FlexOffers, Sovrn
Commission: 10% (AvantLink), 10% (Skimlinks), 10% sale commission, 4% Deal Commissions (available via select Deal Creatives (ShareASale), 1.6% (FlexOffers), (Sovrn)
Cookie duration: 45 days (AvantLink), Not listed (Skimlinks, Sovrn), 60 days (ShareASale, FlexOffers)
Markets: US
Although Precious Moments offers gifts and collectibles, they are perhaps best-known and most loved for their beautiful, hand-painted porcelain bisque figurines featuring children. So devoted are loyalists that the company formed their own Precious Moments Collectors' Club in 1981. The club currently has over 400,000 members worldwide.
If you're looking to become an affiliate for a gift store that is redolent of some good old-fashioned warmth and bonhomie, Precious Moments could be the ideal choice for you. The product line was recently expanded to include baby ware in the form of clothes, books, nursery decor, and eco-friendly mealtime sets. Adults can choose from items for home entertaining, serveware, as well as home decor.
Although the site is not exclusively Christian, you can still expect to find many attractive Christian-themed gifts.
On offer with the affiliate program is a base commission of 10% with a coupon commission of 2%. Published cookie duration timelines vary from 45 on AvantLink to 60 days on ShareASale and FlexOffers. You will have access to banners and text links, and if you're an advanced affiliate marketer, you can also use the product feed option to display Precious Moments products on your website.
Books A Million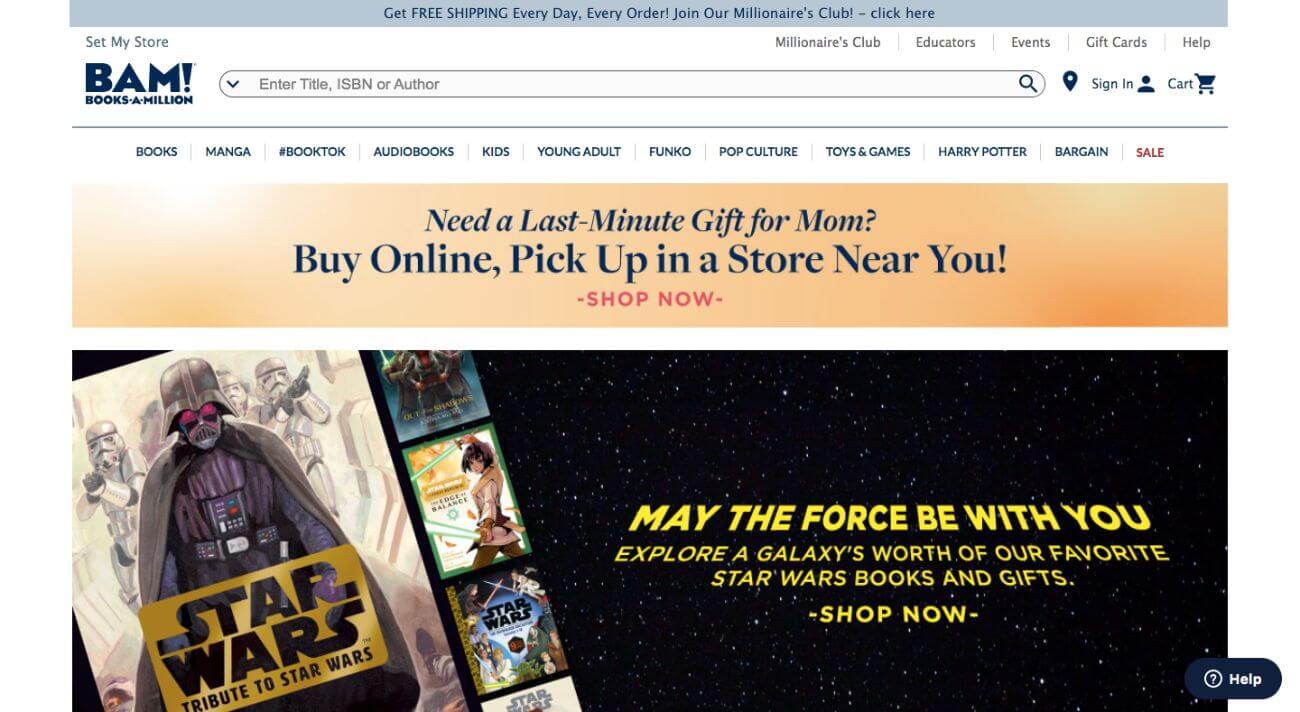 Program name: Books A Million Affiliate Program
Network / Software: FlexOffers, Yazing, CJ Affiliate, Sovrn
Commission: 4% (FlexOffers), 3% (Yazing), 3% (CJ Affiliate), (Sovrn)
Cookie duration: 30 days (FlexOffers, CJ Affiliate), Not listed (Yazing, Sovrn)
Markets: Global (FlexOffers), Global (Yazing), CA, US (CJ Affiliate), Global (Sovrn)
Headquartered in Birmingham, Alabama, Books-A-Million, or BAM! for short is one of the largest bookstore chains in the US, with 260 stores nationwide. Aside from books, the store also sells magazines, manga, collectibles, toys, and games. The business was founded in 1917 and has built up an enviable reputation for value in terms of affordable pricing and excellent customer service since then.
Happily, the Books-A-Million affiliate program is open to all affiliates and business owners regardless of size or impact. Simply sign up to the program for free on any of the affiliate platforms, and you're good to go. You earn up to 5% in commissions according to their website for all sales with a cookie duration of 30 days, although the commissions can vary on affiliate platforms.
BibleStore.com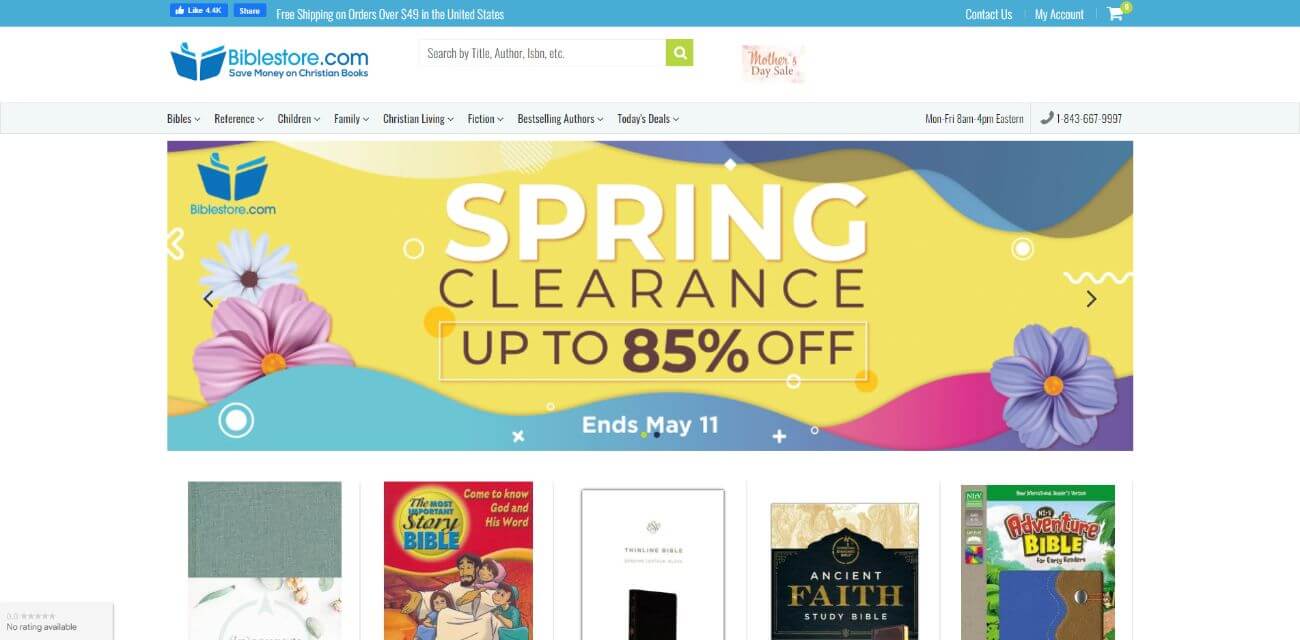 Biblestore is an online Christian bookstore specializing in low-priced Bibles and books, including children's books and fiction. The store reportedly ships a book every minute and offers a 100% satisfaction guarantee on all its products. The store also offers free shipping on orders above $49 within the US.
Biblestore currently offers an affiliate program through ShareASale and Sovrn with a potential commission rate of 8%.
Apples of Gold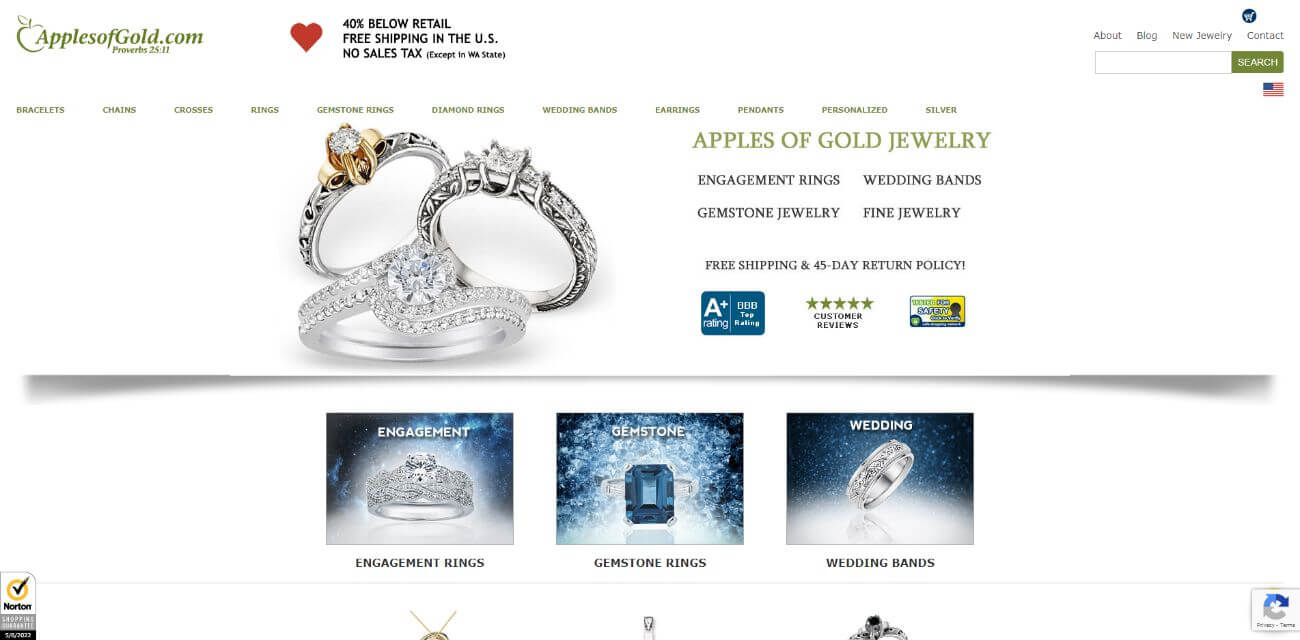 ApplesofGold.com is an online store for all kinds of fine jewelry pieces, including Christian rings and cross necklaces in gold, sterling silver, platinum, and alternative metals like titanium. The store's name, according to the blurb on the company website, was inspired by Proverbs 25:11 from the Bible — "A word fitly spoken is like apples of gold, in pictures of silver".
ApplesofGold.com lists over 10,000 unique designs on the website featuring popular staples as well as one-of-a-kind and hard-to-find statement pieces. Other USPs include pricing that's a solid 30 to 40% lower than traditional retail for specific items, a commitment to moral and ethical trade practices, and high service excellence.
What's in it for you?
Attractive commissions in the range of 6 to 10%.Coupon sites can earn between 1.5 and 3% with a potential to earn standard rates. The average sale on the website is $500.
A product feed with over 5000 products.
A 30 to 55-day cookie duration.
User-friendly banners and text links.
The company takes care of everything else, including billing, order management, shipping, as well as customer care.
ChurchSource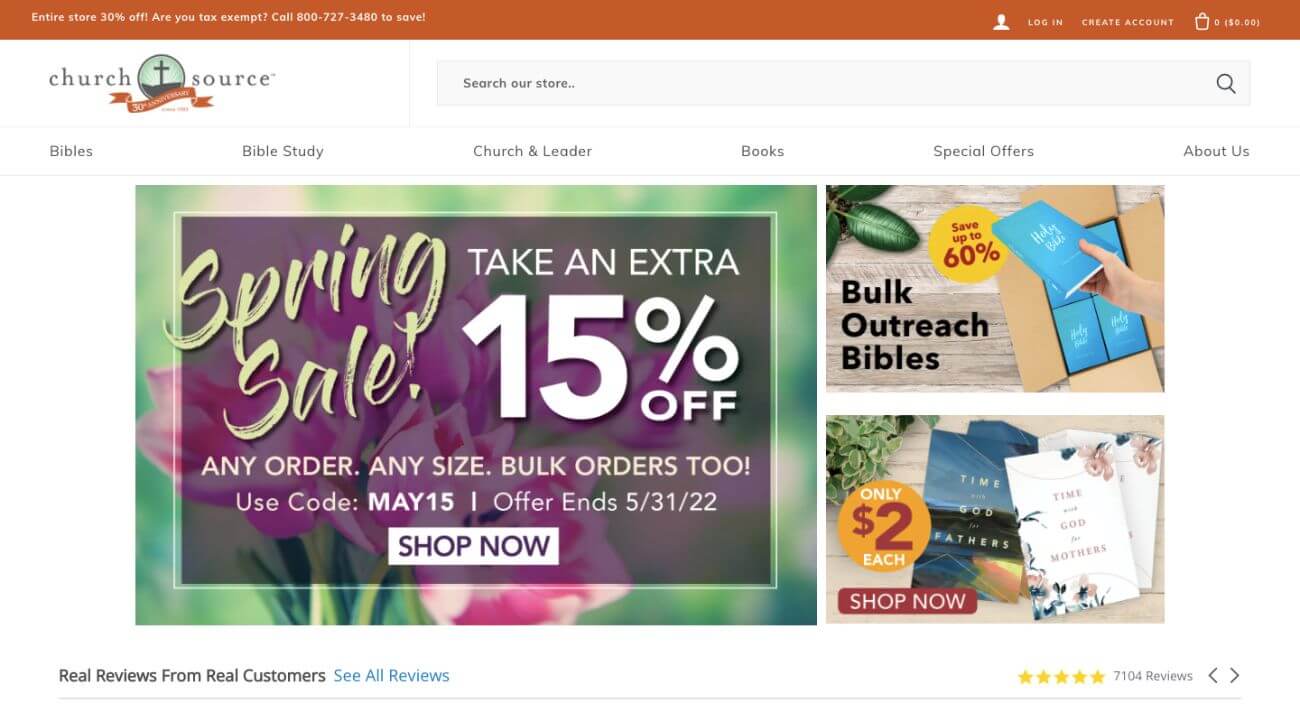 Like the name suggests, ChurchSource is a veritable treasure trove of quality resources for pastors and church leaders. The resources are handpicked by a team of ministry experts and backed by a 100% satisfaction guarantee.
You can find the most widely read Bible translations on ChurchSource as well as impressive and theologically solid reference resources for Bible study, sermon preparation, discipleship training, and personal enrichment.
Affiliates can expect to offer discounts in the range of 30 to 60% for customers, in addition to offering an exclusive collection of resources not available elsewhere. As part of the affiliate program, you can also offer free shipping for purchases above US$35. Sign up for the affiliate program via the ChurchSource website or through ShareASale.
DaySpring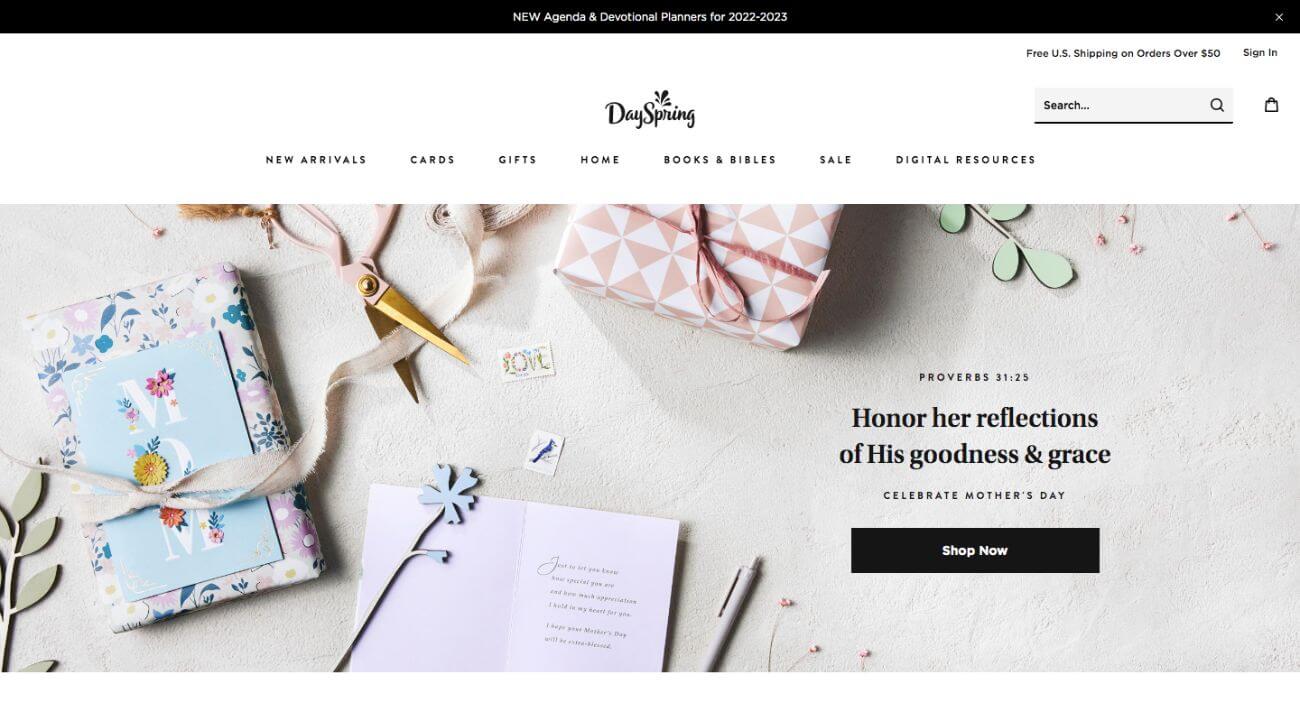 Program name: DaySpring Affiliate Program
Network / Software: FlexOffers, CJ Affiliate, Yazing, Skimlinks, Sovrn
Commission: 5% (FlexOffers), 13% (CJ Affiliate), 6% (Yazing), 6% (Skimlinks), (Sovrn)
Cookie duration: 30 days (FlexOffers, CJ Affiliate), Not listed (Yazing, Skimlinks, Sovrn)
Markets: Global
DaySpring was started in 1971 by two pastors in Southern California who wanted to make Christ more known and relevant to the outside world. The store aims to provide resources that are biblically true, spiritually relevant, and 'life-giving'.
DaySpring stocks a varied collection of Christian-themed items, including greeting cards, gifts in the form of apparel, jewelry, totes, bags, accessories, stationery, mugs and drinkware, calendars and planners, digital resources, and DayBrighteners - a selection of beautifully designed table top calendars. They are currently the largest publisher of Christian greeting cards.
DaySpring's affiliate program has many attractive features that make it appealing for faith-based affiliate marketers:
5, 6, or 11% commission rates depending on the affiliate marketing platform.
A bi-weekly newsletter that provides a sneak-peek into upcoming offers and sales promotions.
Access to banners and other creative assets and text links.
Exclusive, affiliate-only promo codes and offers together with regular incentives and bonuses.
Rewards for top-performing affiliates.
Dwell App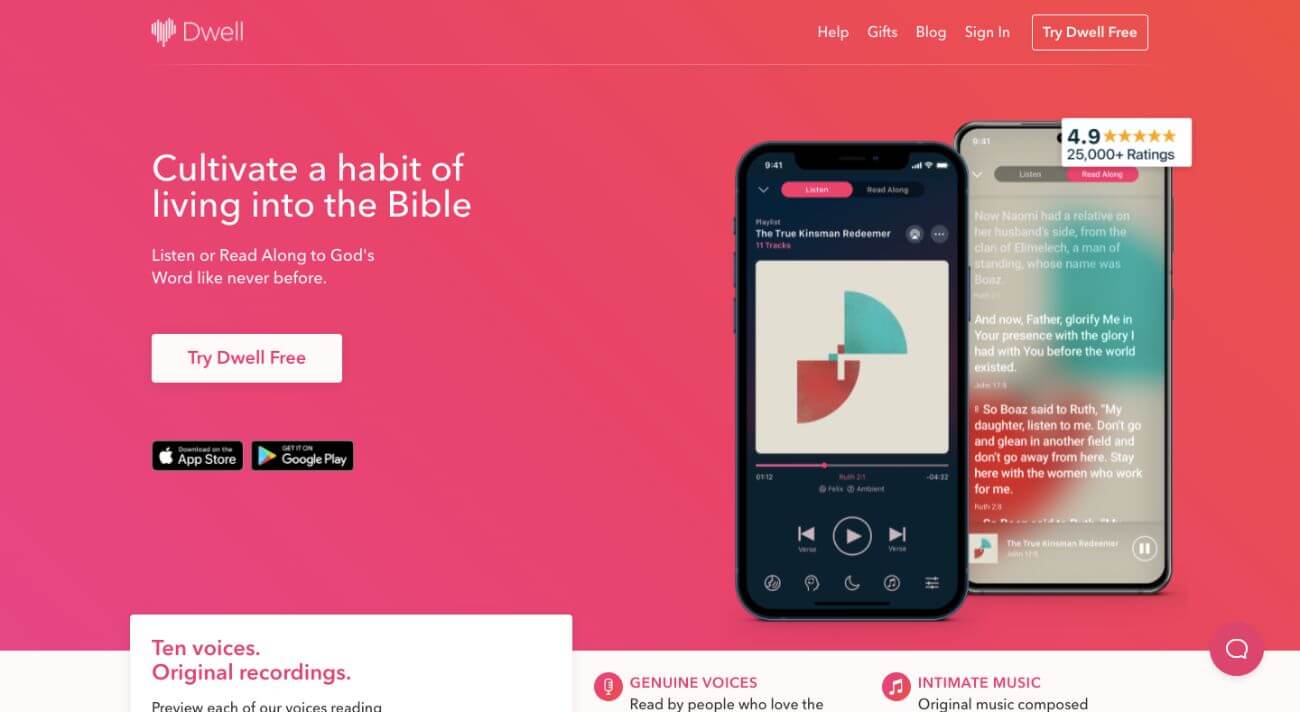 The scripture-listening app Dwell has the unique distinction of being the 4th most-funded app on Kickstarter, which should you a good indication of how marketable it is. 1 million installs and over 100,000 paid subscribers later, the app offers several exciting features that make it a value-addition for many a Christian home and listener:
A selection of 10 American and British voices to choose from.
Varied experiences in the form of themed playlists, stories, key passages, or listening plans.
Original music composed for Scripture.
Specially-commissioned artwork to illuminate Biblical content.
While Dwell is relatively hassle-free to sign up for, the company is particular that their ads be placed only on sites featuring content that's family-friendly.
Expect to earn 10% in commissions for new sign-ups and renewals to the subscription plans via Tapfiliate. Payouts are distributed the first week of the month through PayPal, and affiliates must accumulate a minimum of 100$ before they can cash out.
Are you struggling with tons of affiliate platforms and links?
If you're running website that's monetized with affiliate marketing, there's a high probability your affiliate commissions are scattered across a ton of different platforms.
This makes it hard to get an overview of what's working well, efficiently test different products and programs, let alone optimize your content for conversion.
Affilimate was designed to fix that. It helps you collect your affiliate data (clicks, commissions, and content analytics) into ONE place so you can optimize conversion and grow your revenue.
Start your free Affilimate account and get tracking today.