Video Tutorial: Boost your GetYourGuide conversions with this quick tip
By Monica Lent · Updated Mar 6, 2020
GetYourGuide's affiliate program is popular with content creators in search of travel affiliate programs, especially those writing about travel in Europe. Publishers like their competitive 8% commissions, timely payouts, and easy-to-use Partner Portal.
If you're not familiar with GetYourGuide, it's a platform where you can book travel experiences online (think food and city tours, day trips, skip-the-line tickets, etc.). In industry-speak, you'd call them an OTA, or online travel agency.
Earlier this month, GetYourGuide hosted their first ever Partner Academy. They shared their results of A/B testing a new type of landing page which resulted in higher conversion rates.
I'm going to show you how to create this type of link (called a Highlighted Search Page link) in this video tutorial, as well as written form below.
In this post you will learn:
What are highlighted search pages on GetYourGuide
How to create a highlighted search page affiliate link
When should you use a highlighted search page link
Highlighted search pages on GetYourGuide
When you build a link on GetYourGuide, you have a few different options for landing pages:
Search results landing page
City landing page
Category landing page
Attraction landing page
Activity landing page
You're probably familiar with each of these types of pages (if not, read the resource provided by GetYourGuide above).
But there's another type of landing page, which they recently found converts better than linking directly to an activity:
Highlighted search results landing page
If you haven't seen it before, it looks like this: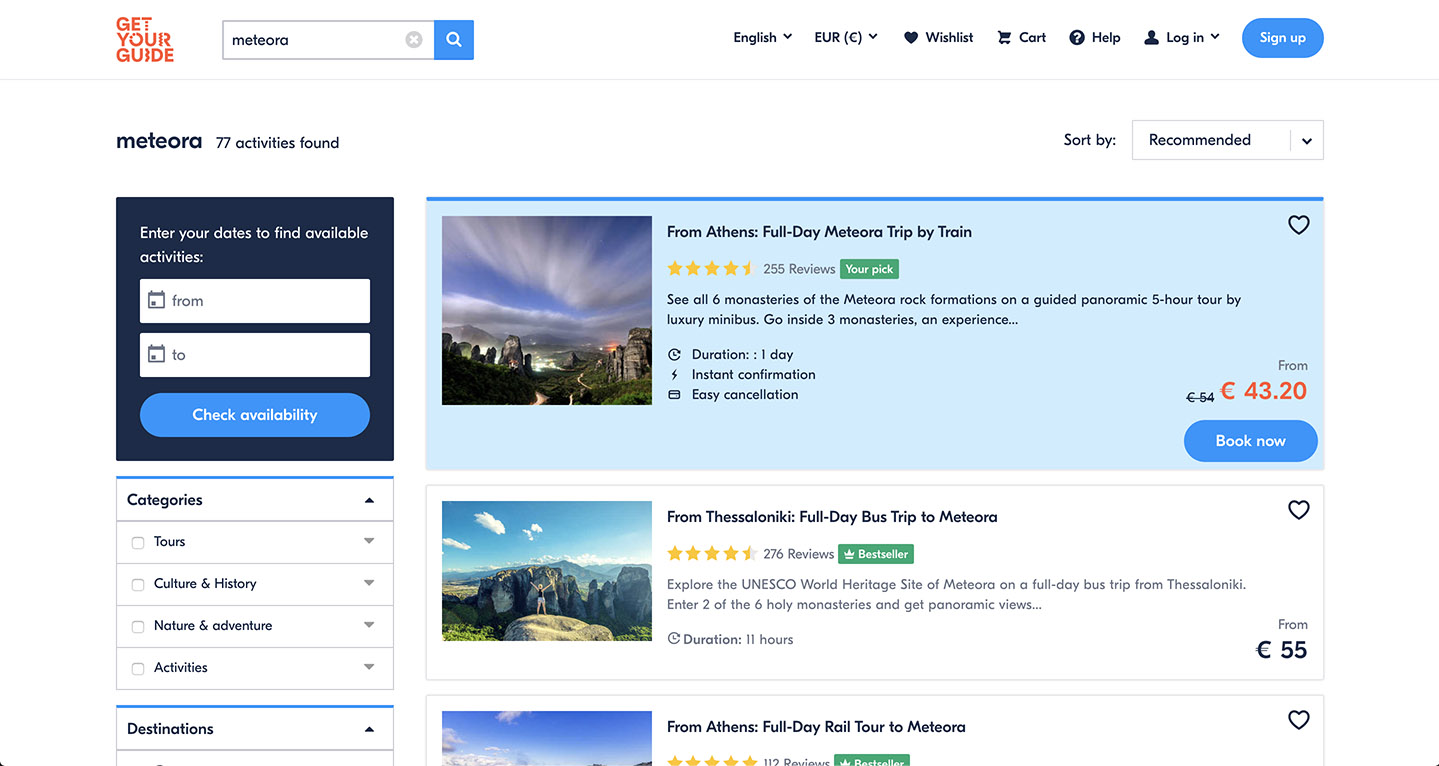 On a highlighted search results landing page, the tour or activity you recommend is at the top highlighted in blue.
But below it are other options are presented, according to whatever search query you provided. In this case, the term is "meteora" (as seen in the search box).
Let's build a link for one the tours or activities you're currently promoting on your travel site!
FYI — GetYourGuide is constantly running tests, and those may include different ways of presenting the tour that you've recommended. It could happen that you create a highlight search result link, but they choose to present the tour in a different way for that visitor. Rest assured that their goal is to get the highest converting result, just like you. Similarly, you should also be testing whether this search result page converts better or worse for you!
How to create a "Highlighted Search Page" link
In this example, we're going to build a highlighted search page URL for this tour, a day trip to Meteora from Athens.
Here's how to build a highlighted search link that shows your preferred option at the top:
Step 1. Go to the search page you want to link to
Go to GetYourGuide and type in whatever search term you want to use to pick the tours that show up below your highlighted result.
Step 2. Use the link builder to create a normal search page link
Copy the URL from your browser's address bar. Then open the Link Builder in the Partner Portal. Paste the URL to those search results into the first box.
Step 3: Add your preferred tour's tour_id to the URL
Take the URL of the tour you want to display as the "highlighted tour":
https://www.getyourguide.com/athens-l91/from-athens-full-day-meteora-trip-by-train-t88898/
At the end, you'll see a pattern like "t12345". In the example above, it's "t88898".
That five-digit number is the Tour ID.
Take the affiliate link you built in the Link Builder and add this to the end:
&et=TOUR_ID
For instance, if the tour ID is 88898. Then add &et=88898.
Here's an example of what the final link will look like:
https://www.getyourguide.com/s/?q=meteora&partner_id=1GJEF0A&cmp=best-meteora-day-tours&et=88898
When should you use the highlighted search page link?
While no specific rules were mentioned about when you should build this type of link, the main reason it performs better is because it gives people more options off the bat.
My plan is to use these kinds of links when people may need an alternative to the exact tour I recommend.
For instance, if I recommend a tour to Meteora from Athens, perhaps my reader needs to reach Meteora from Thessaloniki. In that case, using a highlighted search page makes sense, because the reader won't need to scroll to see an alternative option that suits them better.
Try it out for yourself and test it!
Want more tips on improving conversion with GetYourGuide?
Sign up for our mailing list! I'll be releasing a longer post about all the things I learned at the GetYourGuide Partner Academy earlier this month, including actionable tips for earning more on this platform.