10 Best Hosting Affiliate Programs to Promote in 2023
By Chrissy Kapralos · Updated Jan 28, 2023
Affiliates cater to businesses in different niches, from food to SaaS. Content and interests might vary, but every business needs a website, right?
As a writer, I help businesses big and small share their stories, credibility, and activities with the world. So I deliver them fresh, unique copy to stand out from competitors — but not before they find a hosting service for their website.
Here's the thing: web hosting services are universal, just like content. Indeed, the web hosting industry is set to reach $267 billion in 2028 — nearly $200 billion more in under ten years. Every single entrepreneur, small business, and Fortune-500 corporation needs one for their website. Plus, you've got all sorts of solopreneurs, mompreneurs, and digital nomads starting their own businesses after COVID.
And if they already have a web host? You can still tempt them with a cheaper or richer service, and score a fat commission.
That's where hosting affiliate programs come in. If you cater to beauty entrepreneurs, couple your foundation shout-out with a solid web host for their new website. If your audience is life coaches, they need web hosts too! Of course, specialist web development affiliates can benefit even more — we just mention the business universality to show you just how many possibilities there are.
We've rounded up the latest hosting affiliate programs and flushed out the things you need to know about each one. Let's get started.
How we compiled this list
We did some digging, and it turns out that tons of affiliates are talking about web hosting. You have finance experts at NerdWallet, business council members at Forbes, techies at PCMag, and tons more recommending the best web hosting services for various businesses.
So we took a look at which affiliate programs backed each of their affiliate links.
It starts with a quick browse of 30+ top-ranking web hosting review and comparison articles. Then, we polish our assessment off with our Affiliate Link Scanner to aggregate the data and look at where the volume is.
Mix it altogether, and what do you get? A fresh, detailed list of high-ticket hosting affiliate programs for you to peruse. Let's get started.
10 best hosting affiliate programs
Web hosting services appeal to many audiences, but some have even more suitable targets. For example, Kinsta mentions technology solution providers as an ideal customer — this helps affiliates consider similarities between their audiences and the web host's. More alignment? More conversions.
Web hosting services appeal to audiences of pretty much any niche. That's why they're worth exploring as an affiliate, especially if you have any new or aspiring business owners in your audience.
Still, a wide range of commission structures and models makes it hard to compare revenue and value for different programs. The solution? An affiliate management software like Affilimate to help you see and measure performance. We'll calculate where your money is coming from on a neat, pretty dashboard and fill in the strategy blanks you need to keep killing it as an affiliate. Try Affilimate today!
Here are the best hosting affiliate programs based on our analysis of their commissions, niches, reviews, and more.
SiteGround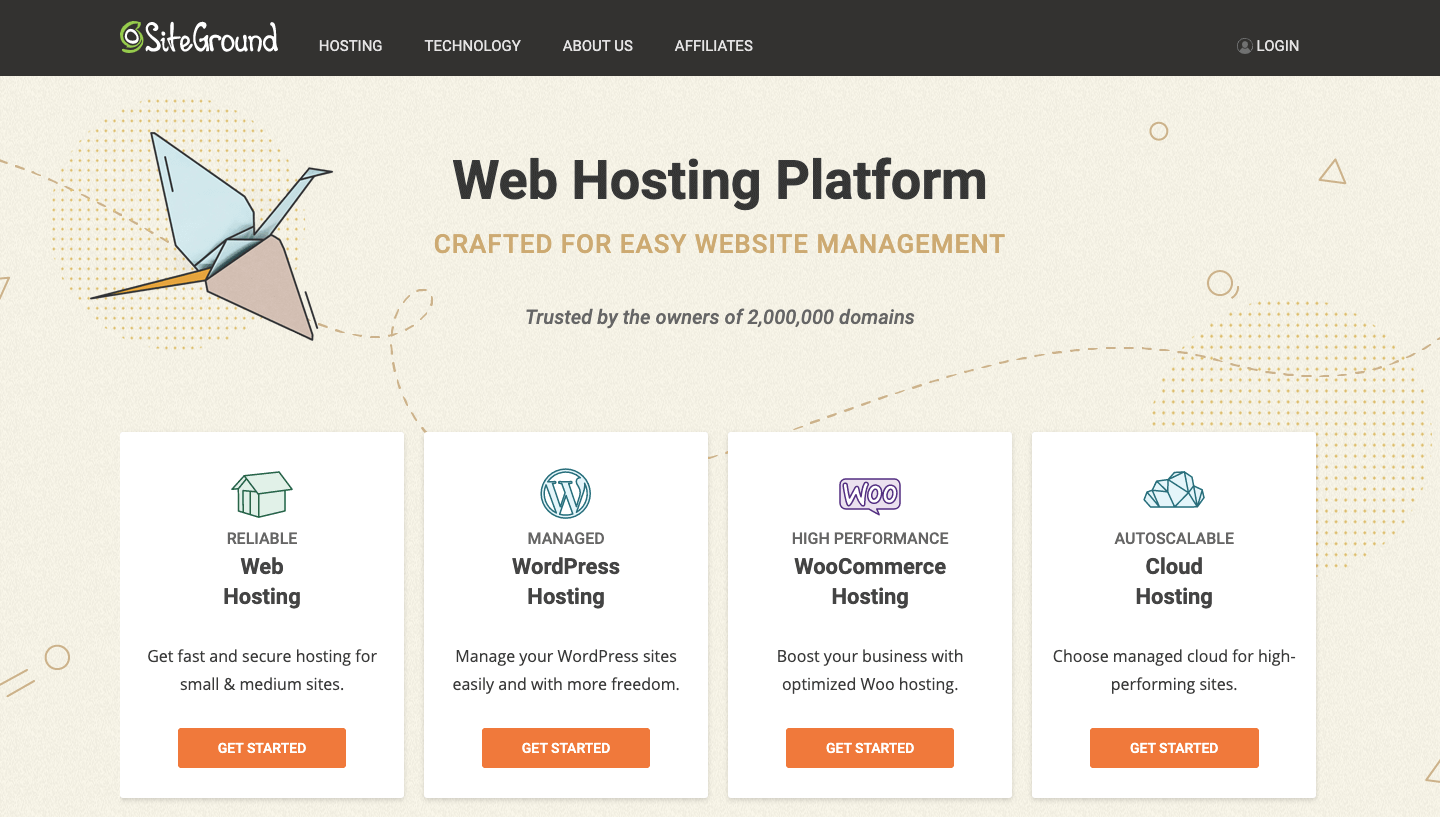 Program name: SiteGround Affiliate Program
Network / Software: Direct
Commission: €40.00-€75.00 per sale or more, depending on volume
Cookie duration: 60 days
Markets: Global
SiteGround is a popular web hosting company whose services include email hosting, website building, website transfers, and much more. You can sign up for their basic plan at a monthly fee of $4.99.
The commissions for Affiliates are determined by the total number of sales generated by them in a month. SiteGround has the below payment structure in place:
1 to 5 sales - $50 per sale
6 to 10 sales - $75 per sale
11- 20 sales - $100 per sale
21 plus sales - Custom commissions
Worth noting: These rates vary depending on whether you're based in the US or EU, from $50 as the base to 50€ (which, at time of writing, is an extra $11 per commission). Given that SiteGround is based in Sofia, Bulgaria, it makes sense they might offer localized pricing.
Hostinger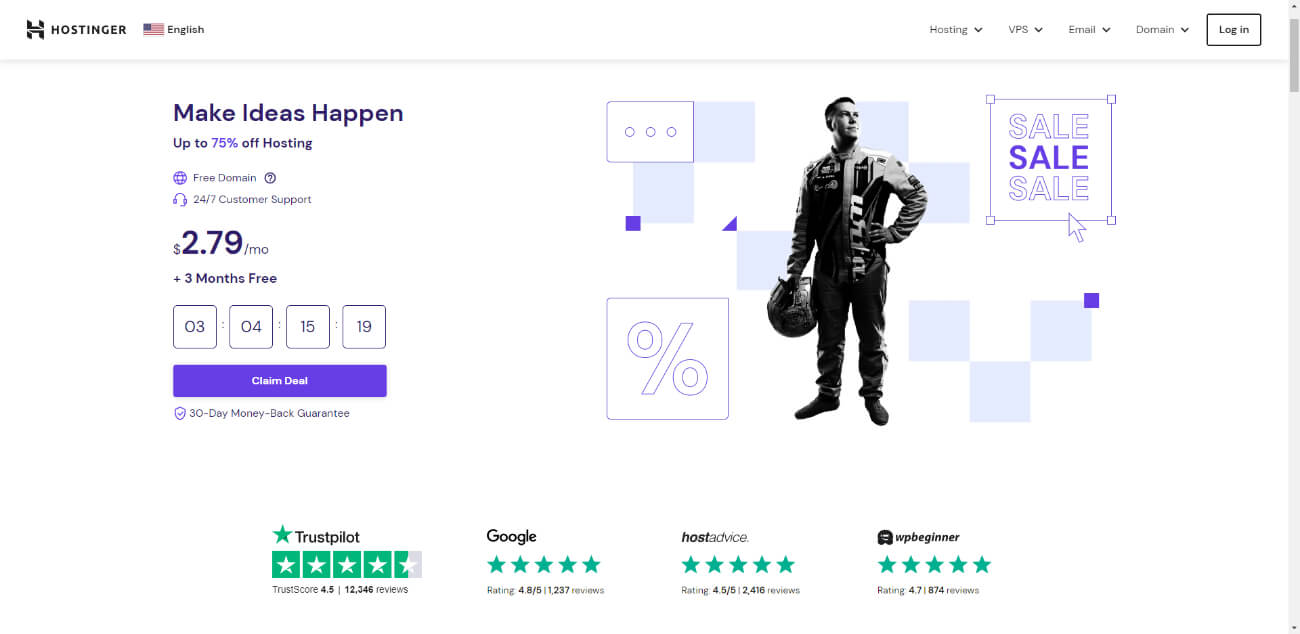 Hostinger is already popular, with over 13 million views this past November and thousands of daily signups. Meaning? You don't have to break your back encouraging customer trust. Conversions bring you a whopping 60% commission, but don't get lost in the percentage. Remember, Hostinger is a notably cheaper hosting service with plans ranging from $2 to $5 per month. A quick comparison with BlueHost — the potential of 60% sounds better than $65 per order, but not if that 60% is only on a $36 purchase. Now, you're looking at $65 versus $21.50. See the difference?
But a 60% commission is a fabulous return if your site has serious traffic. To make Hostinger's affiliate program worthwhile, you'll want hundreds of conversions to make the most of that 60%. If not? You might be better off exploring their referral program. Affiliates cite satisfaction with Hostinger's free marketing materials and dedicated customer support to help you strategize.
DreamHost
DreamHost is known to support bloggers with WordPress sites looking to scale — a fabulous product to promote for your audience of bloggers. The Massachusetts-based company has a wide range of famous companies using their service, like Boohoo.com, the fashion retailer.
Something we noticed right away about DreamHost is their generous yet fair commission payouts. Not only do they reward affiliates for converting customers to higher-tier plans; as well, they offer greater commission rates for yearly signups over monthly signups. For example, you can earn $50 for referring a signup to the annual starter-plan ($15 monthly) or $150 for an annual signup to the DreamPress (highest-tier) plan.
Bluehost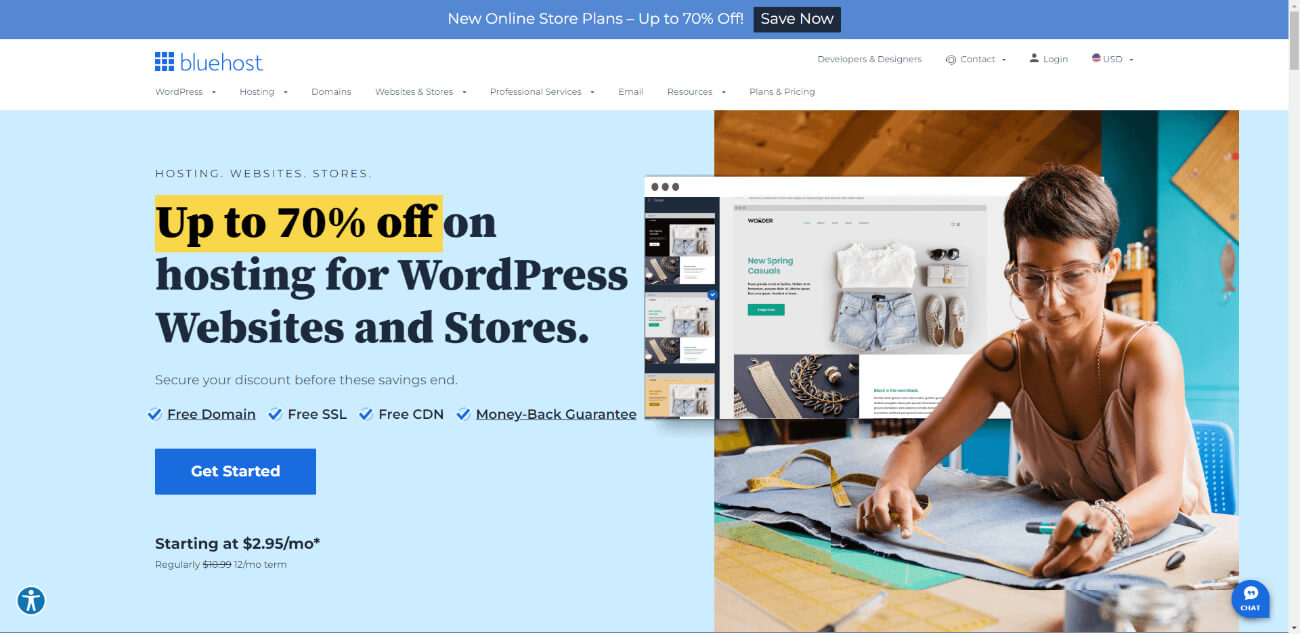 Bluehost is a popular hosting service for beginner web developers or non-web-informed entrepreneurs. This makes it a universally attractive service for audiences who like an accessible, DIY host. While pricing is fairly cheap starting at around $3 per month, Bluehost respects affiliates enough to offer a flat-fee commission of $65 per order, even on those smaller plans.
If you perform well, some bloggers report successfully negotiating with BlueHost for an increased commission of $100 per order, though we're not sure how common that is. Still, an affiliate with high traffic paired with that super long, 90-day cookie window is sure to find success with BlueHost's program.
Hostgator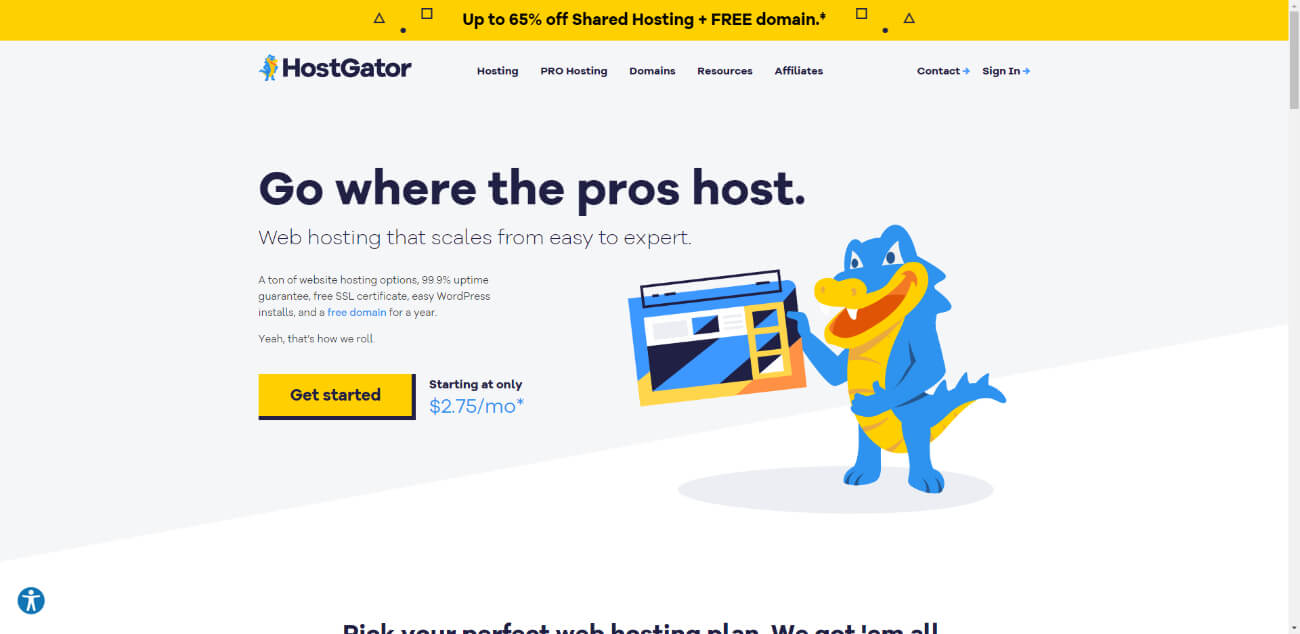 Hostgator rakes in a solid $100 million - $200 million in revenue each year — they must be doing something right. Perhaps it's their stellar uptime rate, affordability, and dedicated customer support. Two million customers use Hostgator already, so that customer trust and brand loyalty do half the work for you.
Affiliates will enjoy a generously tiered commission structure, ranging from $65 - $125 per signup, depending on your volume. The platform makes things smooth and seamless with custom coupon codes and ready-made banners.
Kinsta
Program name: Kinsta Affiliate Program
Network / Software: Direct
Commission: $50.00-$500.00 one time commission, 5-10% recurring monthly commissions depending on the type of referrals
Cookie duration: 60 days
Markets: Global
A popular WordPress host, Kinsta is a great choice for companies wanting to scale. The platform is well-loved, boasting a 2% church rate. You'll have access to Kinsta's pre-made web banners and in-depth resources to guide your strategy. And they have the data to back up their value — $1,000,000 in paid-out commissions each year? Yes, please. Depending on signup types, you could earn 5% or 10% in recurring commissions, or a $50-$500 one-time commission for managed WordPress hosting.
You'll also enjoy a notably longer 60-day cookie window for ideal audiences to take their time and reap up your commissions. Developers, agencies, publishers, course creators, and tech solution providers (SaaS, hello) are all ideal clients for Kinsta's web hosting.
One minor inconvenience is Kinsta's limited payment method: PayPal. The pay platform giant has notoriously elusive support and arbitrary account freezing rules that could leave you feeling stuck.
Scala Hosting
Does your audience enjoy the open-source values of Linux? We're talking gaming, software development, and cybersecurity enthusiasts. If you know this off the bat, Scala Hosting is a great hosting service to promote.
The tiered commission structure rewards you for greater conversions, offering up to $200 per sale! Yes, even if that sale is as low as $29.95. Here, volume and traffic will make you the big bucks. On top of that, the 60-day cookie window is double that of many other services on our list, which improves your chances of scoring big commissions. But keep in mind that an audience used to Windows couldn't use Scala — this significantly lowers their appeal to greater audiences.
Still, the program boasts an 8% conversion rate and a dedicated affiliate manager to help you maximize success.
Liquid Web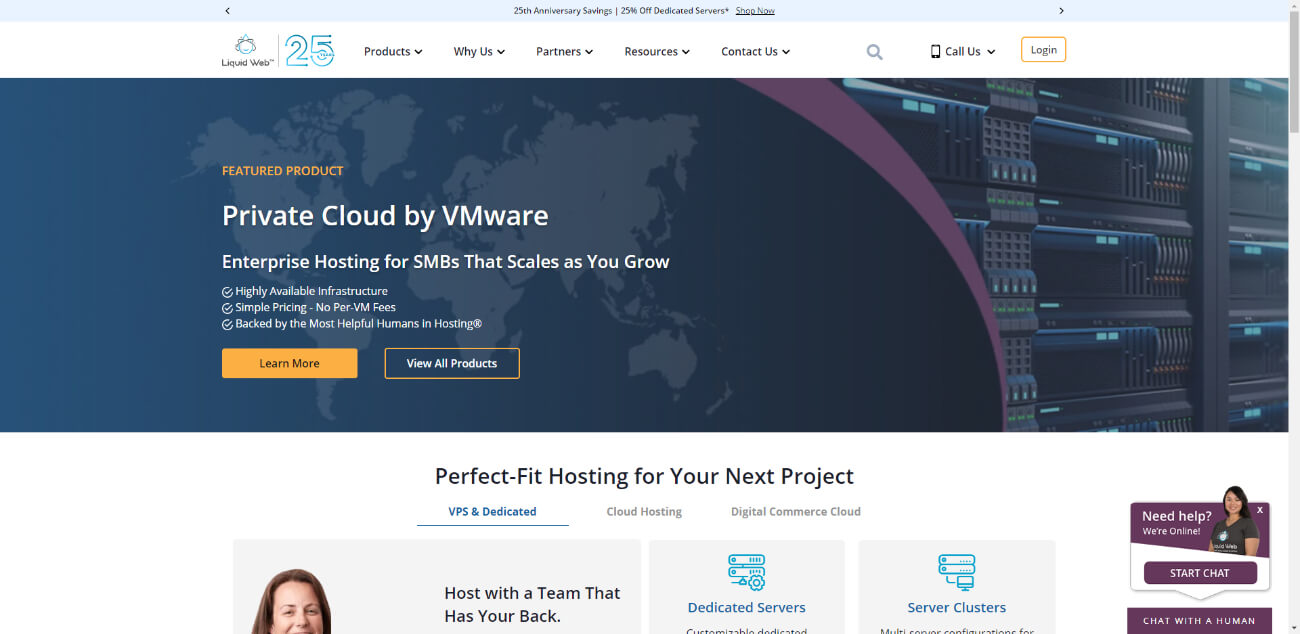 Looking to promote a hosting service with decades of experience under their belt? Founded in 1997, Liquid Web is a credible hosting service applauded by authority tech bodies like PC Mag and more. We also love Liquid Web's program for affiliates with notorious window shoppers in their audience. The 90-day cookie window is a massive cushion to reap those conversions, even the ones that come at a snail's pace.
Liquid Web also has a pretty well-advertised program — not only do they list it on their footer, but it also comes up as a highlighted page on Google's SERPs. As for commissions, Liquid Web offers a generous 150% with a $150 minimum, along with heaps of content ready to post on your channel.
Cloudways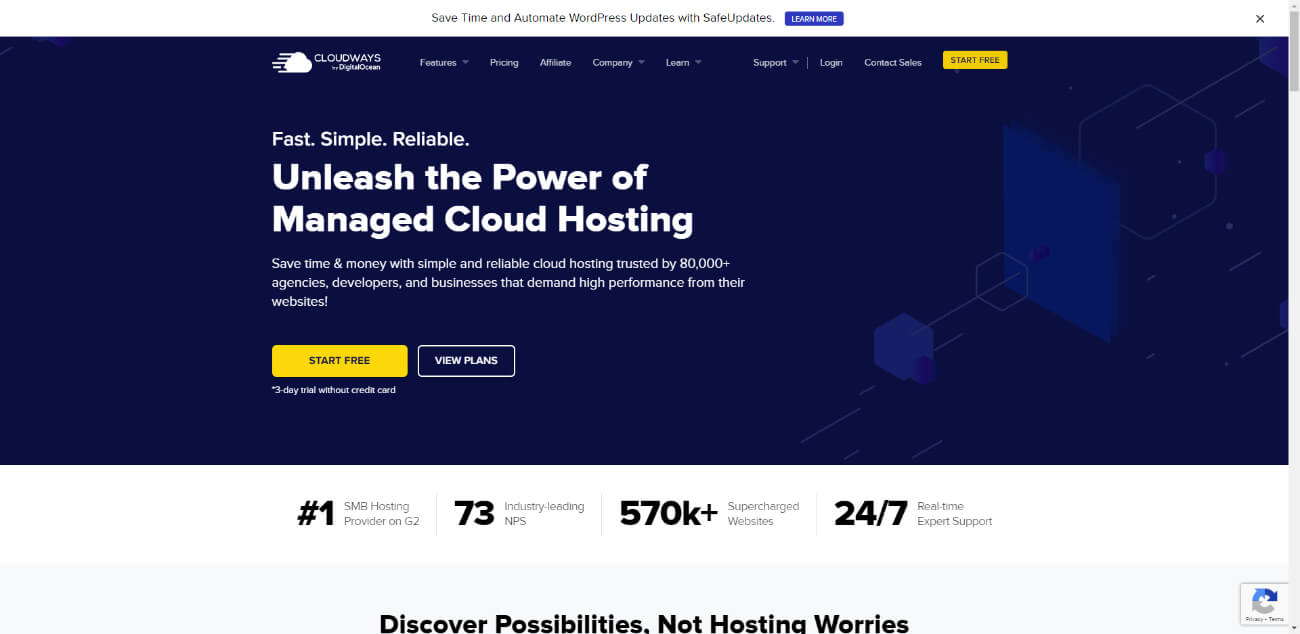 Program name: Cloudways Affiliate Program
Network / Software: Direct
Commission: $0.00-$125.00 per sale based on the Performance Slabs, $30.00 per sale, 7% lifetime commission
Cookie duration: 90 days
Markets: Global
Cloudways gives affiliates the gift of flexibility with their three commission models. You can earn in any of these ways:
Slabs: Up to $125 per sale, ideal for bloggers and media publishers.
Hybrid: $30 per sale + 7% commission, ideal for affiliates with consistent conversions like agencies.
Custom: A mix of slab and hybrid, negotiable with Cloudways' team.
Tack on a 90-day cookie window and you'll start seeing some serious coin!
On the flip side, the platform is notably more difficult to implement than other hosting services, which could put off some non-tekky audiences. However, Cloudways is renowned for their excellent 24/7 customer support team, so that makes up for it a bit.
A2 Hosting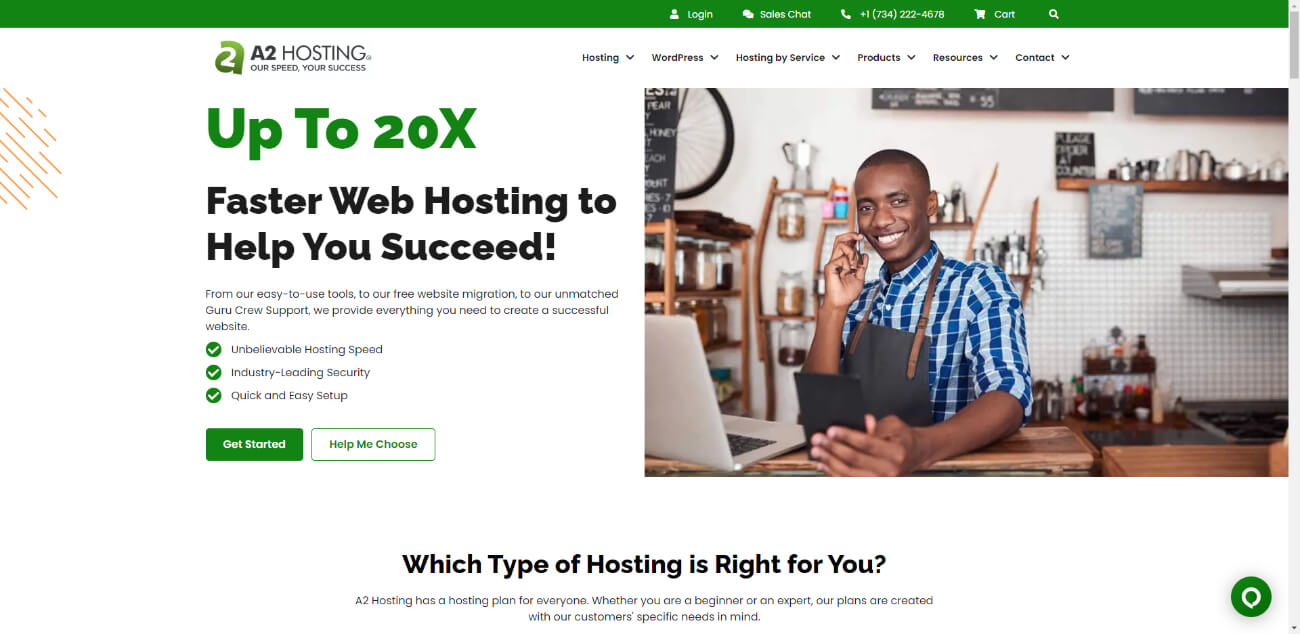 Any affiliates with a Linux-loving audience? A2 Hosting is another Linux-focused service like Scala Hosting. The two are similar with their shared 90-day cookie windows, but A2 Hosting commission potential is slightly inferior (Up to $125 versus Scala's $200).
But we applaud A2's flexibility. They invite high-traffic or high-influence affiliates to contact them for custom commission rates. If you prove yourself, A2 will provide you with a unique welcome email template and landing page — but other services offer similar assets no matter your performance.