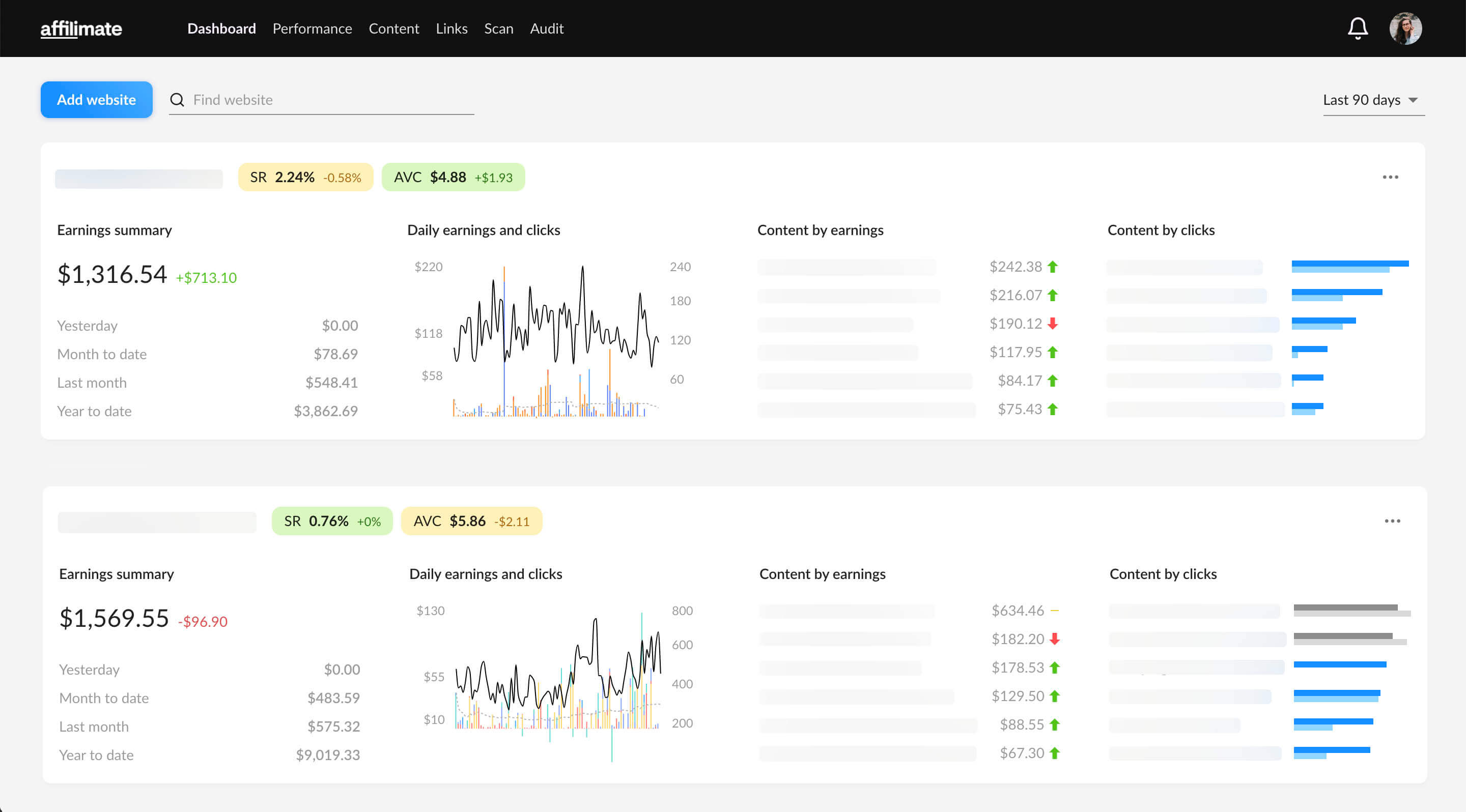 Affilimate v3: Designed for Multiple Sites and Affiliates at Every Scale
By Monica Lent   ·   September 16, 2020
Hey everyone! We're super excited to be launching the latest version of Affilimate.
We've redesigned the tool from the ground up to be:
Easier to navigate
Friendlier for smaller screens
Quicker to find the most important metrics you should be improving
Designed to work well for affiliates running multiple websites
In this demo, you'll learn about new features, what's changed, and at the end I'll share a bit about our roadmap.
Let's start with the brand new Dashboard.
Reminder: If you know someone who could streamline their operation with Affilimate, you can refer them for a 20% recurring commission 💸
Get your affiliate link
Summary: What's new in Affilimate v3!
A simpler but more powerful dashboard — See your affiliate commissions, traffic, and trending content broken down by website.
Native multi-site support on every screen — Once you filter by website, that filter is applied on every screen you visit for easier deep dives.
New metrics like Sale Rate and Average Commission — Two helpful metrics you can work on improving to earn more from your website.
Easiest to use on smaller laptops — The reports and visualizations now fit better on smaller screens.
Small improvements — You can now change your account email address and your account display currency in the Settings screen.
Dashboard: Get an overview of your earnings split by website
Before — The Dashboard combined analytics from multiple sites into the same charts and graphs.
It worked fine if you had just one site you're tracking, but for people with several sites, it made it hard to see where changes were coming from.
Plus, the most important metric was missing: How much money you've earned!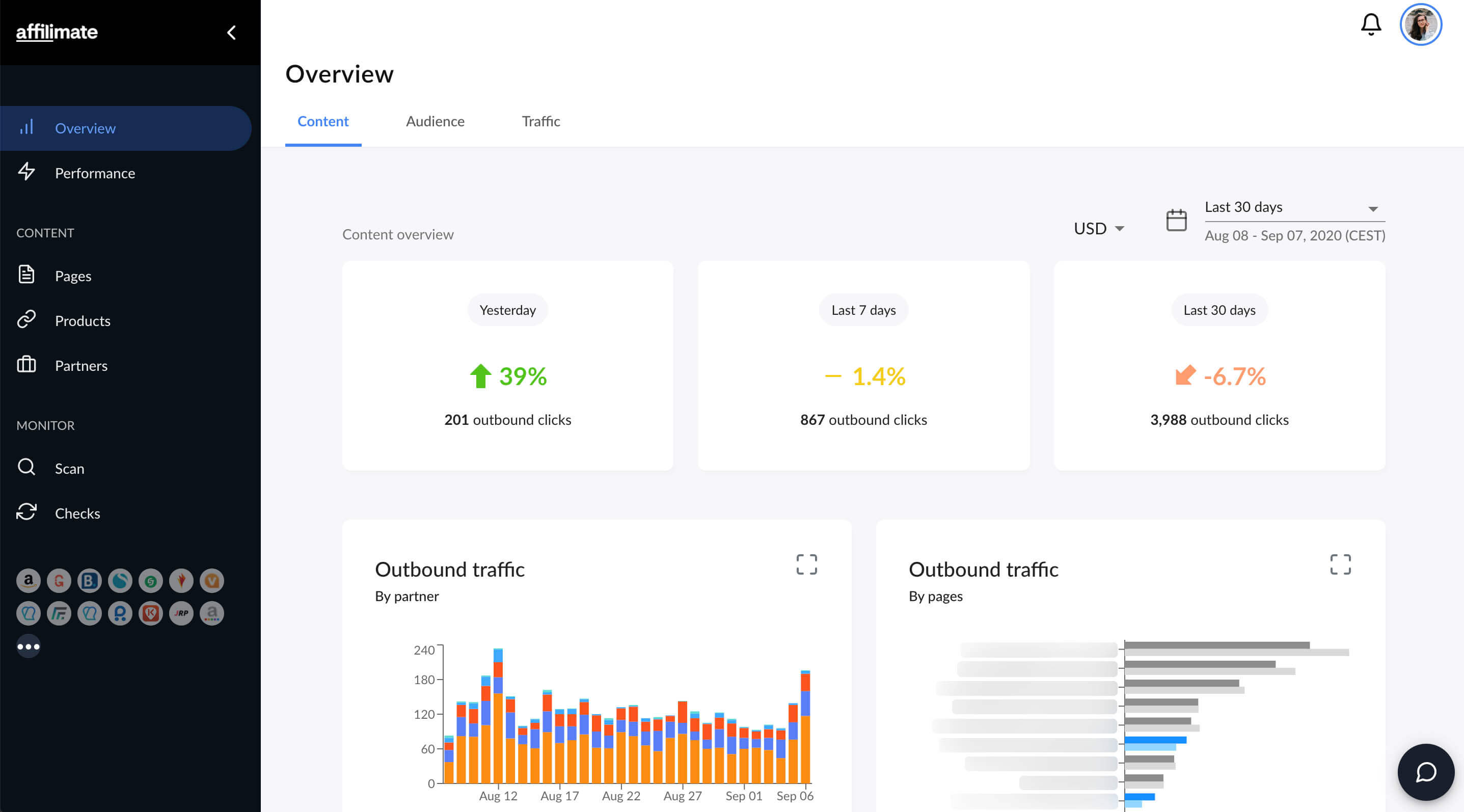 After — With the new Dashboard, all your earnings, monetized content analytics, and trends are broken down per site.
Now you can see how much each site is earning at a glance, plus if there are any traffic trends you need to act on.
Lastly, we show you which content is earning the most money and whether it's trending up or down, on a per site basis.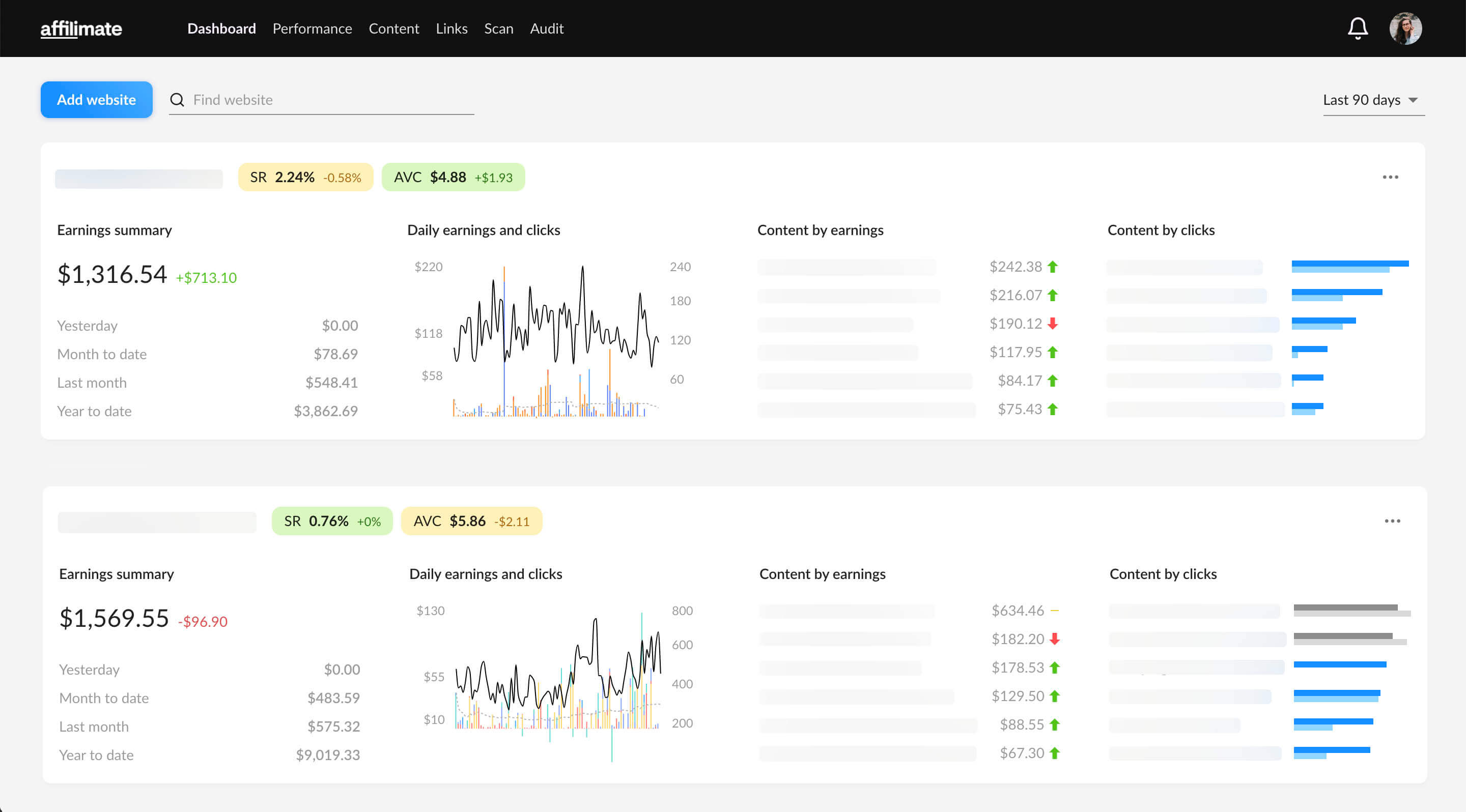 The new Dashboard is like your command center for all your sites. Right from this screen, you can search your sites or add additional domains.
If you click on the name of one of your sites, it will take you to the Performance section and filter the commissions by the site you selected.
Performance: More room for you to run custom reports
Before — We just didn't use the screens space efficiently, which meant that people working on laptops or smaller resolutions couldn't efficiently use this page.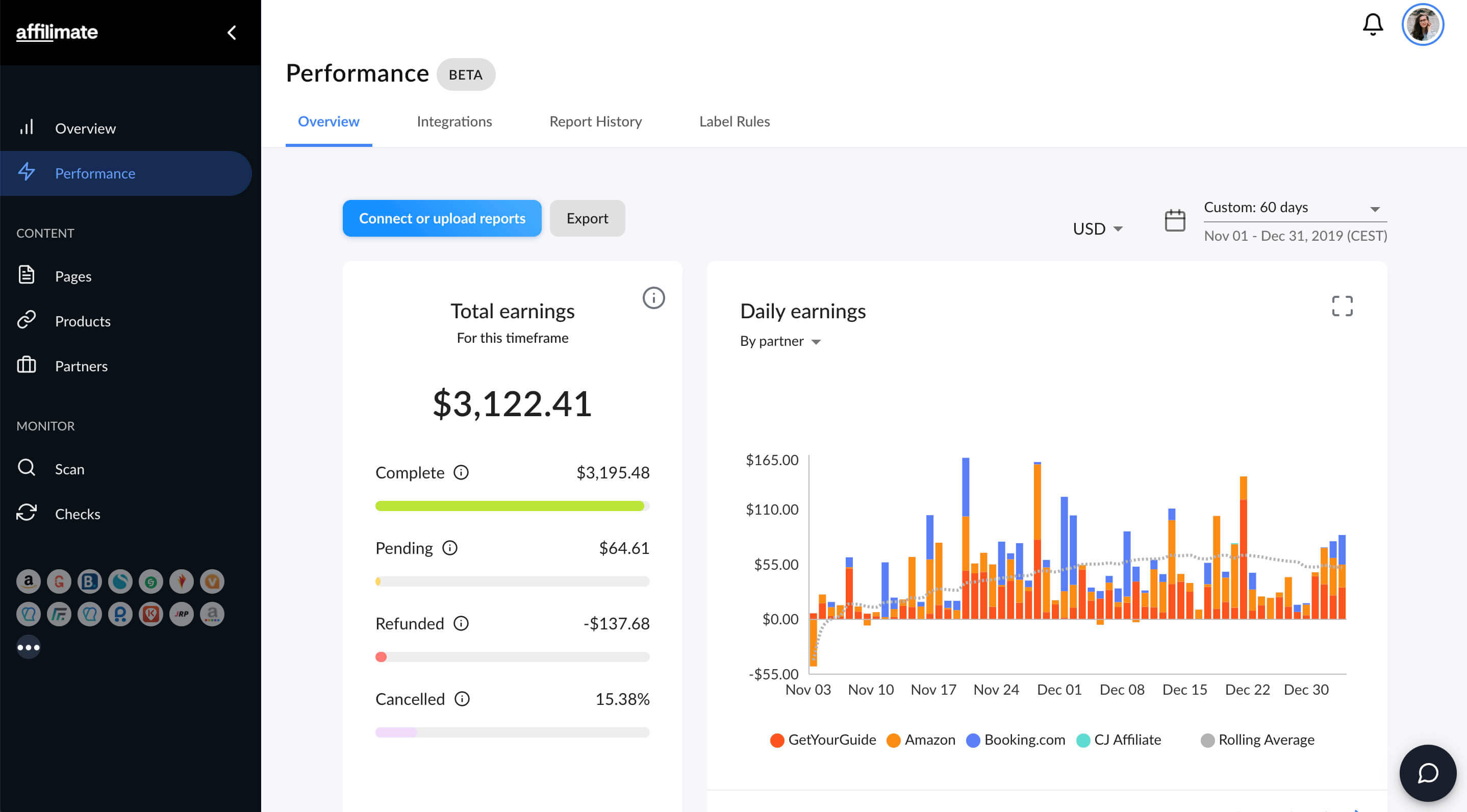 After — Now, you can still use all the advanced filtering, grouping, sorting, and custom columns. But you have more space to look at the data side-by-side.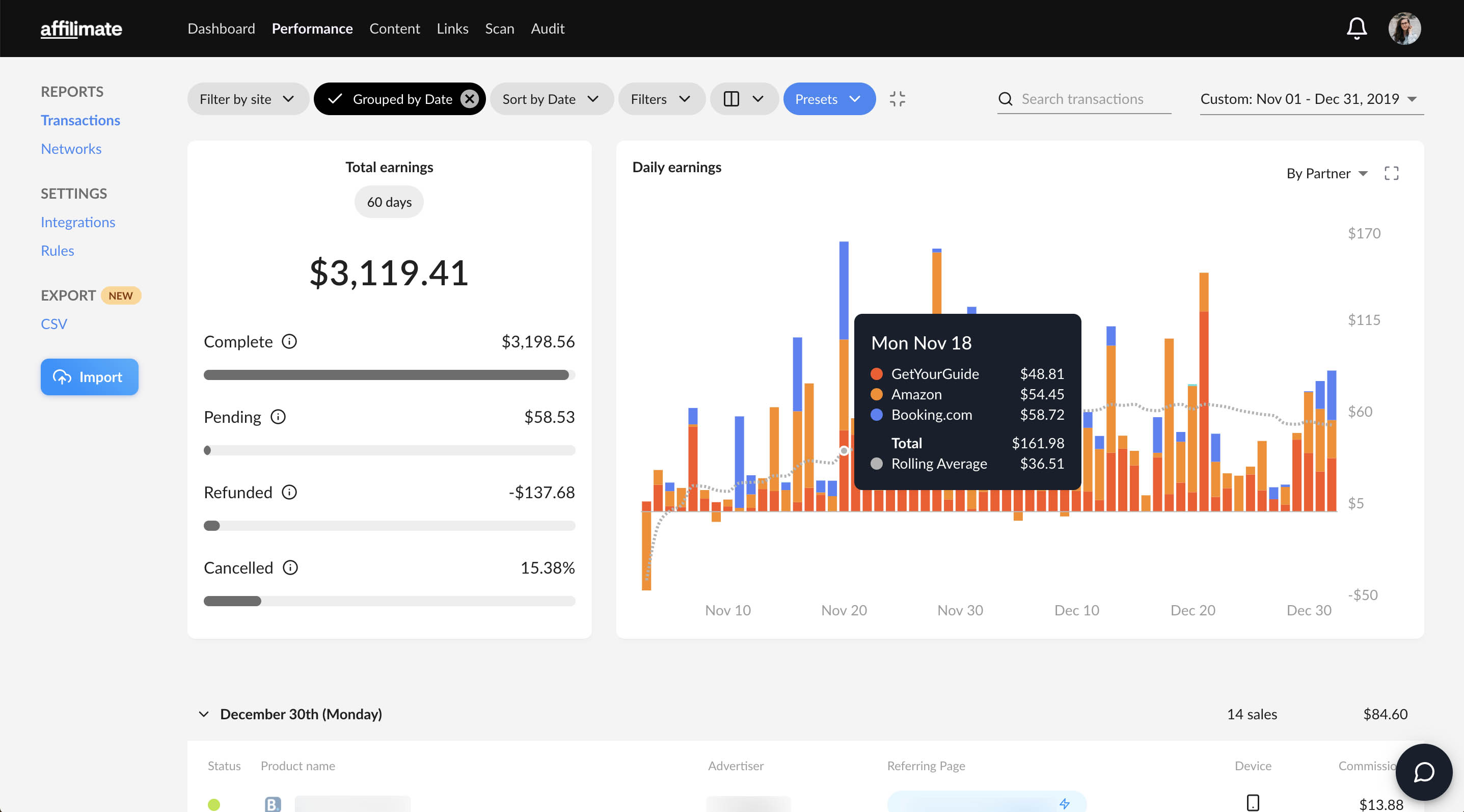 You can also use the new Advertiser Reporting features to break down the Daily Earnings and Transactions by Advertiser.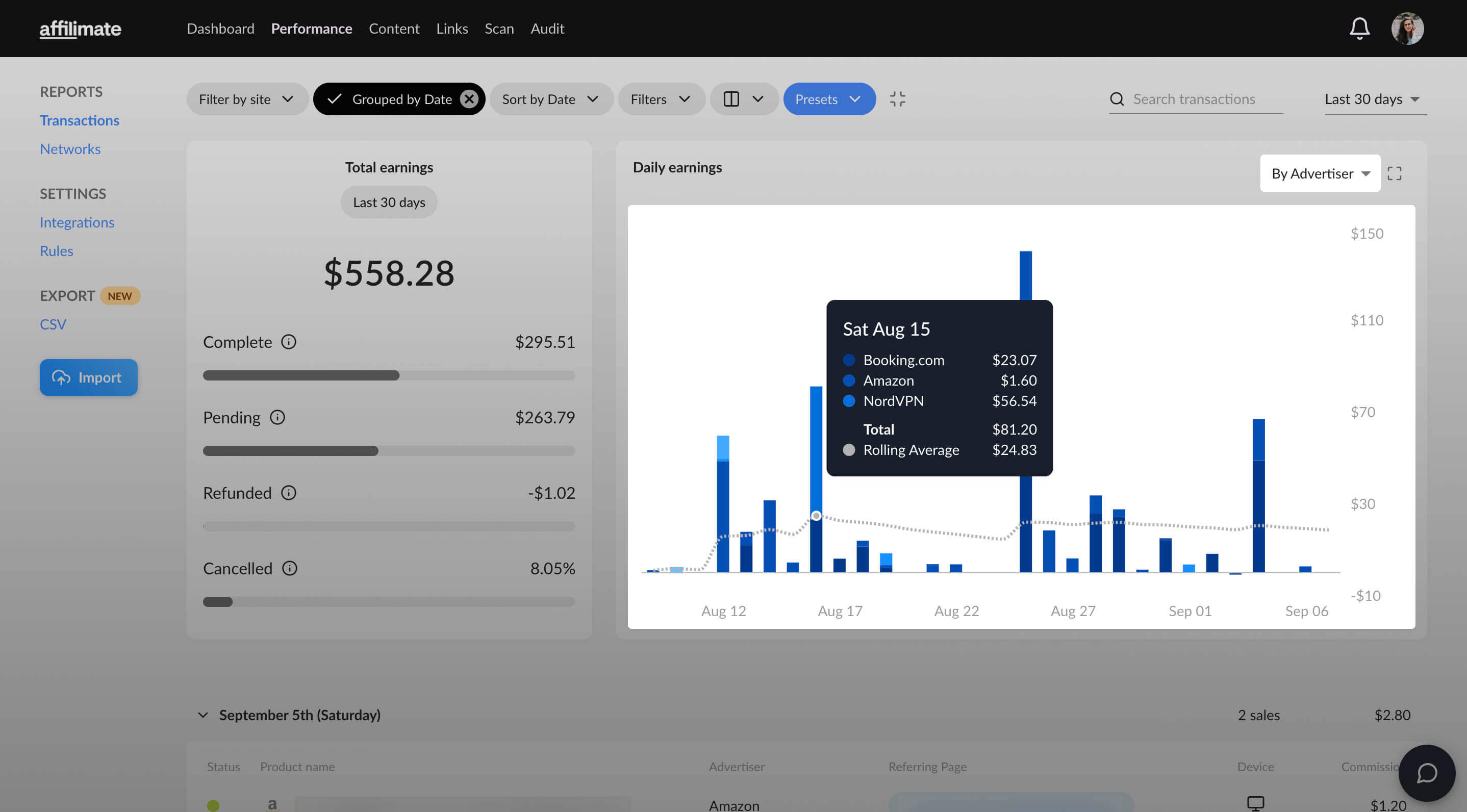 To add integrations or upload manual reports, use the blue "Import" button on the left.
Label Rules: Attribute Amazon commissions on a site or page-level
Before — We only allowed you to create rules that associate commisions with individual pages on your website.
But a lot of people only have unique Amazon tracking IDs for each website they run.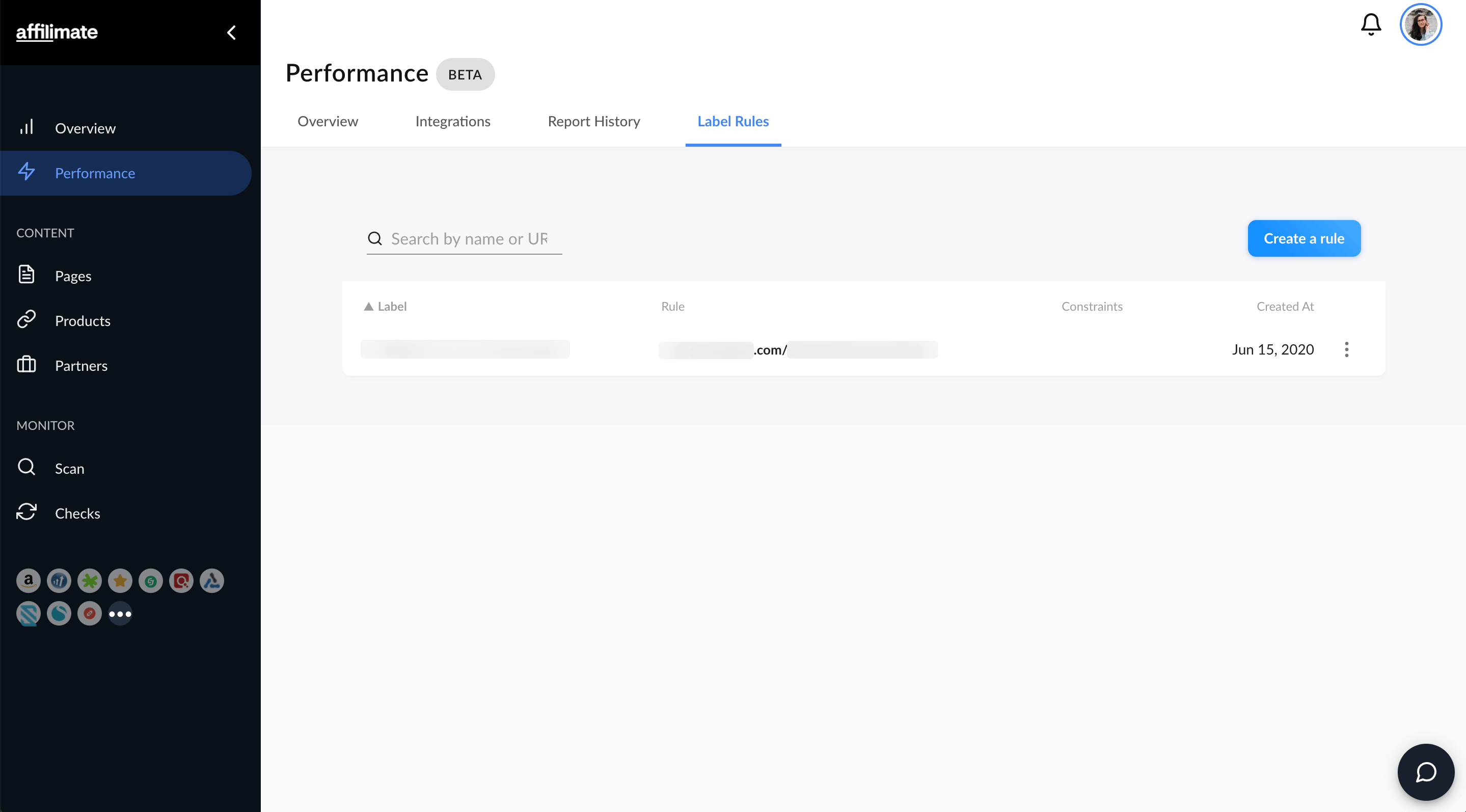 After — Now, you can create rules on a Site or Page-level.
Just click on "Create a Rule" and choose "With the Site". Then pick one of your domains to associate the rule with.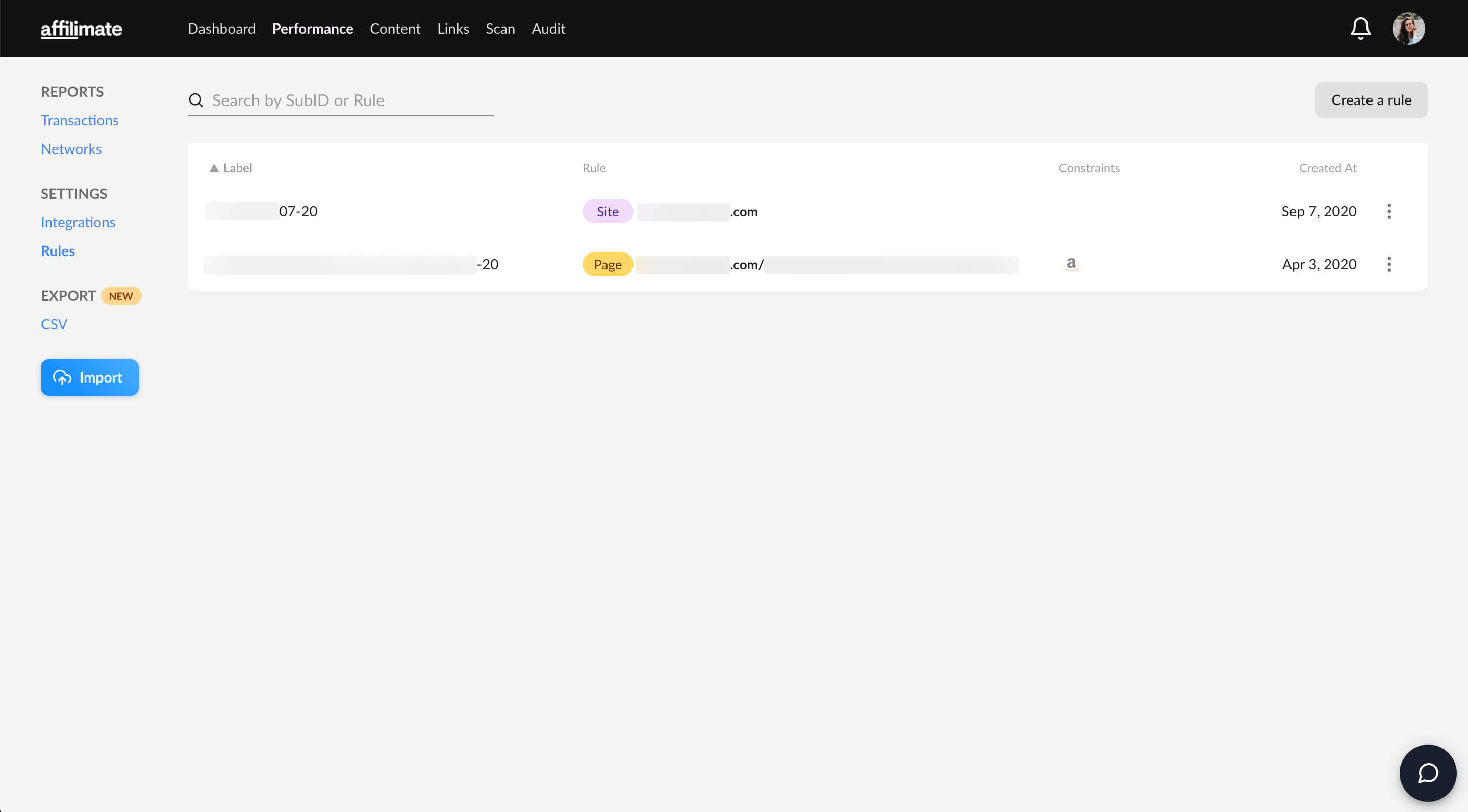 Content: Use the new Growth filters to find trends in your content
Before — By default, all the pages from your websites are displayed together. This was a bit messy.
Plus, even though we showed you the current and previous rank of an article among your top clicks or earnings, it was hard to see exactly how much a piece of content had grown.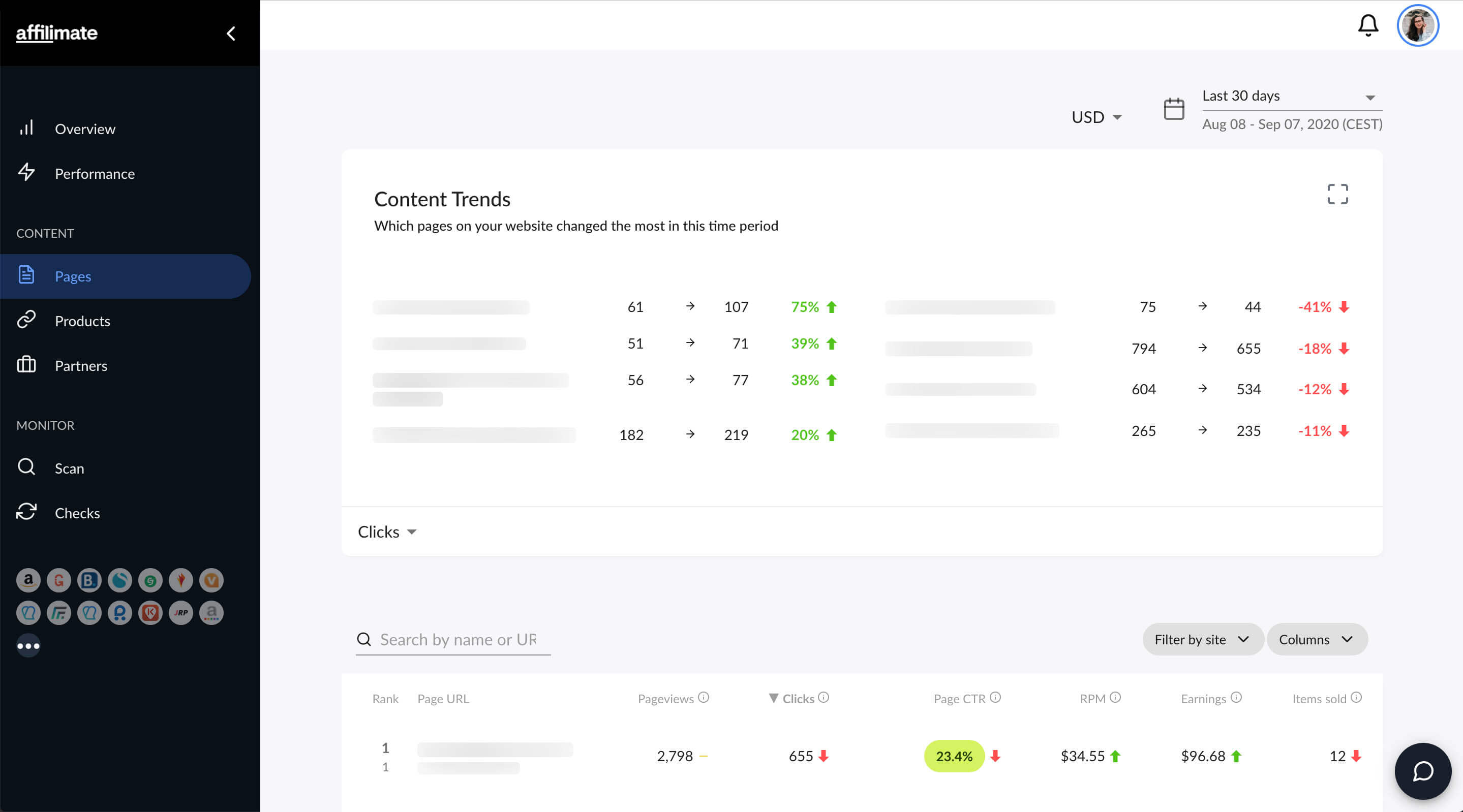 After — Now if I move to the Content screen, you'll see that the site-level filter is automatically applied.
Plus, it's easier to see which content has moved up or down in terms of revenue, clicks, sales, etc. thanks to the relative rank column.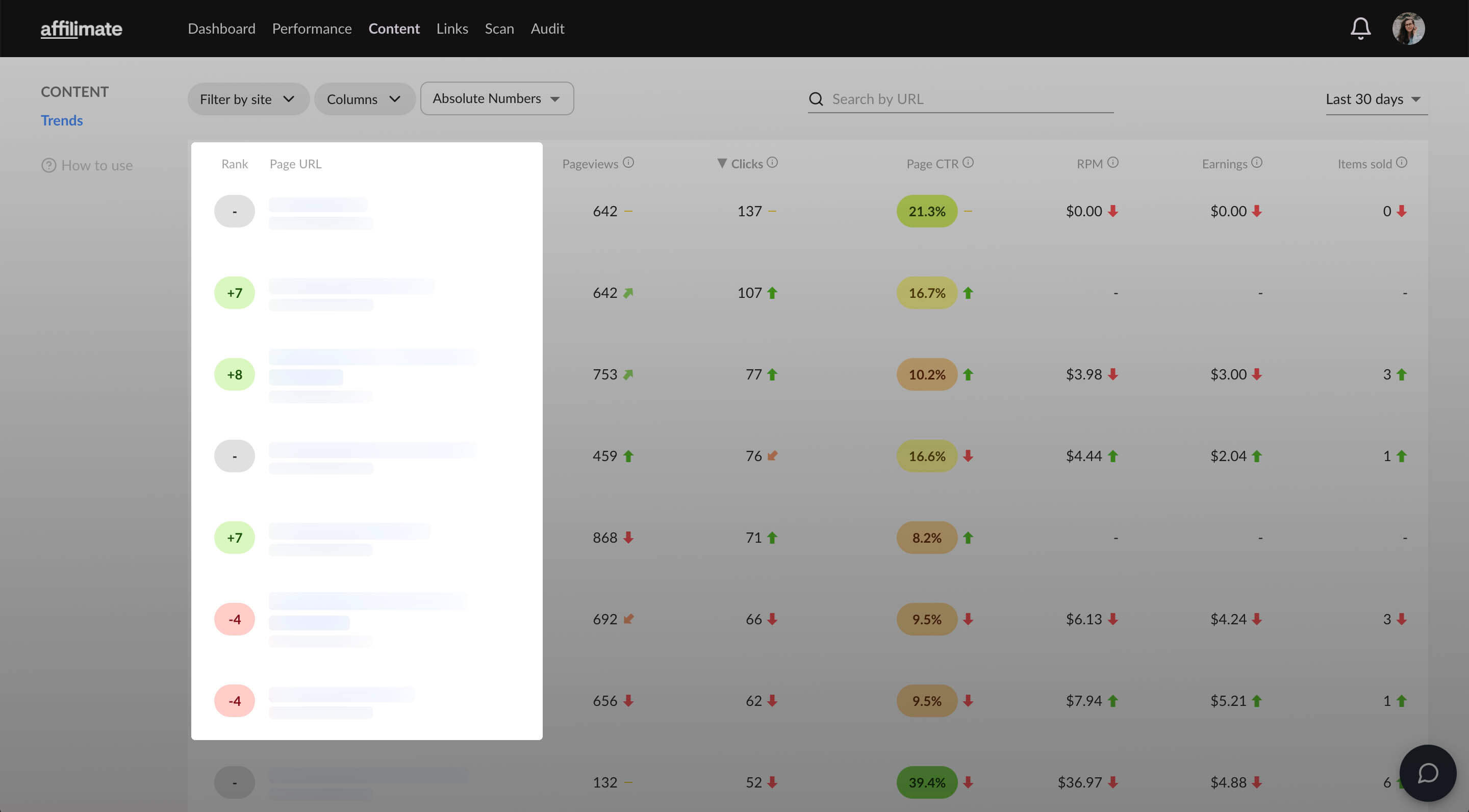 You can also choose to look at Absolute Growth or Relative Growth, to find content that is starting to trend up.
Use this report to find articles that are outperforming your expectations and invest in growing their traffic.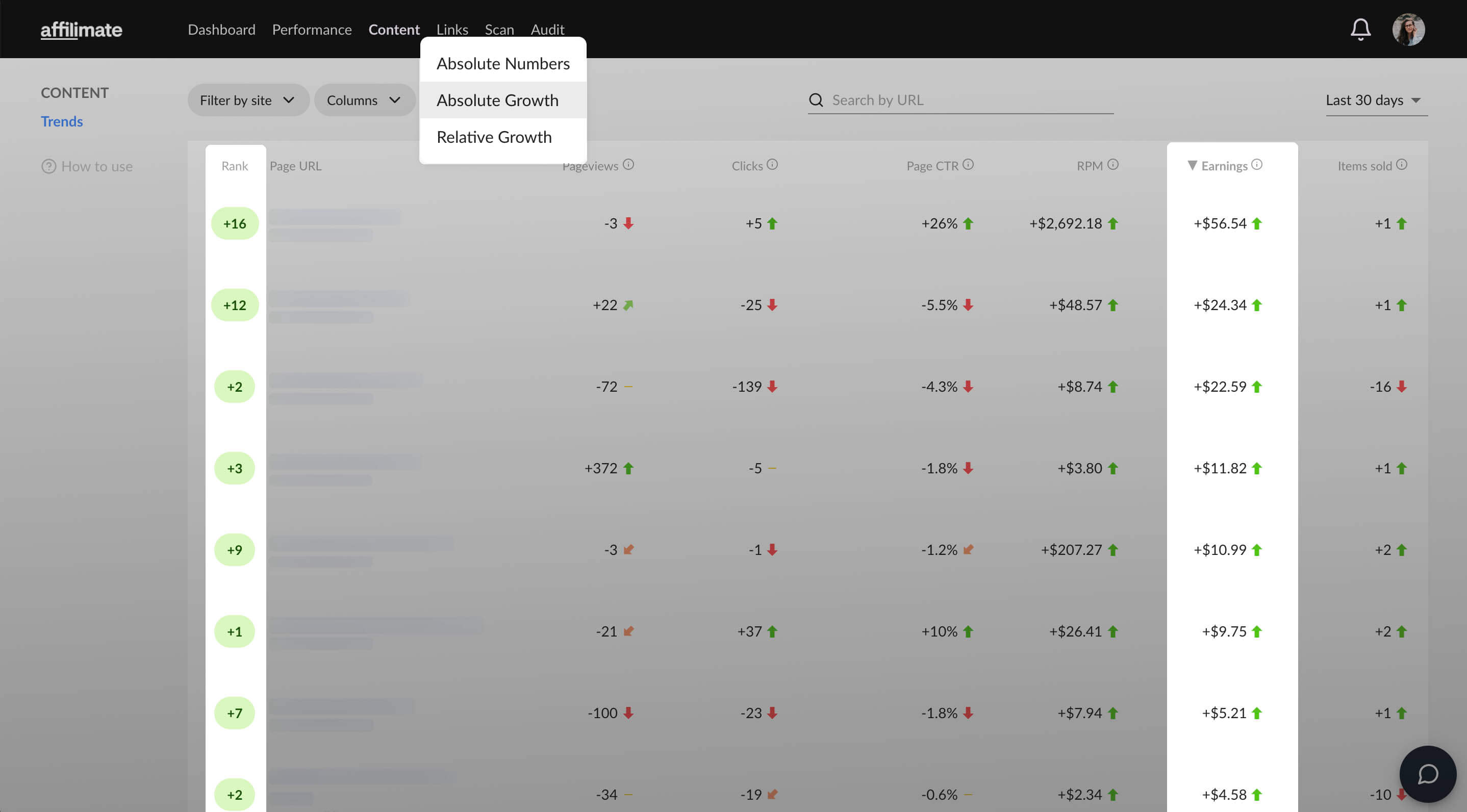 Before — When you clicked on an individual page or post on your website, you'd see how much you've earned and on-page activity like pageviews, clicks, and CTR on a graph.
We also put all the on-page tracking on the same page, and didn't include a list of things people bought after visiting that page.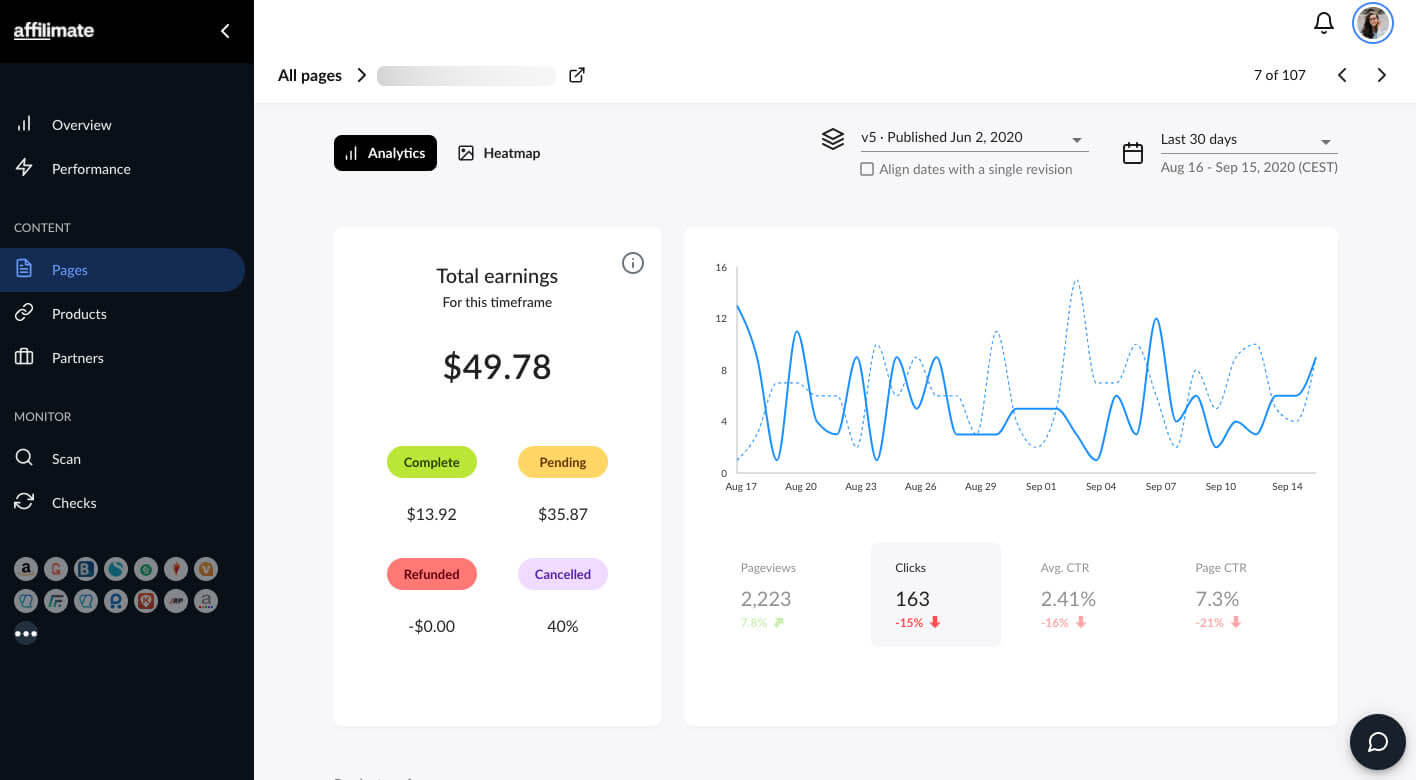 After — Now, we break town a lot of your most important metrics and how they changed during the selected time period for the page. This includes RPM, sale rate, items sold, pageviews, clicks on affiliate links, page-level CTR, and a reminder of how recently you've updated the article.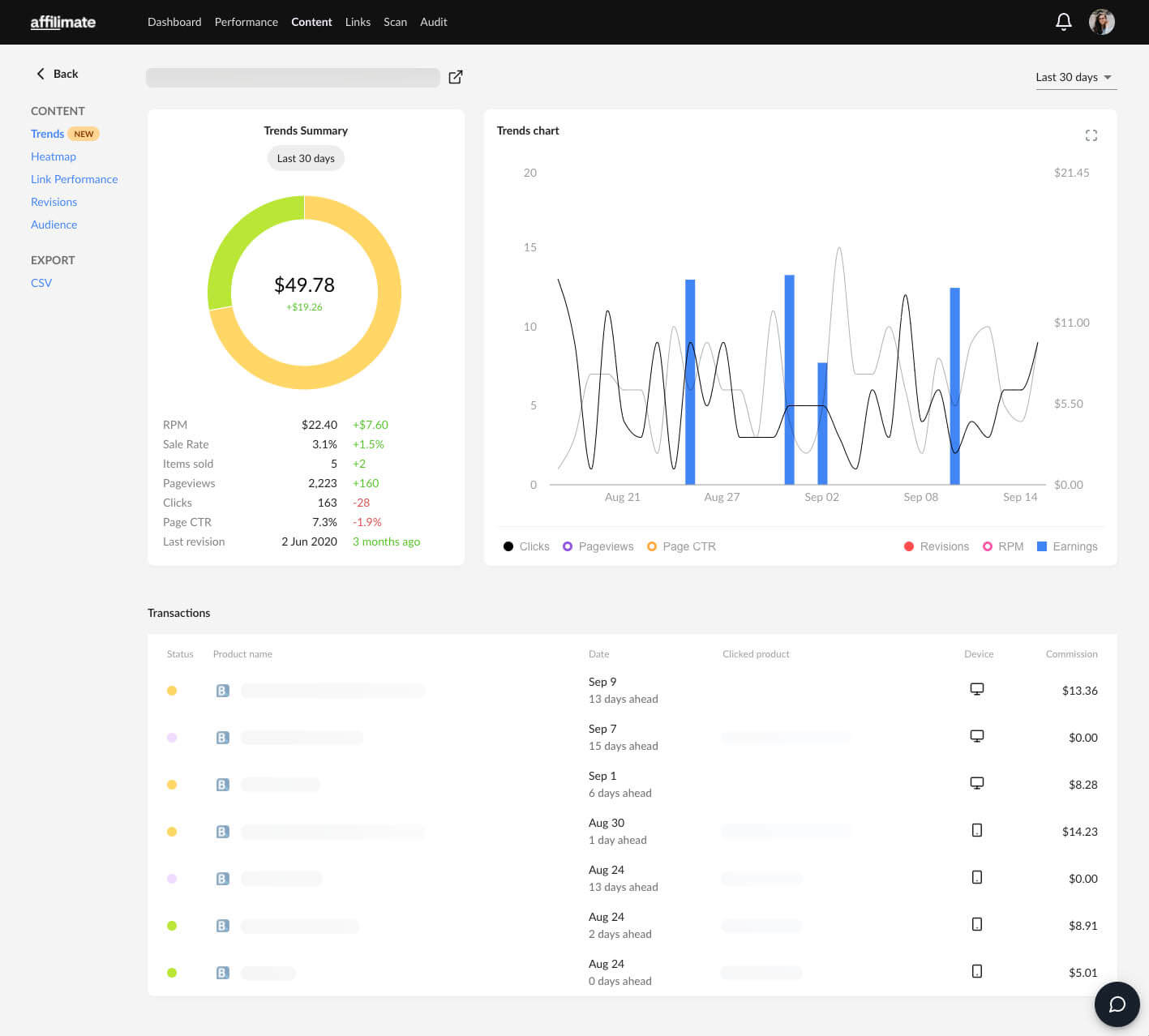 We also took the Graph and combined your commissions with on-page activity. And below, is all the transactions we were able to associate with the content.
If you're using Smart Labels, you'll also be able to see which product link the reader clicked on before making the purchase.
Settings: Account Settings and Email Options
Before — If you wanted to change the currency for your account, you had to do it from the Overview or Performance screen.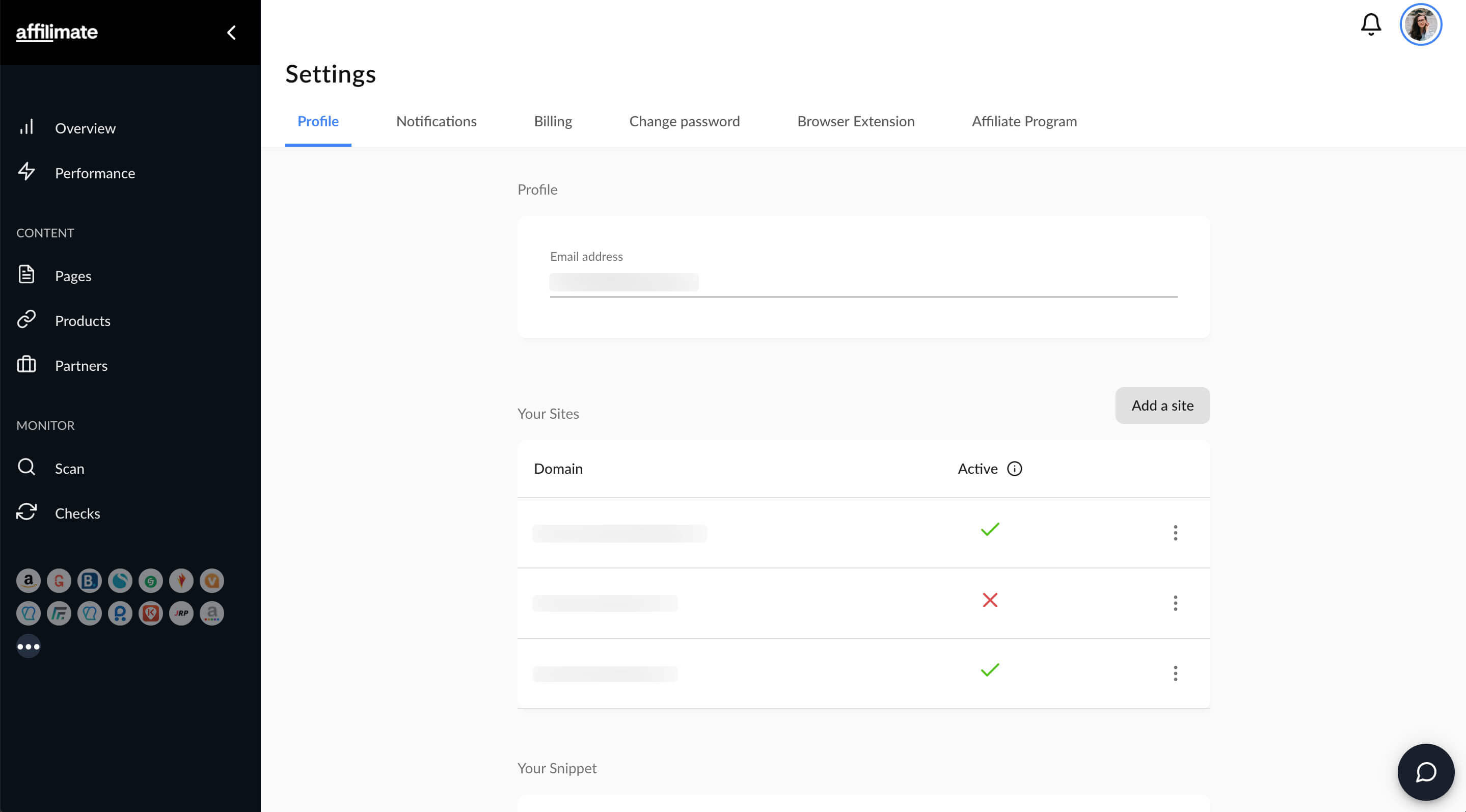 After — Now, you can set the preferred currency for your account inside your settings.
We also added the option to change your email address. So if you're using a personal address and want to switch to a business address, you can do that here.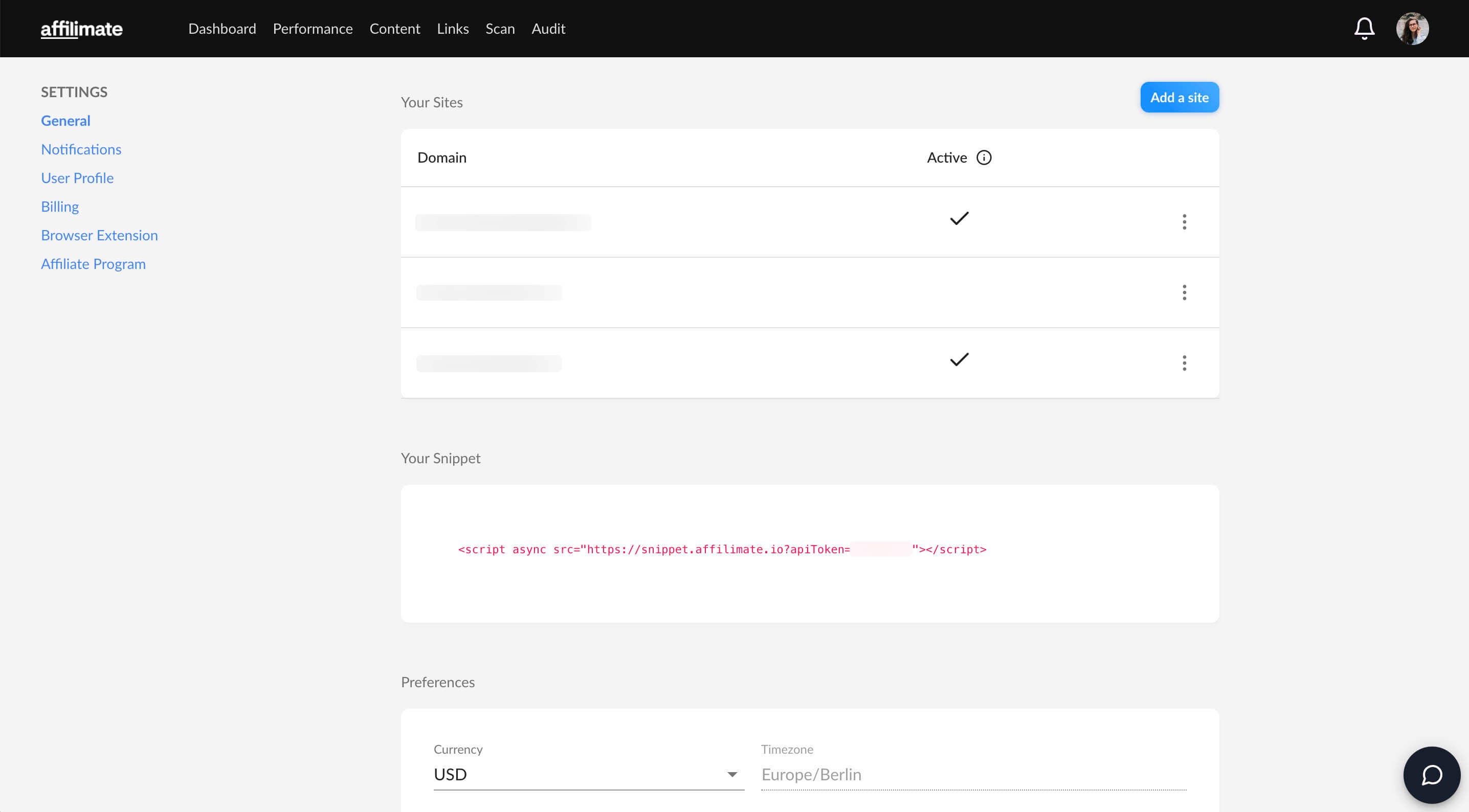 Lastly, we have had some questions about our affiliate program. As a reminder, if you're in your free trial or you're a paid member, you can refer new members for a 20% recurring commission.
Here's where you'll find your link: https://app.affilimate.com/settings/affiliate
Roadmap
Right now, our main focus is adding new integrations. We're currently working on an integration with Refersion, and have plans to add a ton more in the coming weeks and months.
You can see our Integration Roadmap for more details.
Besides that, we're working on Site Audit feature, which will help you make sure that your tracking is 100% working properly at all times.
It will do things like monitoring your links for common issues, checking that your sitemap works, and verifying any cloaked links can be Smart Labeled.
Now it's your turn!
Do you have any feedback, ideas, or questions for us?
Leave a comment in our Facebook Group or email us at hi@affilimate.com for any private questions.
We're excited for what's next! Thanks for being on the journey with us.
Want more data-driven affiliate tips and strategies?
Find out anytime we publish an article. No spam or sales funnel. Unsubscribe anytime.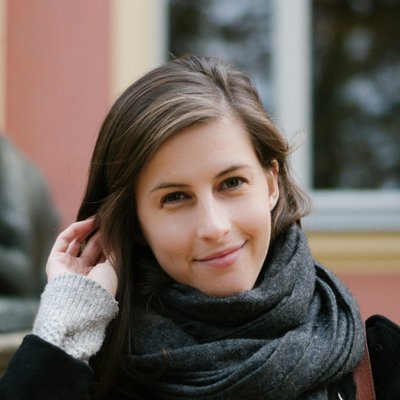 Monica Lent
Hi there! I'm a Monica, one of the co-founders of Affilimate. I blog, I code, and above all else I drink coffee.