9 Best Personal Loan Affiliate Programs in 2023 (Based on Data)
By Irene Lopez · Updated Jan 28, 2023
Post-pandemic lenders have become more cautious about providing loans. On the one hand, there's economic uncertainty looming overhead. On the other, a general reduction in discretionary spending.
Nonetheless, the personal loan market isn't slowing down any time soon. Globally the market value is expected to hit $719.31 billion by 2030 at a CAGR of 31.7% from 2021 to 2030.
As an affiliate, you still have the potential to earn big bucks by tapping into the personal loan market space.
Personal loans are popular among Americans for several reasons. They can be used for debt consolidation and refinancing high credit card debts but at much lower interest rates. They can also be used for expensive home repairs and maintenance, student loans, emergency funds, tiding over major life changes like a marriage or divorce, vacations, and even tax debt. With more and more financial services marketplaces opening online, it's never been easier to get quick loans, sometimes as fast as the same day.
Personal loan affiliate programs
For affiliates, the personal loan niche can be a great way to offer multiple financing options for your loan referrals. Here are the best personal affiliate programs based on what top finance websites are promoting:
SuperMoney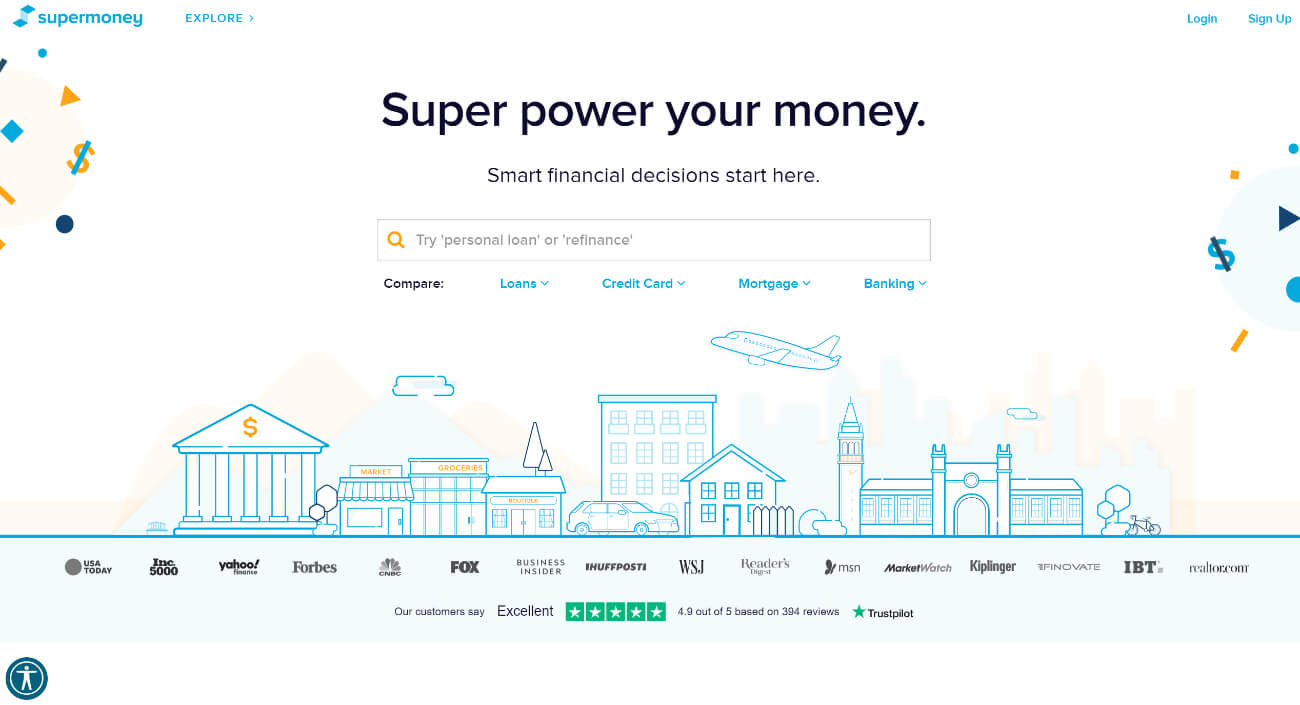 SuperMoney is a comprehensive financial services comparison site that has successfully processed more than $5 billion in loan requests since its inception in 2017.
The company initially started by offering personal loans but has since expanded to provide comparison services for over 50 financial services verticals, including auto purchase or refinancing loans, student refinancing loans, and business loans.
SuperMoney offers a multi-vendor comparison platform with data-driven summaries of financial products and services and authentic reviews from real users. So, it's worth considering as an add-on to your affiliate product portfolio.
Your referrals need only submit a single loan application to receive a choice of fully transparent and pre-approved loan offers from different vendors.
SuperMoney also accepts affiliates in the form of financial services companies and small businesses that want to redirect unqualified candidates or customers for financing options. Expect to earn in the range of 50% per lead or sale depending on the product type on FlexOffers and 80% of the sale on MaxBounty.
Potential affiliates can apply through SuperMoney's online application form to get started.
LoanMart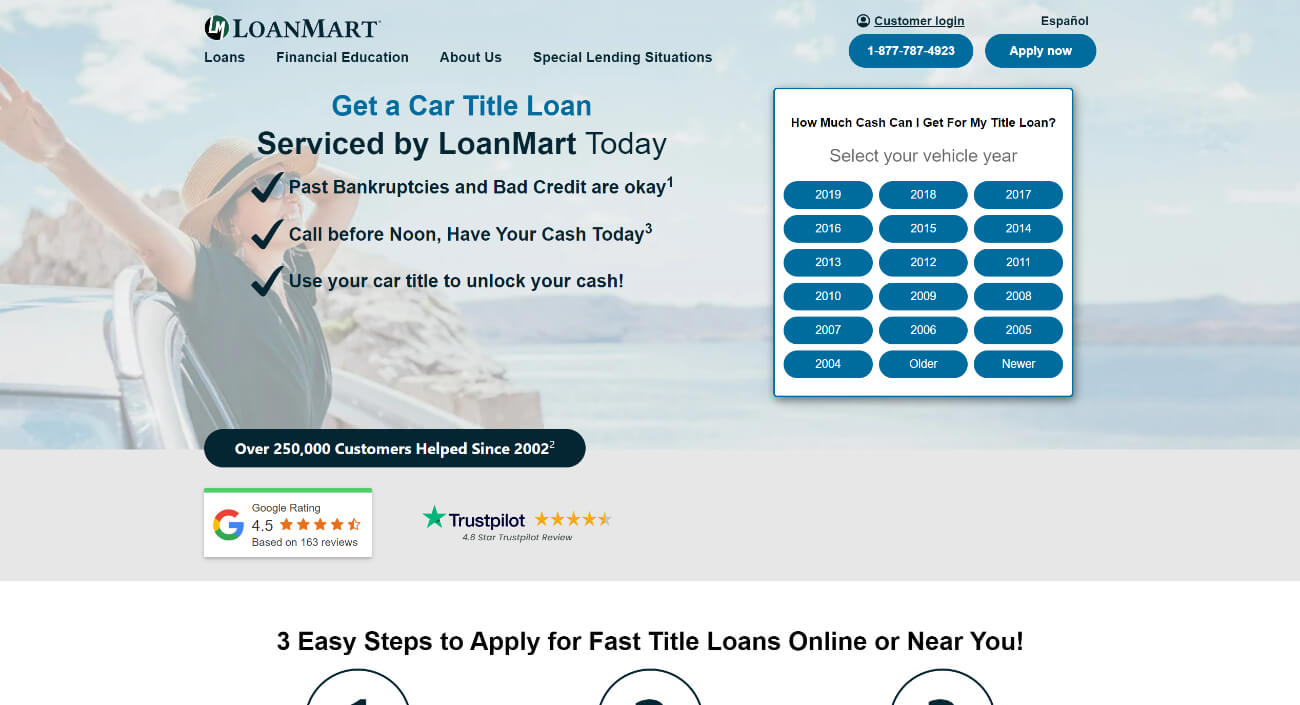 LoanMart's core USP is the relative ease with which you can secure a loan. All applicants must do is apply online or via phone and submit the required documentation. You can expect approvals in as little as an hour with same-day pay-outs. A good credit score isn't a necessity, according to the company.
On the flip side, LoanMart's services aren't available in all the states and for the convenience, expect higher interest rates.
LoanMart offers loans in the form of title loans, car title loans, online title loans, as well as emergency cash. Once approved, you can have the cash transferred to your bank account or pick up the same from a participating location.
The company has been in the business of loans for over a decade and claims over 250,000 satisfied customers. As an affiliate, you will be earning a flat $100 for each funded loan resulting from clicking your affiliate link. Expect a cookie duration of 30 days.
ZippyLoan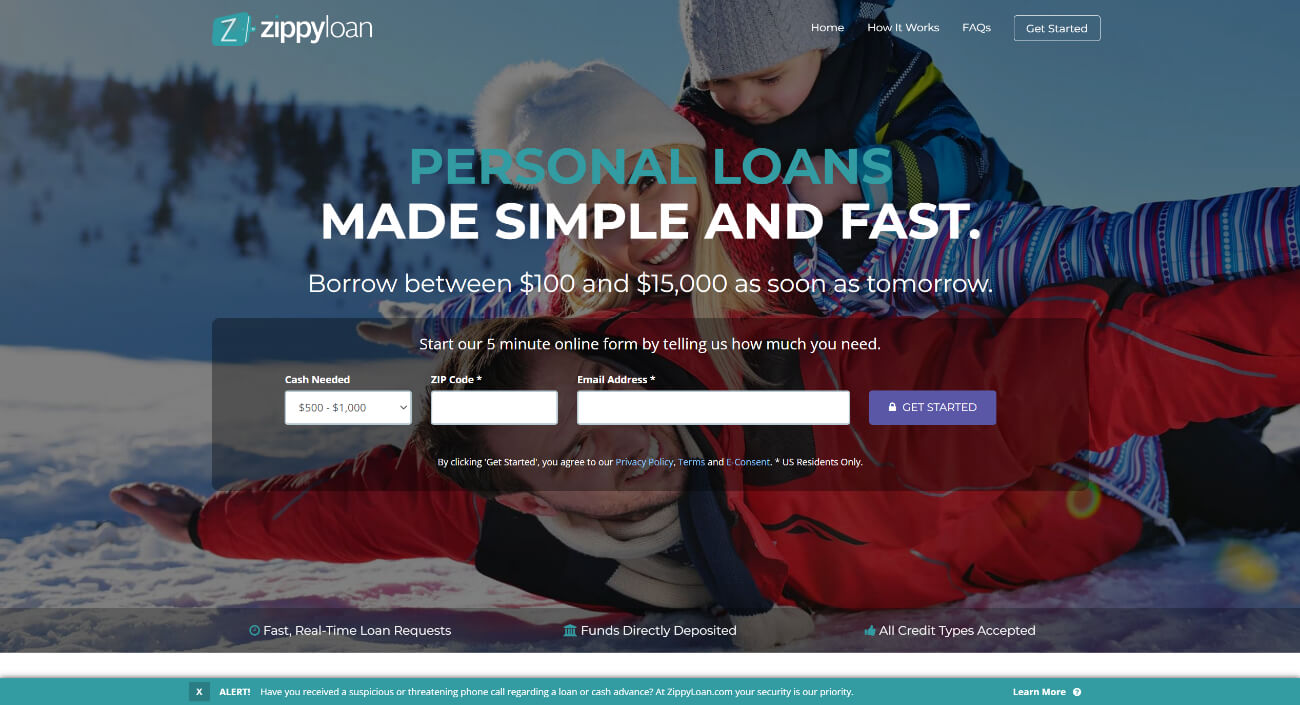 ZippyLoan gives your affiliate referrals a chance to get loan amounts ranging from $100 to $15,000 "as soon as tomorrow," a reference to just how quickly you can cash out. Interest rates range from 5.99% to 35.99%, and approvals can be obtained as soon as the same day. The minimum credit score to apply for a loan is zero.
ZippyLoan doesn't actually deal in loans directly. Similar to the other service providers on this list, ZippyLoan is an online loans marketplace with more than 100 lenders on its list.
The company's lenders offer flexible repayment plans on many of the loan offers. So, customers can opt to pay in multiple installments extending to as far out as 60 months. Customers can also opt to pay by the next payday for smaller loans in agreement with the lenders.
ZippyLoan's offers are not currently available for residents of New York, West Virginia, or the District of Columbia.
Affiliates have the potential to earn a whopping 72% of the sale on MaxBounty and a flat $45 per sale on Awin.
LendKey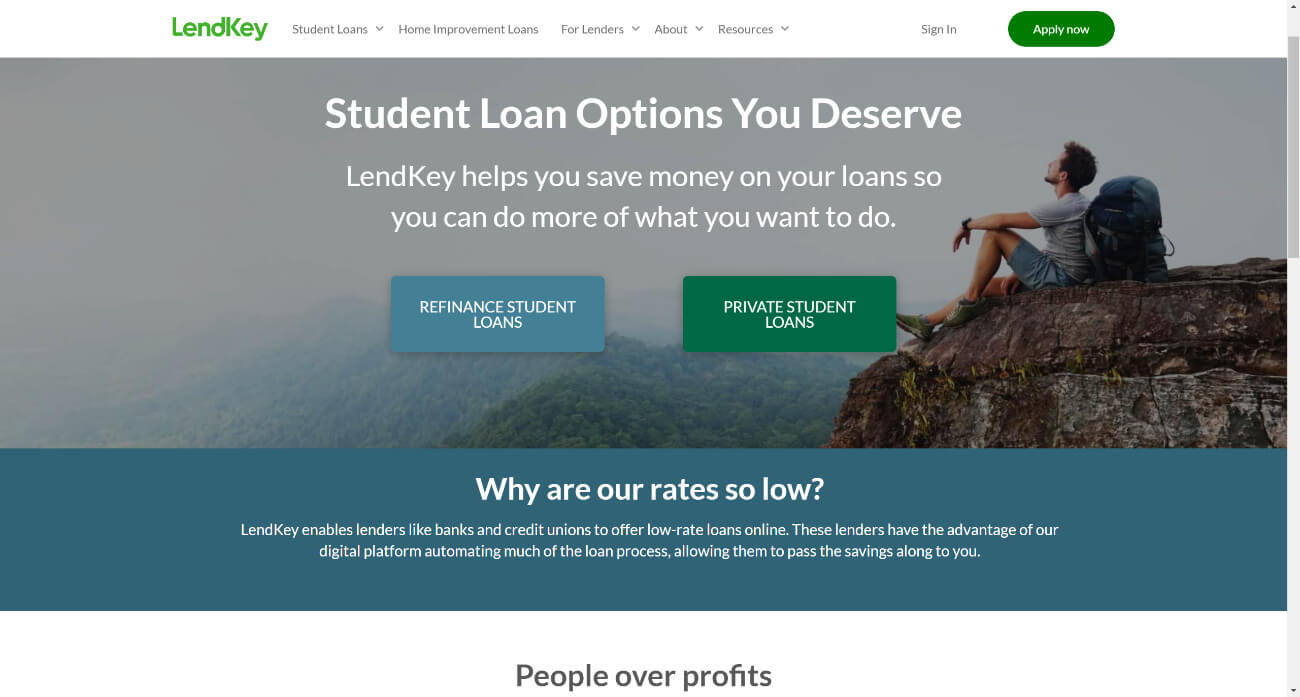 LendKey posted record revenue growth in March'22 with a total quarterly revenue increase of 50% and total loan originations increase of 60%. The company deals exclusively in the domains of student refinancing loans, private student loans, and home improvement loans.
LendKey is able to offer low-interest rates online by partnering with banks and credit unions. The automation present within the LendKey platform makes it possible for these lenders to save on costs and, in turn, pass those savings to the end customer. The company has loaned more than $5 billion worth of funds to over 135,000 borrowers since its inception
Affiliates can expect to earn $20 to $180 per lead depending on the type of loan on MaxBounty, $200 on disbursed loans through FlexOffers, and 0 to 1% or up to $250 per disbursed loan. There's a 90-day cookie duration on FlexOffers and Impact.
LendKey is rated 4.5 out of a total 5 on TrustPilot by 387 reviewers.
PersonalLoans.com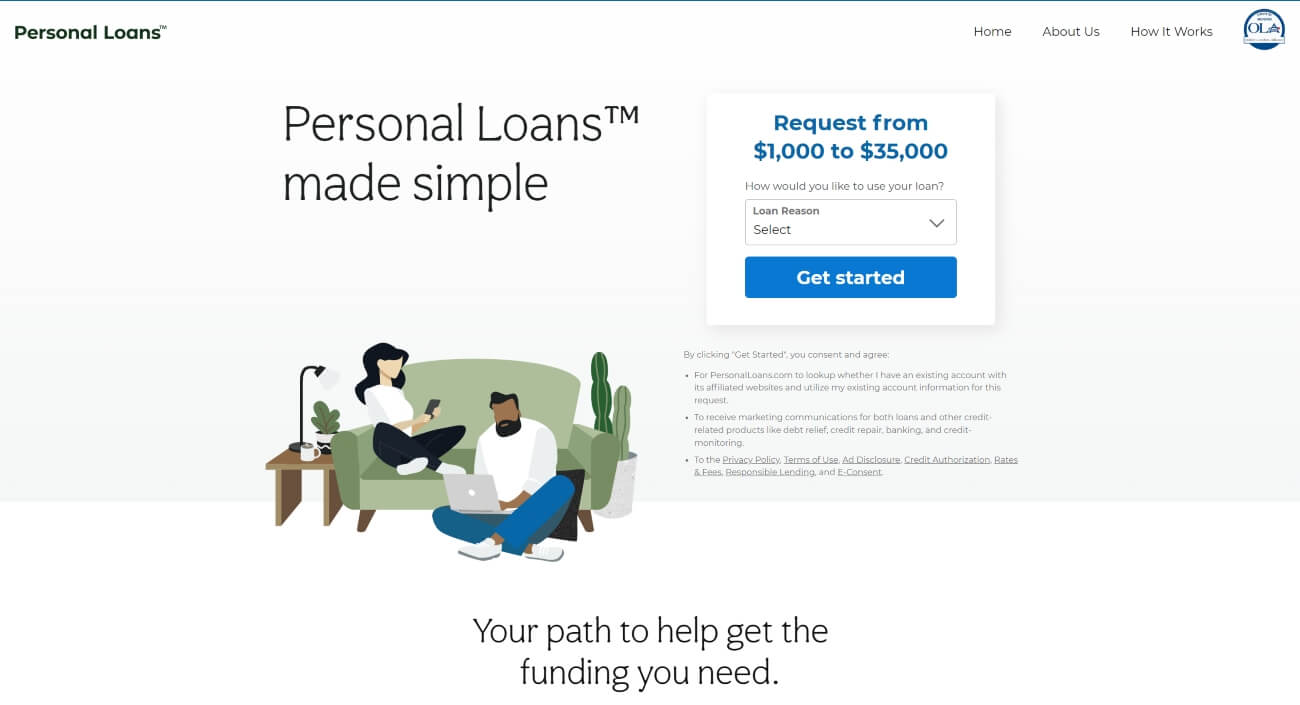 Program name: PersonalLoans.com Affiliate Program
Network / Software: Sovrn, CJ Affiliate, FlexOffers, MaxBounty
Commission: (Sovrn), $100.00-$120.00 per sale (CJ Affiliate), 76% per lead (FlexOffers), 75% of sales, $30.00 per lead (MaxBounty)
Cookie duration: Not listed (Sovrn, FlexOffers, MaxBounty), 45 days (CJ Affiliate)
Markets: Global
The aptly titled PersonalLoans.com gives applicants the ability to apply for loans ranging from $1000 to $35,000. They also offer various loan types such as debt consolidation or debt relief, credit card refinancing, auto repair or purchasing, moving, medical, business, vacation, emergency, major purchase, student-related, and so on.
PersonalLoans.com does state upfront that although they provide the service free of charge, they may be compensated in lieu of sharing applicant info or marketing non-loan products. The lender will also charge an origination fee or other fees, which they are required to disclose upfront.
PersonalLoans.com's' APR ranges from a minimum of 5.99% to a maximum of 35.99%. The minimum repayment term is three months, while the maximum term can go up to 72 months.
PersonalLoans.com offers affiliates 76% commissions per lead on FlexOffers, $110 to $120 per sale on CJ Affiliates, $30 per lead, and 75% per sale on MaxBounty.
Viva Loan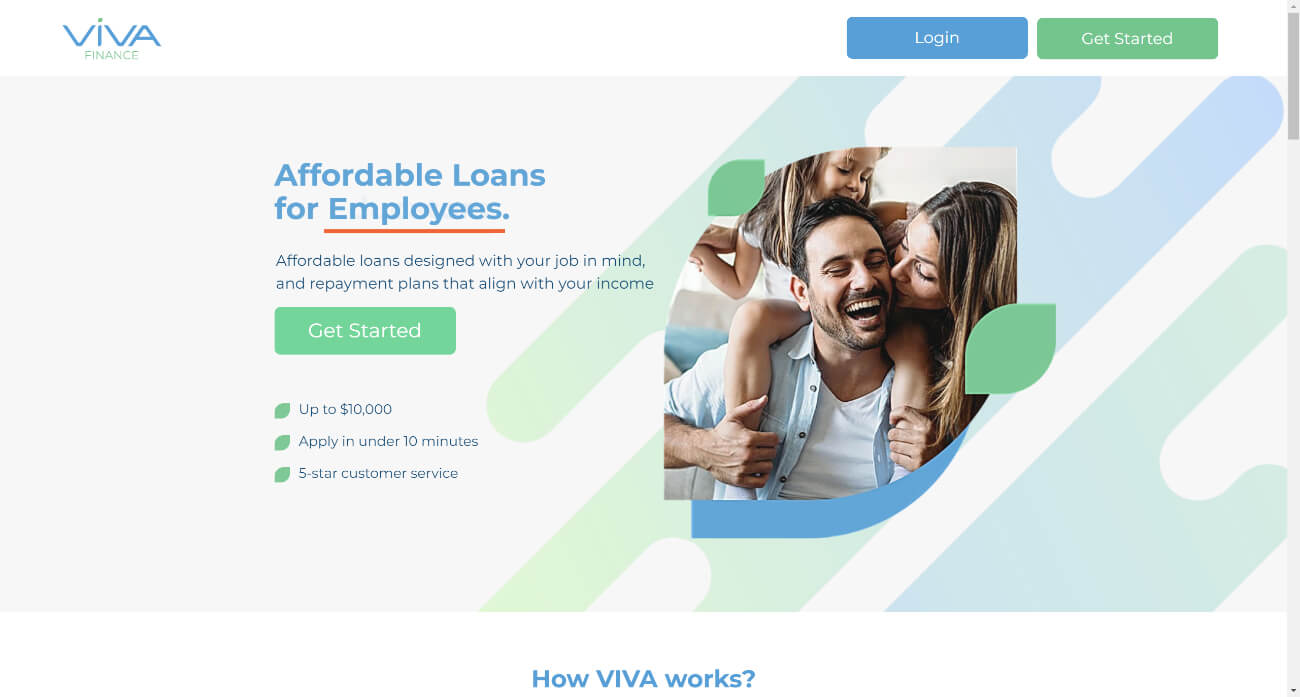 Viva Finance offers personal loans with rates determined by the job and income profile of the applicant to a maximum limit of $10,000. It connects employees and employers on a single platform so that employees can set up a repayment schedule in the form of payroll payments.
Employees can send their applications through in as little as 10 minutes, obtain their specific interest rates, and then cash out on their loans just as quickly.
Viva Finance's business is based on increasing access to affordable credit options by using an underwriting model with employment at its core.
The company offers options to convert and consolidate high-interest debts into low monthly payments and re-finance high-interest credit card debt through low-cost loans. That's aside from giving customers the ability to quickly access cash for unforeseen expenditures.
Viva Finance affiliate programs are currently available on Awin, MaxBounty, and Sovrn. Affiliates can expect to earn $45 in commissions on Awin, 67% of the sale, or $44 per lead on MaxBounty. Worth noting is the cookie duration which is just one day (on Awin).
FairStone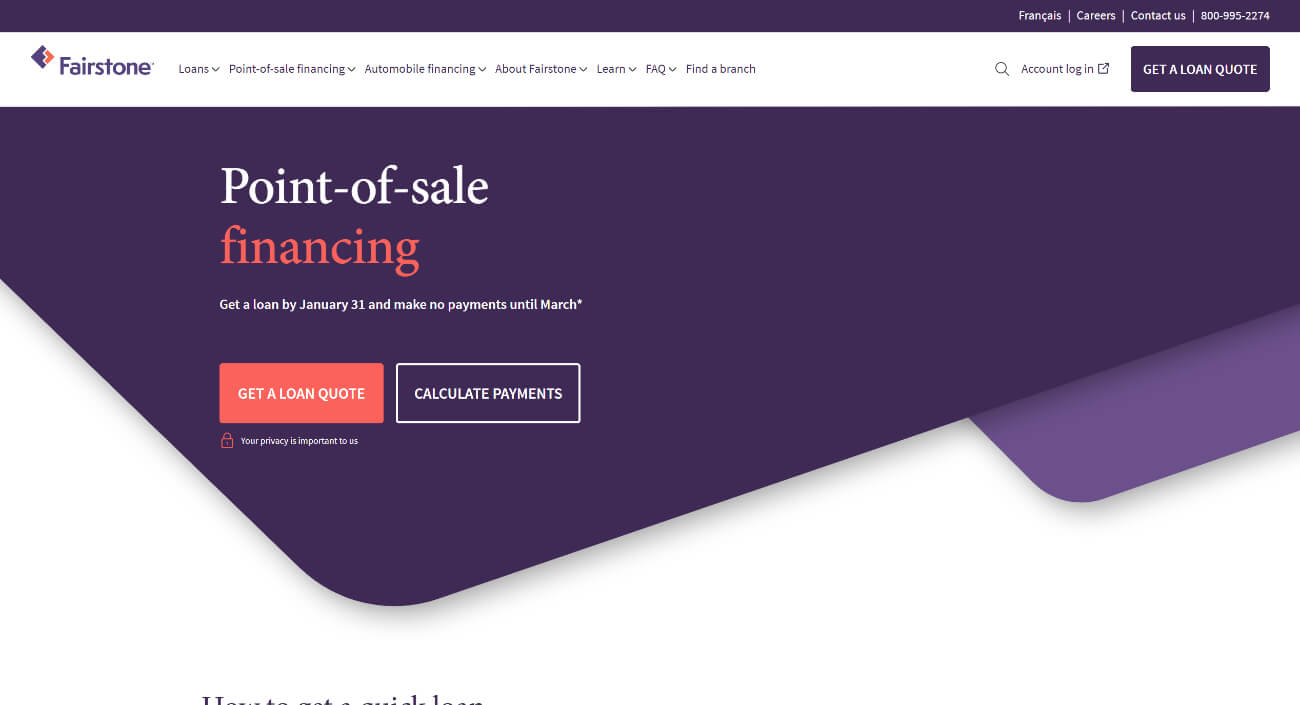 Fairstone Financial Inc. is a subsidiary of the Fairstone Bank of Canada that functions exclusively as a consumer lender. If your audience is primarily Canadian, Fairstone could be an option worth considering for affiliate promotions. The company offers fast loan approval for amounts ranging from $500 to $50,000.
Applicants can opt for both secured and unsecured loans. Fairstone offers a wide selection of personal loans, including loans for debt consolidation, car repair, emergency, medical, wedding, and travel. There are also RV and boat loans, and even pet loans, and vet bill loans.
Affiliates stand to earn competitive commissions by promoting a company that has been in the financial services industry since 1923 and has built a solid reputation since. With the Fairstone Bonus Program, you also have the opportunity to earn double commissions twice a year if you're a top performer.
Fairstone's other pluses include a 98.5% customer satisfaction rate, dispersal of over $3.3 million loans to date, and a formidable presence of 240 branches located across the breadth and width of Canada.
BadCreditLoans.com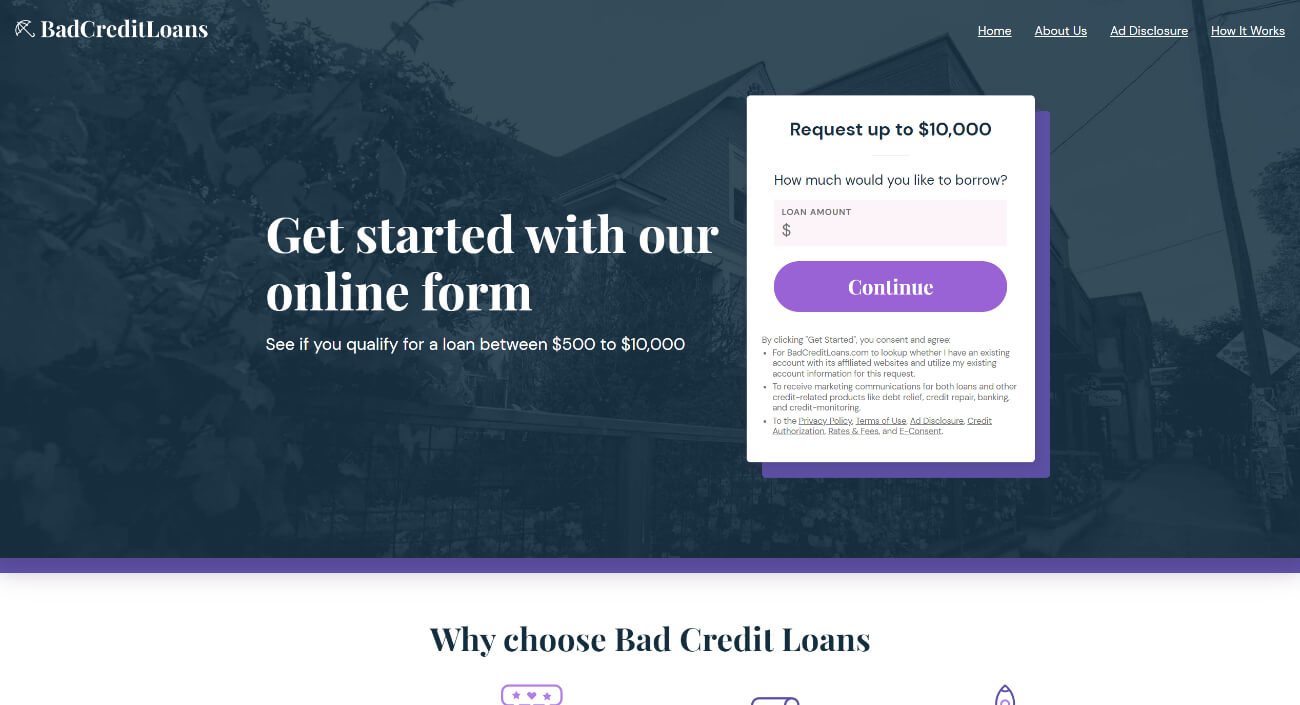 Program name: BadCreditLoans.com Affiliate Program
Network / Software: CJ Affiliate, FlexOffers, Impact, MaxBounty, Yazing
Commission: $110.00 per loan item (CJ Affiliate), 76% per sale (FlexOffers), 85% per lead (Impact), 76% per sale (MaxBounty), $110.00 per sale (Yazing)
Cookie duration: 45 days (CJ Affiliate, FlexOffers), 30 days (Impact), Not listed (MaxBounty, Yazing)
Markets: US
BadCreditLoans.com works differently from the other marketplaces on this list. They offer a free service whereby they pass on your loan request information to lenders, and the lenders decide whether to provide a loan to you depending on your credit history. At the same time, the company does have lenders that offer loans to all types of credit.
BadCreditLoans.com works with state and Tribal lenders. Tribal lenders can have higher fees and rates, and the terms can be subject to federal and tribal laws. If the applicant doesn't receive any offers, the site will connect them with other potential lenders without revealing sensitive information.
Applicants can request up to $10,000 in funds with the APR or Annual Percentage Rate generally ranging from 5.99% to 35.99%. Generally speaking, loans have a minimum repayment term of 90 days and a maximum repayment term of 72 months or six years.
As an affiliate, you can hope to earn some of the highest commissions possible - 85% per lead on Impact, 76% per sale on MaxBounty and FlexOffers, and $110 per loan item from CJ Affiliate and Yazing.
Credible.com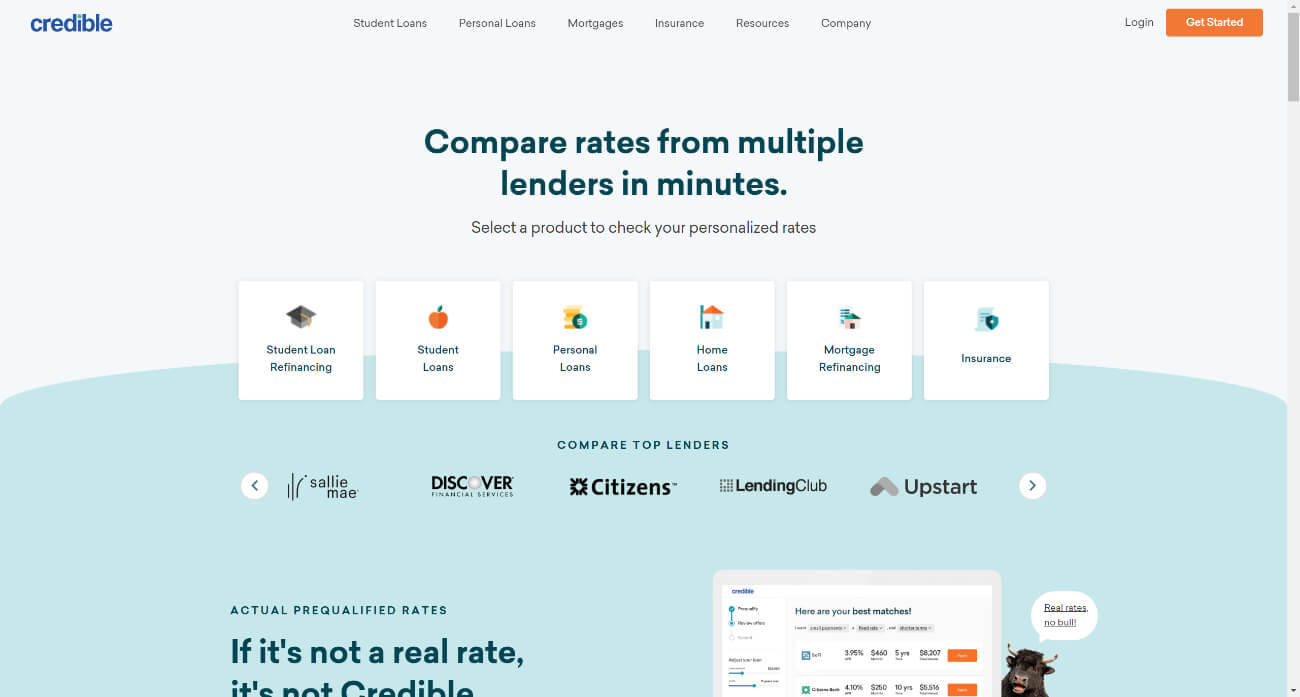 Credible offers various types of loans such as student loans, student refinancing loans, personal loans, home loans, and other products such as mortgage refinancing and insurance. It functions like a marketplace where you can compare and shop for financial products from top financial services providers.
Customers simply fill up a form online and gain access to a list of lenders that are personalized and pre-qualified based on the credit history of the applicant. The "soft credit inquiries," as they're called, do not affect the customer's credit score. For affiliates, the process is just as simple. They sign up via an online form as well, and Credible takes care of the rest of the setup.
As an affiliate, you can access "popular" products like student loans with the benefit of working with a site that prides itself on a solid user experience. Meaning, you can expect a high conversion.
Given that Credible helps applicants save more on loans, the products can potentially become easy sales. Expect to earn $240 in commissions through the Direct affiliate network.
Are you struggling with tons of affiliate platforms and links?
If you're running website that's monetized with affiliate marketing, there's a high probability your affiliate commissions are scattered across a ton of different platforms.
This makes it hard to get an overview of what's working well, efficiently test different products and programs, let alone optimize your content for conversion.
Affilimate was designed to fix that. It helps you collect your affiliate data (clicks, commissions, and content analytics) into ONE place so you can optimize conversion and grow your revenue.
Start your free Affilimate account and get tracking today.