10 Best Wedding Affiliate Programs for 2023 (Based on Data)
By Natalie Robin · Updated Jan 16, 2023
With events happening year-round, wedding affiliate programs are a great evergreen option to promote to your audience.
Wedding affiliate programs also offer an opportunity to see recurring commissions. This is because it often takes over a year for couples to plan their big day, and they make purchases throughout the wedding planning process.
Weddings often require high volume orders, and affiliates can benefit from large payouts. This includes purchases such as guest favors, wedding vendors, and bridesmaid dresses. Not to mention wedding jewelry, with price tags (and commissions) in the thousands.
Whether you're a lifestyle blogger planning your own wedding, or you're a professional event planner with a dedicated client email list, these wedding affiliate programs can be a good resource for your audience, while also earning you high commissions.
How we compiled this list
To compile this list, we analyzed 25 of the most popular wedding blogs to discover which affiliate programs they promoted most often, using our Affiliate Link Scanner.
We then categorized them into the most linked-to affiliate programs on top blogs in the wedding niche. After all, if a blog or website links to the same merchant hundreds of times, there's a good chance it's because it converts.
The result is a data-backed list of wedding affiliate programs based on what's working for top sites in the niche. All based on publicly available data.
Wedding affiliate programs
Here are the best wedding affiliate programs to promote this year:
Minted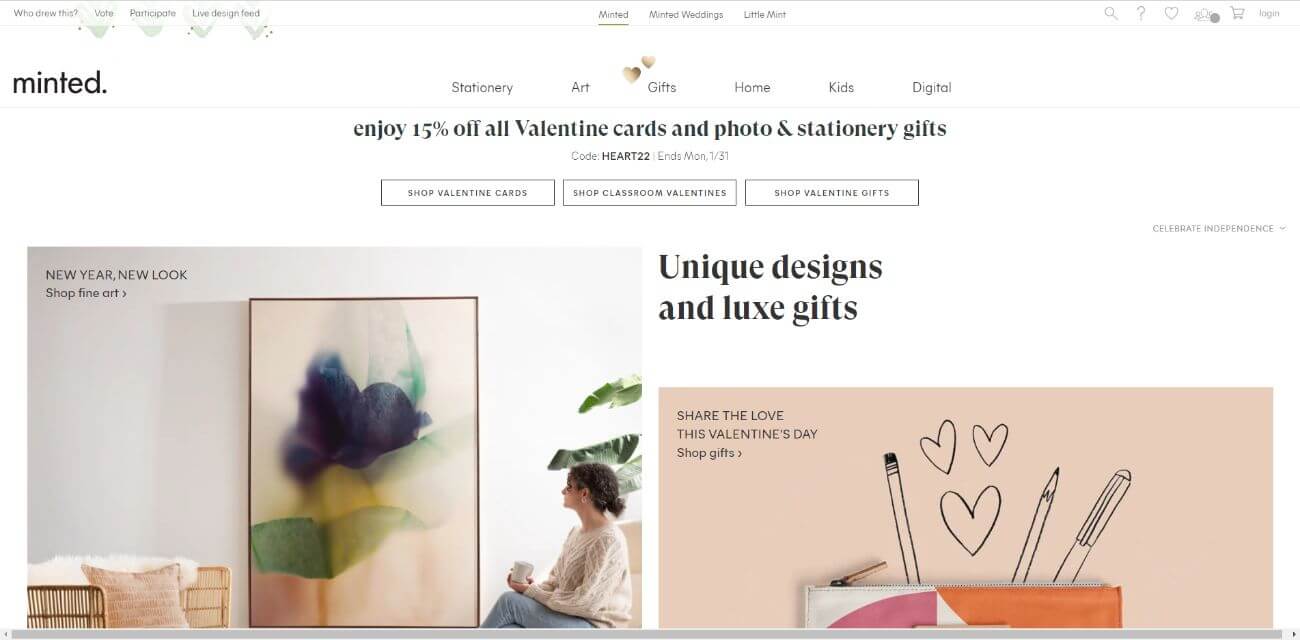 Program name: Minted Affiliate Program
Network / Software: ShareASale, Sovrn, Skimlinks, Pepperjam
Commission: 20% per sale, $1.00 Lead Commission (ShareASale), 10% per sale, $0.08 average EPC (Sovrn), 10-15% (Skimlinks), 3% per sale (Pepperjam)
Cookie duration: 120 days (ShareASale), Not listed (Sovrn, Skimlinks), 10 days (Pepperjam)
Markets: KH (ShareASale), MX, CA, US (Sovrn), Global (Skimlinks), US (Pepperjam)
Minted is an online marketplace showcasing work from independent artists from around the world. They carry wedding website templates, invitations, and stationery.
With its wide range of products, the Minted affiliate program is suitable for all kinds of creators; from fashion and lifestyle bloggers, to YouTubers. The program terms and commissions vary depending on which platform you sign up with. ShareASale offers the largest commission and longest cookie duration.
If you have an audience that appreciates one-of-a-kind artwork and unique venue designs, this affiliate program is a great chance to support up-and-coming artists.
Zola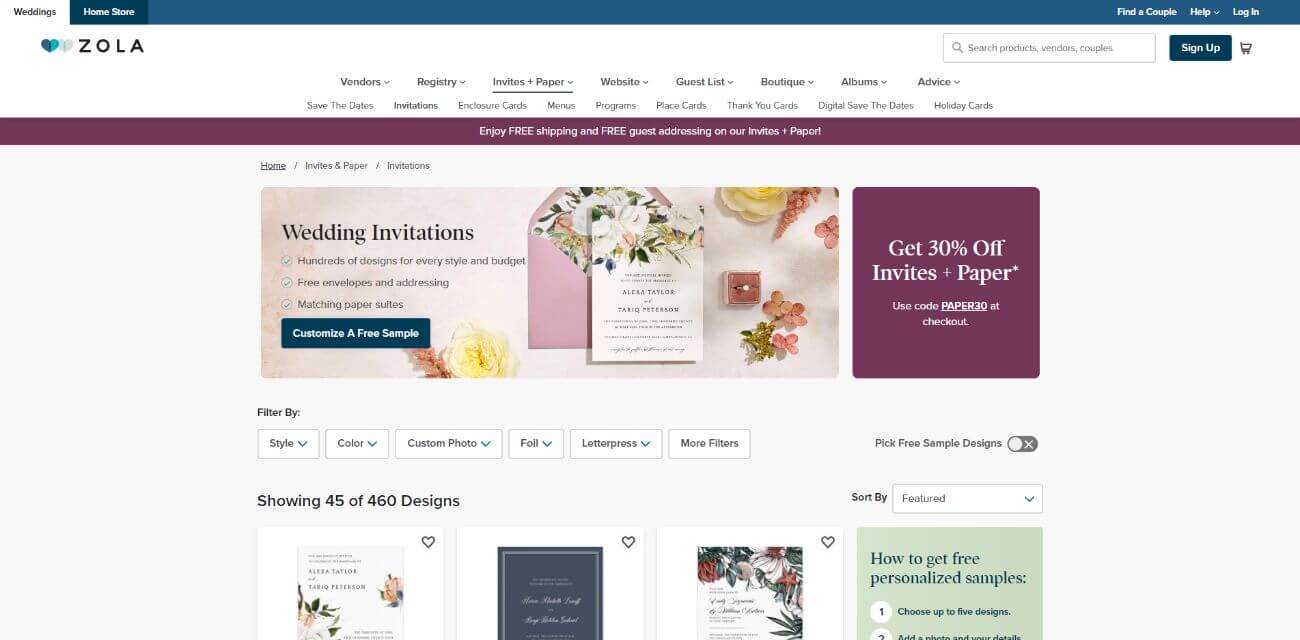 Program name: Zola Affiliate Program
Network / Software: Skimlinks, FlexOffers, Impact, Sovrn
Commission: 1% Order Shipped, 2% Order Shipped (Kitchen, Home, Weekend, Cleaning, Wedding Party Attire, Wedding Bands, Women's Fine Jewelry, Wedding Dresses), 10% Order Shipped: ITEM_CATEGORY IS Print, Print_Media, $5.00 per signup (Skimlinks), (FlexOffers), $5.00 per sign up (Impact), $5.00 flat fee for registry (Sovrn)
Cookie duration: Not listed (Skimlinks, Sovrn), 7 days (FlexOffers, Impact)
Markets: Global
Zola is a one stop wedding planning shop offering a registry, digital 'save the dates,' and an online guest list builder. After a tough period for the wedding industry, Zola recently launched one of its largest marketing campaigns since 2019. This indicates that the industry expects a huge resurgence that affiliates can tap into after years of canceled events.
The Zola affiliate program commissions vary depending on the item category. Affiliates can choose the program and products that best fits their audience's needs, increasing their chances of converting sales.
If you want to refer your audience to a brand that offers everything in one place, the Zola affiliate program could be a good choice.
BHLDN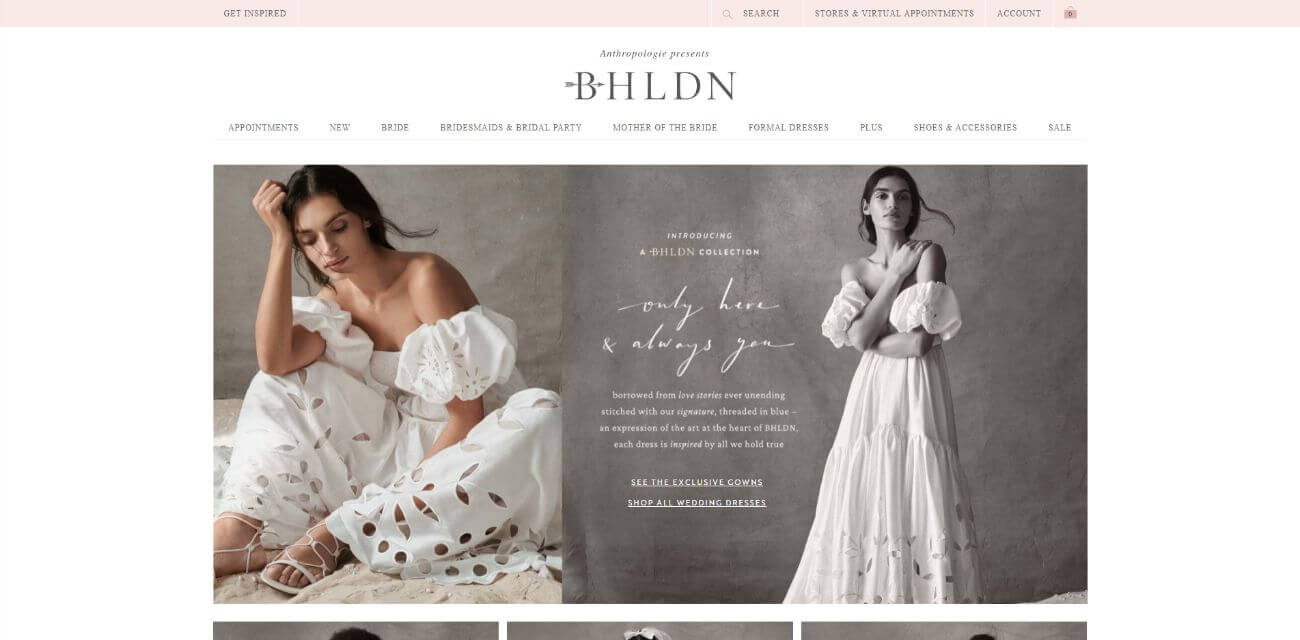 Program name: BHLDN Affiliate Program
Network / Software: CJ Affiliate, Skimlinks, FlexOffers, Sovrn
Commission: 2% BHLDN purchase by existing customer, 4% BHLDN Purchase by new Customers (CJ Affiliate), 3% BHLDN purchase by existing customer, 5% Online purchase by a new customer or guest (Skimlinks), (FlexOffers), (Sovrn)
Cookie duration: 14 days (CJ Affiliate), Not listed (Skimlinks, FlexOffers, Sovrn)
Markets: US, CA, AU, ES, FR (CJ Affiliate), Global (Skimlinks), Global (FlexOffers), Global (Sovrn)
BHLDN, pronounced 'beholden,' is a wedding gown shop and a subsidiary of Anthropologie, and serves a global market. As Anthropologie is a household name, affiliates can tap into the strong brand recognition to generate sales.
BHLDN itself has a large social media following of over 1 million across their accounts, which adds to its credibility with new customers. A possible downfall of this program is that commission rates are substantially lower than comparable affiliates on this list, at only 2%-5% per sale.
On the other hand, BHLDN stands out through their bohemian style. If you have an audience that gravitates toward an organic, ethereal aesthetic, this wedding gown brand could be the perfect affiliate partnership for you.
David's Bridal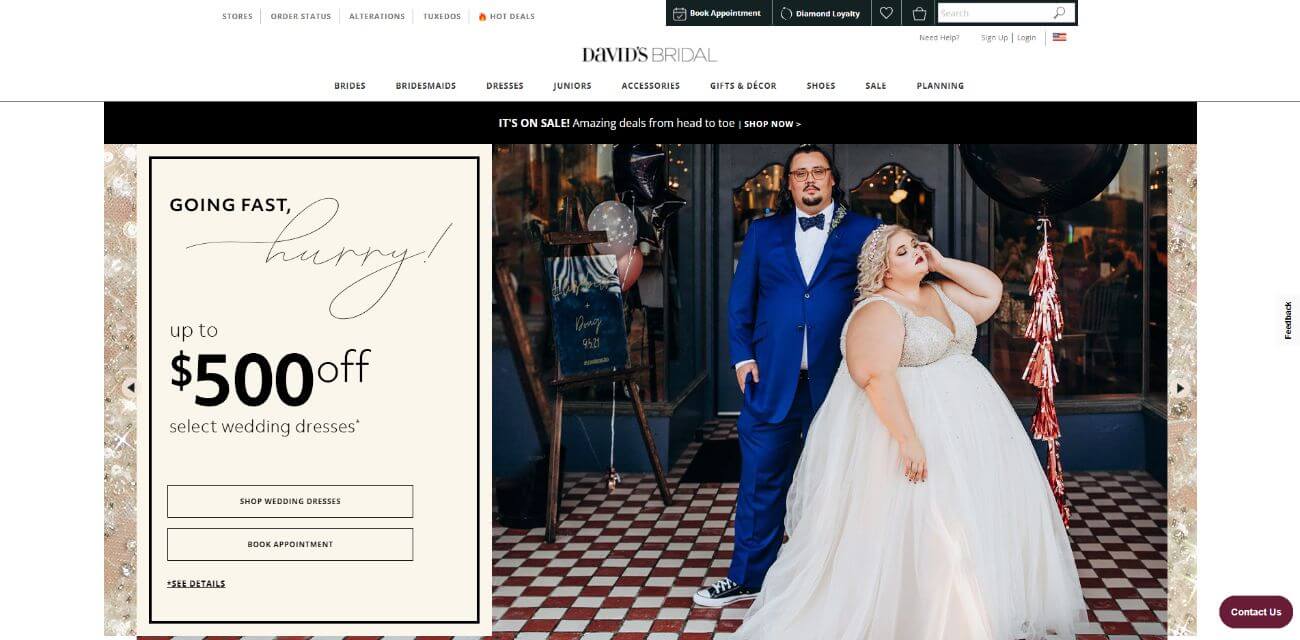 Program name: David's Bridal Affiliate Program
Network / Software: Sovrn, Yazing, Pepperjam, FlexOffers
Commission: 57.05% network commission rate (Sovrn), 3% (Yazing), 3% per sale (Pepperjam), (FlexOffers)
Cookie duration: Not listed (Sovrn, Yazing, FlexOffers), 10 days (Pepperjam)
Markets: CA, US (Sovrn), Global (Yazing), US (Pepperjam), Global (FlexOffers)
David's Bridal is a traditional wedding gown department store, founded in Florida in 1950. The brand has since grown to be one of the largest dress retailers in North America, with over 300 storefronts. With such a strong presence in the U.S and Canada, this program is an obvious choice for wedding affiliates with a North American audience.
The company announced plans to continue to expand their retail presence in early 2021. If you know and love David's Bridal, this could be an opportunity to partner with a heritage brand that is continuing to grow.
Reformation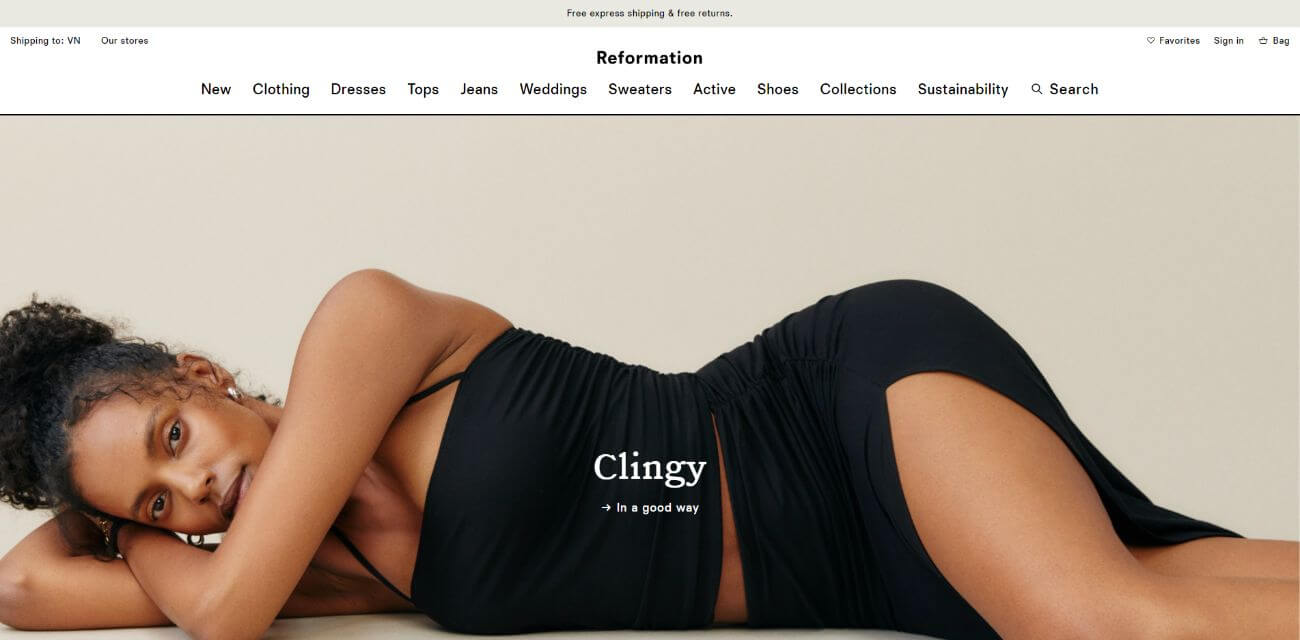 Reformation is the go-to dress shop for eco-conscious millennials. They've made a name for themselves with their bridal, bridesmaid and wedding guest dresses made from fabrics like wood pulp derived Viscose. The brand has a huge social media presence, with 1.7 million followers on Instagram.
Affiliates can sign up to this program directly on the Reformation website, or through third party platforms. They can benefit from a high commission rate of 10% per sale. Dresses are on average $400 to $600USD, which sets commissions at $40-$60USD per unit.
If you have a fashion forward audience that knows and loves Reformation, this affiliate program could fall seamlessly into your marketing strategy.
Artifact Uprising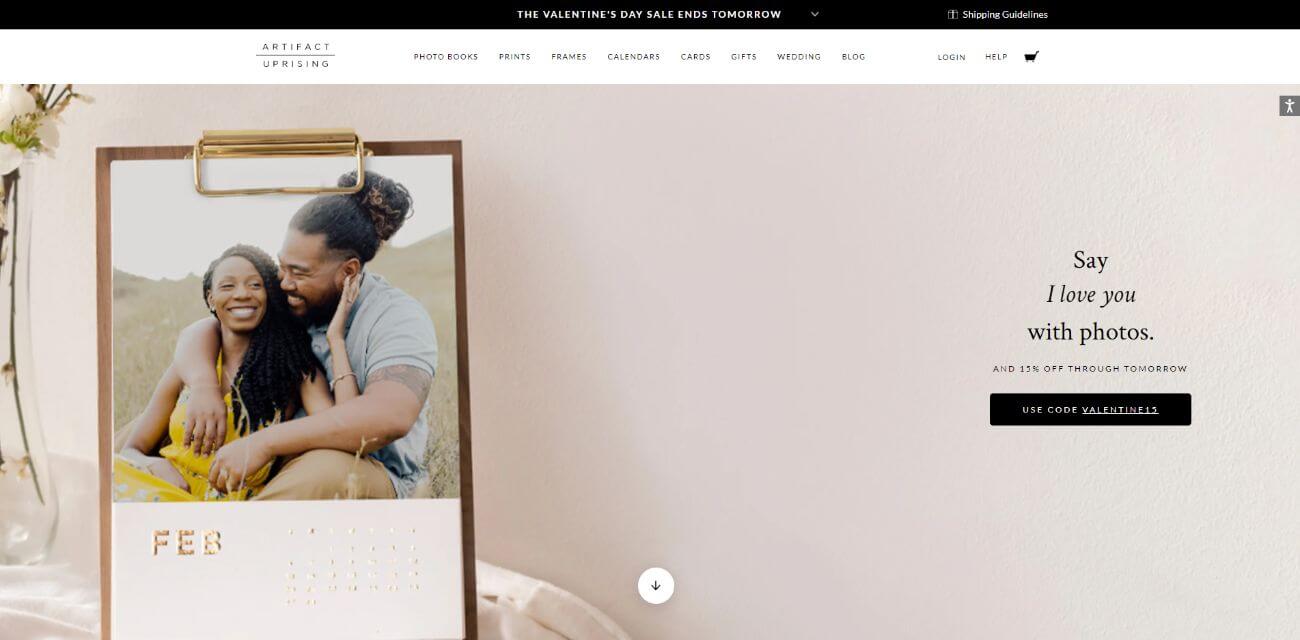 Artifact Uprising creates custom photo books that capture your wedding day. Aside from wedding albums, they also carry gifts, calendars, prints, and frames. The company was founded in the US, but serves a global audience, so it's suitable for international affiliates.
The Artifact Uprising affiliate program offers a generous 10% commission, and above average 180-day cookie window. Wedding albums range in price from $300 to $600, which make commission payouts approximately $30-$60 per unit.
This affiliate program could be the perfect fit for bloggers and marketers with an audience interested in photography or custom gifts.
The Knot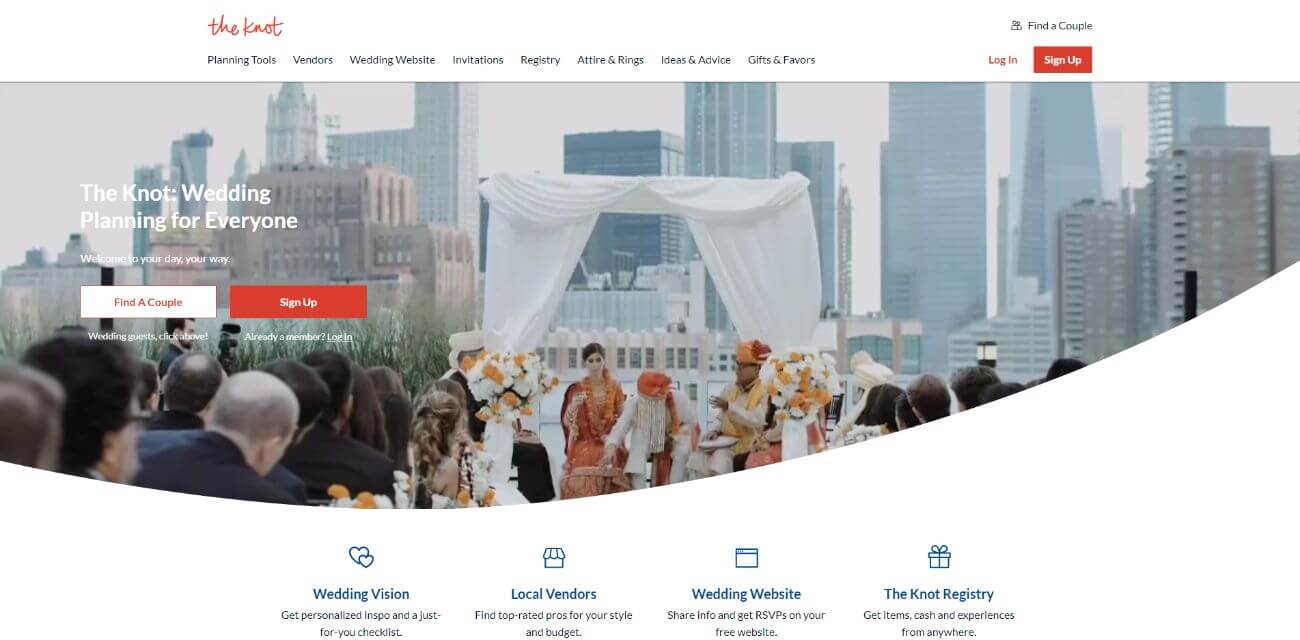 The Knot offers wedding planning services covering everything from wedding attire to the registry. The website is one of five international sister sites including The Bump, The Guest, The Bash, and How They Asked. Each site caters to a different aspect of the engagement and marriage process.
A benefit of this program is that affiliates can earn commissions on multiple wedding registry sales. Depending on the platform you sign up with, you can also be eligible for daily payouts.
If you're a lifestyle blogger, wedding vendor, or event planner, this affiliate program and its affiliated websites could be a great brand to promote to an international audience.
James Allen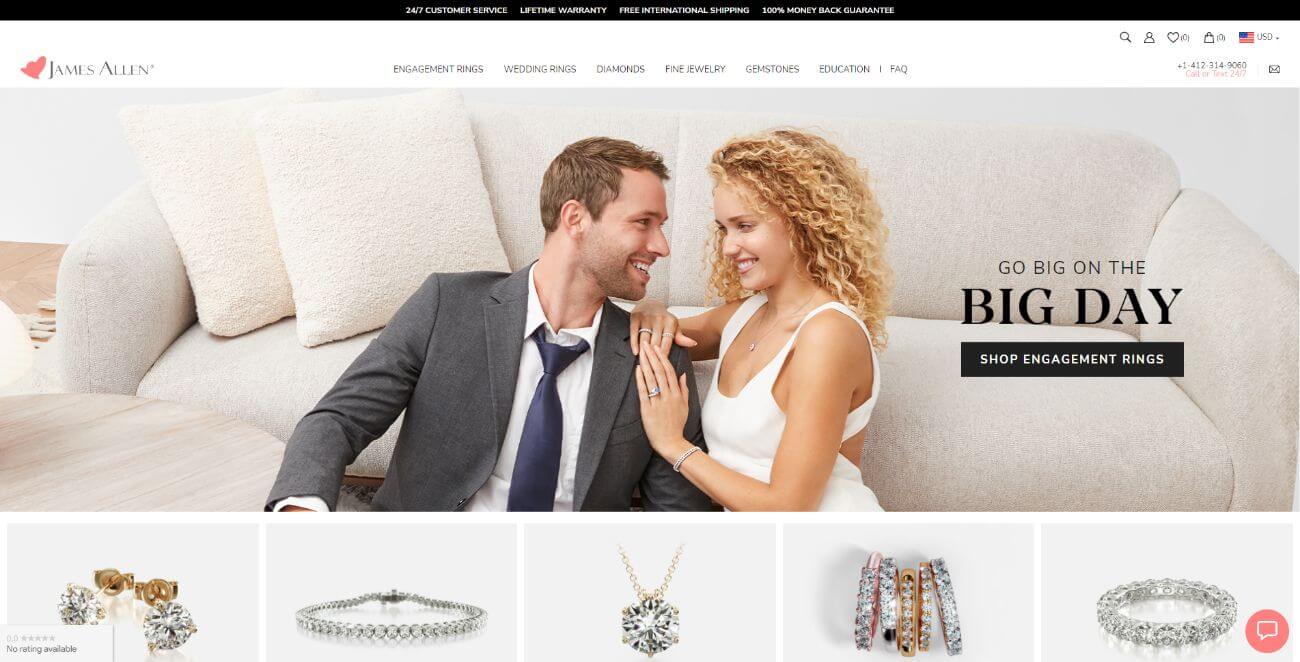 Program name: James Allen Affiliate Program
Network / Software: Post Affiliate Pro
Commission: 5%
Cookie duration: 30 days
Markets: Global
Alternatives: Blue Nile at $50.00-$100.00 reduced when certain promo codes are applied (Impact), 0.76% network commission rate (Sovrn), 2% online sale (Skimlinks), or Whiteflash at 0-5% per sale
According to our analysis, James Allen was closely tied with Blue Nile for the most popular jewelry affiliate program.
James Allen is a D2C online jeweler specializing in engagement rings for a global clientele. They offer a video viewing experience in addition to a grading certificate in order to give customers peace of mind when shopping online.
The James Allen affiliate structure is fairly generous, with a 5% commission rate and a 30 day cookie duration. According to their website, an average sale is $6,500, with a $275 commission per sale.
A potential drawback with any ring purchase is that customers might not be comfortable with purchasing such a high ticket, personal item online. This could present conversion challenges for affiliates.
However, if you are confident in the product and service you received, this affiliate program could be a good fit if you have a personal experience to share with your audience.
Rent the Runway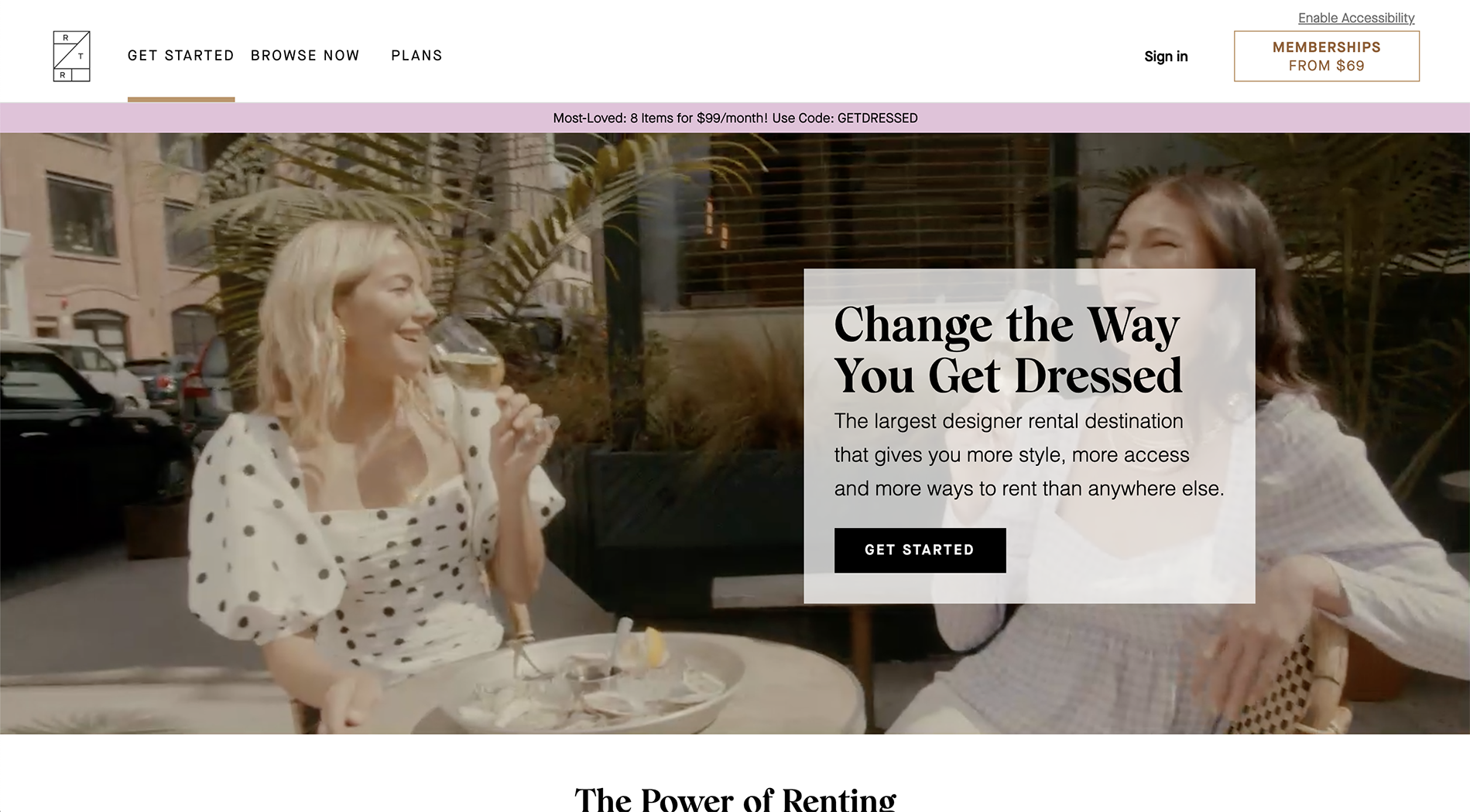 Program name: Rent the Runway Affiliate Program
Network / Software: Pepperjam, Sovrn, Skimlinks
Commission: 7% (Pepperjam), 7% (Sovrn), 8-16% (Skimlinks)
Cookie duration: 30 days (Pepperjam), Not listed (Sovrn, Skimlinks)
Markets: US
Alternatives: Rebag at 5% for orders below $4,000 USD, 3% for orders above $4,000 USD, or The RealReal at 7% for new customers, 5% for existing customers
If buying consigned luxury is still too expensive, why not rent? Rent the Runway offers both one-off rentals of high end, designer pieces and a membership that lets you rent a certain number of pieces up to a specific value every month.
Apart from promoting the program yourself, Rent the Runway is also a great way to get your hands on products you want to promote as an affiliate and produce your own photography and social images at a fraction of the price.
According to Skimlinks, Rent the Runway has an average 0.94% conversion rate and average order value of about $90.
Etsy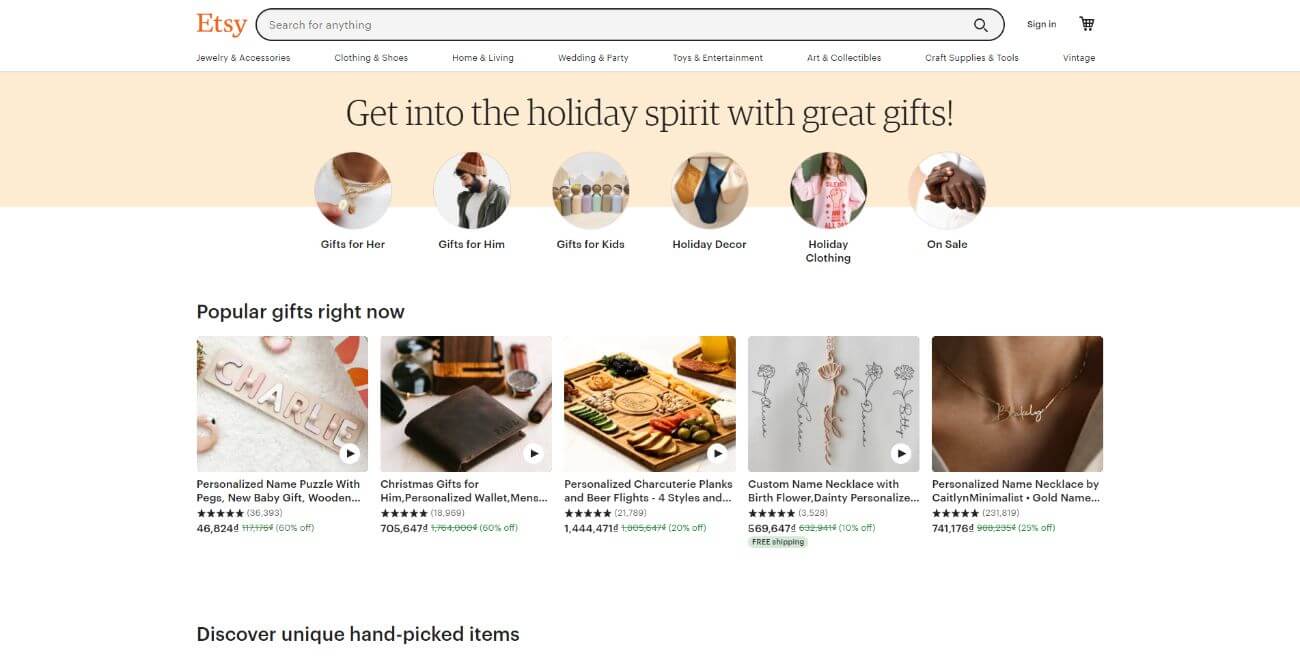 Etsy is an online retailer hosting all kinds of products from artists, and makers from around the world. You can find just about everything on their platform, from clothing and apparel, to homeware, to wedding accessories. Etsy is especially useful for customized gifts and unique finds.
If you're a lifestyle blogger, Etsy is a great affiliate option because it covers so many categories. The program offers an average 4% commission per sale, but because there's such a range of products and prices, commissions could be huge if you have a niche audience.
Are you struggling with tons of affiliate platforms and links?
If you're running website that's monetized with affiliate marketing, there's a high probability your affiliate commissions are scattered across a ton of different platforms.
This makes it hard to get an overview of what's working well, efficiently test different products and programs, let alone optimize your content for conversion.
Affilimate was designed to fix that. It helps you collect your affiliate data (clicks, commissions, and content analytics) into ONE place so you can optimize conversion and grow your revenue.
Start your free Affilimate account and get tracking today.