13 Best Health Affiliate Programs in 2023
By Irene Lopez · Updated May 29, 2023
50% of US consumers today report wellness as a top priority in their lives, according to McKinsey. Americans are spending over $450 billion on health and wellness products annually, and this figure is expected to grow by 5% each year.
Aside from having virtually unlimited business potential, the health and wellness niche is an evergreen performer. There will always be a market for people interested in getting healthier and avoiding illness or disease for as long as possible. You can expect a consistent demand for products that improve health, maintain it, or help to optimize it.
The good news is the niche also covers severa sub-niches you can explore depending on your interest. Aside from nutrition, you could also explore fitness products, cosmetic products like skin or hair care, mindfulness, and even sleep.
Insider Tip: While the demand for organic and ethically-sourced health and wellness products is rising, customers want and expect functionality too. The mindfulness and sleep niches are trending in a big way, and the supply has yet to catch up with the demand. Speaking of sleep, if you're in the market for great mattresses that your customers will absolutely love, you don't want to miss our list of the best mattress affiliate programs.
Returning to our topic, we've selected some of the biggest and most popular performers in the niche for this list of top health affiliate programs. We've done the work, so you won't have to! Let's get started.
Health Affiliate Programs
Here are the best health and wellness programs to promote in 2023:
Athletic Greens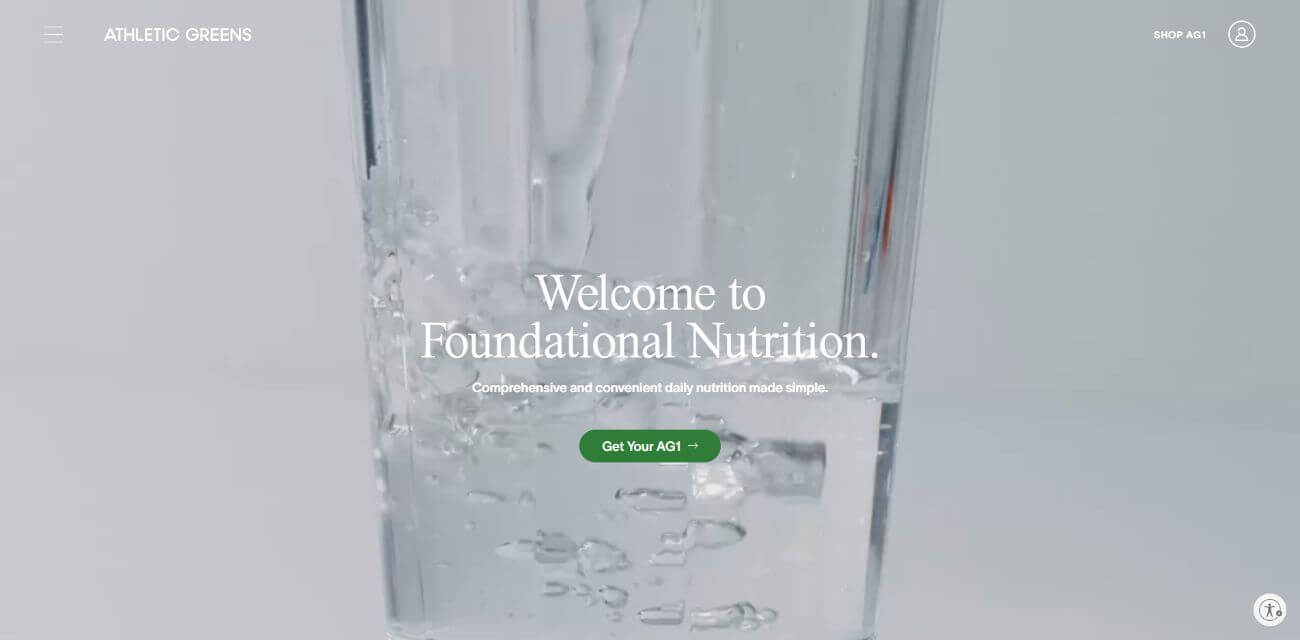 Athletic Greens is a startup focusing on efficient health products for active lifestyles. The company recently raised $115 million in venture capital to expand its branding and promotional efforts.
The brand's signature product is called AG1, a New Zealand made powder based supplement with 75 different vitamins and minerals. AG1 is priced at $99 for a one time purchase, or $70 to $149 for a monthly subscription.
The Athletic Greens supplement affiliate program offers a 30% commission on these sales within a 30 day cookie period.
Athletic Greens also has a social media audience of over 500k, with especially high engagement on Instagram and Facebook. If you love Athletic Greens products and have an audience that's active on these platforms, this affiliate program could be a good match.
BeyondBody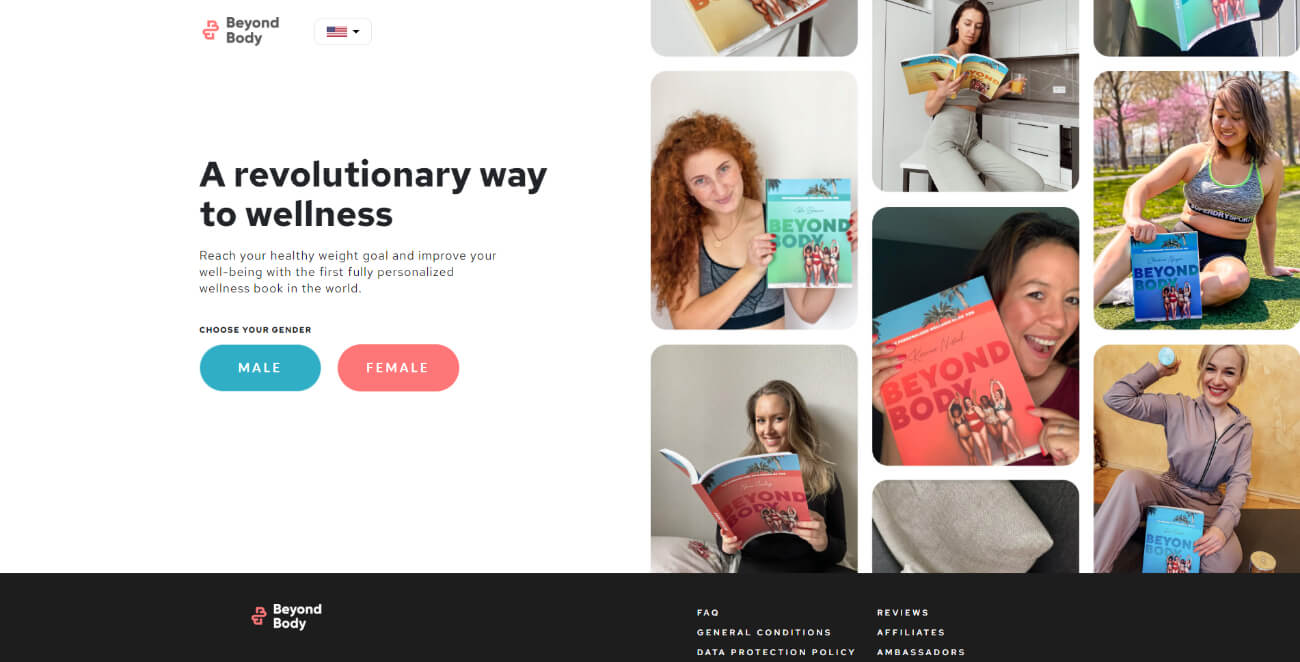 BeyondBody is a weight-loss brand whose core product is a wellness book personalized for users. It's currently one of the leading weight-loss brands in the USA.
A potential customer answers a series of questions on their sleep habits, food preferences, exercise patterns, age, and gender on the brand website before being directed to purchase their personalized weight-loss e-book. Plans include a paperback version and an app subscription that complements the book's content and supports the customer's weight-loss efforts.
The 300-page book provides a personalized 28-day meal plan, personal training guide, 30-minute meal prep guide, strategies to help your new habits stick, mental well-being management, and more. BeyondBody recommends you use the book and the app for the best results. The app helps you track your calories, exercise, and water intake, create grocery shopping lists, track your progress and more.
BeyondBody's affiliate program is ideal for content creators in the wellness or fitness niche with their own YouTube, TikTok, and Instagram channels or podcastspodcast. BeyondBeauty isn't particular about your reach; you should be passionate about promoting the brand.
As an affiliate, you'll get a 15% revenue share on every new customer, a 30-day cookie duration, and a dedicated account manager.
Hims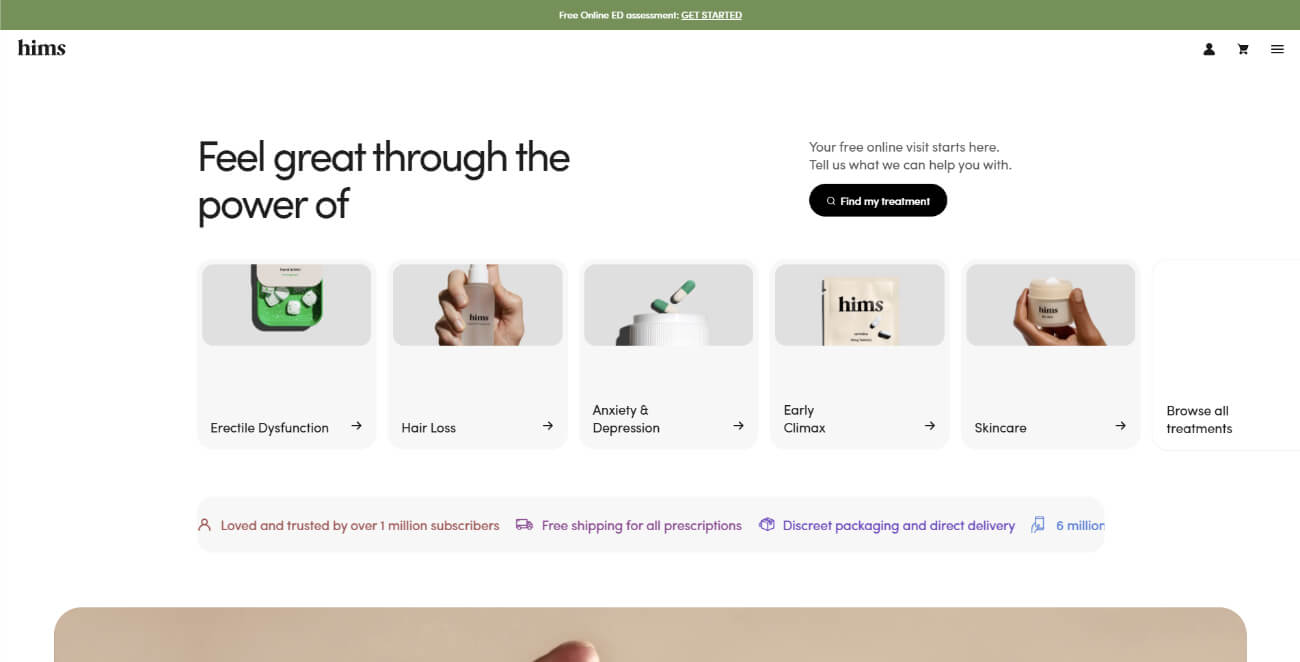 Program name: Hims Affiliate Program
Network / Software: Impact, Partnerize, Skimlinks, FlexOffers, Sovrn
Commission: 10-30% on online sales applied for brand Hims, Inc. (Impact), $5.00 standard rate on sales (Partnerize), $5.00 network exclusive rate, $30.00 per sale (Skimlinks), $0.80-$28.00 on Hims sales depending on the item purchased (FlexOffers), 10-30% on online sales (Sovrn), $5.00 potential commission, estimated cost per click is $0.48 (Sovrn)
Cookie duration: Not listed (Impact, Skimlinks, Sovrn), 30 days (Partnerize, FlexOffers)
Markets: Global (Impact), AU, CA, IN, US (Partnerize), US (Skimlinks), US (FlexOffers), UK (Sovrn), Global (Sovrn)
Hims is an online telehealth portal that connects male patients to licensed healthcare professionals across the country. There's a "no-topic's off limits" approach with the services, which means that men can find support for less openly discussed challenges such as erectile dysfunction, hair loss, acne, etc.
The patient needs to fill up an intake form online detailing their symptoms and medical history, after which they will be matched to a licensed medical care provider within the same state. Patients may sometimes be prescribed medication which is then shipped to the preferred address provided. The entire experience is designed to be convenient and discreet.
Patients also have access to purchase non-prescription products.
Hims' biggest USP is the price of the products. All prescription and non-prescription products are priced at under $50, which, according to the brand, passes on the benefit of a good 50-80% worth of savings to the end consumer.
The Hims affiliate program is currently available on Partnerize and CrakRevenue. Partnerize provides $7-$10 commissions on sales and a 30-day referral period. They also do VIP rates if needed. The CrakRevenue site doesn't list the commission structure upfront, but you can sign up for more information. They reportedly payout "unrivaled" commissions, according to the blurb on the site.
Hers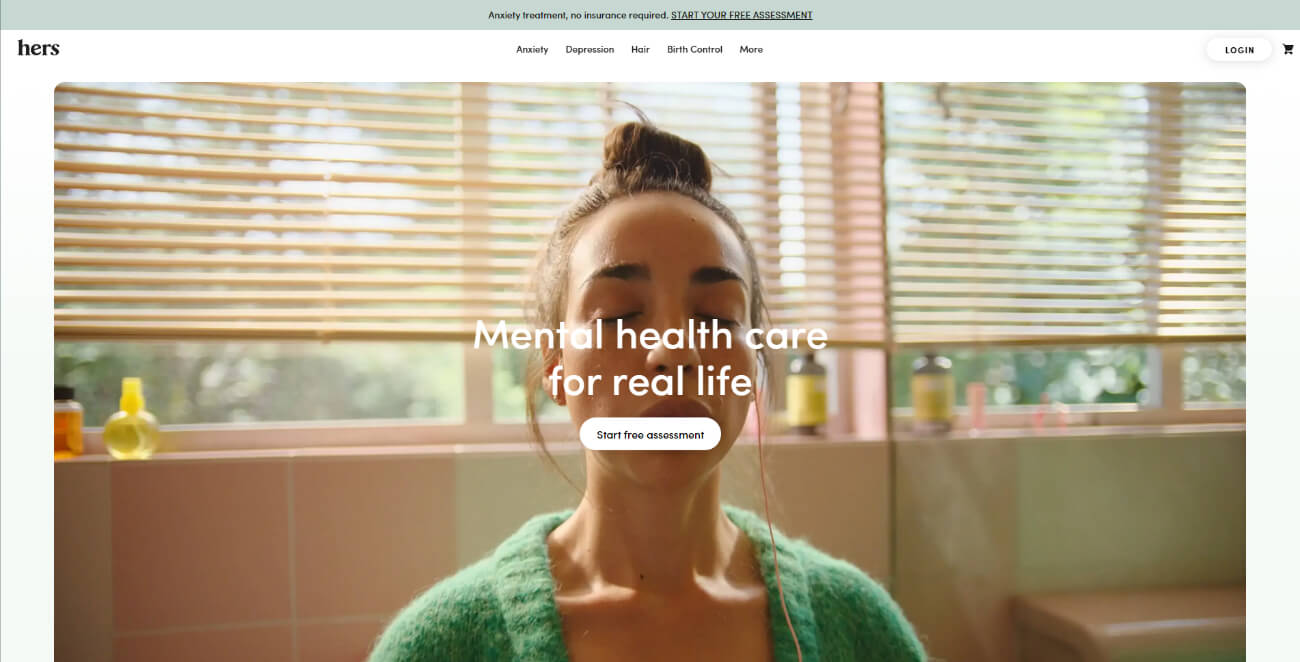 Program name: Hers Affiliate Program
Network / Software: Partnerize, Skimlinks, FlexOffers, Sovrn
Commission: $5.00 standard rate on sales (Partnerize), $5.00 network exclusive rate, $30.00 per sale (Skimlinks), $0.80-$8.00 per sale, depending on the item purchased, 40% for Hers - Mental Health sales (FlexOffers), $5.00 potential earning, network estimates: CPC $0.08, average AOV 20% (Sovrn)
Cookie duration: 30 days (Partnerize, FlexOffers), Not listed (Skimlinks, Sovrn)
Markets: AU, UK, IN, US, CA (Partnerize), US (Skimlinks), US, UK (FlexOffers), Global (Sovrn)
Hers is similar to Hims in all aspects except the audience type. Hers is geared towards a female audience and, like Hims, provides an online telehealth service that includes consults for topics like sexual wellness, mental health, hair loss, anti-aging, and birth control.
Patients fill up an online intake form which includes symptoms and medical history, before being connected to a licensed healthcare provider in the same state. Medication, if prescribed, is delivered discreetly to the doorstep.
Both Hims and Hers programs belong to the same parent company, unsurprisingly called, Hims and Hers. Incidentally, the brand reported record growth in 2022, almost doubling its revenue from the previous year. It just goes to show you the potential for online medical care services, which are discreet, convenient, and include the delivery of medications straight to your mailbox.
The Hers program is available on several networks, such as Partnerize, Skimlinks, FlexOffers, and Sovrn, and the commissions and cookie durations vary according to the network. Partnerize and Sovrn both do $5 per sale. FlexOffers does $0.80 to $8 per sale on the Hers program, except for products in the mental health category, where you can expect 40% commissions.
Lifeboost Coffee
Lifeboost Coffee's affiliate program promises the highest commission in the coffee industry: $10 per person. Compared to the other coffee affiliates, it may not be the all-time-highest payout, but it could very well be the most dependable one.
Why?
Lifeboost did not just throw together an affiliate program over the weekend. According to their landing page, they perfected their sales funnel by spending $4 million on ads over the past two years.
Thanks to their very expensive, err, extensive research, you'll get to promote only the highest-earning offers. Therefore, you may see more conversions even if you have a starter affiliate website.
Not to mention that their coffee is super healthy and sustainably sourced.
FanFuel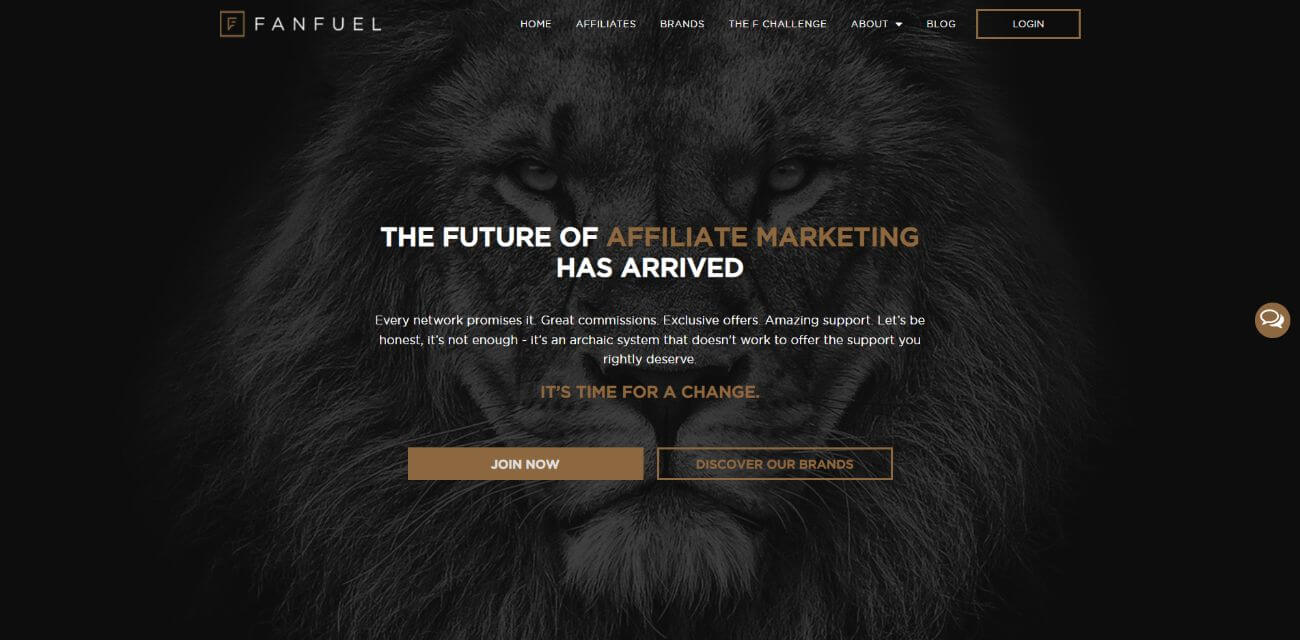 Fan Fuel is an affiliate network dedicated to the supplement niche. The brand connects approved affiliates with quality, trusted brands to promote through their roster of companies.
The FanFuel program has a number of features including commissions on repeat orders, referral bonuses, and exclusive offers – all of which can help maximize potential earnings.
Interested affiliates can sign up to the FanFuel supplement affiliate network directly via their website, where they can earn commissions of 50%, and weekly payouts.
FanFuel also integrates seamlessly with Affilimate's tracking tools, which you can check out here.
Ancient Nutrition (Dr. Axe)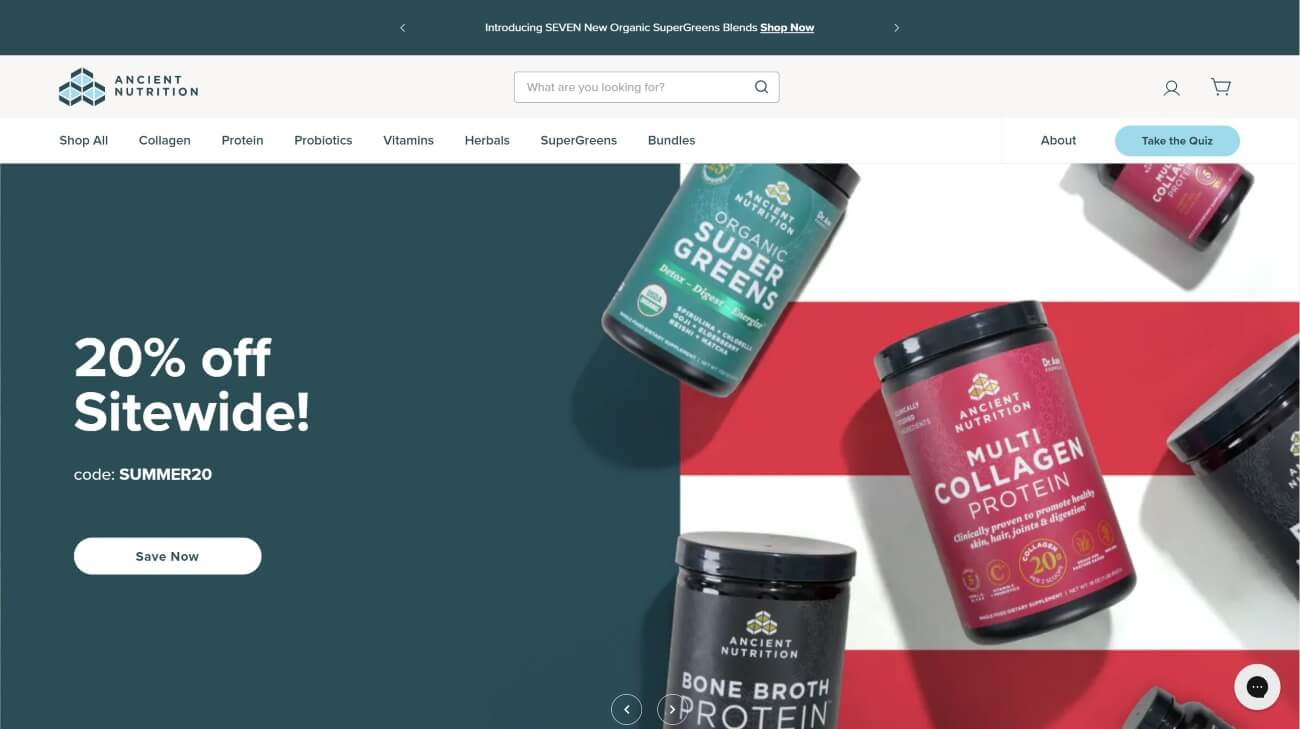 Program name: Ancient Nutrition (Dr. Axe) Affiliate Program
Network / Software: Skimlinks, FlexOffers, Sovrn, Perform[cb]
Commission: 12% base commission (Skimlinks), 5% (Skimlinks), 8% of sales excluding SKU List- Program GC Redemption (FlexOffers), 5% network average commission rate (Sovrn), (Perform[cb])
Cookie duration: Not listed (Skimlinks, Sovrn), 45 days (FlexOffers, Perform[cb])
Markets: US (Skimlinks), MX (Skimlinks), Global (FlexOffers), Global (Sovrn), Global (Perform[cb])
Ancient Nutrition, co-founded by Dr Josh Axe, has much to offer for discerning referral marketers and customers. The brand provides high-quality supplements "informed by ancient wisdom and backed by modern science."
Ancient Nutrition is vested in organic regenerative farming practices, so they're putting more back into the earth than what's being mined out. The products are also extensively pre-tested for pesticides, herbicides, heavy metals, and more before going on the catalogue. This is a brand worth tapping into if you're looking for eco and environment-conscious brands that you can feel good about promoting.
Ancient Nutrition's product catalogue includes collagen variants, protein supplements, probiotics, super greens, and vitamin and mineral supplements. You can also take advantage of their bundled offers which are selections of similar-themed products.
There's a 30-day money-back guarantee on all orders and free shipping on orders above $49.
For affiliates, commissions can vary depending on the platform and sometimes for the region. For example, Skimlinks does a base commission of 12% for the US market and 5% for Mexico. Sovrn provides 5% on average as network commissions. The average cookie duration is an attractive 45 days. You'll also have access to a dedicated account management team.
Performance Lab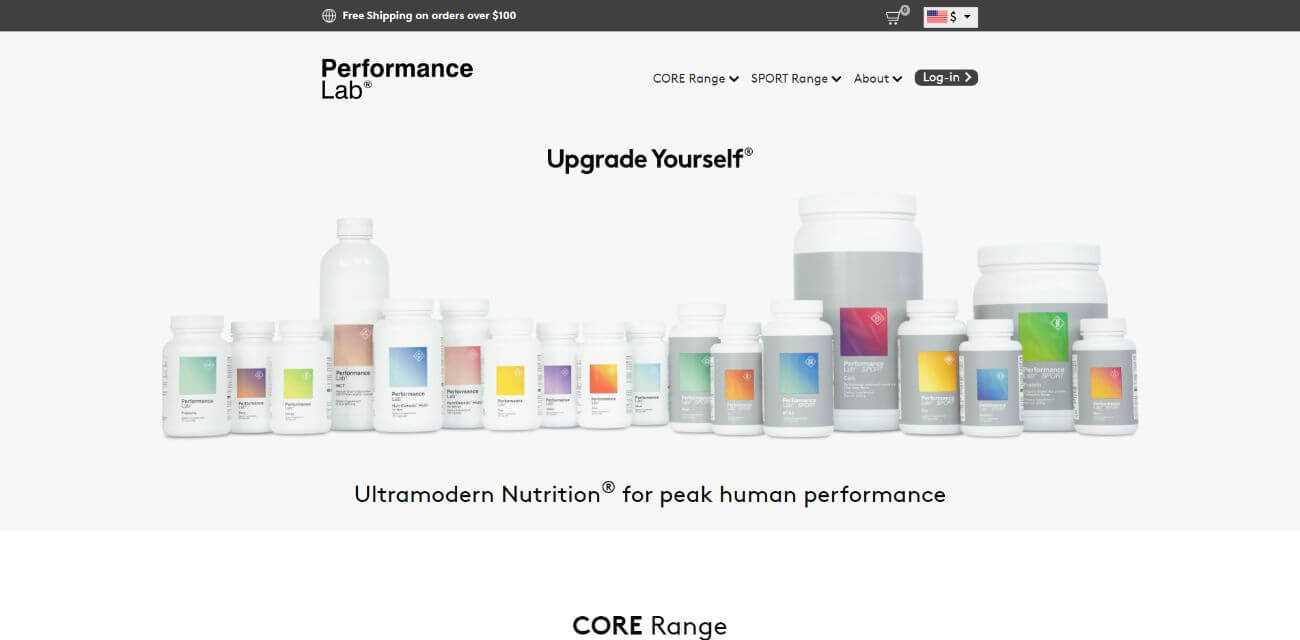 Performance Lab is a UK-based company that creates athletic enhancing nutritional supplements in capsule form. Their product range includes supplements for sleep, energy, immunity and more.
Interested affiliates can sign up to this supplement affiliate program directly via the Performance Lab website. Commission rates aren't listed publicly, however the industry average is 15% to 30%, and product pricing starts at $70 per bottle.
The company has a very small social media presence, which is a downside for affiliates looking to lean on their marketing efforts.
However, if Performance Lab has gotten you great results, you can sign up to their program and develop a marketing strategy around their products.
SellHealth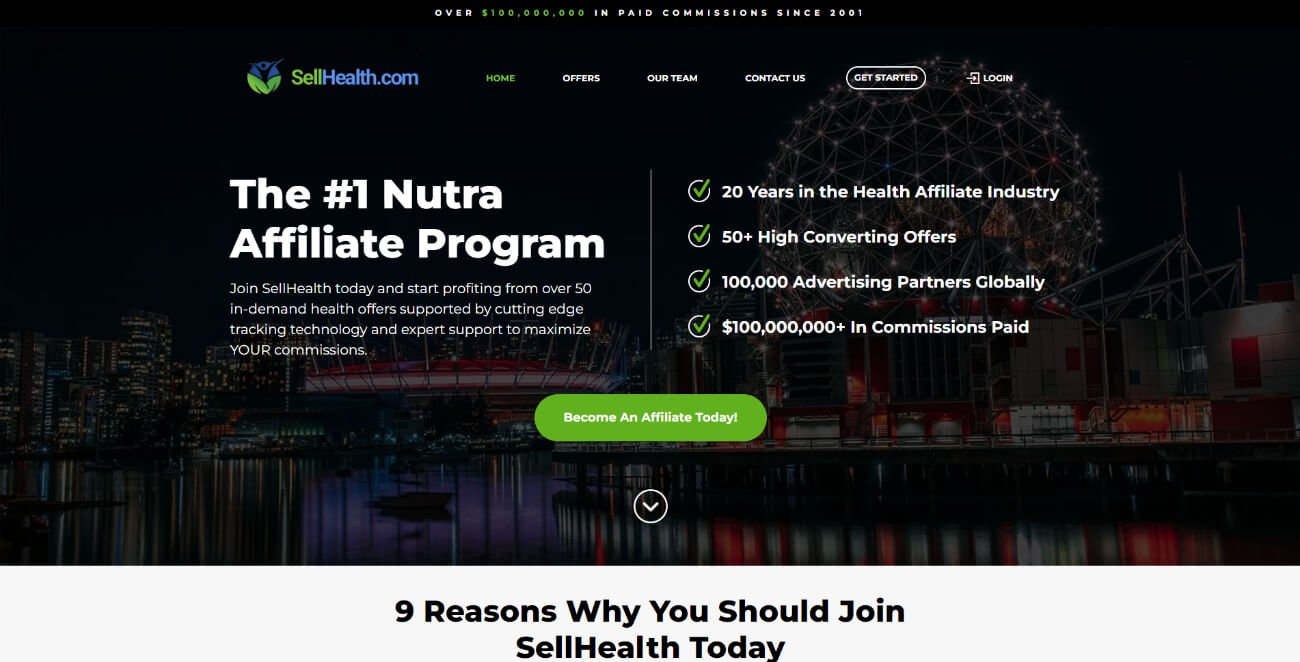 SellHealth has a lot going for it as an affiliate program. It's currently the leading Nutra affiliate program with over 20 years' worth of skin in the game. Aside from having over 50 high-converting offers that you can promote, the brand offers up to a whopping 60% commission on every sale.
VigRX (male sexual health), PrimeGENIX (fitness supplement), GenF20 (antiaging), Skinception (advanced skin care), ProSolution (male enhancement), and HerSolution (female health and beauty) are some of the top brands currently on offer at SellHealth.
It's worth mentioning that SellHealth appears to be a very affiliate-friendly brand. Aside from the leading commission rates and large order volumes, you can expect live training sessions, real-time tracking, and SMS updates, and reliably on-time payments.
Affiliates also have a choice of payment channels such as Paypal, Wise, Wire Transfer, PAXUM, ACH, and Bitcoin. Last but not least, affiliate marketing experts are on hand for any support you may need.
Perfect Keto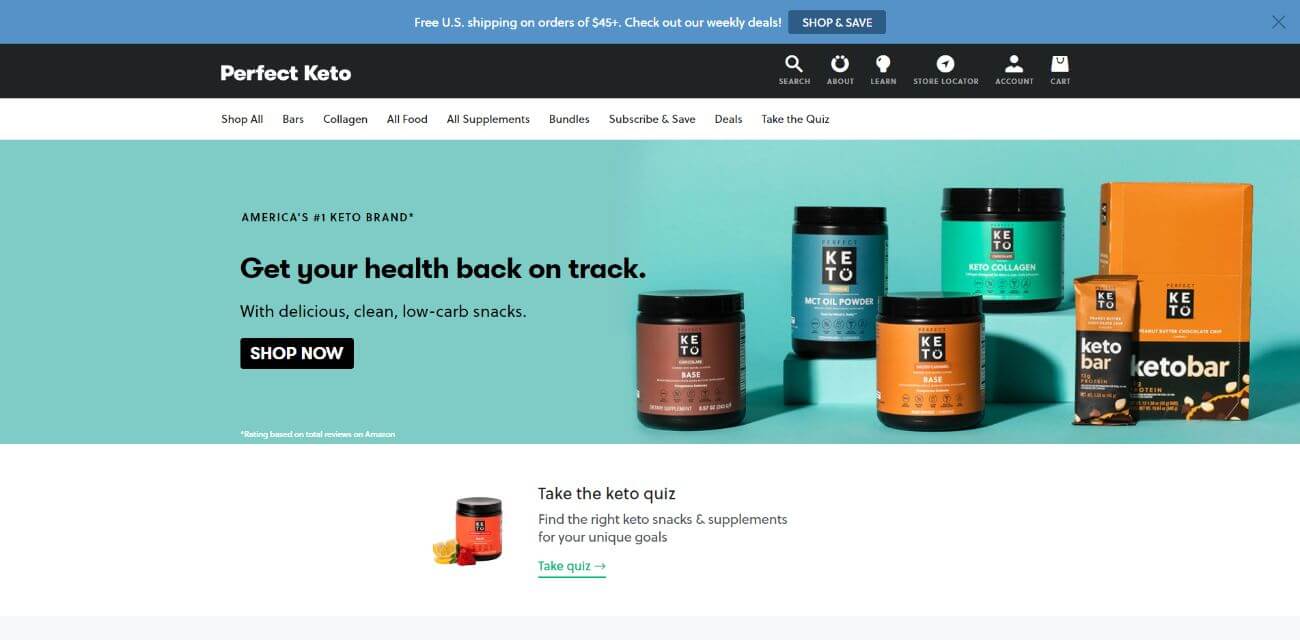 Perfect Keto is a nutritional snack and supplement company with a mission of empowering people to make healthier food choices. The brand offers products including pancake mix, sprinkles, and nut butters.
Perfect Keto offers an exclusive affiliate program that only accepts content creators who have hit the 5000 subscriber mark with email, social media, or monthly website pageviews.
With a great branding, nearly 500k followers across social media accounts, and a solid content marketing strategy, Perfect Keto has a strong brand presence to tap into as an affiliate.
Bulletproof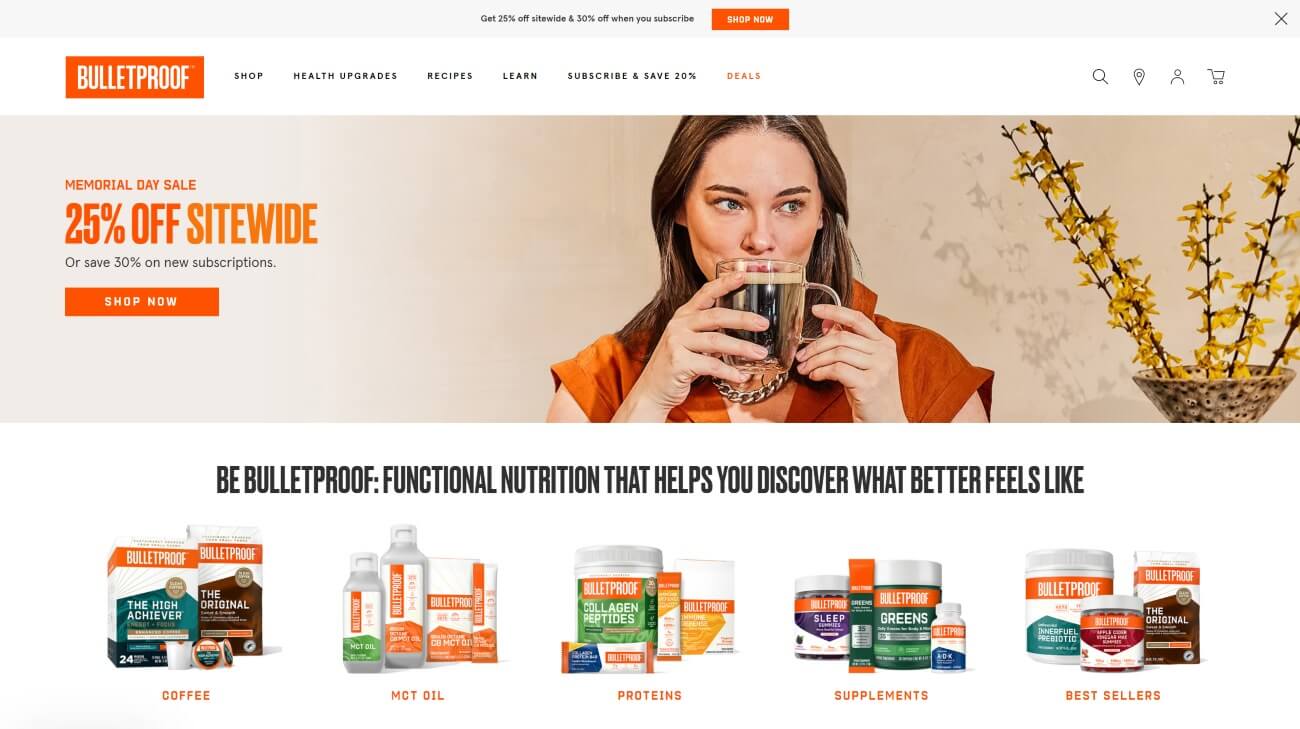 Program name: Bulletproof Affiliate Program
Network / Software: Impact, FlexOffers, Sovrn
Commission: $20.00 per subscription sale, 10% per online sale (Impact), 4% payout of online sales excluding items under the category: Tech Exceptions, $20.00 per subscription sale (FlexOffers), 10% on online sales, $20.00 per subscription sale (Sovrn)
Cookie duration: 30 days (Impact, FlexOffers), Not listed (Sovrn)
Markets: CA, US (Impact), CA, US (FlexOffers), Global (Sovrn)
Bulletproof 360 specializes in functional nutrition designed to help people think and perform better. Think coffee and coffee blends, MCT oil (medium-chain triglycerides from coconut oil), protein powders, supplements, combo packs, and a general assortment of branded swag like a sleep induction mat, vibration plate, mugs, bottles, and the Bulletproof-themed books.
Bulletproof and Ancient Nutrition are two of the main players in the subspecialty wellness niche — Keto Diets, a big money spinner on its own expected to grow by 5% CAGR (almost) from 2019 to 2024. The leap in market size is an estimated $1.18 billion for this period.
Bulletproof has both an ambassador program and an affiliate program. Ambassador programs are geared towards brand enthusiasts. In return for authentic brand sharing and promotion, you'll be eligible for exclusive discounts, free products, exclusive community membership, VIP events, and cash commissions.
As an affiliate partner, you can use your blog, social media channels, website, or email list to drive sales for the Bulletproof brand and earn commissions in the form of a tiered percentage of sales. The signup process requires you to submit an application form online.
Commissions can vary depending on the network and the type of sale. Impact and Sovrn provide 10% against online sales and $20 per subscription sale. FlexOffers does 4% commissions for online sales with specific tech item exclusions and $20 per subscription sale.
Vitacost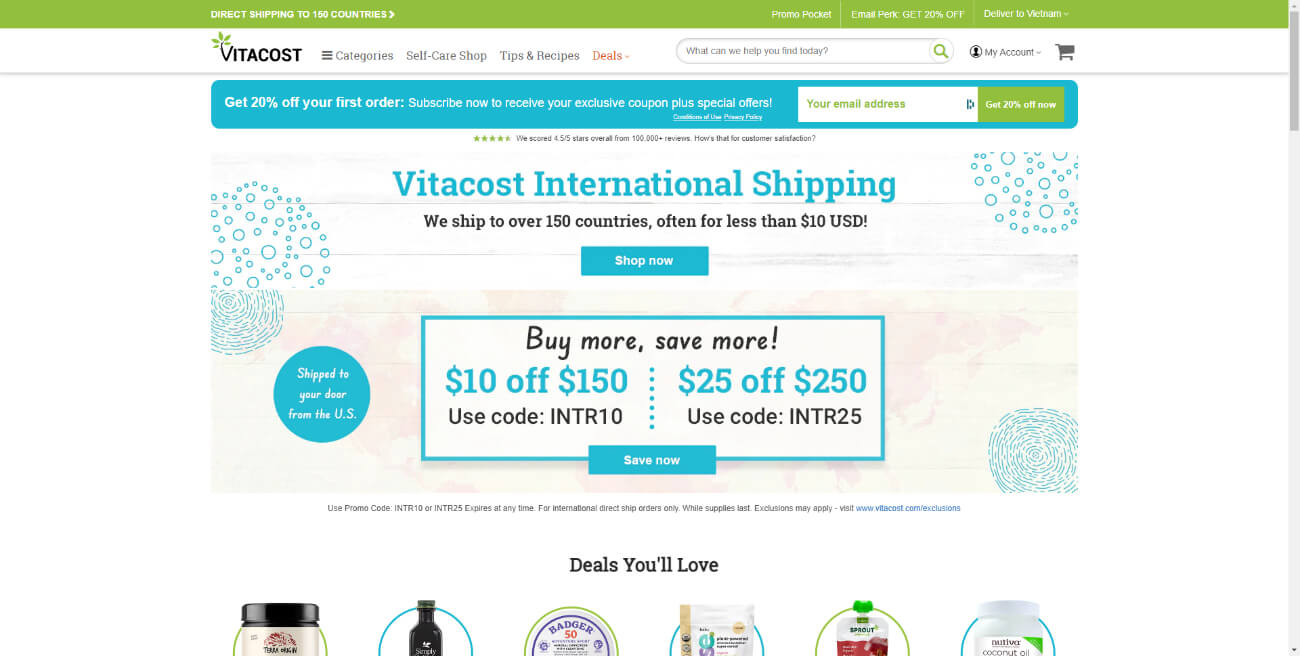 Program name: Vitacost Affiliate Program
Network / Software: CJ Affiliate, FlexOffers, Sovrn
Commission: 2% (CJ Affiliate), 1.6% per sale, excluding item: app installs (FlexOffers), 2% per purchase, 7.67% potential average conversion rate, and average AOV $52.20 (network estimates)) (Sovrn)
Cookie duration: 7 days (CJ Affiliate, FlexOffers), Not listed (Sovrn)
Markets: US, UK, CA, FR, DE, IL, ES, BR, AS (CJ Affiliate), Global (FlexOffers), Global (Sovrn)
Vitacost is a Florida-based online retailer specializing in health products like vitamins, supplements, health foods, and beauty products. Vitacost has an extensive range of over 40,000 products in its catalogue, affordably priced and speedily delivered.
The range includes natural, organic, cruelty-free products and specialty products like paleo, gluten-free, and vegan products. There's also free shipping over $49 and no membership fees, ever.
Late last year, HealthXWire Corp's Company and Brand Research Committee selected Vitacost as being the best in its class as an online nutritional supplement and nootropics retailer. According to the committee, the brand was "poised for substantial growth in market share acquisition in 2023."
According to Vitacost, they currently have a consumer base of 1.7 million active customers, which speaks to its popularity and reliability. As an affiliate, you can expect to earn attractive commissions against an average order price of over $75 on some of the biggest and most well-known brands.
Expect to earn in the region of 1.6% commissions on FlexOffers (excluding app installs), 2% on CJ, and 2% on Sovrn with an average cookie duration of 7 days. You'll have regular product updates and dedicated affiliate account managers on CJ to support your marketing efforts.
Market Health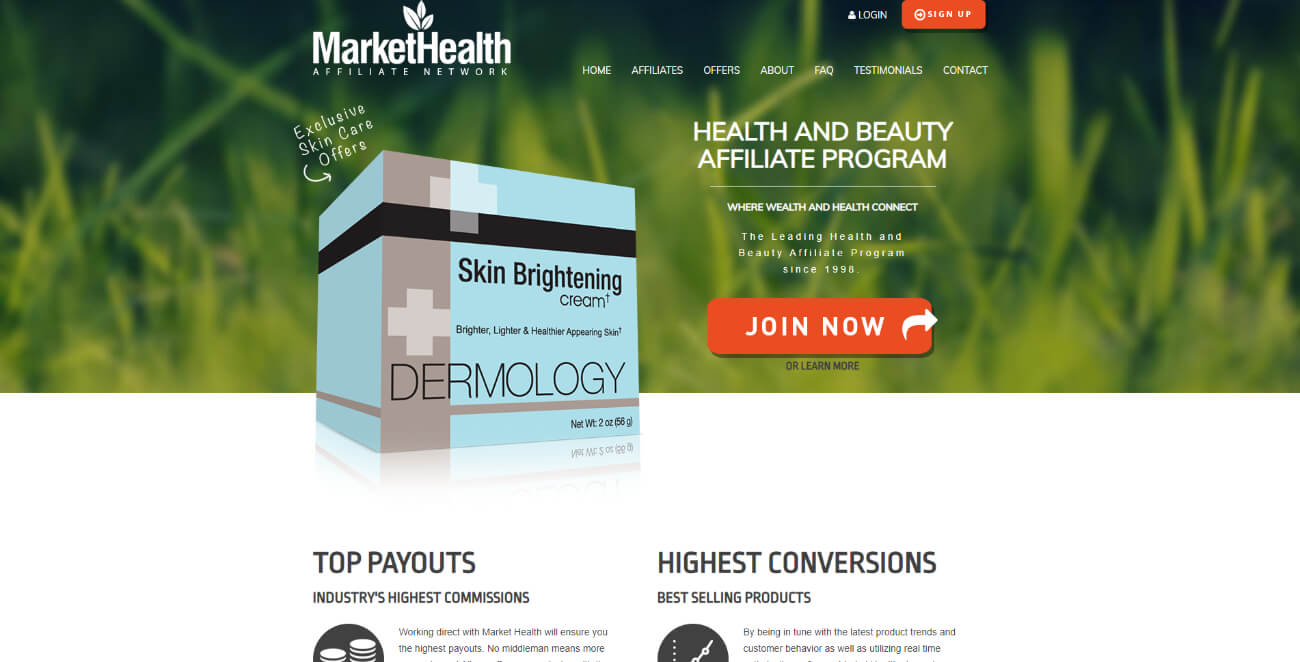 Market Health is an affiliate network driving sales for the world's leading health and beauty brands. Their Health and Beauty Affiliate Program has been active in the online space since 1998. Over 100 offers are currently represented in the program spanning such countries as Argentina, France, Italy, and the UK, to name just a few.
Market Health's affiliate program includes teeth-whitening, colon health, breastfeeding, nail fungus relief, colon health/cleanse, skin care products, hair regrowth formulas, lip plumpers, pet vitamins, and more.
Market Health follows an open enrolment process, so anyone over the age of 18 years with a website can sign up for free to become an affiliate partner. There are multiple ways to get paid, including check by mail, bank wire, Skrill, and prepaid debit cards via Payoneer.
Affiliates generating 20 or more sales per day are eligible for special commission rates.
In general, you can earn 30 to 50% commissions depending on the product, and the average cookie duration is a very attractive 30 days for global promotions.
Are you struggling with tons of affiliate platforms and links?
If you're running website that's monetized with affiliate marketing, there's a high probability your affiliate commissions are scattered across a ton of different platforms.
This makes it hard to get an overview of what's working well, efficiently test different products and programs, let alone optimize your content for conversion.
Affilimate was designed to fix that. It helps you collect your affiliate data (clicks, commissions, and content analytics) into ONE place so you can optimize conversion and grow your revenue.
Start your free Affilimate account and get tracking today.