12 Best Watch Affiliate Programs in 2023
By Chrissy Kapralos · Updated May 29, 2023
A watch is a quintessential accessory for the luxurious and stylish or humble and utilitarian consumer. Sound like your readership? Then jump onto these awesome watch affiliate programs.
Nothing says class like a sophisticated watch — a mandatory tool in the well-dressed arsenal.
You might overlook the classic accessory since most people check the time on their phones. But watches channel so much more than just time.
On a fashion-forward reader, watches are a style statement.
On a CEO, they're a symbol of confidence and leadership.
And on Gen Z? Watches track heartbeats and steps.
All this to say that you don't need an audience of horophiles (people who like timekeeping devices) to make affiliate revenue with watches. They're timeless; though older audiences appreciate them even more.
Think your classy readership might convert with a stylish watch recommendation? Keep reading for our roundup of the best watch affiliate programs in 2023!
How we compiled this list
Since watches span many audiences, demographics, and interests, solely luxury watch programs weren't sufficient for our roundup.
We wanted to see what kinds of commissions affiliates can earn with more diverse programs in terms of style, age bracket, and affordability.
Most of the affiliate brands on this list are grey market distributors. This means that while they sell certified authentic products, those products aren't authorized by the manufacturers.
In other words? Most of these brands are marketplaces — you'll find Rolexes and Omegas or lower-end brands for sports watches, but you're receiving commissions from the distributor, not the original manufacturer.
For example, you might see a Chanel watch on Jomashop.com. If you earn commission on that watch, you'll get the Jomashop program commission — not to be mistaken with Chanel's luxury affiliate program and accompanying 10% rate.
Watch affiliate programs
Here's a list of our top watch affiliate programs:
Jomashop.com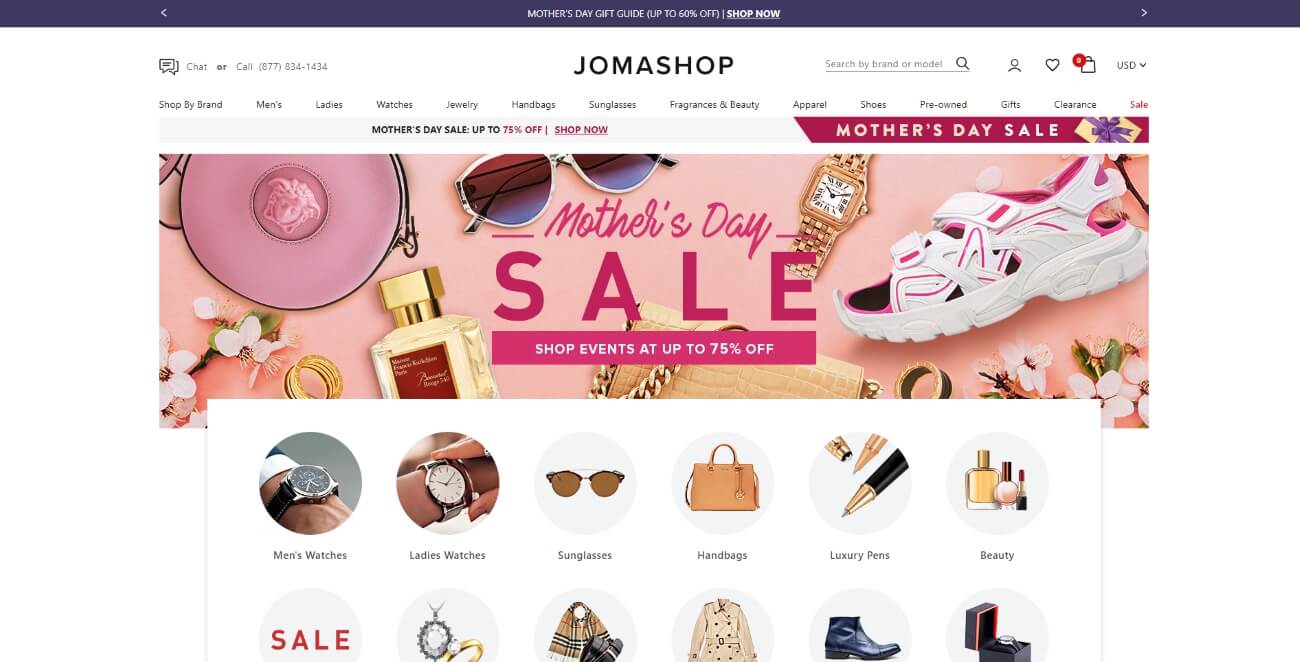 Program name: Jomashop.com Affiliate Program
Network / Software: CJ Affiliate, FlexOffers, Sovrn, Skimlinks
Commission: 1.6-5% sale commission, $5.00-$40.00 one time bonus if total commission earned reached a certain amount: $50000, $100, $200000, $500 (CJ Affiliate), 0.08% payout with $10, $20 adjustment, 0.4% for all sales, $0.40 for wholesale customers (FlexOffers), 1.6-5.4% for sales depending on product item and customer type (Sovrn), 0.1-0.5% for sales depending on product item and customer type (Skimlinks)
Cookie duration: 7 days (CJ Affiliate, FlexOffers), Not listed (Sovrn, Skimlinks)
Markets: Global
Jomashop has been around since 1987 and boasts 80% discounts on high-end jewelry, sunglasses, handbags, and of course, watches. We also love the sheer diversity of price points, as you can find watches that cost $40 or nearly $4,000,000 like this Patek Phillipe. They also score high on the trust meter with a 30-day return policy, 4.5-star rating on TrustPilot, and long tenure.
Now, let's talk revenue numbers.
While the site advertises an overall commission of 1-6%, a closer look at CJ and Svorn's rates show that the watches aren't actually subject to percentage-based commissions. Instead, affiliates earn a flat rate depending on the watch's price category.
For example, you can only make $40 on watches worth $2,000+; a 5% commission would score you $100, so we can understand your dismay.
You'll need to refer serious volume to make the big bucks with Jomashop's performance incentives. Maybe that $40 on the $2,000 watch feels miniscule, but if you do that 100 times and refer $200,000 in sales, you'll get a $500 bonus.
Citizen Watch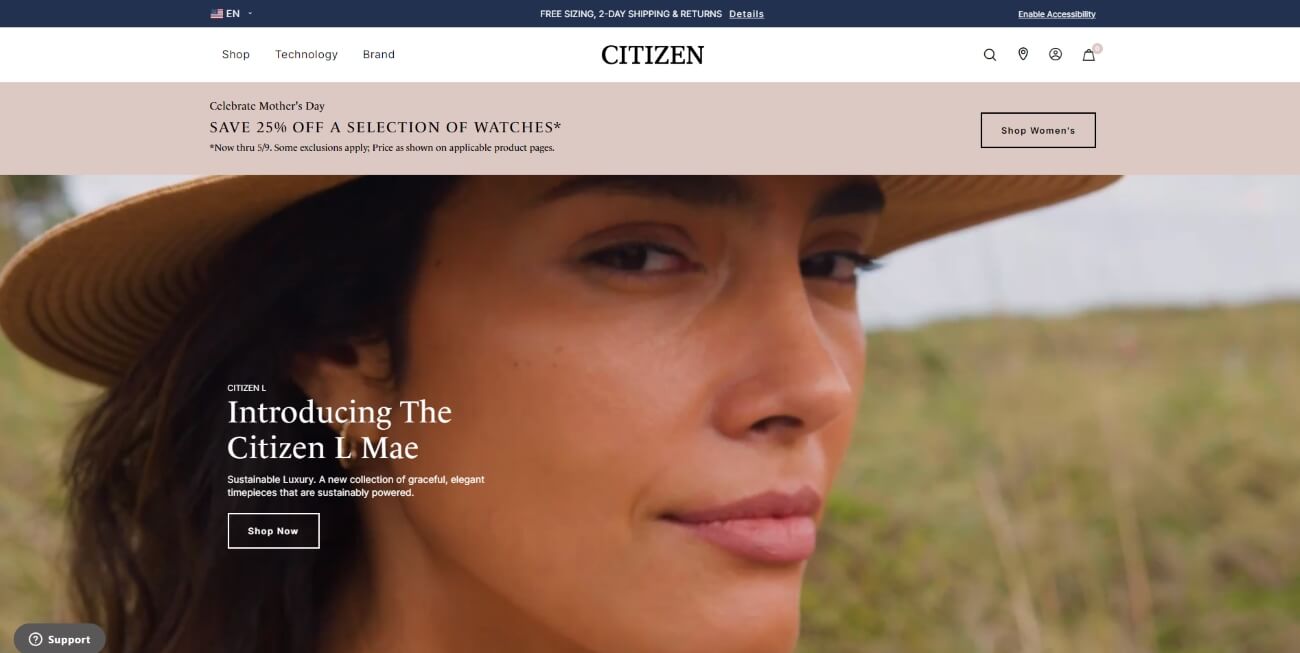 If a company brings in over $1 billion in revenue each year, chances are some of your readers are already buying! Citizen Watch has over 100 years in the watch bizz yet continues to modernize each new collection with features and values that appeal to both the older and younger generations.
Take the Eco-Drive collection, watches powered by sunlight for the sustainable wearer. No battery replacements are needed either, so you have even more fodder for your high-end environmental content. Then there's the CZ Smart watches, combining timepieces with a Smart touchscreen, ready to populate with your fitness goals, personal colors, and custom dial options.
But the piece de resistance for your affiliate program has to be the up to 25% commission offered on the Skimlinks affiliate network.
Bob's Watches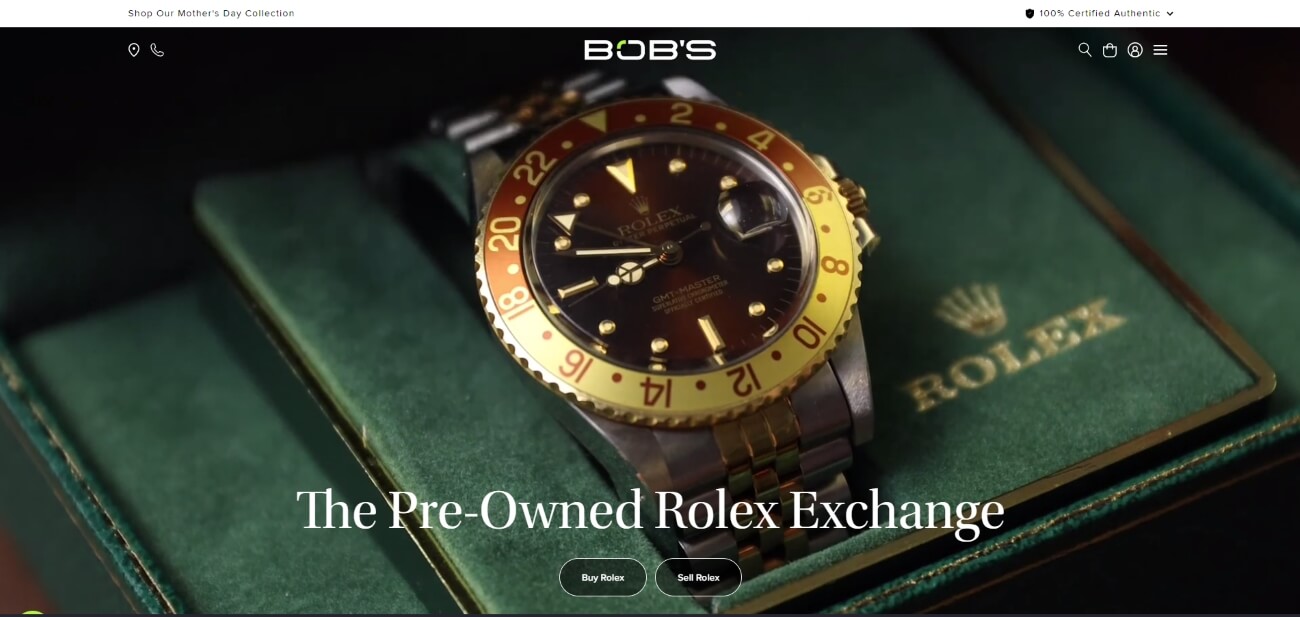 Bob's Watches is for a luxury readership. We're talking high income — how else can they afford the site's focus on Rolex and Omega watches?
With free, insured overnight shipping, Bob's brings serious peace of mind and convenience points for buyers. And with a $1,000 cap on 5% commissions, affiliates have serious revenue potential.
But there is a catch; the main red flag, in our opinion, is the super-short cookie window.
Consider this:
How far in the buyer's journey are your readers? If they're not at the decision point, you might not make a penny with the Bob's Watches affiliate program. Why? Because they only give you one day as a cookie window. Ouch.
Meaning? You could refer a reader to purchase a $10,000 watch, but you won't make that 5% ($500) commission if they buy it the next day.
Bottom line? This affiliate program will only work on high-roller readers that act quickly.
Grayton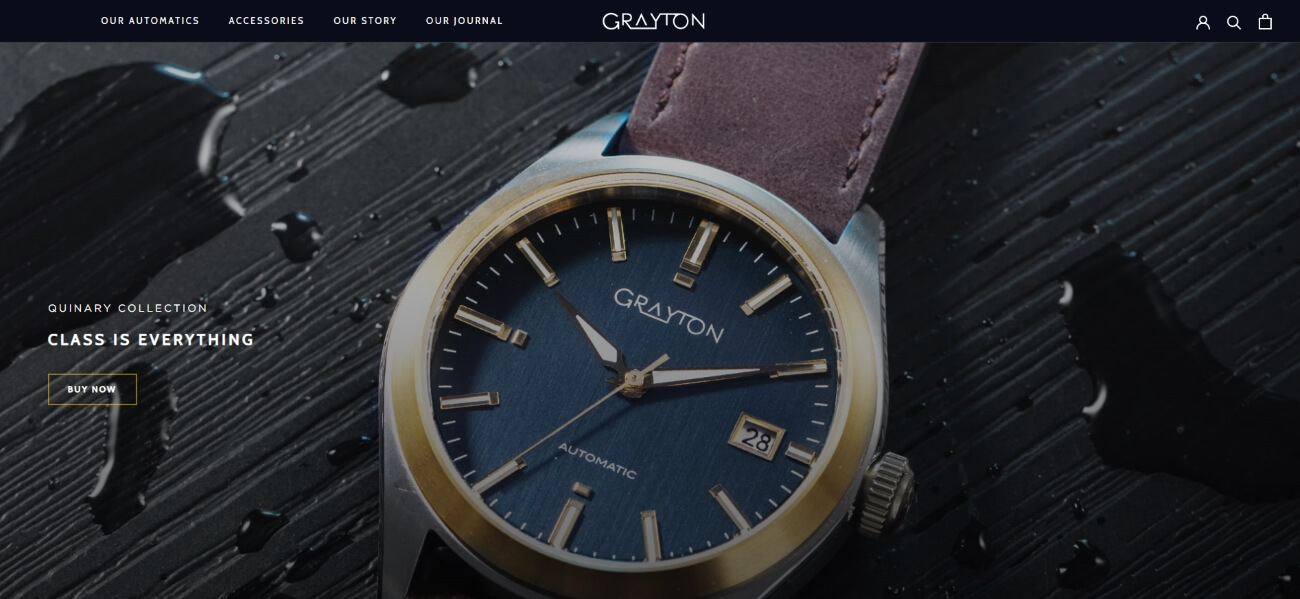 Calling all sports affiliate content creators! If your audience spends thousands on scuba diving, they might spend a cheeky $580 on a totally water-resistant Diver watch model from Grayton Watches. This isn't a marketplace like the previous three brands on our list. Grayton Watches creates urban-inspired watches that serve specific utilities (like for athletes) while remaining affordable.
While these watches aren't as expensive as Bob's, for example, the 20% commission rate still feels pretty sweet. Plus, you'll enjoy a 15-day cookie window that helps affiliates make up to $1,200 per month on average.
PS — if you have an Australian audience, don't overlook Grayton Watches' potential. While their organic traffic largely comes from the US, Australian traffic has increased by over 120% in the last few months.
Ashford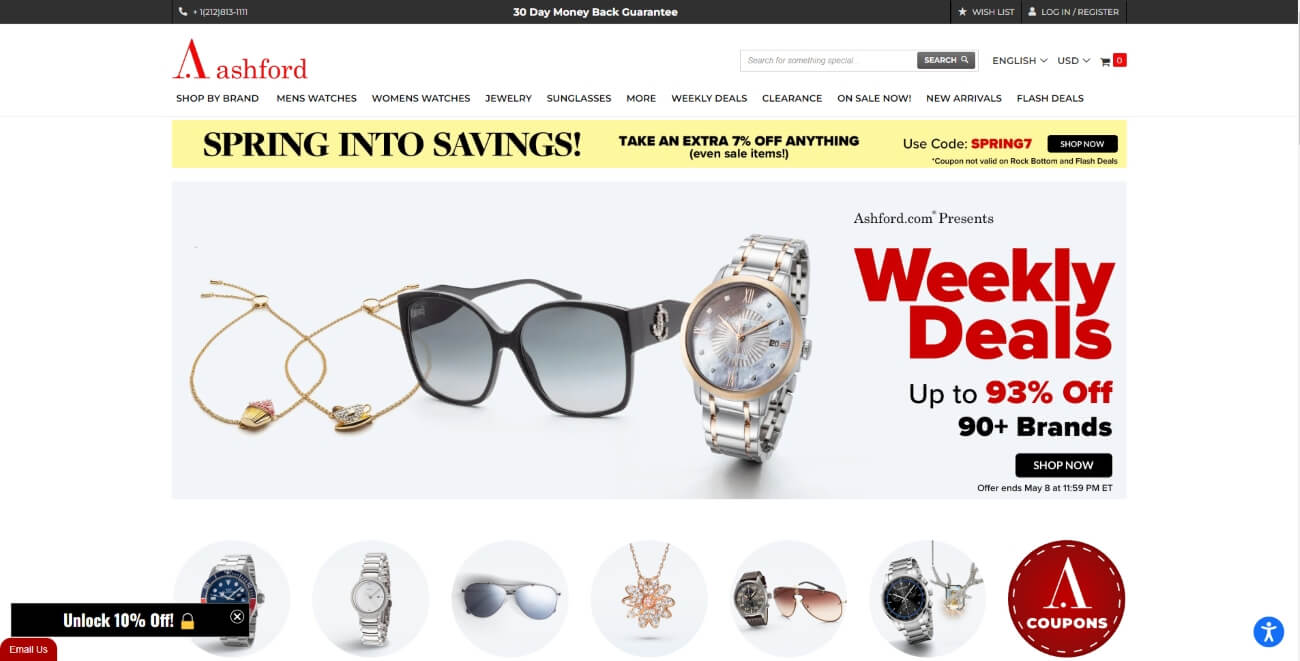 Do you have a significant reader base between 25 and 34? They make up a solid chunk of Ashford's organic traffic. Still, the watch site has a wide range of watch styles and price points that appeal to most age groups.
Ashford is still luxury, but not on the Rolex or Omega levels. You'll find some Invicta, Versace, and Calvin Klein models, though! Plus, we're in love with the earning potential.
Echoing the American (Affiliate dream), you have all the time in the world to make as much money as you can, without caps. Commissions range from 4-6% and AOV is $650. This brings lots of revenue for affiliates with serious traffic ($32 per average conversion).
Plus, you have a 30-day cookie window to work with if you're on the CJ or FlexOffers network.
Looking for more pros? Relish the endless sizes for banners and delightful coupon codes your budget-savvy audience will appreciate!
The Watch Hut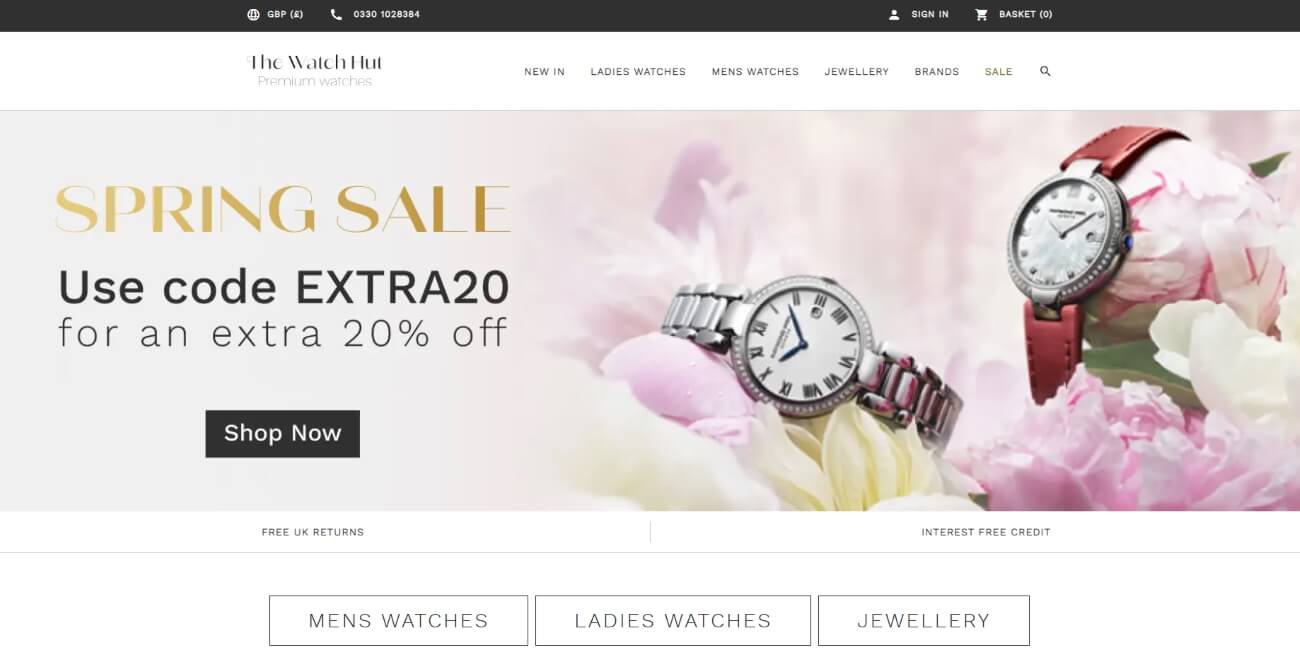 Program name: The Watch Hut Affiliate Program
Network / Software: FlexOffers, Awin, Skimlinks, Sovrn
Commission: 4.8% payout on general sales, 1.6% on voucher code, sales payment is distributed in USD based on the current exchange rate (FlexOffers), 2-6% depending on the item (Awin), 2-6% depending on the item (Skimlinks), 2-6% depending on the item (Sovrn)
Cookie duration: 30 days (FlexOffers, Awin), Not listed (Skimlinks, Sovrn)
Markets: Global
UK affiliates, don't miss out on this renowned watch program. The Watch Hut has resold discounted high-end watches since 2005, raking in nearly $25-$50 million in revenue each year.
This affiliate program satisfies diverse purchase preferences, with clearly indicated watch options ranging from under £100 to over £1.500. And if your audience needs time to decide, they'll have plenty of time with the brand's generous 30-day window.
We'll also give 'em points for no caps on commissions, which range from 2-6%, depending on the network you use. You can generate interest with affiliate-dedicated coupon codes, but be prepared to fork up commission potential as it drops down to 1.6% in this case.
Watchshopping.com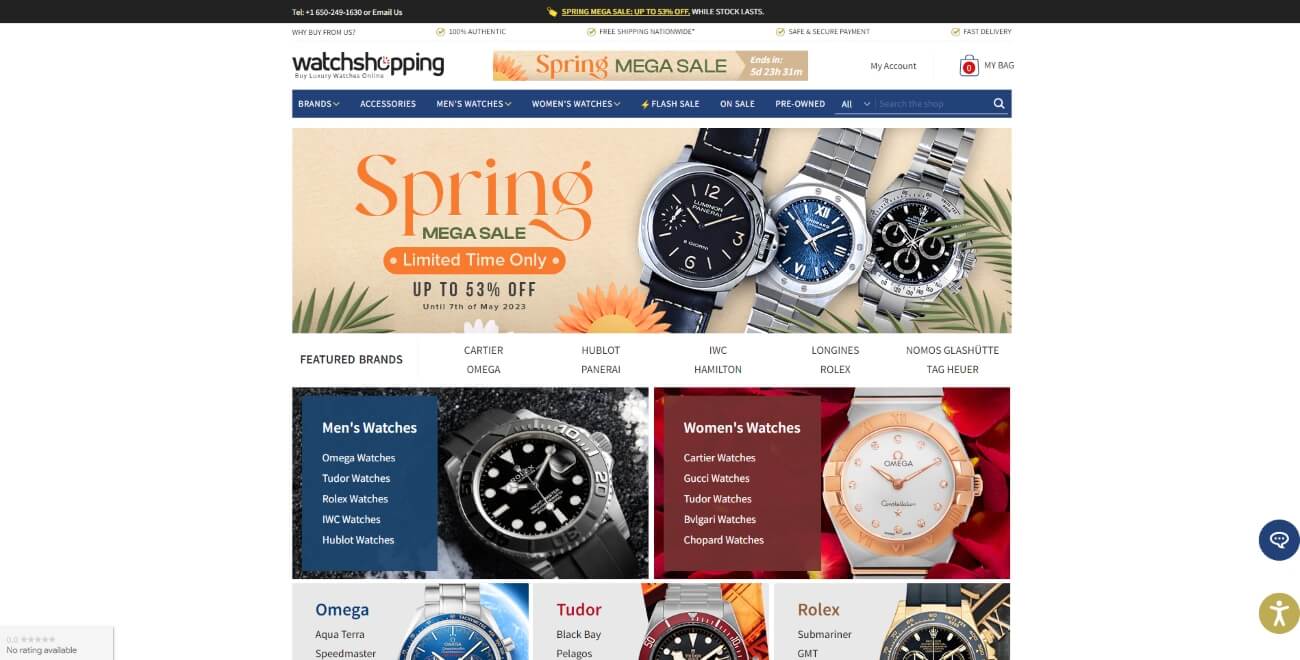 Program name: Watchshopping.com Affiliate Program
Network / Software: Skimlinks, Sovrn, FlexOffers, CJ Affiliate, ShareASale
Commission: 0-1.5% per sale (Skimlinks), $0.00-$15.00 depending on the type of purchase (Sovrn), $4.00-$32.00 per sale (FlexOffers), $5.00-$40.00 per item, $200,000.00 one-time bonus when affiliate accomplished from 20 sales action up (CJ Affiliate), 1.5% per sale (ShareASale)
Cookie duration: Not listed (Skimlinks, Sovrn), 30 days (FlexOffers, CJ Affiliate, ShareASale)
Markets: Global
Watchshopping.com is still relatively new with its 5-year-old website. But where else can you access new and pre-owned Seikos, Guess, or Rolex watches in one place, along with tons of other brands?
The watch retailer covered its bases with a transparent warranty to comfort customers. Pair that with frequent flash sales and positive customer reviews? And the young watch marketplace already snagged your readers' trust.
A+ for variety and credibility, but B- on the commission rates. The flat ranges from $1 to $40 don't stack up well against some of the other programs' 10% commission rates. Unless you go with Skimlinks, that is — the only network offering a maximum of 5% on commissions.
NET-A-PORTER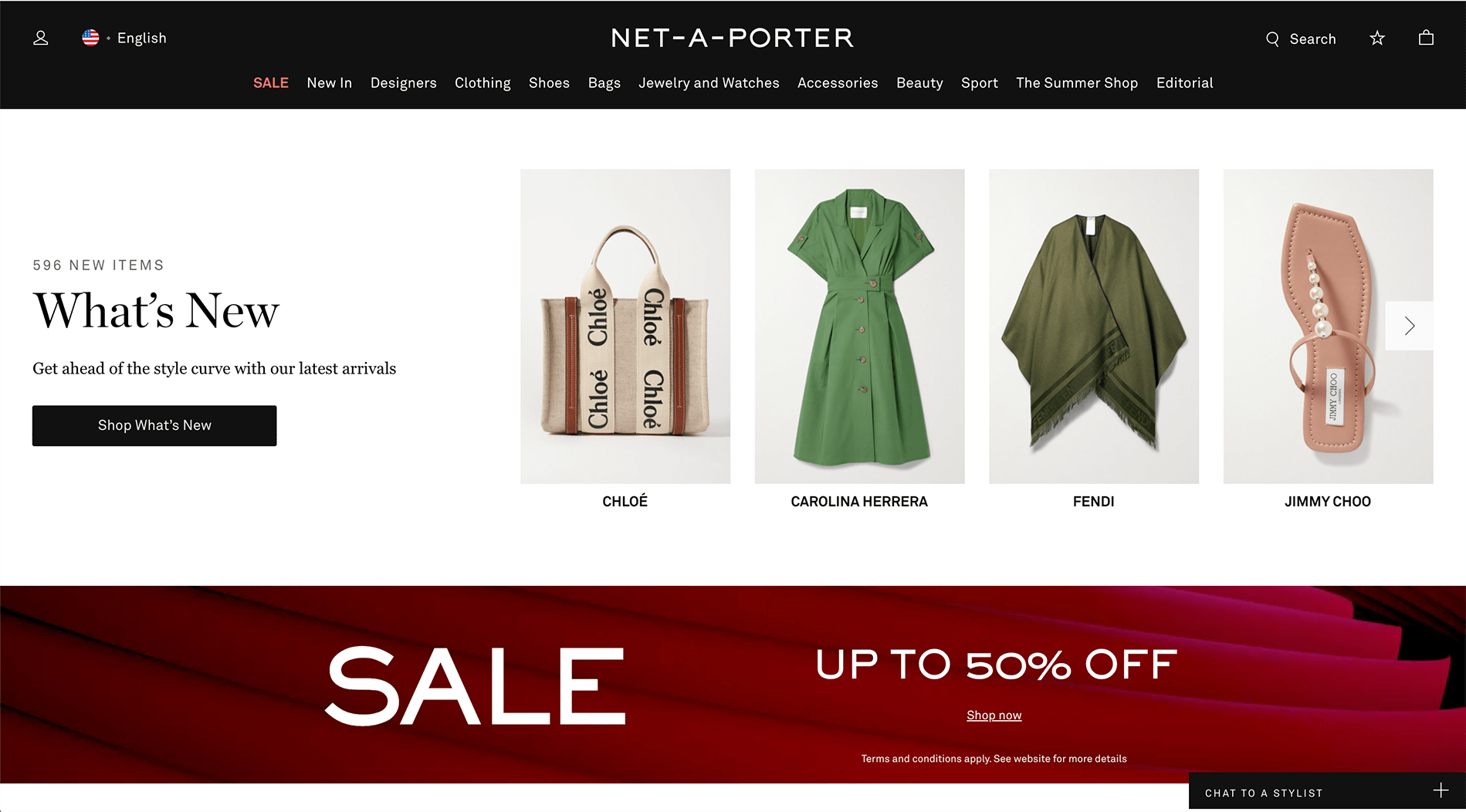 Program name: NET-A-PORTER Affiliate Program
Network / Software: Rakuten, Sovrn
Commission: 6% on most products, 4% on beauty, 3% on sale (Rakuten), 4% depending on publisher (Sovrn)
Cookie duration: 14 days (Rakuten), Not listed (Sovrn)
Brands: Alaïa, Balenciaga, Bottega Veneta, Cartier, Chloé, Dolce & Gabbana, Erdem, Fendi, Gabriela Hearst, Gucci, Loewe, Loro Piana, Proenza Schouler, SAINT LAURENT, Stella McCartney, The Row, Valentino, Versace, Zimmermann
Markets: Global
Founded in 2000, NET-A-PORTER changed the game when it came to shopping for designer clothing online. When it was purchased in 2018, the retailer was valued at over $6.4 billion dollars.
Perhaps unsurprisingly, we found that Net-A-Porter was consistently among the most-linked retailers on luxury fashion blogs.
If you're looking for the affiliate program for Louis Vuitton, Gucci, and Versace's products, this is likely the one you want. It's got a massive selection, including a sizable spot for sales.
Just be aware, most of these affiliate programs will offer a lower rate for sale items.
In the case of NET-A-PORTER, you're looking at a 3% commission instead of 6%.
Lastly, if you want to promote luxury watches as an affiliate, both NET-A-PORTER and its counterpart for menswear MR PORTER have got you covered. You'll find Cartier watches for men and women at both retailers.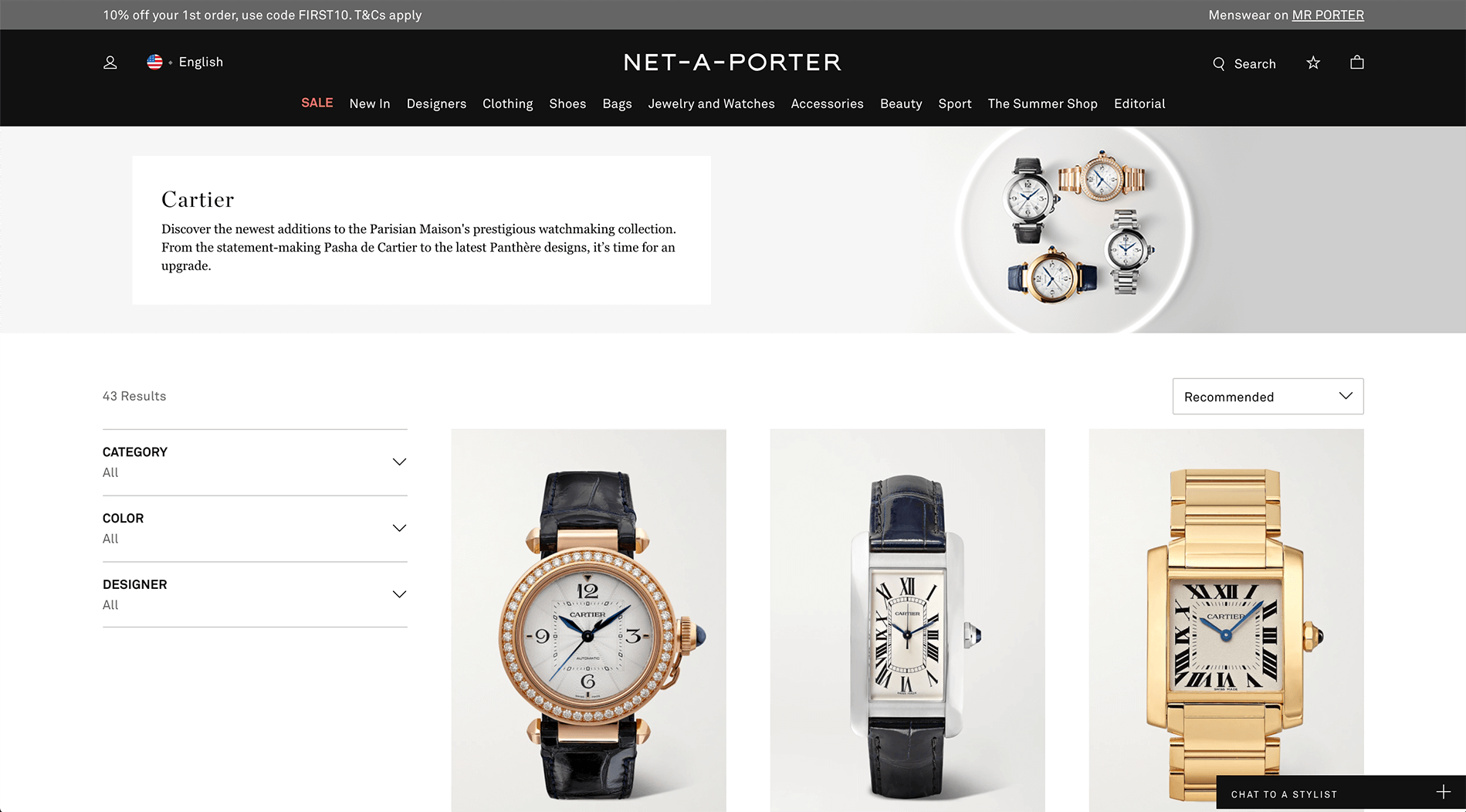 Tip: Net-A-Porter operates a private program on Rakuten, but you can also promote them through Sovrn without an extra approval process for a lower commission.
MR PORTER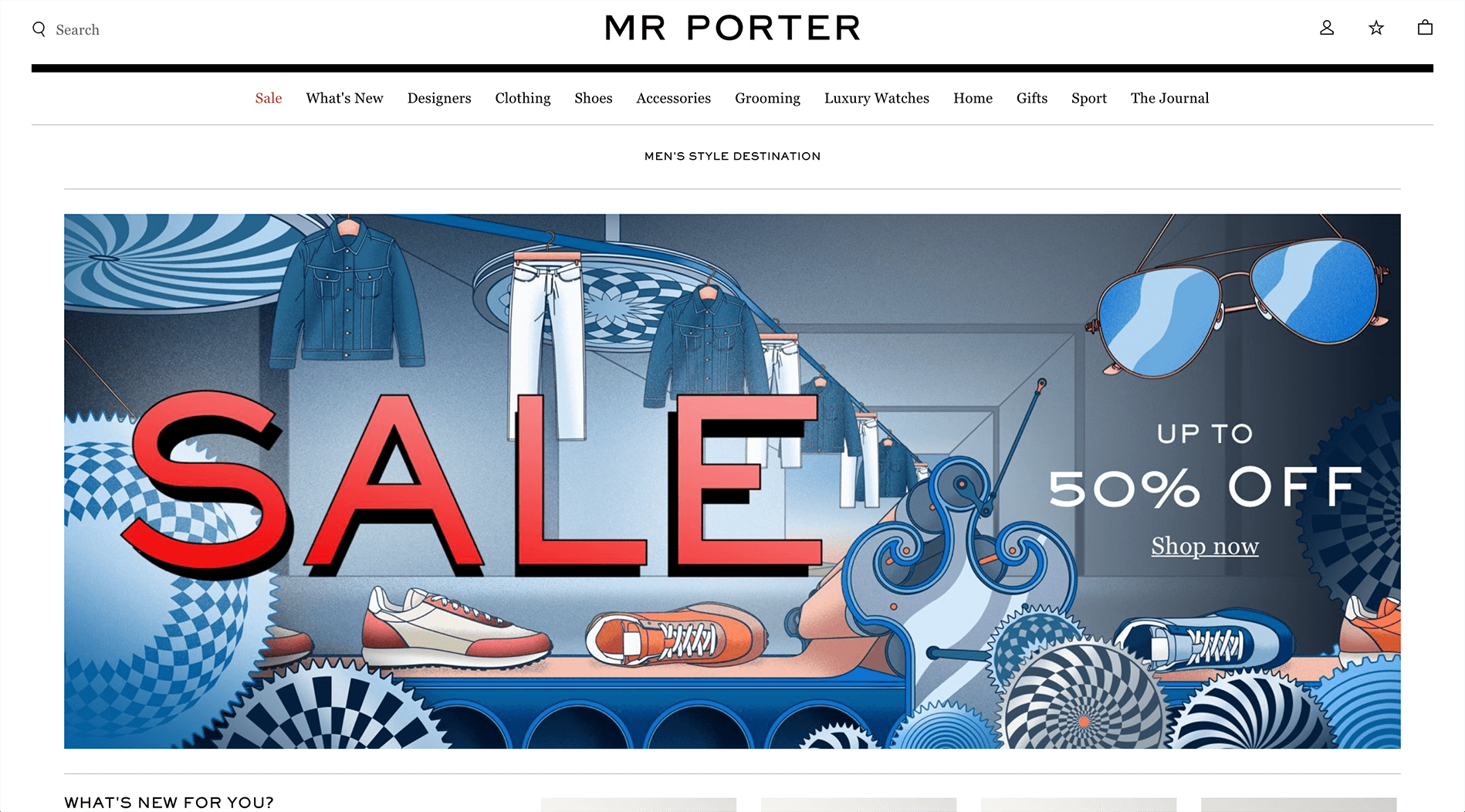 Program name: MR PORTER Affiliate Program
Network / Software: Sovrn, Skimlinks, Partnerize
Commission: 9.2% depending on publisher (Sovrn), 3-6% (Skimlinks), 6% (Partnerize)
Cookie duration: Not listed (Sovrn, Skimlinks), 14 days (Partnerize)
Brands: Acne Studios, AMIRI, Balenciaga, Bottega Veneta, Brunello Cucinelli, CELINE, HOMME, Common Projects, Givenchy, Gucci, Kingsman, Loro Piana, Moncler, Mr P., Nike, Officine Generale, Polo Ralph Lauren, SAINT LAURENT, Stone Island, TOM FORD
Markets: Global
Continuing with the theme of ALL CAPS, next up we have MR PORTER. This is the menswear equivalent to NET-A-PORTER which focuses solely on women's luxury fashion.
You'll find many of the same brands available, though unlike NET-A-PORTER, MR PORTER is available on different affiliate networks. Their main program is run through Partnerize, though you can also find them on Skimlinks and Sovrn.
Although the Sovrn offer might look appealing, bear in mind that there's no published cookie duration, whereas partnering through Partnerize means a 14-day conversion window.
The RealReal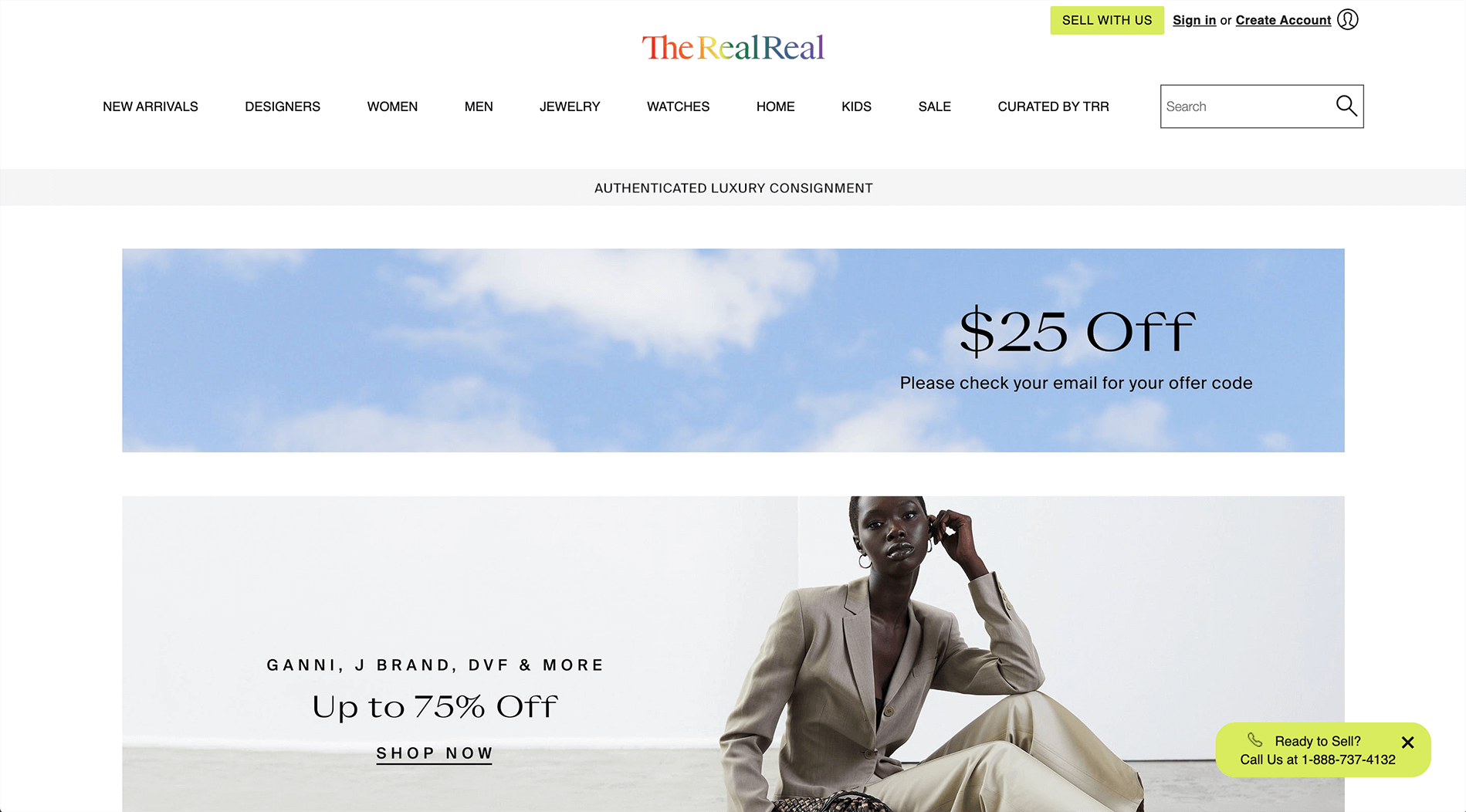 Program name: The RealReal Affiliate Program
Network / Software: Impact
Commission: 7% for new customers, 5% for existing customers
Cookie duration: 15 months
Brands: Balenciaga, Bottega Veneta, Burberry, Cartier, Celine, Chanel, Chloé, Christian Dior, David Yurman, Dior Men, Fendi, Golden Goose, Goyard, Gucci, Hermès, Isabel Marant, Jacquemus, Loewe, Louis Vuitton, Manolo Blahnik, Nike, Off-White, Panerai, Patek Philippe, Prada, Rolex, SAINT LAURENT, Stella McCartney, The Row, Tiffany & Co., Tom Ford, Van Cleef & Arpels, Yeezy
Markets: US
Alternatives: Vestiaire Collective at 4% for existing customers, 6% for new customers (CJ Affiliate), 4% for existing customers, 8% for new customers (Skimlinks), 3.2% for existing customers, 4.8% for new customers (FlexOffers), (Sovrn), 4% existing customer sales, 6% new customer sales (Yazing)
The RealReal offers authenticated, pre-owned luxury consignment. Basically, people who own luxury clothing, handbags, watches, even designer items for the home, can re-sell those products on The RealReal. The company vets the product, and takes a slice of the sale.
Offering up to 7% commissions on purchases by new customers, The RealReal is a great option for buyers who are more sustainability-minded (or just more budget conscious).
The main challenge, as with any marketplace and ecommerce in general, is that specific products tend to go out of stock.
FARFETCH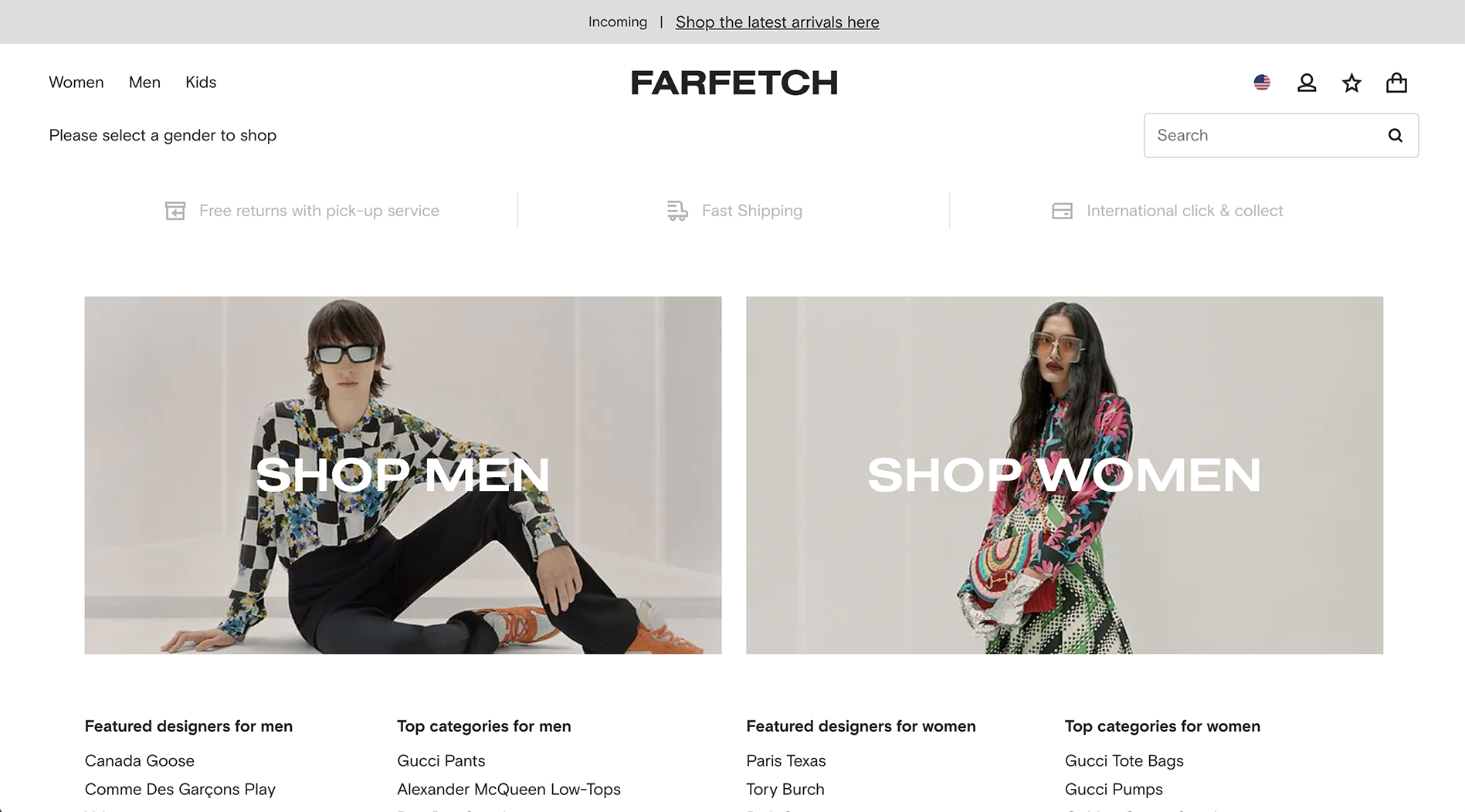 Program name: FARFETCH Affiliate Program
Network / Software: FlexOffers, Partnerize
Commission: 5.6% (FlexOffers), 7% (Partnerize)
Cookie duration: 30 days
Brands: Bottega Veneta, Burberry, Dolce & Gabbana, Fendi, Gucci, Khaite, Marine Serre, Off-White, Prada, SAINT LAURENT, Valentino, Valentino Garavani, Versace
Markets: US
Farfetch is taking a big bite out of the high end ecommerce space, and received quite a few links from the luxury blogs and fashion-focused websites we analyzed.
Like MR PORTER, the FARFETCH program is available through Partnerize with a quite generous 7% commission rate and 30-day cookie. This combination makes it an attractive offer to promote as an affiliate, especially given that it offers both mens and womens styles.
ASOS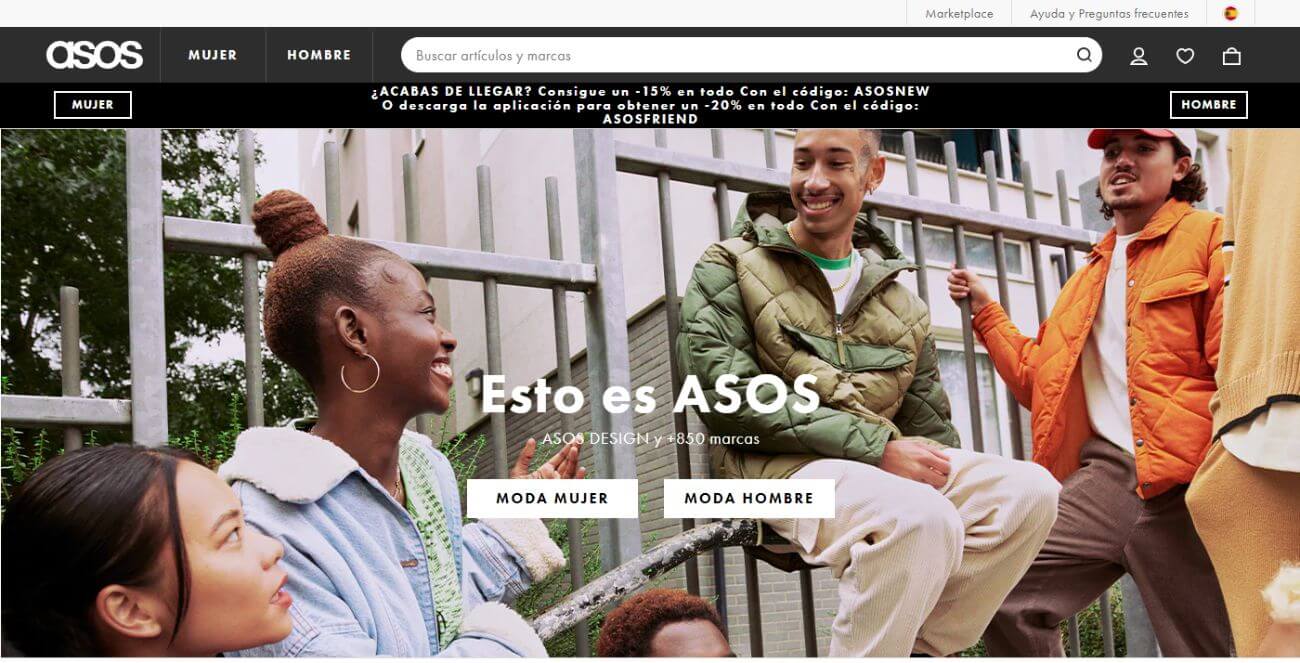 Program name: ASOS Affiliate Program
Network / Software: Rakuten, Sovrn, Cuelinks, FlexOffers
Commission: 6% base commission and for new customers, 3% for existing customers, 1% on sale items (Rakuten), 1% base commission and on sale items, 6% for new customers, 3% for existing customers (Rakuten), 0.5-1% base comission (Rakuten), (Sovrn), 3.76-4.51% per sale (Cuelinks), 4.8% of new customer sales, 2.4% of existing customer sales, 0.8% of app sales (FlexOffers)
Cookie duration: 45 days (Rakuten, FlexOffers), Not listed (Sovrn, Cuelinks)
Markets: Global (Rakuten), AU (Rakuten), US (Rakuten), Global (Sovrn), UK, US, CN, MY, SG, TH, IN (Cuelinks), NZ, AU, US (FlexOffers)
Alternatives: H&M at 7% for existing customers, 10.5% for new customers (AdmitAd), (Sovrn), (Skimlinks), or REVOLVE at 5% for all customers (CJ Affiliate), 6% for all customers (Skimlinks), 8% for online and app sales (FlexOffers), (AdmitAd), (Sovrn)
ASOS is a UK-based fast fashion retailer founded in 2000. In 2020, they did £3.26 billion in revenue, and in 2021 won a bid to acquire Topshop, Topman, and Miss Selfridge.
This online fashion powerhouse is one of the most popular fashion affiliate programs in Europe, according to our analysis.
As an affiliate, you can promote shoes, clothing, makeup, and more for people at all sorts of budgets. Plus, they've got a 10% student discount and an ASOS outlet where you can find sale items to share with your audience.
ASOS also has strong customer loyalty, thanks to their Premiere Delivery program which costs just £9.95 a year for next-day shipping on every purchase. (An absolute steal compared to Amazon Prime!)
For the highest commissions from the ASOS affiliate program, you'll want to refer new customers. ASOS offers up to 6% when you bring a first-time shopper to their website who goes ahead and buys.
Do note that, like many fashion affiliate programs, ASOS offers lower rates for coupon and cashback sites (up to 3% instead of 6%).
Are you struggling with tons of affiliate platforms and links?
If you're running website that's monetized with affiliate marketing, there's a high probability your affiliate commissions are scattered across a ton of different platforms.
This makes it hard to get an overview of what's working well, efficiently test different products and programs, let alone optimize your content for conversion.
Affilimate was designed to fix that. It helps you collect your affiliate data (clicks, commissions, and content analytics) into ONE place so you can optimize conversion and grow your revenue.
Start your free Affilimate account and get tracking today.