Affiliate Marketing Australia: 2023 Insights & Strategies
By Chrissy Kapralos · Updated Jan 10, 2023
Australia might be the land down under, but affiliate marketing in Australia helps publishers soar over their conversion and revenue goals.
It's easy to glaze over Australia for affiliate marketing because the country is relatively new to the game – Commission Factory found that 48% of brands have only had their Australia affiliate programs for 1-3 years. Plus, most brands only spent 3% of their marketing budget on affiliate marketing.
Still, 72% of organizations see a higher ROI in affiliate marketing in Australia than other marketing channels, especially from new customers.
So, is online affiliate marketing Australia's forte? Turns out, the answer is complicated. We'll try to unpack it by exploring some affiliate marketing Australia facts, programs, networks, and expert experiences.
Why Engage in Affiliate Marketing in Australia?
First and foremost – Australians need some income relief. If you thought inflation was rough in North America, you haven't experienced the 32-year high inflation rate in Australia, which just reached 7.3%. And if you narrow it down to simple fruits and vegetables, we're talking about a near - 20% price increase.
Still, Australia tops quality-of-life lists across the globe, making it an attractive destination for freelancers and digital nomads alike. Maybe that's why interest in affiliate marketing in Australia has doubled these last five years, according to search terms on Google: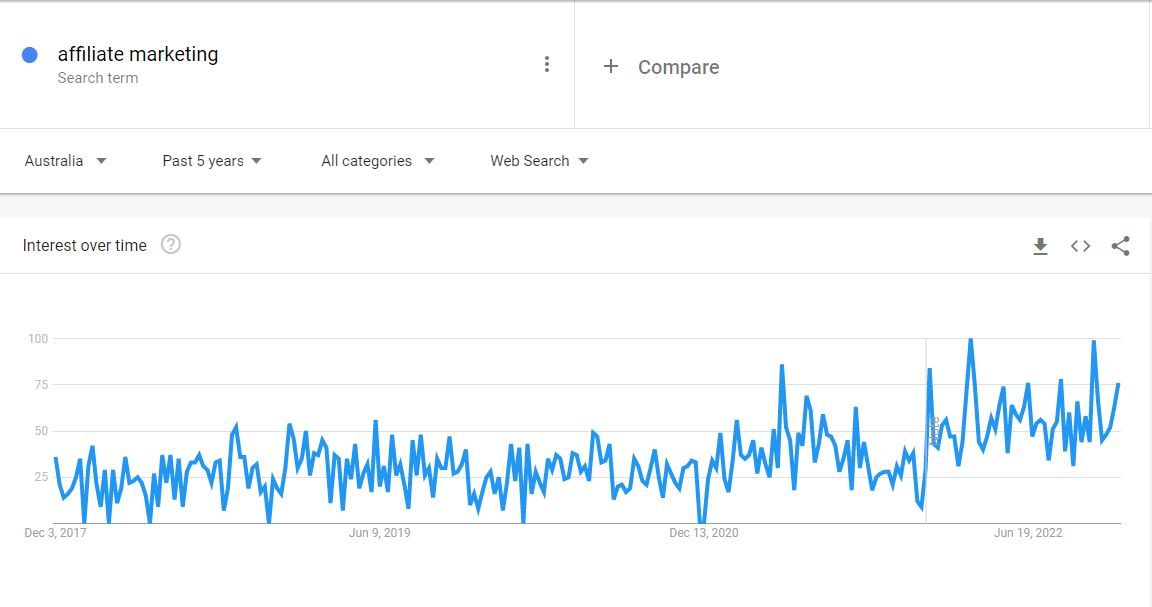 Here are a few unique pros of engaging with the Australian affiliate marketing space, along with some challenges:
25 million additional English speakers, with less competition. Are you targeting the US for its English-speaking audience? Why not add welcome add additional 25 million more people to your target audience by including Australia in the mix. Sometimes, it's as simple as including Australian retailer affiliate links next to American ones in your product roundups. All that – with a fraction of the competition.
Lauren Schwartz is an SEO manager at Australian-native Alphabet Services, a company comprising a number of home service brands, says:
When you look up the keyword difficulty for 'best [product] australia' keywords, you'll find it's quite low for the majority of searches
There are less players competing for these terms [than the US market], so it's easier to rank for them and generate affiliate income.
But on the flip side, your target audience might not look for Australia keywords if they're in the US. Plus, RPM is much lower for Australia than America.
Alyson Long, travel blogger and founder of World Travel Family, warns us not to exclude your largest target audience, which might be the US.
If you have a blog about Australian things and your topics were, for instance, 'where to buy travel bags in Australia,' I'm sure you could make good money from an Australian audience. But adding the words "in Australia" would straight away exclude the vast majority of readers.
Still, expanding to an Australian audience doesn't have to be exclusive. All it means is finding Australian retailers for any products available there, too.
Australia has Amazon shoppers, but it's not the same as the US. Are you an Amazon affiliate site? We know; the US loves Amazon more than anyone, including Australia. Despite Australia's late adoption of Amazon, we are seeing slight improvement in traffic analytics, as Amazon.com.au had over 50 million monthly visits in September.
Source: Similarweb
While the bulk of your income might still come from Amazon US, you can still attract similar audiences in Australia.
For example, if you're an Amazon affiliate specializing in baby care products, Australia has plenty of mums who use Amazon, too.
But it's important not to forget the stark differences between the US and Australia — for starters, there are one-tenth as many Aussies as there are Americans. Additionally, Long reminds us that Australians face more significant travel hurdles than much of the rest of the world due to its location.
I'm a travel site – but it's harder for Australians to travel internationally because it's so expensive. We're miles from anywhere. People in Europe can zip all over the world for $100, whereas it's $1,000 for me to get to Singapore one way.
Still, Long is based in an Australian resort town popular with local and international tourists. Meaning? Long still leverages affiliate sales to some extent in Australia – but it's the US market bringing her bigger earnings.
I keep affiliate links international, never local, to maximize revenue. Overall, I focus on the US market because of their higher numbers of travelers and higher RPMs.
Let's look at an Australian affiliate that makes use of a larger subset of Amazon's Australian market: StayatHomeMum!
The lifestyle blogger features articles around every topic a mum could think of, from women's sex toys and relationships, to home decor and children's toys: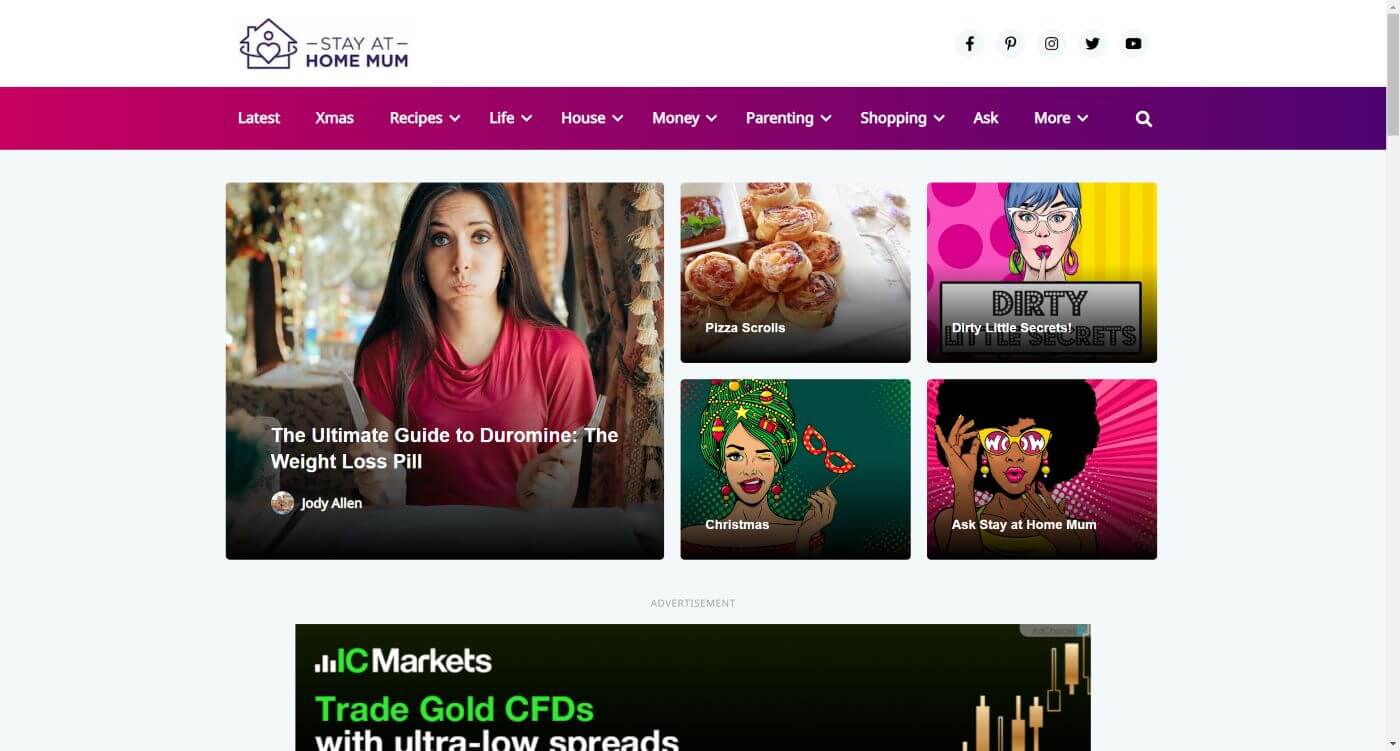 Source: StayatHomeMum home page
Hmmm… kitchen equipment, children's items, Christmas presents, and sex toys? That's a tall order of products, but Amazon offers many of them.
Check out this screencap from an article about kids' toys – and a few Amazon links for each one.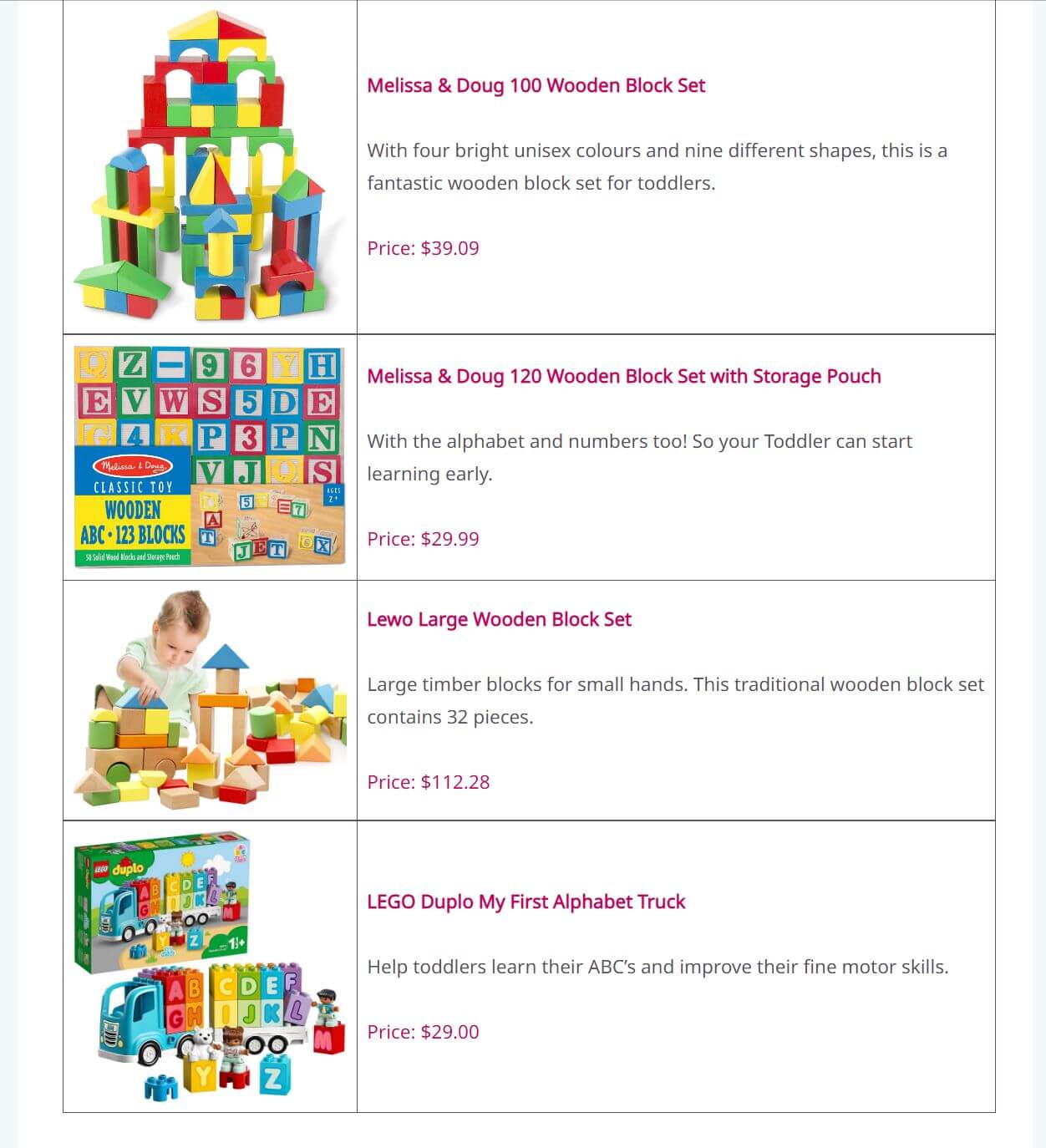 Source: StayatHomeMum – Christmas Gifts for Toddlers
Now, is it worth marketing Amazon products to an Australian market? We think so, as long as you don't leave out your main audience while doing so.
StayatHomeMum does well with a cheeky 350K–400K in monthly visits, and an annual revenue of $2–5 million. Not too shabby.
Source: Similarweb traffic analytics
Australians love coupon codes: Think the coupon game is strong in the US? Well, it is – but Australians love a good discount just like anyone else. Statista shows that 73% of Australian millennials use discount and promo codes when discount shopping. Curious to see this at work? Let's look at Australia-based fitness trainer and affiliate, @dannibelle: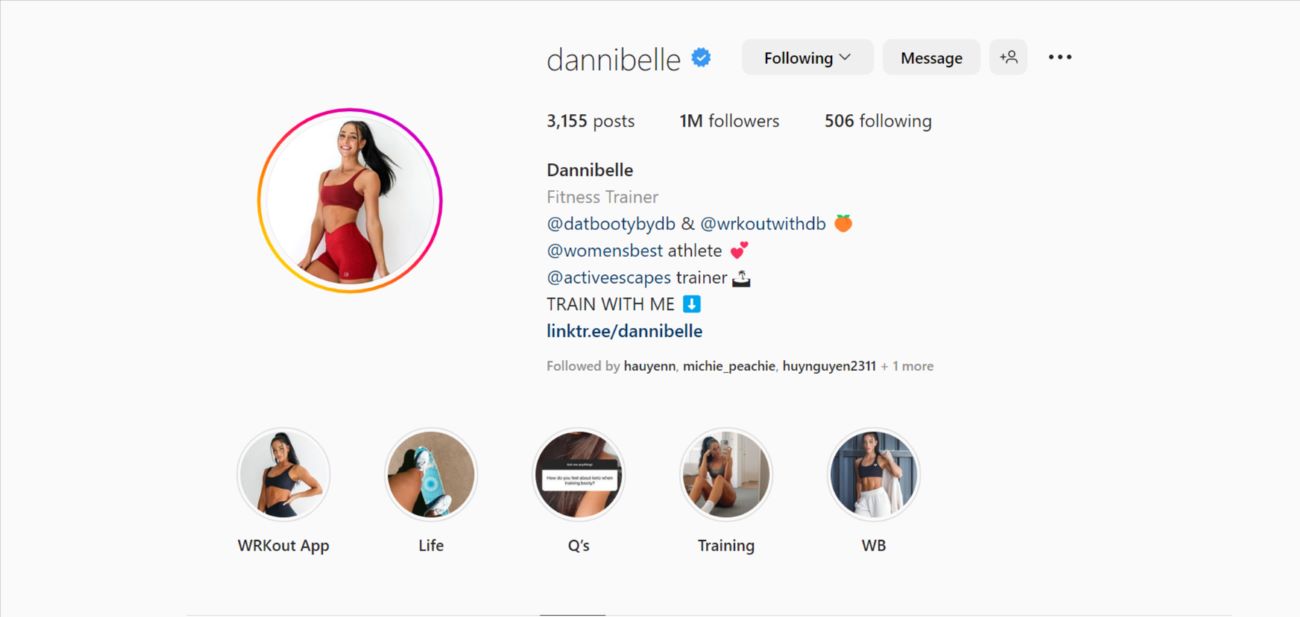 A proud affiliate of the Australian company Women's Best (@women'sbest), Danni features tons of coupon codes in her gym attire reveal posts: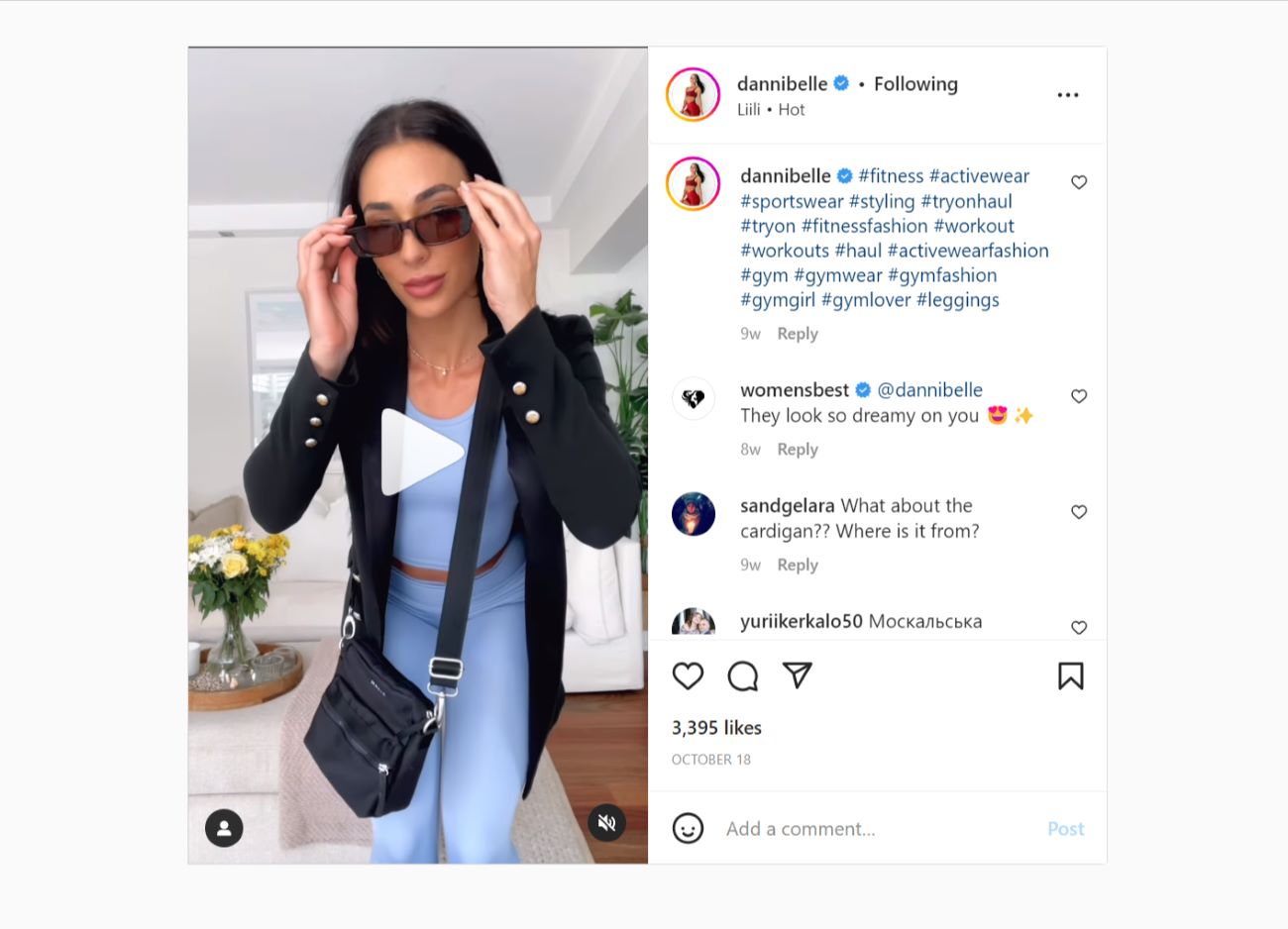 Source: @dannibelle
While Danni's business website doesn't rank too high, her Instagram profile is a lead social account in the Australian fitness industry with over one million followers. Danni's clearly capitalizing on the growing popularity of influencer trust in Oz.
The trade organization IAB Australia reports that 28% of Australians see influencers as a great source for discovering new products, and the number is even higher among Millennials (37%).
Diversification: Bloggers and affiliate publishers in general should see affiliate marketing as a Thanksgiving feast – you need a solid spread. If you focus too heavily on one market, you'll be out of luck if a particular trend goes bust, parading away your audience and revenue with it. However, brands certainly notice the value of bloggers and other content publishers in reaching Australian audiences. IAB Australia found content publishers to be the second-most valuable affiliate type, due to high customer acquisition rates. On top of that, IAB Australia found that 82% of publishers increased their number of partnerships in the last two years.
Deeper relationships with less competition: The lower competition in Australia makes it easier to develop closer relationships with potential brands. Partnerize describes Australia as relatively new to the partnership game, with many brands still "testing the waters" and seeking education. This may be a great time for affiliates to encourage brands to start an affiliate program.
Schwartz from Alphabet Services describes this need for education in the Australian market as an opportunity quicker path to creating rich, mutually beneficial brand relationships:
Many brands haven't yet discovered affiliate programs or are unsure of how to get started. You can point them in the right direction by suggesting affiliate networks they can look into and join. I was able to help two Australian indoor plant supply companies with getting their affiliate programs set up, and as a thank you, they either gifted me products or provided a generous commission rate (20%)!
We'll touch upon some of those networks and programs shortly. But first, let's run through a couple of important legal considerations for Australian publishers and affiliates:
Affiliate Marketing Australia: Legal Considerations
Spill the Beans on Commercial Relationships: Section 18 of the Australian Consumer Law requires publishers to disclose affiliate links to readers, including any instance where you receive payment.
Disclaimer, Stat: Piggybacking on the commercial relationship disclosure, remember to make that disclosure public on your website. You'll be penalized if you try hiding it.
No Spam, Please: The Australian Spam Act prohibits affiliates and brands from sending affiliate links to customers and readers without their consent. And if they do consent? The unsubscribe button should be clear as day in every message. The same goes for phone calls, though those are covered in the Do Not Call Register Act.
Best Affiliate Programs Australia
So, which affiliate programs are fair game for Australian affiliates? Don't look far – plenty of programs have Australian divisions or are founded by Australians themselves, including:
The Iconic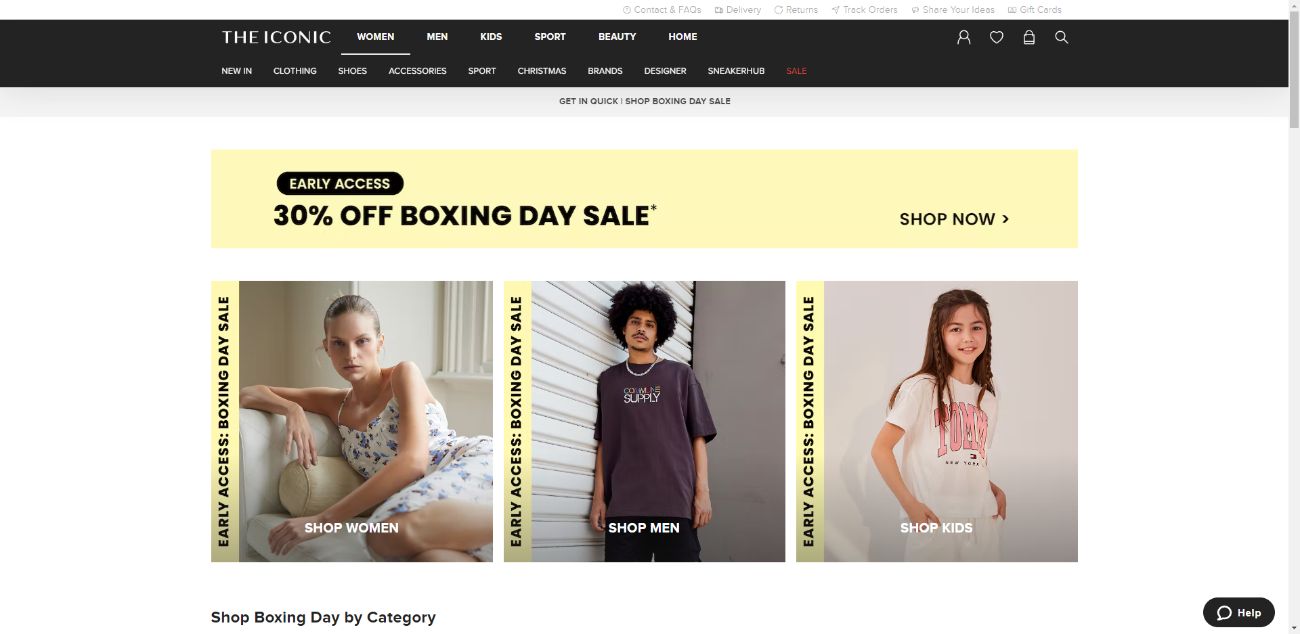 Why The Iconic? For starters, they've got the #1 spot for lifestyle and fashion in Australia, with a whopping 11.4 million monthly visits. All you need to do is slide in as the middleman to snag a nice 10% commission.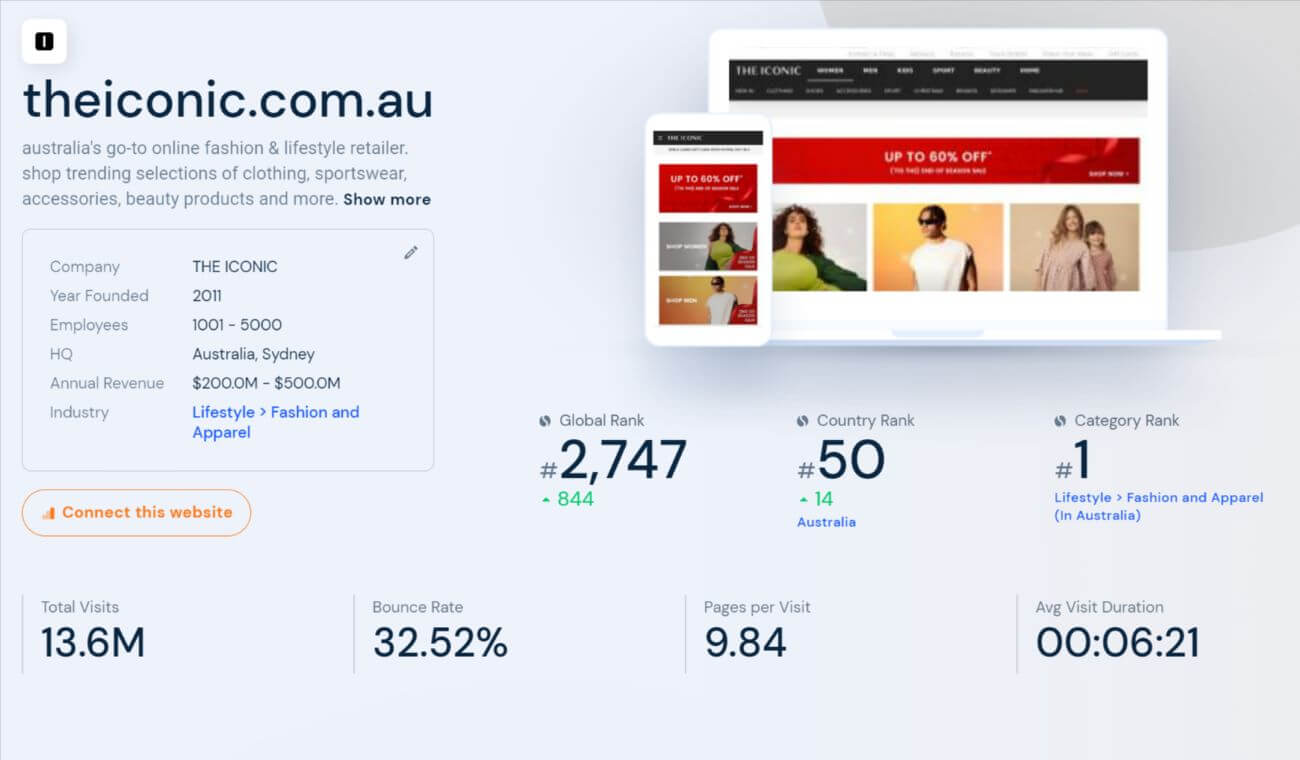 Now, 10% might not be as high as some other programs, but quality products from this site aren't cheap. Just take a look at the $60 water bottles and $300 bed sets in the home section, or the $350-dress in the women's apparel section (oh, and that's just the sale price):

We also love the product variety. Of course, the visually appealing home and women's sections offer themselves nicely to today's lifestyle influencer for mums and boss babes – but don't forget about the site's tech, sports, and yoga equipment sections.
Hello, comparison bloggers! You have a wealth of products to feature on your next roundup – all of which can come from The Iconic's site. Plus, you can also tap into existing brand loyalty for household-name brands. If you already know your audience likes Nike products or another popular brand, just look through The Iconic's brand directory for ideal products to market: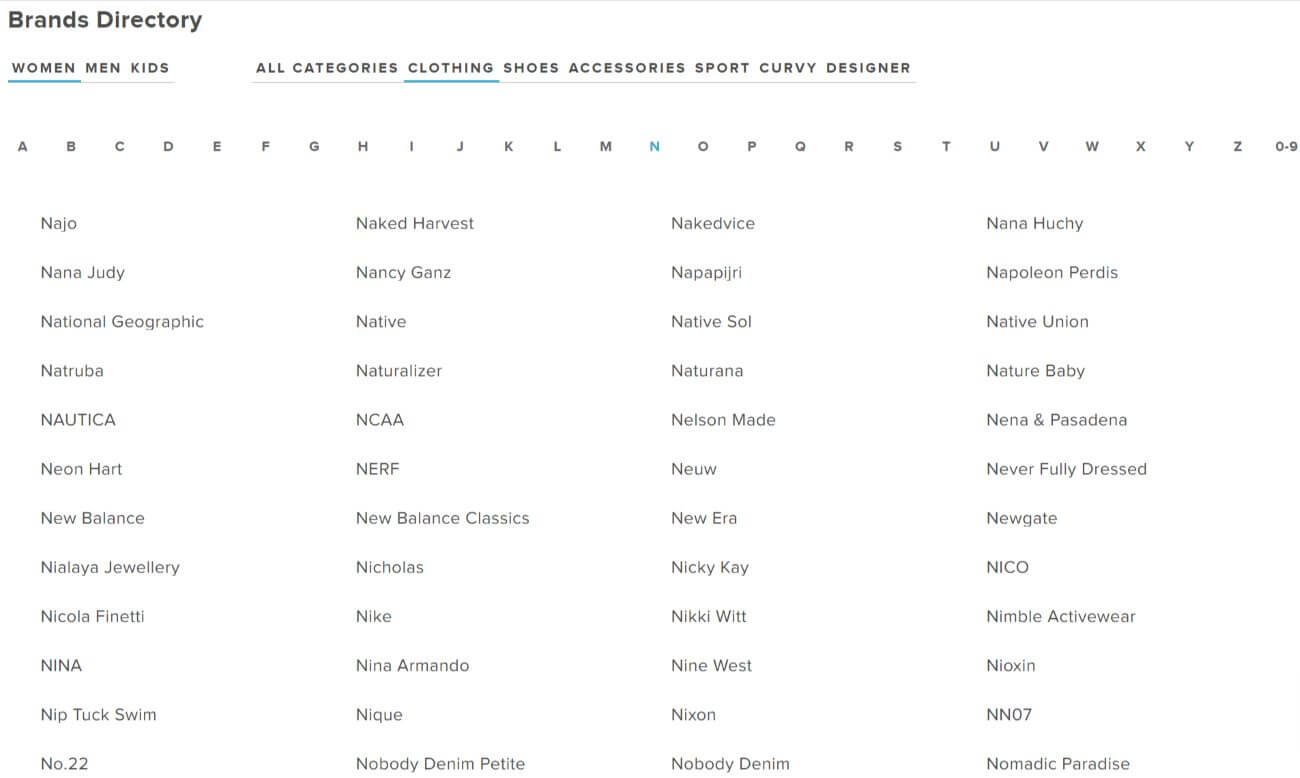 And if your audience takes their time before a purchase? The Iconic has a generous 30-day cookie window to capture all those heavily contemplated transactions.
Myer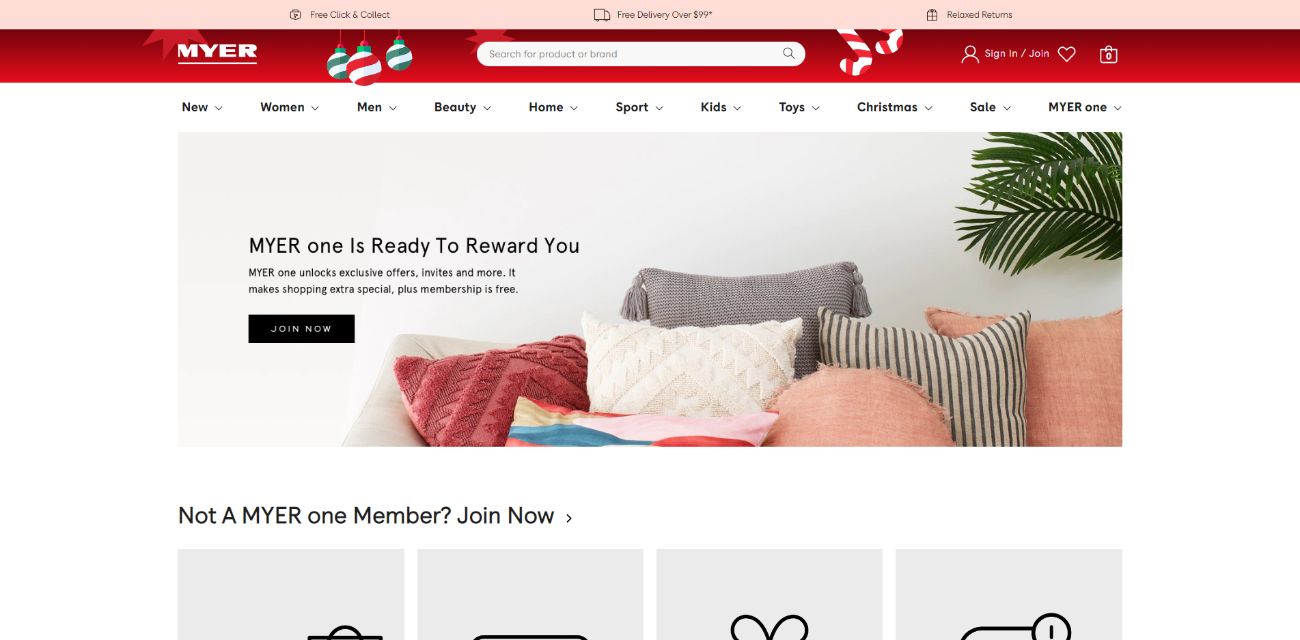 Like The Iconic, Myer offers immense product variety, from clothing and shoes to home decor. The department store is a staple in Australia and offers one of the country's most popular affiliate programs. Influencers, coupon sites, and content publishers alike have ample deals and promotions to work with, which can add up to a pretty penny given the 10% commission through Skimlinks.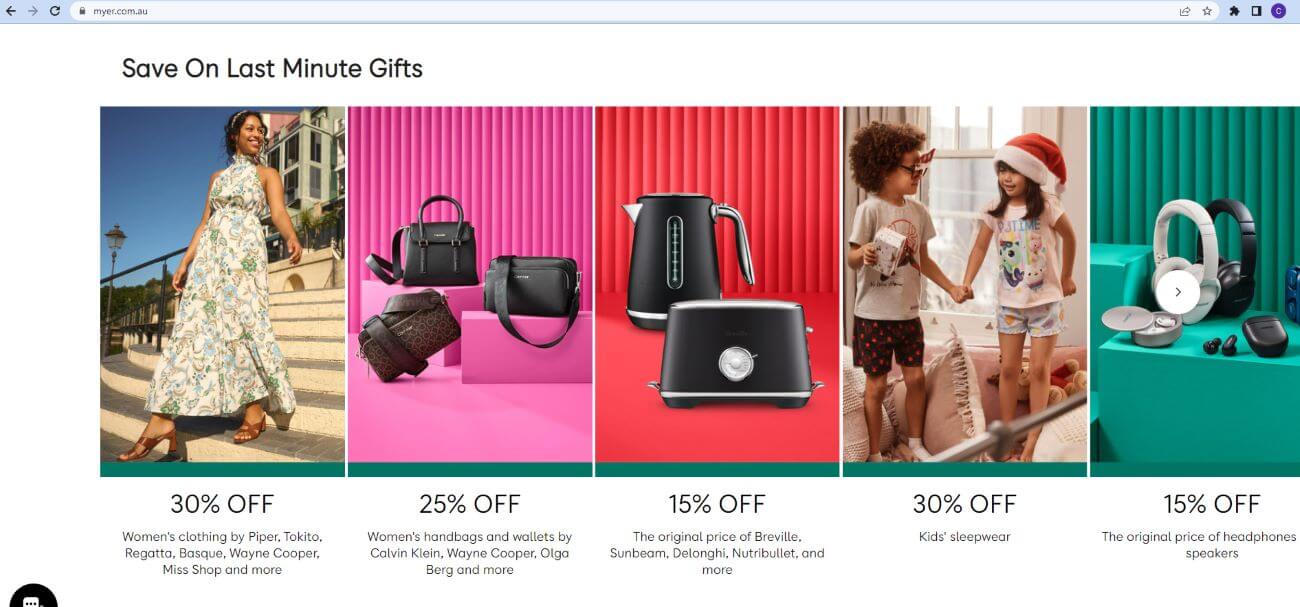 Dan Murphy's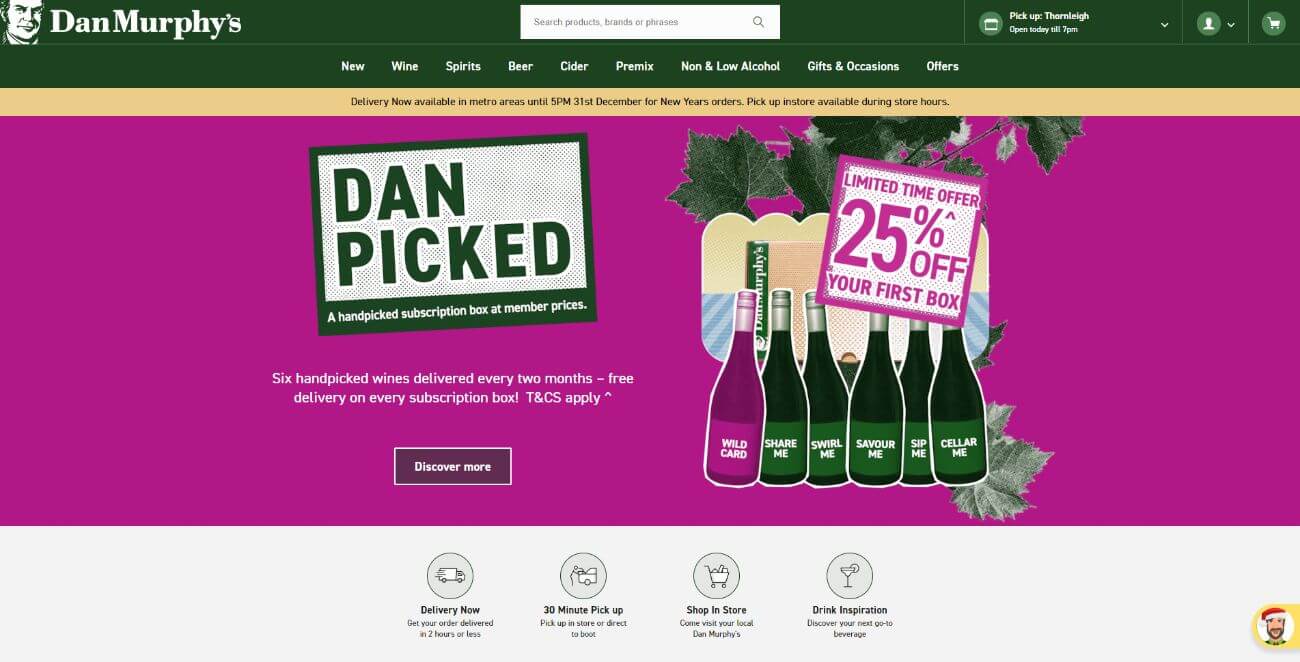 Dan Murphy's is a Melbourne-founded online spirits, wine, and beer retailer with roots in Australia as far back as 1879. Like Wine.com, they saw huge growth thanks to the recent popularity of online delivery services.
Affiliates can sign up to this program through three different platforms with a range of payout structures. A potential drawback of this program is that it has one of the lowest commission rates among this list, ranging from 0.5%-4%.
If you have an audience interested in supporting an Australian heritage spirits brand, this affiliate program could be a great fit.
Amazon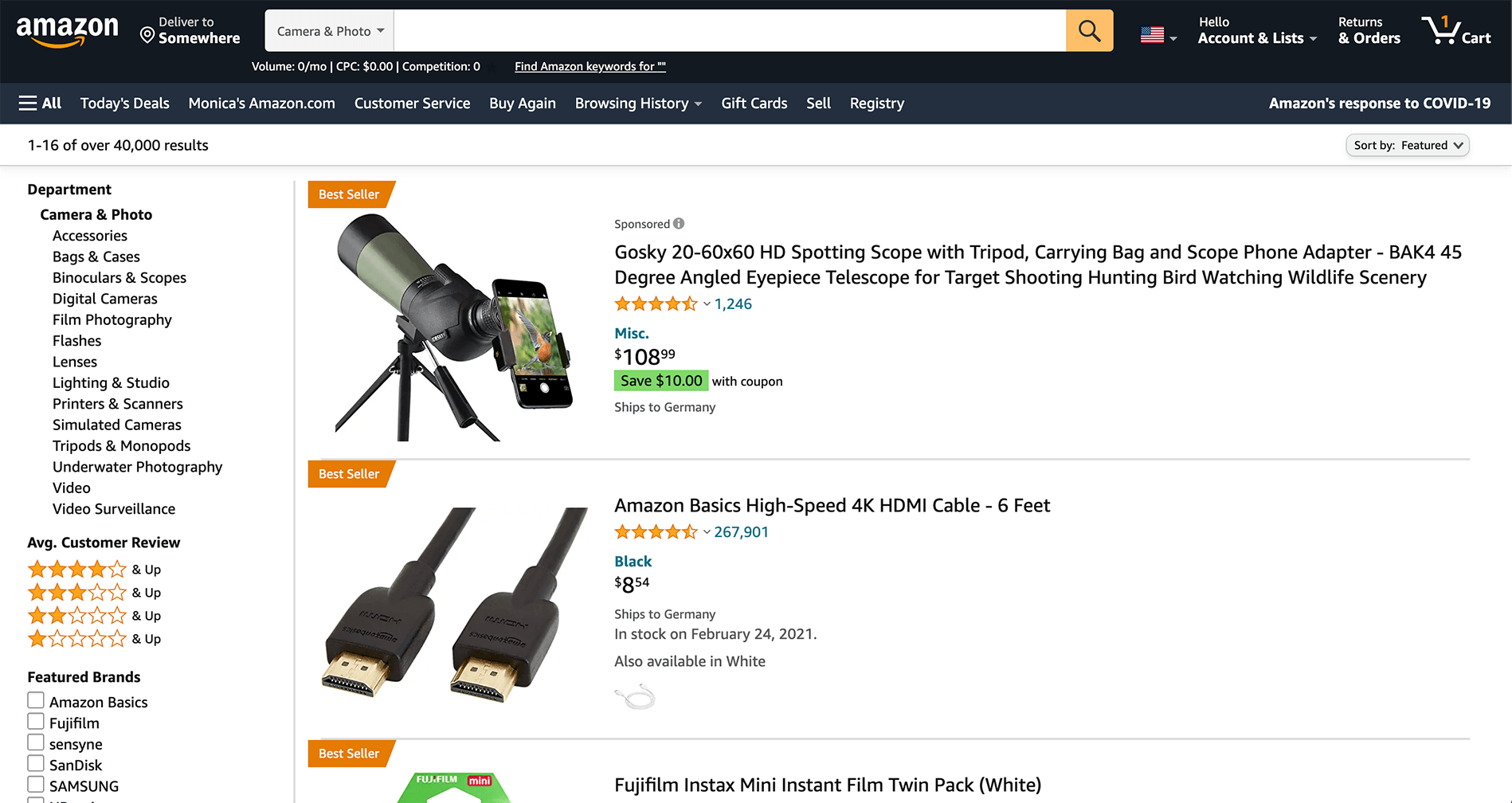 Program name: Amazon Affiliate Program
Network / Software: Direct
Commission: 4% commission
Cookie duration: 24 hours
Markets: Global
Alternatives: Walmart at 0.5% (Impact), 0-4% online sale commission, $0.00-$10.00 online sales commission depends on the item (Skimlinks), €4.00 (Lemonads), 2% (Rakuten)
Amazon is a great fallback option for promoting affiliate products, no matter the niche. The selection, ultra-high conversion rate, and sheer market penetration make it a selling machine.
The downside of Amazon is that the commission rates are relatively low. With plenty of items hovering around 4%, you can often promote the same products directly through the manufacturer for close to double or higher. Plus, the 24-hour cookie period is relatively unforgiving compared to industry standard cookie periods of 30 days or longer.
So whenever possible, include both a direct option and an Amazon option when promoting products. Encourage your readers to click both to compare prices, and you've at least got a cookie set on both websites.
PS – Amazon is the third-best affiliate program for books, music, movies, and games. In fact, Australia's Amazon sales in the media categories are estimated to reach $1.9 billion in 2026! We'll help you get on the gravy train with Affilimate's Amazon integration.
eBay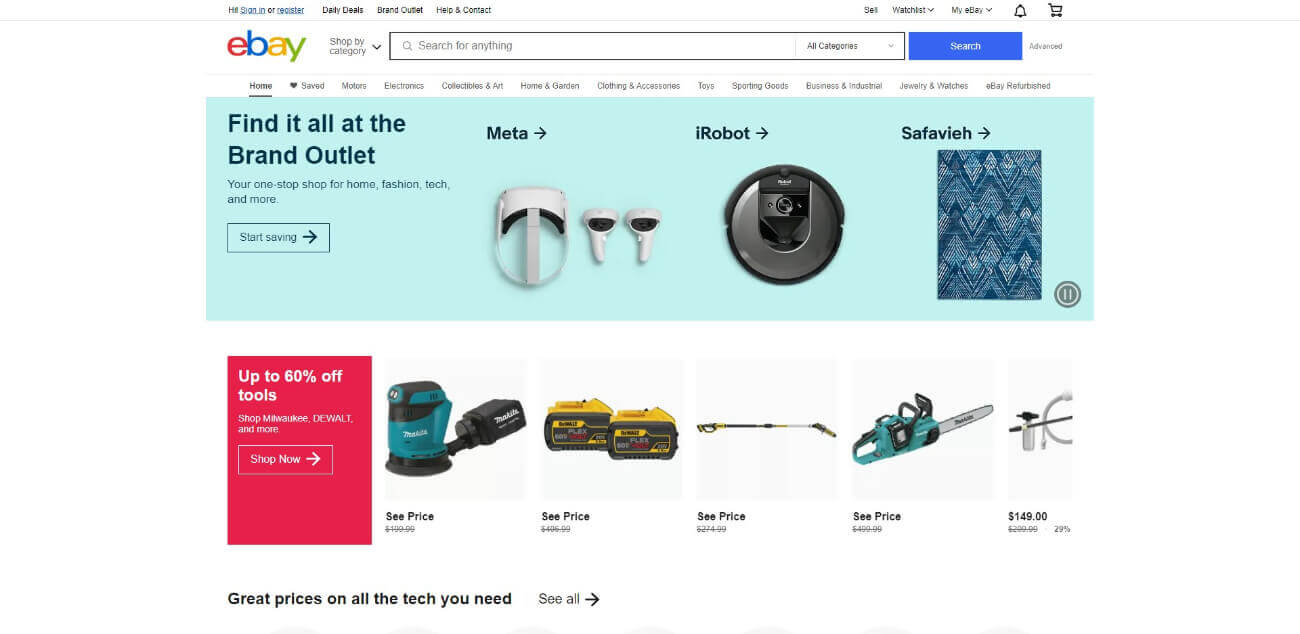 Like Target, eBay quietly links to its affiliates page at the homepage footer. eBay has a 7-day auction period for many products. Given the 1-day cookie window, this might mean you'll earn more commission on "Buy It Now" products. If your referred customer buys a product at the end of the auction, you won't receive any commission unless they first accessed the page that same day.
But eBay has an impressive analytics platform for affiliates, helping you track earnings and performance, pinpoint high-converting items, and determine audience interest.
Affiliate Marketing Companies in Australia
Need some inspo? You're not the first affiliate who sought to tap into the Australian market. Let's go over a few affiliate networks in Australia, as well as agencies and publishers making the big bucks with Australian affiliate marketing.
Affiliate Networks Australia
You know how you act as the middleman between customers and brands as an affiliate? An affiliate network is the middleman between you and the brand, offering a platform for brands to connect with various partners, from bloggers and influencers to other brands.
These affiliate networks are part of the Australian trade association, IAB Australia:
1. Commission Factory
Owned by Awin, Commission Factory is Australia's main affiliate network, catering exclusively to Australian brands. Plus, Affilimate integrates with this network via API. You can see every single conversion stemming from Commissions Factory on a unified dashboard.
2. Partnerize
Partnerize is a popular network for thousands of brands in Australia, and publishers leveraging partnerships throughout the APAC markets. However, some publishers don't find the application process straightforward, despite the large number of brands.
Partnerize might be a better option for highly seasoned and visible affiliate players. We're talking page one on the SERPs, as competition seems intense.
There are plenty of big brands on the Partnerize platform, such as Koala, but in my experience, it is difficult to navigate. I found it confusing to discover and apply for affiliate programs.
3. Impact.com
Impact.com is based in California, but the company recently joined the Australian IAB association. It's a popular affiliate network and easily accessible for new and old affiliates.

Here are some more insights that Lauren Schwartz provided:
Personally, I believe that Impact Radius is the best Australian affiliate marketing network, with the best performance reporting. In seconds, I can see the actions users have taken, including the date and time of the referral (click from our content) and when they completed the action (sale).
We work with the Australian brand Zero Co via Impact, and I wish every brand would use their affiliate network/ Additionally, Impact's page for managing vanity links saves time, so I don't have to generate a tracking URL each time I want to link to their Multi-Purpose Cleaner or Dishwasher Tablets. It's saved within the platform for me to simply copy and paste into my content.
You can experience the same, smooth experience with Affilimate's Impact integration. View all your Impact commissions in a unified dashboard, tracking each page, link, and element driving your conversions.
4. GrowthOps
GrowthOps features some high-ticket affiliate brands like Dell, Menulog, and Agoda as well as reputable publishers like Finder, Groupon, and UniDays. Publishers describe GrowthOps as a major force for acquiring lucrative brand partnerships and increasing revenue.
More affiliate networks in Australia:
Affiliate networks are a great way to connect with Australian brands and supercharge your revenue. Still, you'll need an affiliate dashboard to keep tabs on all that revenue, who it's from, and when it comes. That's where Affilimate comes in handy, aggregating commissions from over 100 publishers.
Affiliate Marketing Agencies and Associations in Australia
Agencies and associations are a great way to get informed about the Australian affiliate market. You can access endless free resources and reports, but you'll get more value becoming a member. Then, you'll be able to attend events where you can meet brand advertisers and other affiliates in your industry.
Here are some affiliate marketing agencies and associations in Australia:
Affiliate Advertisers and Publishers in Australia
So, which brands and affiliates are monetizing their platforms the most for Australian audiences? Guide your upcoming affiliate campaigns with insight on these fantastic publishers and brands, and how they became so successful.
1. News Corp
Ever pick up The Australian newspaper? Thank News Corp for your morning reading. Jade McDade, head of ecommerce audience and partners, sat down with News Corp's new partner Skimlinks to explain the media conglomerate's investment in commerce content-driven affiliate marketing.
The company offers content to over 17 million Australian readers, with 13 million unique monthly visitors. Talk about exposure! So, what happened when they realized those readers were already clicking referral links and making purchases based on their commerce content? They knew it was time to restrategize and further monetize their well-established publishing platform.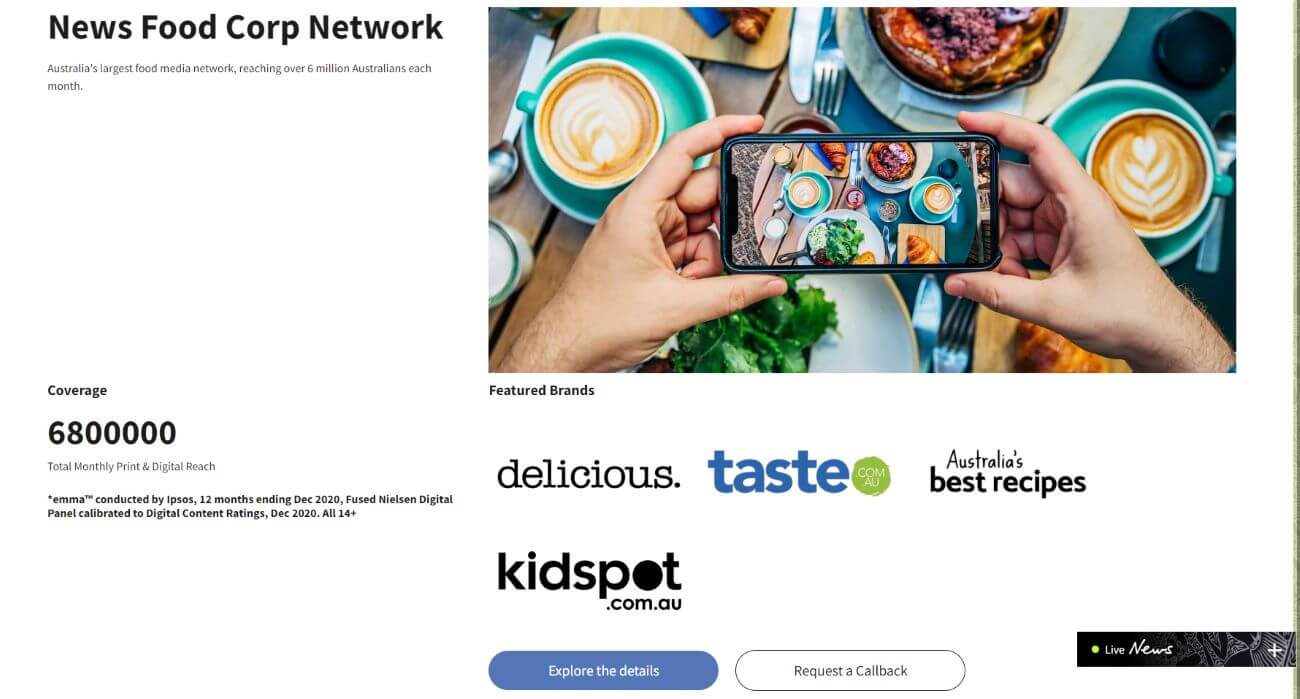 Source: News Corp Food Network
Using Skimlinks and JavaScript, News Corp was able to generate affiliate links for both published and archived pieces, revamping and reawakening revenue even in years-old content! Don't linger on the political front pages – we're talking about the ever-present gadgets, food, and lifestyle content in every issue of The Australian!
News Corp amplified this momentum with another multi-million-dollar partnership with iSelect, too. News Corp will earn exclusive affiliate revenue for referring readers to any products on the iSelect comparison site, from utilities and insurance products to financial assets.
2. The Iconic
Remember the #1 lifestyle and apparel site in Australia we discussed earlier in this article? Well, The Iconic has had immense success ramping up its affiliate marketing program. However, it wasn't always as streamlined as it is today. Affiliates aren't the only ones who desperately need data to inform their strategies – brands need them, too.
That's where The Iconic's operation fell short. Partnerize, the popular online retailer, cohesively merged all of The Iconic's partnership data into one platform to inform strategy with data-driven confidence.
It's no surprise that they lead Australia's lifestyle market and reign the SERPs with multi-million-dollar revenue to boot!
Data is just as important on the affiliate side. You'll experience a similar, illuminating experience when you work with Affilimate's content analytics and affiliate dashboard. Our heatmaps and revenue attribution features tell you exactly which partnerships bring you the most commission income and traffic. That means you won't have to make decisions based on hunches and assumptions of where your revenue comes from.
3. Cotton On
While some American publishers might use affiliate marketing to expand to Australian markets, Cotton On does the reverse. One of Australia's largest clothing retailers, Cotton On used Rakuten Advertising to target audiences similar to their existing customers in Australia – only in seven other global markets.
Since the company pays per acquisition, affiliate marketing was an affordable way to gain new clients and conversions.
See how the US makes up almost 20% of their traffic?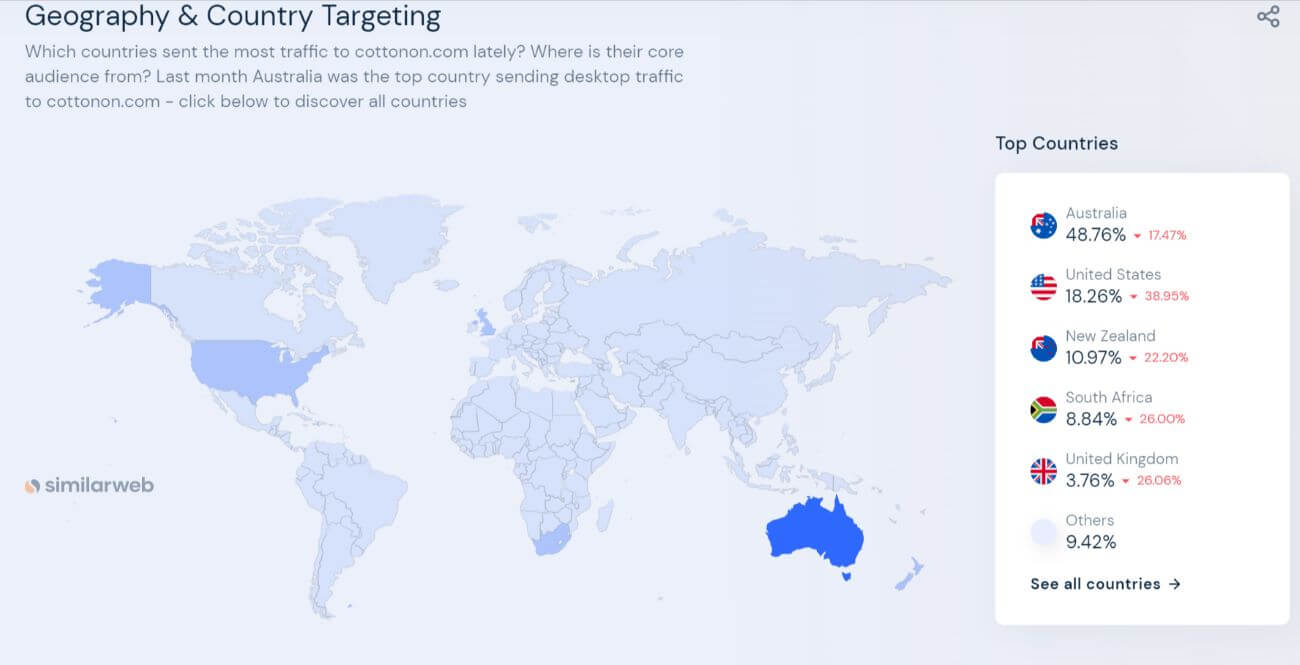 Source: Similarweb Cotton On analytics
Additionally, almost 40% of their overall traffic comes from coupon referrals – which, alongside coupon site partners, are a strong addition to coupon codes and influencer marketing.
Bottom Line
Australia is making great strides in the affiliate marketing world, with Australian brands only increasing their affiliate investment.
While there may be greater revenue potential with the wider US market, affiliate marketing in Australia has unique opportunities of its own. Even the obvious challenges, from a smaller population to Oz spending and travel habits, can be solved by creative, relationship-driven marketers – people who see the data trending upward and want to ride the wave.
If you're eager to expand to an Australian market, you'll need the right analytics and software to back you up. Affilimate's link management, content analytics, and dashboards can help you pinpoint what's working in your strategy and inform your next move. Try Affilimate for free!