How Publishers Can Convince Brands to Start an Affiliate Program
By Dustin Howes · Updated May 14, 2022
If you're a savvy affiliate marketer, you know how powerful affiliate marketing can be and that finding quality brands to promote is a huge key to successful campaigns.
Unfortunately, not every brand has an affiliate program, and convincing them to start an affiliate program can be an uphill battle.
So what do you do? Two options for you:
Help them see the light, or
Go find the closest competitor who has an affiliate program
In my mind, finding a competitor that you are not familiar with and testing out the products seems like a secondary choice. They already have partners creating content that you would inevitably need to compete with.
However, if you can convince the brand you love to start an affiliate program, you have the potential to be their first and top partner.
But how do you convince them that affiliate marketing is a good investment?
That's where I come in.
I've helped hundreds of companies to launch an affiliate program and in this guide, I'll help you with some selling points on why they should start an affiliate program. Let's go!
Why should a brand start an affiliate program?
There are a number of reasons why a brand should start an affiliate program, but here are some of the most common and powerful ones: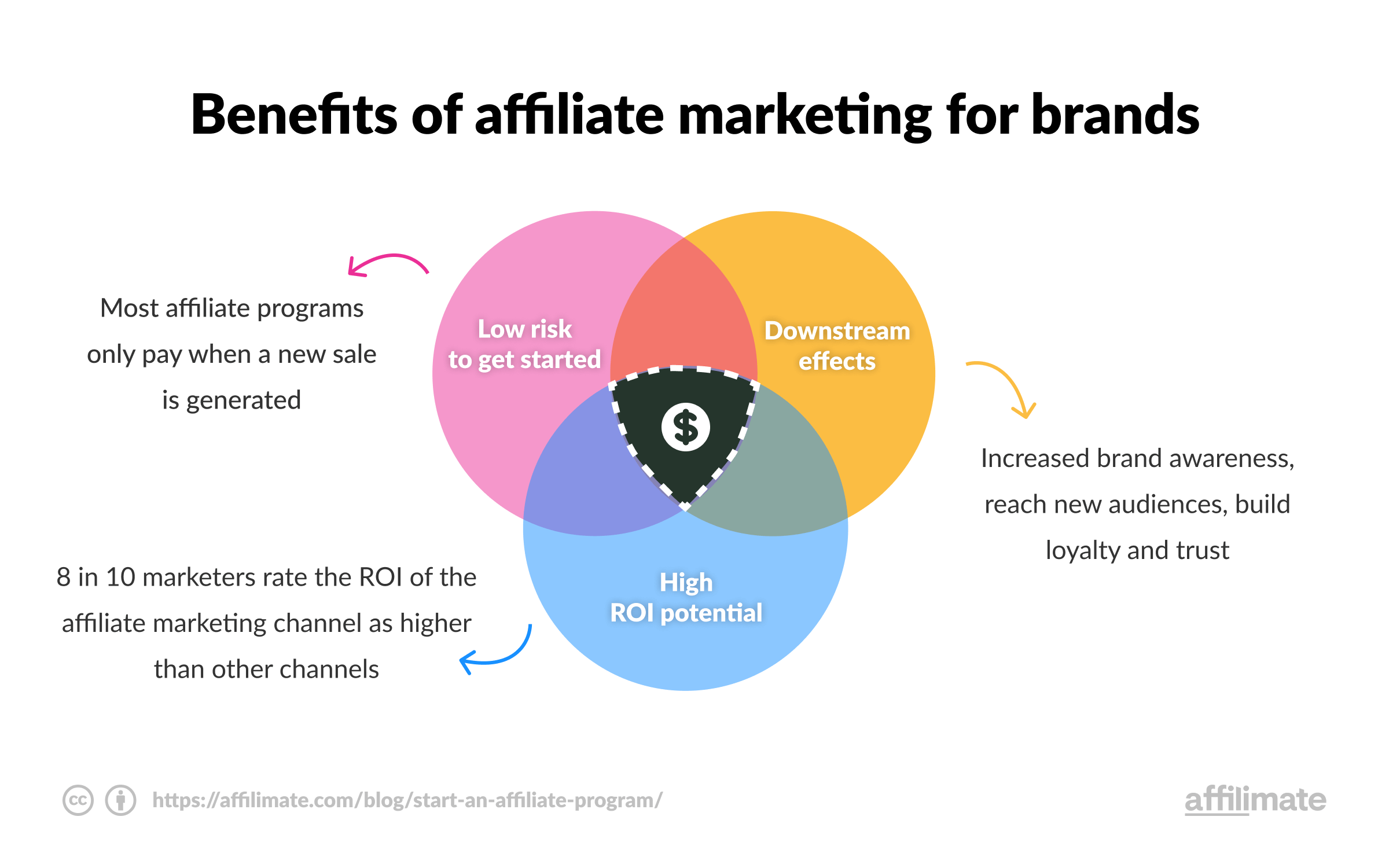 Affiliate marketing is booming with the industry expected to reach an estimated worth of $12 billion in 2022! The industry has tripled in size since 2015.
Affiliate programs are a low-risk and cost-effective way to acquire new customers, with 8 in 10 marketers ranking the ROI as better than other channels.
Provides brands with another avenue for marketing their products or services.
The affiliate channel can help to increase brand awareness and reach new audiences.
High volume potential of traffic, leads, and sales.
Shared first-hand experiences help to build brand loyalty and trust.
Good affiliate programs average 20% additional revenue for a brand.
There are many reasons, but I saved the best for last on that list above. An additional 20% after just the first year can be a game-changer for a company.
I've personally managed programs where 50% of sales are coming from affiliate marketing!
But still, even with those stats, convincing the brand to make the initial investment of time, resources, and budget can be difficult.
How to convince a brand to start an affiliate program
The first step is understanding what the brand's needs are. What are their current marketing goals? How do they currently acquire new customers? Once you understand how the brand functions, you can then start to tailor your pitch.
Some brands might be more conservative and risk-averse while others might be more open to new ideas and opportunities.
If you're pitching to a more conservative brand, it might be helpful to focus on how affiliate marketing is a low-risk and cost-effective way to acquire new customers. You can also highlight how the affiliate channel can help to increase brand awareness and reach new audiences.
Finding the right contact person is also key.
The decision-maker might not be the marketing manager, but the company's CEO or even the owner. Do your research and try to get a meeting with them to discuss how starting an affiliate program can help the brand achieve its goals.
Come armed with data and case studies of how other brands have been successful with affiliates. If you need some examples, check out a few affiliate marketing case studies that may be helpful to share.
How much will the brand need to invest to start an affiliate program?
This is going to vary dramatically. Some brands might be apprehensive about starting an affiliate program because they think it will be too expensive. But the truth is, it doesn't have to be.
The costs will depend on a number of factors:
Tracking solution – Ranging from $49/month to $1,000+
Management – Free to $10,000+/month
Partner management tools – Free to $1,000+/month
Commissions – Depend on payouts and the volume of new sales
Barebones, you are looking at $1,000 a year for limited sales and a very limited tracking solution. However, the more you invest in smarter technology, better tools, and quality program management, the higher potential for revenue your program will have.
I would highly suggest planning on a solid $50,000 budget for the next year to get this program started.
For example, let's envision a brand that is generating $1 million in revenue currently over a fiscal year. If they set up a proper affiliate program, they would have the potential for an additional $200,000.
A 4x ROI for a $50,000 investment seems like a good tradeoff.
How to start an affiliate program
Now that we know some of the reasons to start an affiliate program, pointing the brand in the right direction would be helpful.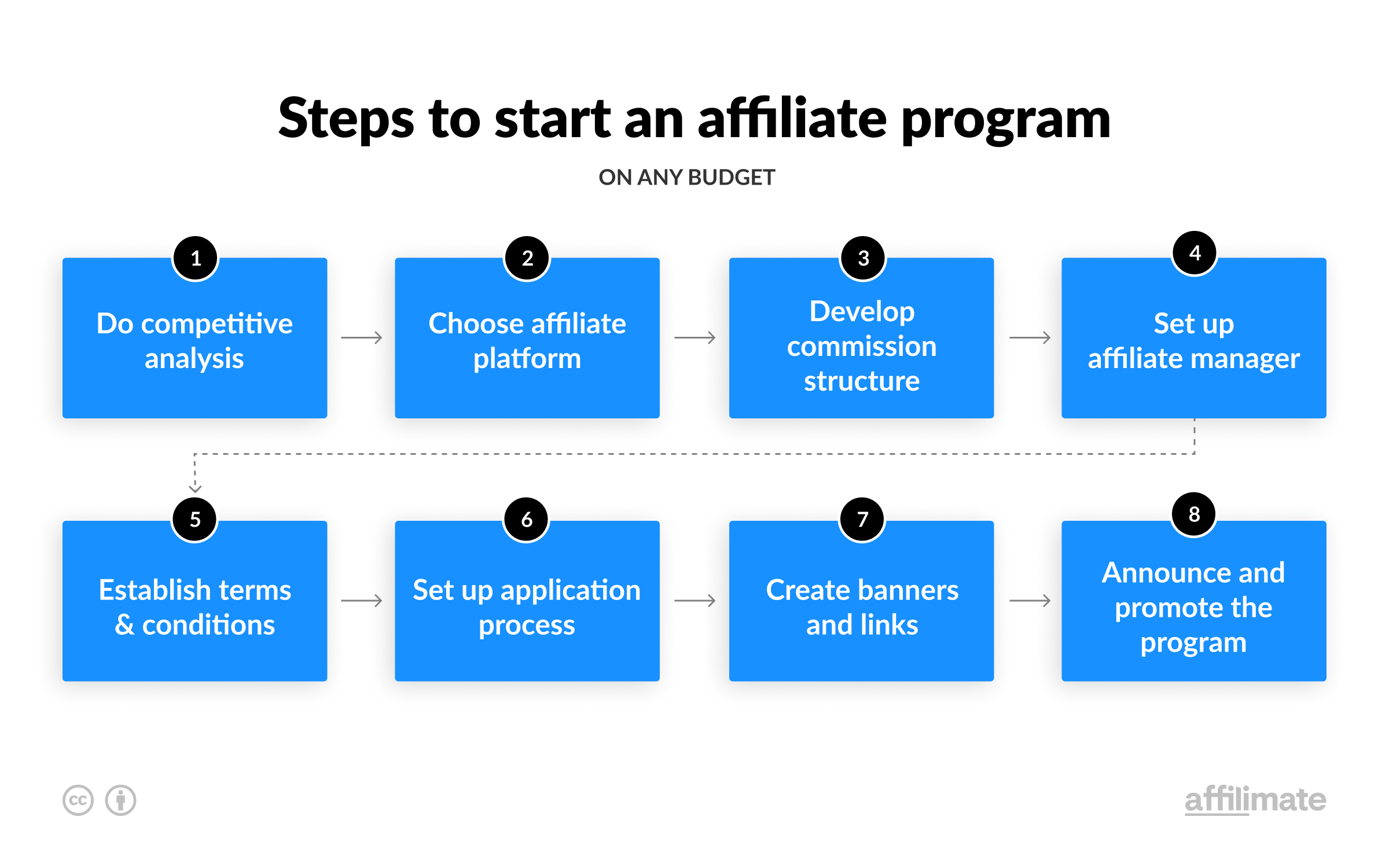 There are a few key steps to take when starting an affiliate program:
Do a competitive analysis of other affiliate programs
This will give you an idea of how other brands in the industry are running their affiliate programs. Brands will learn a lot from seeing what's working well for competitors and how they're promoting their program to affiliates.
One key thing to look for is their commission structure.
Can they afford to give a higher commission to good content partners? If not, what can they give incentives that will help publishers choose to promote their brand over others?
Choose the right affiliate network
There are dozens of different affiliate networks out there and each has its own strengths and weaknesses.
Some platforms cater to different brands. For example, Partnerstack is focused on SaaS products as clients while Shareasale is a good choice for an eCommerce brand. For more on this big decision, have the brand check out this listing of the best affiliate management software.
It is important to demo at least three different solutions and weigh options before a brand makes a decision. Some factors to consider are:
How much experience does the network have?
What kind of support do they offer?
What commission structure options do they have?
How easy is their platform to navigate from the affiliate manager and the publisher's perspective?
Editor's note: When suggesting an affiliate management software solution to the brand you want to work with, double check that it provides good tracking data for you as a publisher!
Key features you'll want to be sure the solution has includes SubID tracking (so you can track which content and links perform best), SKU-level reporting (so you know which products are converting), and the ability to deep link to specific product pages (so you can optimize which landing page you send your readers to).
At Affilimate we often recommend that price-sensitive brands begin exploring platforms like Refersion and Post Affiliate Pro, both of which we integrate with.
Develop the commission structure
The commission structure is how a brand will pay its affiliates for each sale or lead generated. There are a few different options to choose from and the most common are:
Cost per sale (CPA)—A set percentage of the total order value is given to the affiliate for each sale generated.
Cost per lead (CPL)—A set fee is given to the affiliate for each lead generated, regardless of whether that lead converts into a sale.
Revenue sharing—A percentage of the total revenue generated from each sale is given to the affiliate.
Pay per click (PPC)—A set fee is given to the affiliate for each click on an affiliate link, regardless of whether that click leads to a sale.
Set realistic expectations
Affiliate marketing will not yield instant results like Instagram and Google Ads. It takes an affiliate manager a month to set the program up and then another month to recruit the right partners.
There are 15 steps to success for affiliate managers to go from initial outreach until the partner is sales active. A 30-60-90 day plan is not enough foresight, so create a 30-180-365 day plan instead.
An affiliate manager does so much more than most realize, so it is important for executive to recognize this and trust the process.
Develop affiliate program terms and conditions
This is an important step to ensure that both the brand and affiliates are protected. The terms and conditions should cover things like commission rates, how payments will be made, what constitutes a qualified sale, and rules against trademark bidding.
There is no need to get a lawyer involved in this contract. The affiliate platform you chose will have an agreement to cover you legally, so these additional terms in place should be written in plain English. I recommend having the affiliates sign an agreement that outlines the terms and conditions of the affiliate program.
Setup automated application responders
The first impression is huge for affiliate partners. When they fill out an application to join the program, they should be sent a response thanking them for their interest in the program and how you will be reviewing their site.
Make the application easy to fill out and only collect the info you need.
This is also a great place to set expectations on how long it will take for you to get back to them. Once accepted, give them their unique affiliate link and let them know how to get started.
A personal touch goes a long way in affiliate relationships. New partners should feel like they are part of the team from day one.
Create attractive banners and links
Make sure that the banners and links you create for your affiliate program stand out and are easy to spot. They should also be mobile-friendly since most people are now doing their shopping on their smartphones.
Banners should be placed in high-traffic areas on your website and affiliates should be given a few different options to choose from.
If you want to earn extra credit with partners, create an assets folder of marketing collateral they can use to create affiliate content faster.
Announce and promote the program
Now that everything is set up, it is time to start promoting the program to get affiliates on board. This can be done through social media, email outreach, or even by reaching out to relevant bloggers and website owners in your industry.
When announcing the program, make sure to include all of the information that potential affiliates need to know and give a clear sign link. I'd suggest adding the affiliate signup page to your newsletter moving forward to encourage subscribers to join.
Program management going forward
Once the program is created, there will need to be decisions on how the program will be managed. You have four options available:
Do nothing – This is only an option if you have a very small program with few affiliates. If someone signs up, great. If not, that's okay too. This requires the least amount of work but also has the lowest potential for growth.
Hire an in-house manager – This is a good option if you have the budget to add another person to your team. They will be responsible for all things affiliate-related, from recruiting to maintaining relationships.
Outsource program management – If you don't have the budget for an in-house manager, you can outsource program management to an agency. You will get what you pay for with this option.
Train a junior marketer or VA – This is a great option if you have someone already on your team who is looking for more responsibility. They can be trained through my affiliate manager training course and it will be less expensive than hiring an agency.
FAQs
How much does it cost to start an affiliate business?
An investment as low as $1,000 for the first year is possible to set up an affiliate program. However, the return on investment will grow higher the more you invest upfront in things like tracking platforms, program management, partner management tools, and commission rates.
Can I do my own affiliate program?
Yes, you can start and manage your own affiliate program. However, it will take some time to get everything set up and running smoothly. I would highly recommend outsourcing the strategy and program management to seasoned professionals.
How do I start an affiliate program with no money?
This isn't a thing. There is minimal investment to buy thee tracking solution. Even if you try to cut cost by building an in-house solution (don't do this), you aree still paying a developer to build it out. You must invest out of pocket to make this channel work, but it will be cheaper than launching and learning with social media channels.
Are affiliate programs profitable?
Depends on how much love you givee the channel. Invest in the right peices discussed above, and it will undoubtably be ROI positive.
Wrap it up Dustin
If you are looking to start an affiliate program, temper your expections for the first 3 months. Growth of this channel will not happen overnight.
However, with strategic planning and appropriate budget invested, this channel can become a brand's best performing source of revenue.