ShareASale Review 2023: Pros & Cons for Affiliate Publishers
By Chrissy Kapralos · Updated Apr 5, 2023
Thinking of joining an affiliate network? Before you explore partnerships on ShareASale as a publisher, check out our insight-packed ShareaSale review for 2023.
An affiliate network is a platform that connects merchants to publishers and fosters commission-generating, brand-aligned partnerships. You've probably incorporated a few in your 2023 affiliate marketing strategy, like Commission Junction or Rakuten.
In 2023, one major affiliate network that you should consider is ShareASale. Part of Awin since 2017, this 20-year-old industry leader is respected across the affiliate network space.
With over 21,000 merchants and 241,000 publishers, the network is ripe with revenue opportunities on both sides of the affiliate relationship.
With that reach, we knew a ShareASale integration made sense for Affilimate – and we're thrilled with the results so far.
This comprehensive ShareASale review will help you figure out if it's the right network for you, as we cover topics like partnership potential, interface, reporting, and more.
How to Become a ShareASale Affiliate
Let's walk through the ShareASale signup process.
1. Create a new account
Think of a brand-aligned username and unique password for your new ShareASale account.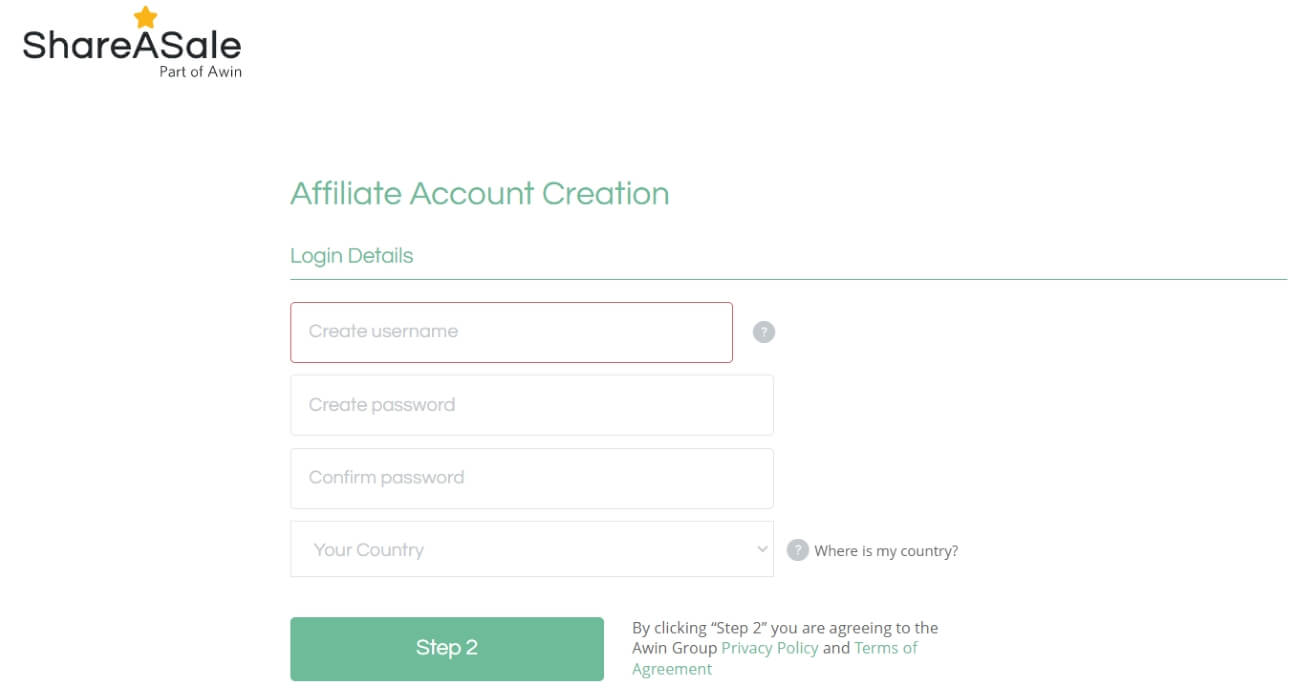 2. Add your details
Here, you'll need to plug in your publisher website and some details about your marketing strategy. ShareASale will also prompt you to confirm your site doesn't have any adult content.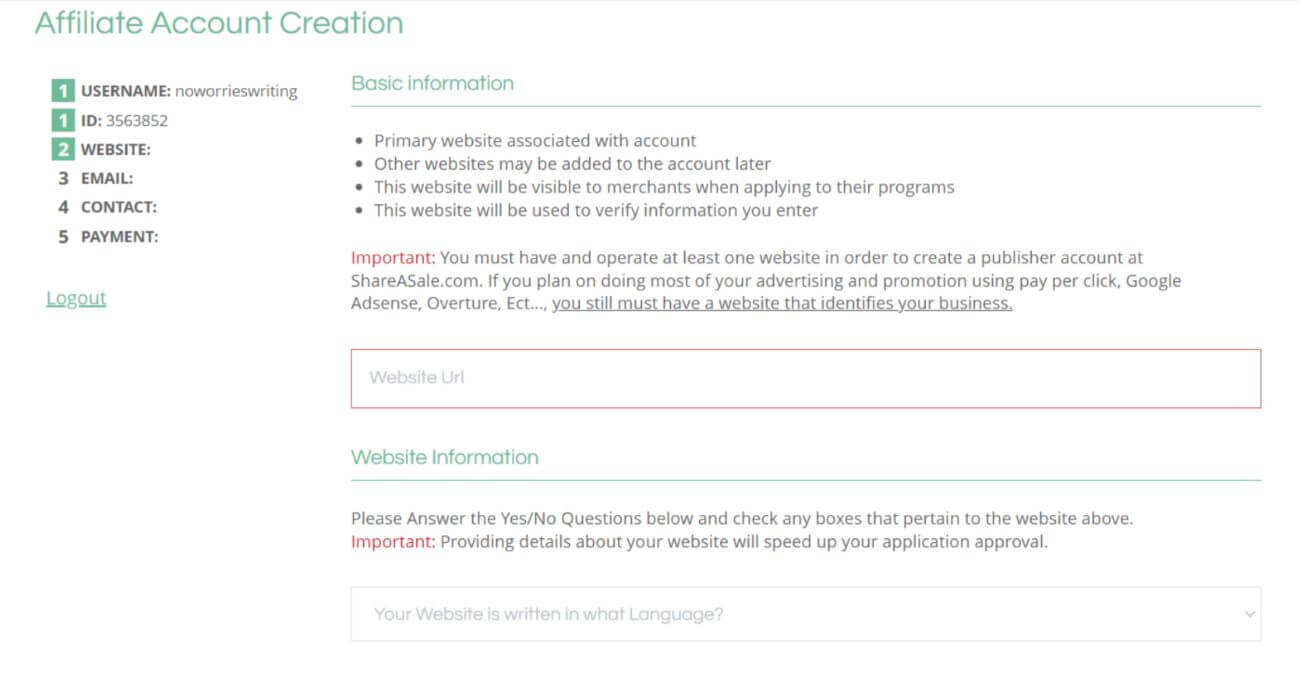 3. Confirm your email address
Our advice? Make sure you use a company email address that's aligned with the website. You'll come off as more professional to the folks reviewing your application.

4. Plug in your contact info
Add your personal details, including your full name and phone number. ShareASale will also ask if you own the domain for the email address and website you've provided.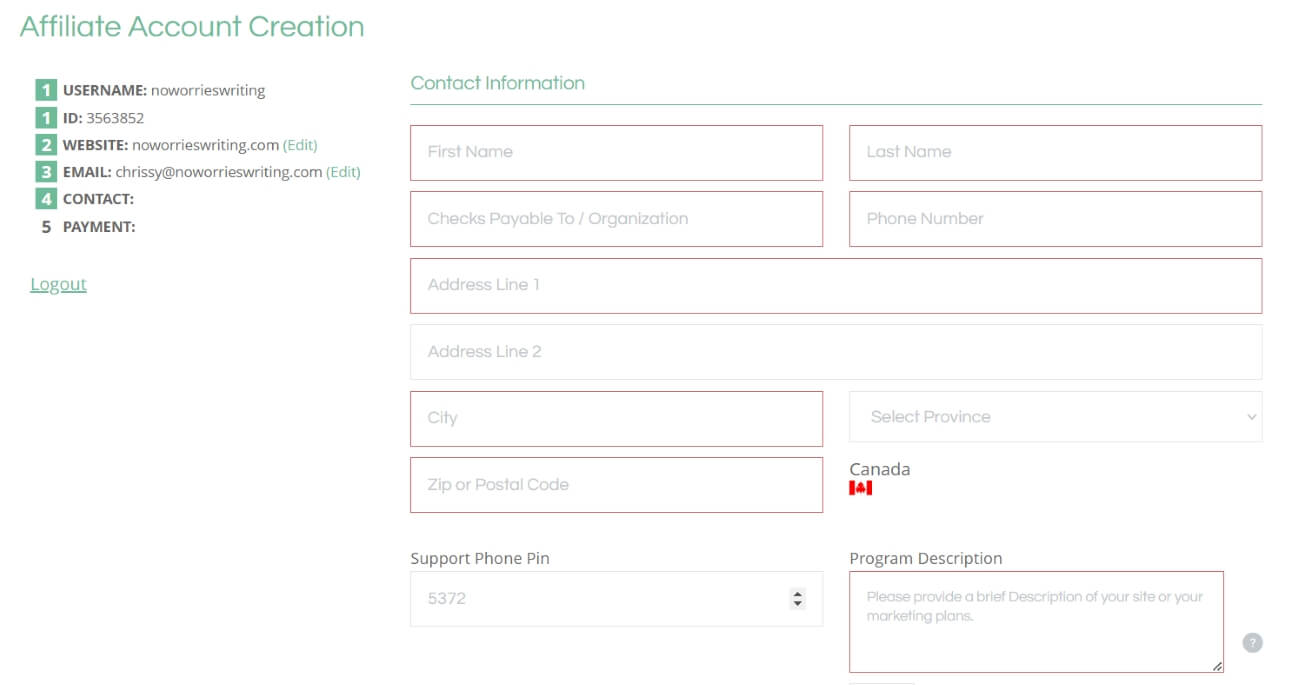 5. Confirm payment details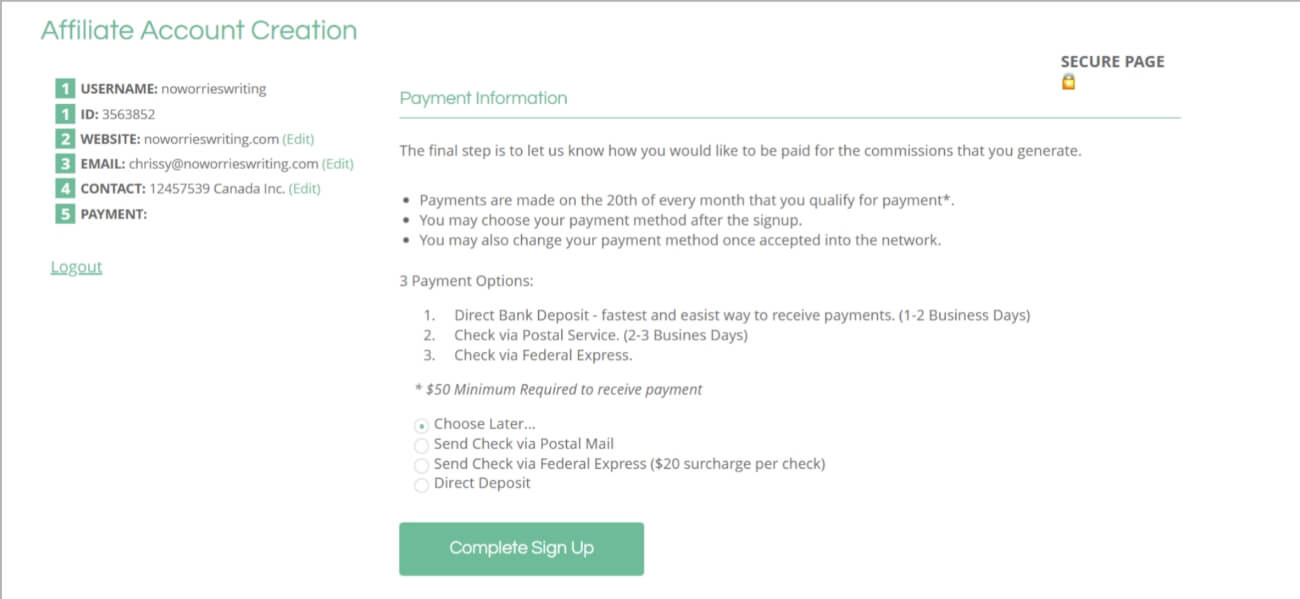 Final step! Select your preferred payment method, whether that's direct deposit, postal service check, or federal express check. Once you do that, you're all set.
6. Getting started
Now that you've created an account, you're ready to sign up. Follow the simple steps on ShareASale's signup page. Once you're in, explore the network's educational resources on finding merchants or affiliates, affiliate reporting, FAQs, and webinars!
ShareASale Pros And Cons
With 20 years in the biz, ShareASale has had ample time to tweak and polish their services. We've rounded up what we see as the fruits of that labor, along with a couple of points for improvement.
ShareASale Pros
Our affiliate clients, sources, and online reviews have cited a sea of pros to ShareASale. Let's start with link and revenue tracking.
Easy link tracking and alerts: ShareASale offers easy link tracking to help you keep an eye on your revenue.
Robert Brandl, founder and CEO of Tooltester says:
It's easy to add custom IDs to my links so I can track, for example, which of our website's languages is responsible for a sale.
Logical and responsive customer support and resources: Both ShareASale affiliates and brands can access timely customer support on ShareASale's Help page: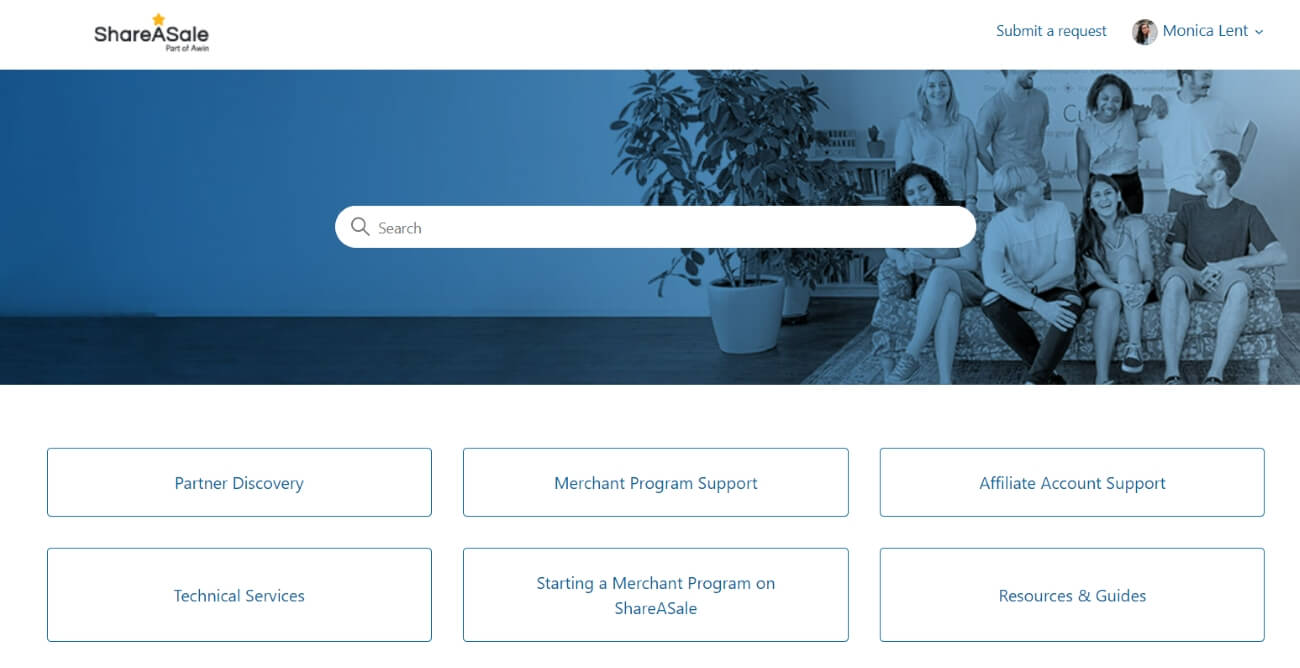 The network also offers free publisher webinars, educational resources, and consistent 24/7 email support.
Jim Markus, website portfolio manager at digital media company VentureKite says:
When I've had issues with the network, the problems were resolved quickly.
Now, VentureKite is an affiliate publisher on multiple portfolio websites; still, customer support seems similarly grand on the brand/merchant side, too.
Lexi Taub, founder of Alexis Jae Jewelry and ShareASale merchant agrees:
The customer support has been great. They always respond and have been able to answer my questions.
Greater access to merchant programs: ShareASale has some big-name brands and high-ticket affiliate programs. But many of their 21,000 merchants are small businesses. This means they're a tad less discriminating in picking affiliates, which offers great revenue access for smaller bloggers and publishers.
Invalid link reports are another pro. ShareASale offers sample analysis opportunities and actively safeguards your affiliate links. Meg Marrs, founder and CEO of K9 of Mine, loves the invalid links report, which reveals dead affiliate links on your site.
Here's what it looks like:

This is so huge for us because affiliate programs will sometimes close without much warning or heads up.
With this report, I can see exactly which programs are closed that we're still promoting, and redirect those links as appropriate.
Plenty of invitations to join affiliate programs is also a common thread. As mentioned, ShareASale has tons of small business merchants on the platform, with open minds on new affiliates. That means the platform is chock-full of invitations for partnerships.
Here's an example of Affilimate's partnership invitations from merchants, noting commissions, cookie windows, and special notes for affiliates to peruse.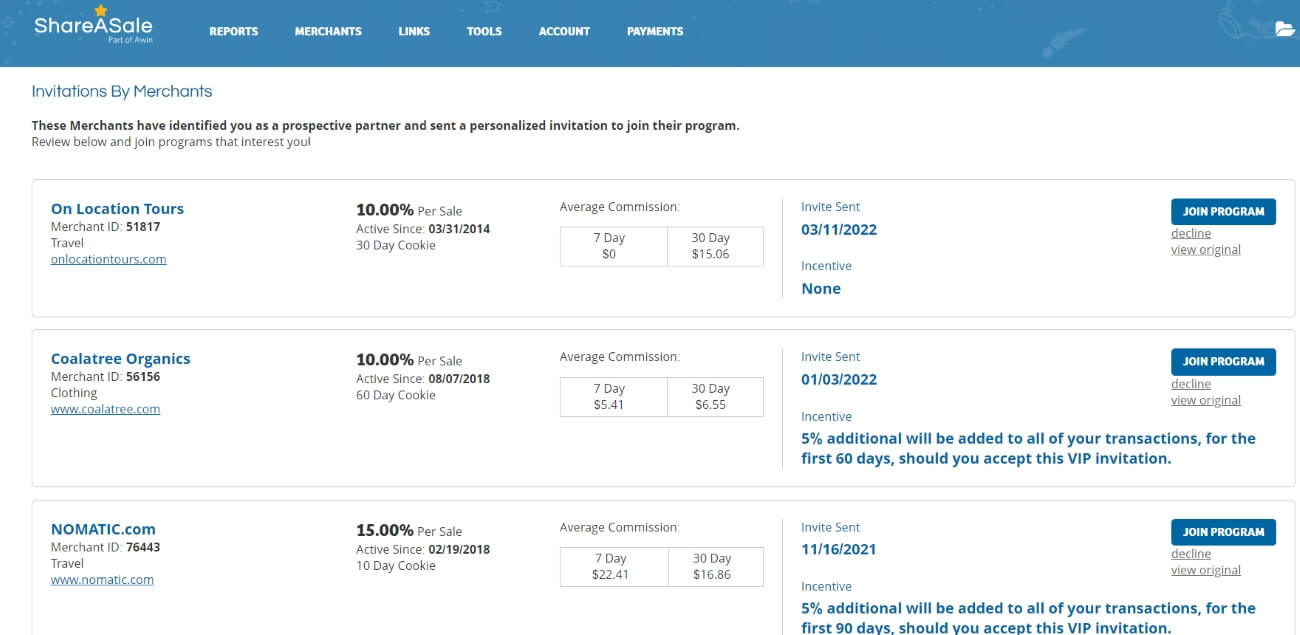 We asked around for other opinions, and it turns out we're not the only ones getting tons of merchant invitations.
Ali Van Straten, founder of food and lifestyle blog Champagne and Coffee Stains shares her successful affiliate partnership with ShareASale:
I've applied to programs, but also have had affiliate managers reach out and invite me to programs via email.
Surprisingly, those are some of my most successful affiliate partnerships. I would then write blog reviews on my experiences with the product.
If it was something I didn't own, I'd see if I could get a sample, which most were happy to comply with!
Our opinion? ShareASale is pretty sweet for merchants and brands alike. We did notice a couple of user complaints, though nothing disqualifying.
ShareASale Cons
Doesn't always present relevant partnerships: With over 21,000 advertisers offering publishers tons of partnership opportunities, you might not always find the most relevant affiliate program right away.
Megan Starr, founder of the Scandinavian, Nordic, and Eastern European travel blog Megan & Aram, ended her membership after four years on ShareASale.
I used to use it for Viator back in the day. The platform pays on time, but it is not my top choice.
I just find that they do not have a lot of merchants for my audience.
One small business in the automotive space shared similar sentiments in this G2 ShareASale review for merchants:
I was told [ShareASale] had a huge list of affiliates that would be interested in my product, but all I ever got was a huge list of off-shore coupon sites applying to become affiliates. They will list coupons for my store, but not actively advertise my products. Coupon sites are the scourge of internet sales – stay away from them at all costs!
The scourge of internet sales? Hardly. We have plenty of coupon publishers who have formed happy brand partnerships and continue to bring their merchants tons of revenue. (Trust us, we have the data!)
Still, brands that aren't interested in coupon partnerships might have some more affiliate applications to sift through.
Another critique is that while some merchants are loud and clear with their partnership invitations, others don't respond to all affiliates.
Tanya Taylor, founder of the travel blog Travels & Treasures.
After the application is submitted, the silence is louder than a church bell.
I was advised to contact the [merchant] through the site.
I contacted the company and received no reply. It would be more courteous to give a decline than a cold shoulder.
One idea is that ShareASale could introduce some etiquette guidelines for brands and affiliates, to avoid anyone feeling left hanging. That said, the issue of brands not responding to publisher applications is common across many networks, and isn't unique to ShareASale.
Finally, a quick skim of TrustPilot shows a few affiliates who were dismayed that their accounts had been suspended, with ShareASale slow to offer any explanation. We recommend you review and comply with ShareaSale's terms and conditions closely to avoid this risk.
ShareASale Reviews
We've heard tons of great insights from our clients and sources. Now, let's take it to the world wide web for more fulsome ShareASale.com reviews, both on the affiliate and merchant sides.
Did somebody say six figures?
[I] have been an affiliate using ShareASale for a few years now. I have never had any issues with finding merchants or getting paid. They have recently updated their reporting system, it is a bit better and less date[d] than it used to be. Absolutely no concerns with tracking. Have never had to contact them for support, so no idea how good they are on that end of things.
Tons of merchants to choose from and the search feature is pretty good too. Payments are always on time and accurate. I've done about six figures with them and not one bad surprise yet. – Jezebel, TrustPilot
Jezebel's positive notes about merchant partnership potential, tracking, and payments are consistent with our findings. Plenty of our clients have experienced similar revenue results, but Jezebel's six-figure payload is a definitive motivator to join ShareASale!
Easy partnerships, transparent payment
I like how easy and transparent affiliate payment is. We were approached by a couple of manufacturers in our industry. They had mentioned great synergy between our approaches and offered a small commission if we advertise the products on our website. We were set up by [the] ShareASale team literally within a day.
I like that there is a specific merchant subsite within a tool, where you can create a customized link, grab coupons, and see the sales and your assigned commission. It is easy to track and transparent.
Also, [a] great bonus is access to thousands of other merchants. – Larissa G., G2
Find creatives who bridge content to customer
The best affiliate network that we can trust for payments. They provide good commissions, and they have a large number of merchants with huge links and creatives. Also, ShareASale has good user ratings and great payment history. For all of these reasons, we trust this affiliate network. – Joel C., G2
Brands with creatives are a huge plus for today's affiliate. It's not always easy to amply channel your publisher values while still aligning your content with your partners. Pre-done creatives take off some of the pressure and give you back valuable time to work on your affiliate strategy.
How to push your affiliate reporting past last click and revenue share
The reporting tools are limited in really diving deep into the customer journey and extracting insights. There are also limitations on setting up different attribution models – everything is based on last click and rev[enue] share. – Verified User in Furniture, G2
This ShareASale merchant review makes a fair point. While ShareASale offers valuable reporting features, it might fall short for the ravenous, data-hungry marketer.
Tracking progress? You'll get the basics
The portal interface is so outdated. The ability to retain reporting is very arbitrary, and there isn't a great way to consider different data sets.
- Verified User/Small business in Internet, G2
While we see why some small businesses might think ShareASale's interface could use a revamp, it still feels accessible enough for anyone to understand their progress on simple terms.
Is the ShareASale Affiliate Network for You?
ShareASale is a fantastic affiliate network for merchants craving diversification, and affiliates looking for an accessible path to revenue. Signing up is easy-peasy, and benefits like partnership variety, on-time payments, and useful reporting features dramatically outweigh the minor drawbacks.
That said, publishers will get the most out of the ShareASale affiliate network if you have robust reporting and data insights on hand to inform your affiliate marketing strategy.
ShareASale offers the basics you need to get started. But when your partnerships begin to flourish thanks to ShareASale's wide network, you'll need more comprehensive insight into all of your partnership data.
Affilimate's dashboard aggregates allyour partnership data in one place, no matter the network. So while you're using our ShareASale integration to find great partnerships, Affilimate will be in the background keeping track of all your affiliate links, performance metrics, and other partnership data. That way, when you step back into mission control, you'll be able to measure your success and launch your next affiliate marketing moonshot with confidence.
Ready for your affiliate marketing to take off with ShareASale and Affilimate? Here's your 15-day free trial.