8 Best Tea Affiliate Programs for 2023 (Based on Data)
By Irene Lopez · Updated Jul 10, 2023
Tea is the most-consumed beverage in the world, second only to water. You can find tea in almost 80% of American households and on any given day, you'll find over 159 million US residents drinking tea.
Even if you're a bonafide coffee person, there's bound to be a tea you'll enjoy. Teas come in many different variants and flavors.Teas can be had hot, cold, or iced, flavored or unflavored, with dairy or without, sweetened or unsweetened. You can even add your favorite spices, fruits, and flowers to create your own distinct tea flavors.
Promoting tea also makes good business sense.
Total tea sales were valued at close to $13.2 billion in 2020 in the United States alone. Given the market size and general popularity of the drink, tea is an excellent choice for affiliate marketers and content creators who want to generate consistent income on the side by promoting it.
In this article, we spill the tea (piping hot!) on the best tea affiliate programs in the market for this unbeatable brew.
Tea affiliate programs
Here are the best tea affiliate programs according to our analysis:
Art of Tea
Art of Tea's founder Steve Schwartz studied Ayurvedic medicine in New Mexico. It was the start of an educational journey that would ignite a passion to hand-blend and custom-craft organic teas for consumers worldwide. Incidentally, Schwartz has created several award-winning blends and frequently creates custom fusions for private-label partners.
Art of Tea, based in Los Angeles, offers loose leaf tea and tea bag sachets with samplers, teaware, and gift sets. Aside from the direct-to-the-consumer vertical and custom blends, the brand also does customized tea menus, retail and wholesale teas, and training.
They also offer 3-month, 6-month, and 12-month subscriptions to their Tea Club, where you can select from 6 options – caffeine-free, classic, single origin, explore, wellness, and pyramid sachets. You'll be sent sample teas along with educational resources on the chosen tea variants.
Affiliates stand to receive 10% commissions on every sale with ShareASale and Skimlinks and 10% on default payouts with Sovrn. You will receive marketing support, tips, recommendations, and the latest product feeds and updates. You will also get creatives to use on your website for promotions.
Coffee Bean & Tea Leaf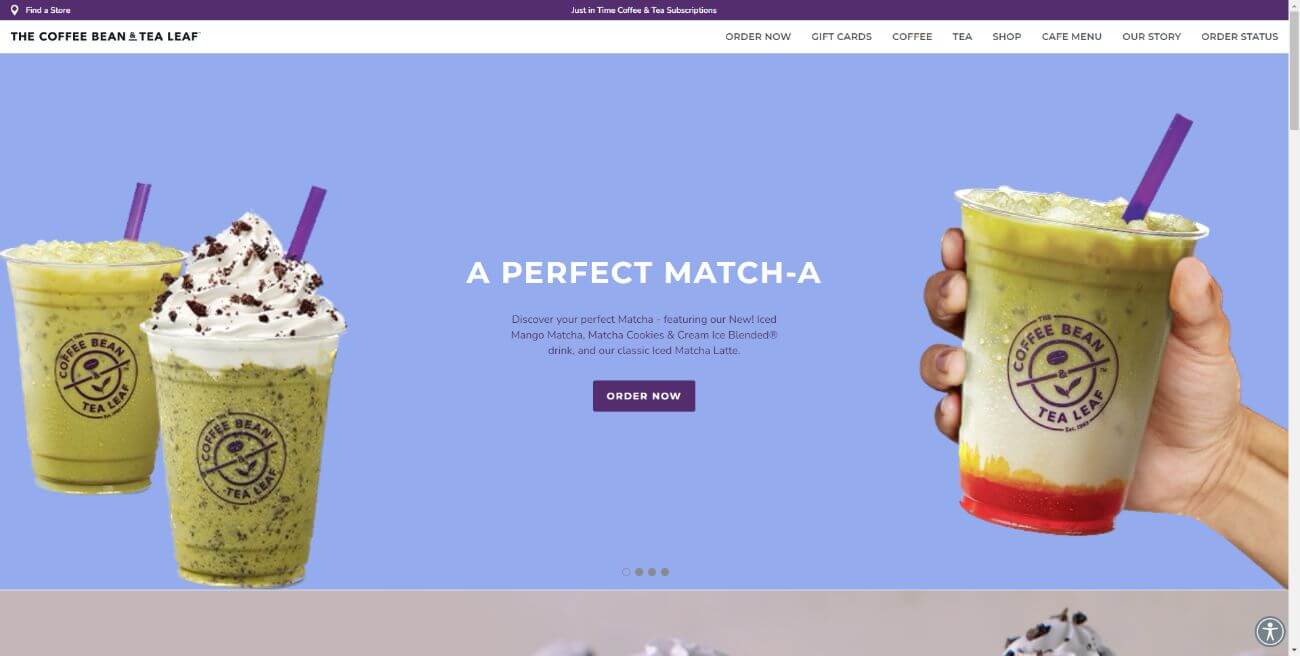 The first Coffee Bean & Tea Leaf store opened in Southern California in 1963; since then, there's been no looking back. The American chain has stores in over 1000 locations in 27 countries. They have a presence in 138 locations in the US alone, the bulk of which is in California. A profitable enterprise, the brand currently rakes in $41.7 million in monthly revenue.
The Coffee Bean & Tea Leaf serves up teas, coffees, brewing equipment, drinkware, gift sets, and gift cards. Random interesting fact – the brand's tea bags are pyramid-shaped. The unique shaping provides more room to accommodate larger, higher-quality tea leaves and ample space for water to percolate the tea leaves resulting in a more flavorful cup of brewed tea.
The teas are also available in loose-leaf versions and single-serve capsule packs.
Coffee Bean & Tea Leaf's affiliate program offers variable commissions depending on the affiliate network you're partnering with. So, it's 10% commissions per sale on Sovrn, 7.2% on FlexOffers, and 15-18% on Skimlinks.
The commission structure is also incentives-based. The more you sell, the higher your commission rate. The brand has a more conservative cookie duration of 15 days.
While signing up as an affiliate is easy, Coffee Bean & Tea Leaf is selective about who they work with. Applications are reviewed on a case-to-case basis.
Pique Life (formerly Pique Tea)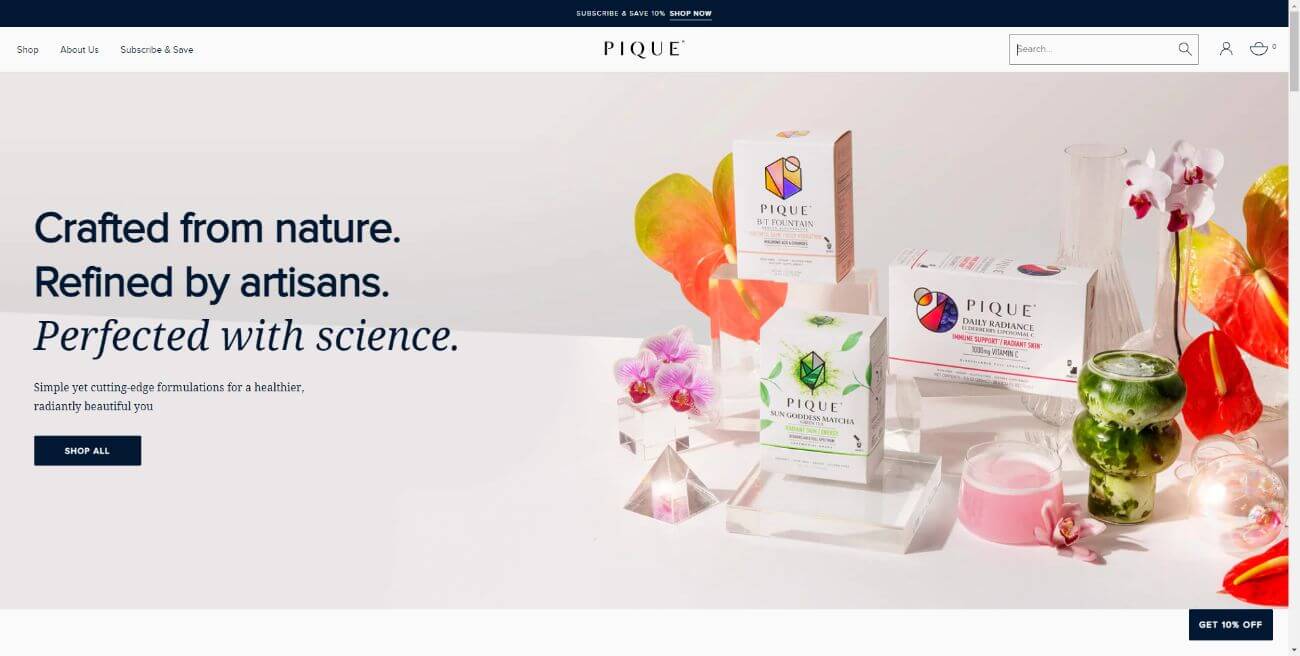 Pique Life founder Simon Cheng came to America from the Far East in his teens. He was always acquainted with the pervasiveness of tea and functional plants as a former native of Hong Kong. But he would eventually lose that sense of connection after being confronted by the demands of the American rat race.
Pique Life was born out of Cheng's efforts to reclaim his life after a series of devastating health challenges. He would take several personal journeys to the far corners of the world to learn Eastern medicine and breathwork from acclaimed healers. In his own words, along the way, he also managed to "reclaim ownership" of his soul.
Pique Life specializes in cutting-edge plant-based solutions for health and beauty transformation, primarily supplements and teas. For instance, Pique Life's Sun Goddess Matcha green tea has ingredients that brighten and firm the skin, curb unhealthy cravings, and promotes calm and balance.
The ingredients for Pique Life's products are sourced from biodiverse and ecological destinations around the world, like the mountains of Kagoshima in Japan, the coasts of Calabria in Italy, and the forests of Yunnan in China. All of the products are Triple Toxin-screened for heavy metals, pesticides, and toxic mold to ensure both quality and purity.
As an affiliate partner, you can expect to earn 10% in commissions on every sale, and 15% if you take up on their "commission bump" opportunities. You'll also be given free samples to try and promote on your social media channels.
Depending on your performance, you could also be potentially featured on Pique Life's thriving Instagram and TikTok communities.
Vahdam Teas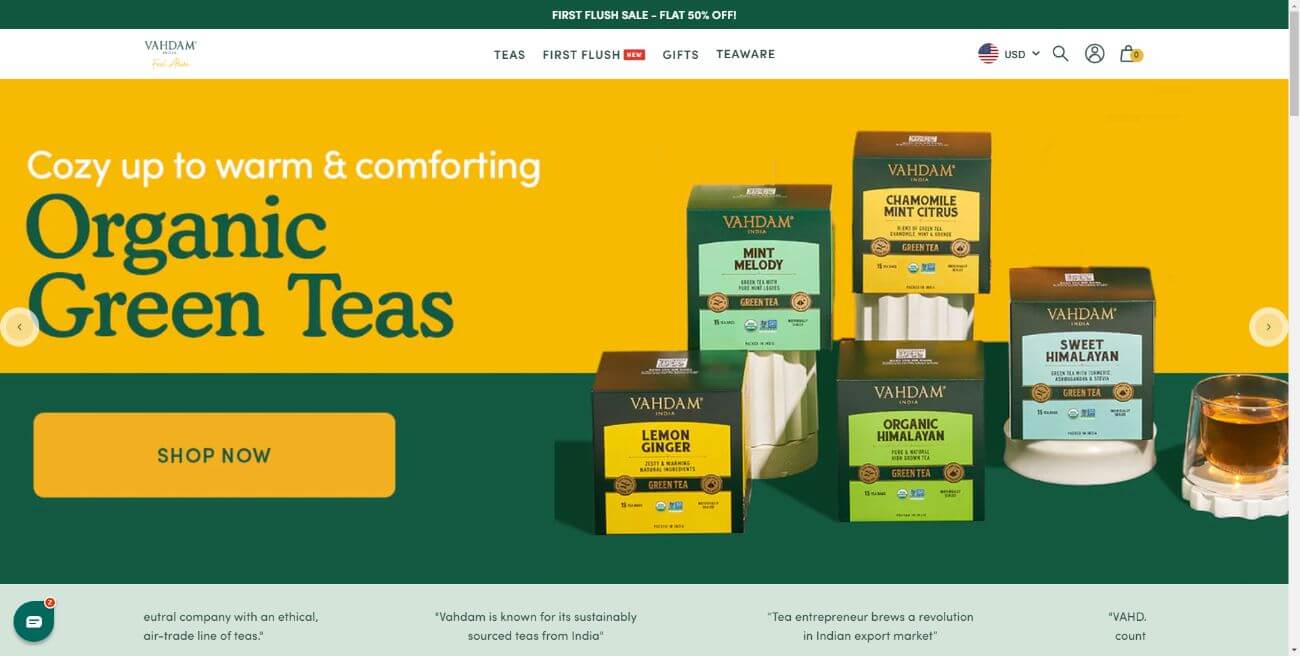 Indian entrepreneur Bala Sarda hit a veritable goldmine when he decided to leverage technology and 80 years of lineage in the tea industry to create the award-winning VAHDAM® India. Although the brand, launched in 2015, is relatively new to the market, it has already managed to hit some impressive strides.
VAHDAM closed 2021 on a high, posting a staggering 110% YOY growth in net revenue from ₹75 crores ($750 million) to ₹159 crores ($1.59 billion) for the period 2020-21. The brand aims to hit a net revenue target of ₹500 crores ($5 billion) by 2024.
VAHDAM sells handpicked premium teas and superfoods from renowned gardens across India, selling them directly from the farmers to the consumers cutting out unnecessary intermediaries. The tea is packaged fresh at the source and delivered (worldwide to more than 103 countries at the last count).
The product range includes Darjeeling, Assam, and Nilgiri teas, instant teas, drinkware, first flush selections from 2022 and 2023, and gift sets.
Other positives – the brand is certified climate and plastic-neutral, and 1% of the revenue from the sale of VAHDAM products goes back into the community through education for farmers' children. VAHDAM has also achieved mentions by Oprah Winfrey and Ellen DeGeneres.
Affiliates can expect to earn commissions of 4% on sales of VAHDAM products with an average cookie duration of 30 days. Private commissions and consumer offers are also available – check in with the brand directly for more information.
Teatulia
If you're looking for authentic, high-quality Bangladeshi teas, Teatulia is worth checking out. Based in Denver, this brand deals exclusively in organic teas shipped freshly plucked from a 3000-acre tea garden located in the Teatulia region of North Bangladesh.
The product range includes traditional hot tea favorites like black, green, oolong, jasmine, masala, white, and Earl Grey, and canned ice teas featuring interesting fusions like watermelon black, wild berry oolong, and white peach.
Teatulia recently launched a collaborative venture with the Colorado-based independent craft brewer Upslope Brewing Company to release the Hard Sipper House Punch. This cocktail-inspired drink melds Teatulia's organic tea and botanicals with Upslope's hard seltzer Spiked Snowmelt.
Teatulia also has an up-and-coming Tea Bar scheduled to be set up this year at Denver International Airport. It which will feature (aside from their famed teas) coffees, pastries, and ready-to-eat food options for travelers.
Teatulia is high on environmental sustainability. At their garden in Teatulia, the brand follows Japanese best practices for cultivation and avoids using pesticides, machinery, and unnatural methods of irrigation.
Teatulia's affiliates will have access to dedicated account management support and updated data feeds with the latest promotions. Teatulia offers 12% commissions with an average cookie duration of 30 days, and their affiliate program is exclusively available on ShareASale.
Harney & Sons Fine Teas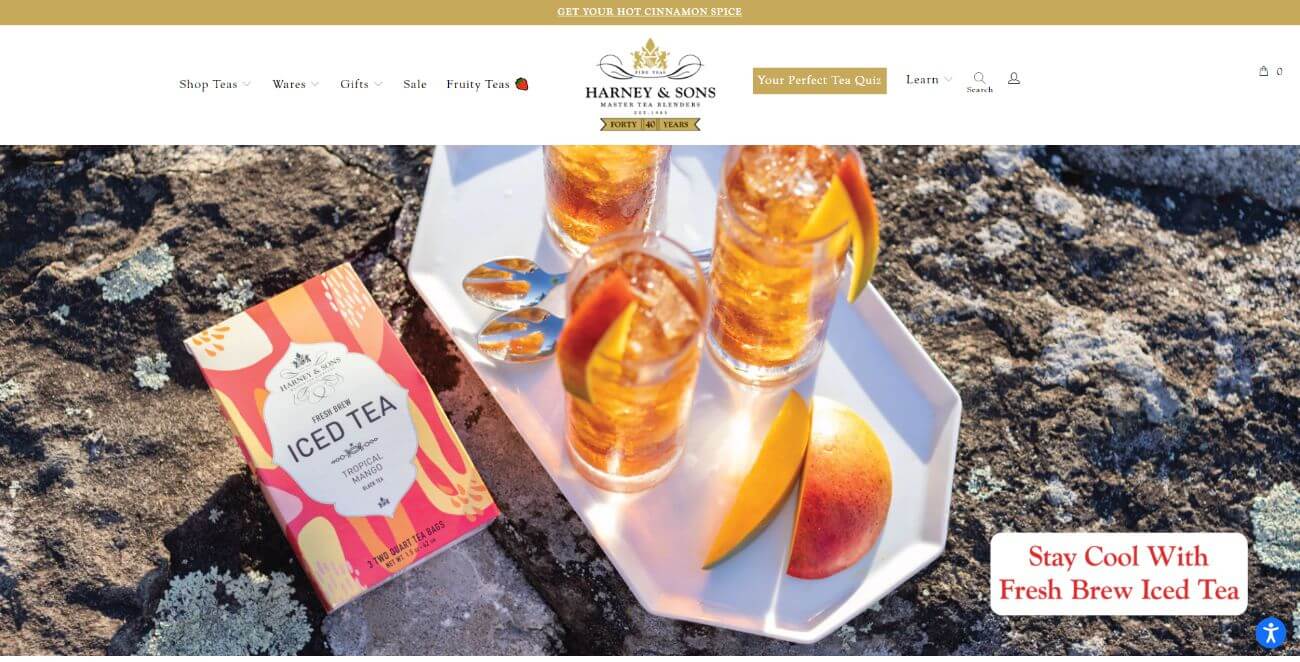 Harney & Sons Fine Teas was founded in 1983 by John Harney, a proprietor of a local inn at the time, who would serve distinctive tea blends to his guests. The brand is currently being run by the third generation of Harneys, a testament to the passion and dedication the family has to all things tea.
The brand stocks over 300 varieties of high-quality tea blends, gifts like chests, samplers, art tea, gift sets, treats like shortbread, jams, jerky, lemon curd, peanuts, etc. and, teaware such as teapots, strainers, tins, straws, etc. You will also find t-shirts and branded ware on the website!
The teas themselves include well-known selections like black, white, green, matcha, oolong, organic, herbal, jasmine, and decaf teas.
Harney & Sons also do some unique tea collections titled Disney, the top-selling Classic, Historic Royal Palaces, HT Tea Blends, The Met Museum, Mind Your Body, Zodiac, and Emily Windfield Martin: Baby Shower.
Commissions for affiliates can vary depending on the network. Expect to earn 15% on default pay-outs on Sovrn, 6% of sales on Yazing and Skimlinks, and 10% per sale on Refersion. The average cookie duration is 30 days on Refersion.
Matcha Source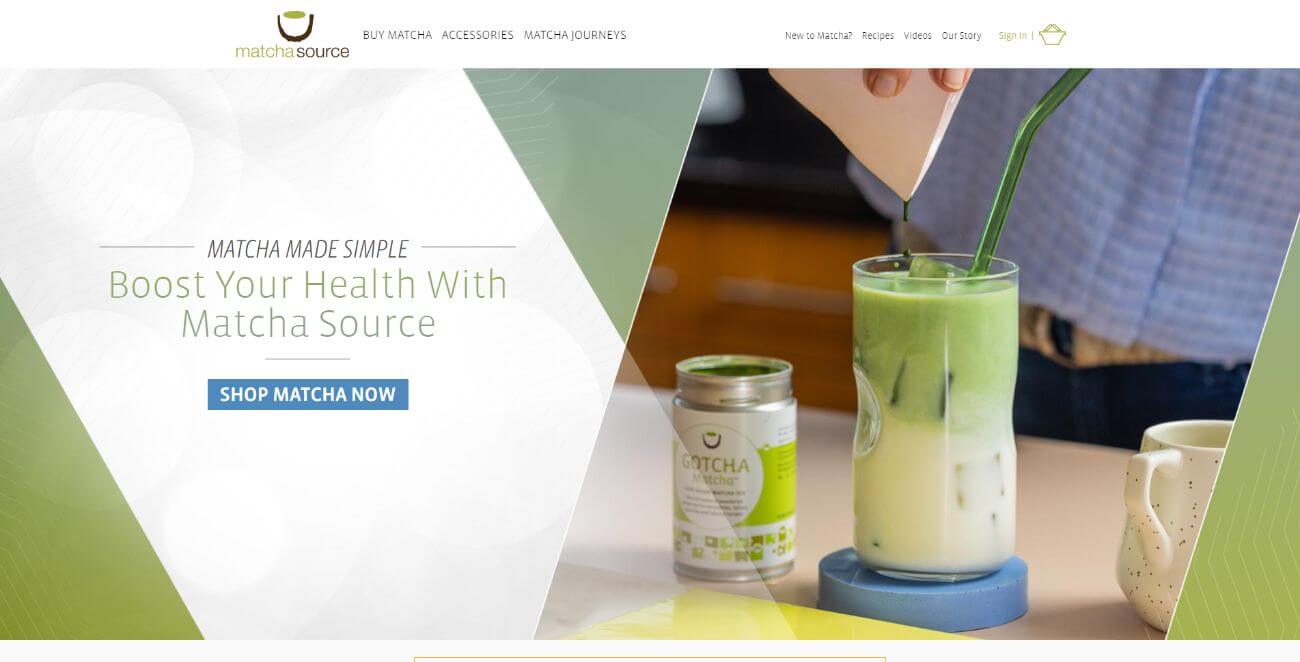 California-based Matcha Source was founded by Alissa White in 2006 after what could best be described as a serendipitous encounter with the traditional Japanese green tea.
Intrigued by its aesthetic and medicinal properties, White would launch her store to introduce and promote this uniquely flavored tea to a new generation of American tea enthusiasts.
As an online retailer, Matcha Source deals exclusively in authentic and premium matcha sourced from Japan. They also sell specialty tools for the preparation and enjoyment of their matcha tea. Think matcha bowls, bamboo whisks, bamboo tea scoops, and whisk holders.
Given the proven health benefits of matcha (at much lower levels of caffeine compared to regular tea and coffee) and the universal appeal of tea as a beverage of choice, affiliate marketers in the health and wellness space could potentially find this product an easy sell.
Matcha Source's affiliate program is also just as easy to wrap your head around. The team will provide all the creatives and other digital assets you need to promote them. In return for sales, you can expect 10% commissions with an average cookie duration of 30 days.
Simple program. Appealing product.
A cup of some delightful matcha, anyone?
Peet's Coffee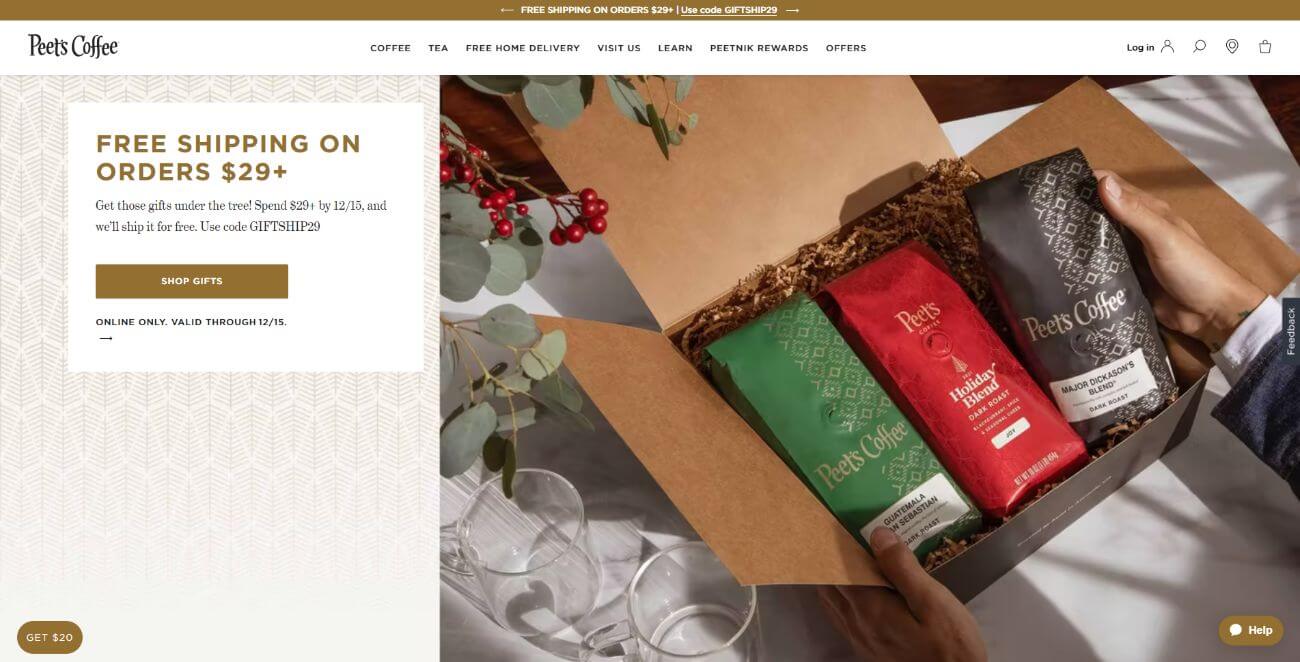 Program name: Peet's Coffee Affiliate Program
Network / Software: FlexOffers, CJ Affiliate, Yazing, LinkConnector
Commission: 3.2% excluding gift cards (FlexOffers), 4% for returning customers, 8% for new customers, $10.00 per item number 44960 (CJ Affiliate), 4% (Yazing), $0.05 earn per click (LinkConnector)
Cookie duration: 2 days (FlexOffers), 7 days (CJ Affiliate), Not listed (Yazing, LinkConnector)
Markets: US
Hand-roasted to order? Check. Delivered the same day as they're roasted? Check. Supporting a long-standing American coffee and tea company? Check.
Peet's Coffee has been making coffees and teas since 1966. The founder, Alfred, has set out to liberate America from its "lousy" coffee with something great. He has also personally trained three young entrepreneurs in 1971, who then went on to set up a small venture called Starbucks.
Alfred's entrepreneurial mindset still appears in every part of Peet's business, including its affiliate program. You can earn up to 8% in commission on standard orders and $10 per subscription.
Additional bonus if you have an international audience: Peet's delivers worldwide!
Peet's has a great potential for a solid affiliate income, all the while being a part of coffee history.
Are you struggling with tons of affiliate platforms and links?
If you're running website that's monetized with affiliate marketing, there's a high probability your affiliate commissions are scattered across a ton of different platforms.
This makes it hard to get an overview of what's working well, efficiently test different products and programs, let alone optimize your content for conversion.
Affilimate was designed to fix that. It helps you collect your affiliate data (clicks, commissions, and content analytics) into ONE place so you can optimize conversion and grow your revenue.
Start your free Affilimate account and get tracking today.