Affiliate Marketing South Africa: A New Market for the Ambitious Affiliate
By Chrissy Kapralos · Updated Apr 5, 2023
South Africa is known for its stunning coastline, incredible wildlife, and lively braais. But if you know your stuff, it can be just as attractive for affiliate marketing.
What stuff? For starters, you should understand South African buyer behaviors and the country's best affiliate marketing programs.
While many affiliates focus on familiar American, Canadian, and UK audiences, South Africa is home to over 15 million English speakers who want to get to know you and your products. Of course, affiliate marketing opportunities in South Africa aren't as conspicuous or ostensibly profitable as in the US and UK. Even the best affiliate programs in South Africa won't make you rich overnight. You'll face challenges like:
Few successful South African affiliates to learn and gain inspo from, as it's a relatively new market.
An audience who isn't as quick as Americans to make purchases based on recommendations, according to Google's data.
Abundant scams that deter both audiences and affiliates from exploring the market (often in "South Africa Affiliate Marketing" groups on Facebook).
Still, South Africans use:
Meaning? You can score traffic, views, impressions, and – most importantly – conversions from a South African audience.
You just need to learn about three things:
South African shoppers' interests and buying behaviors
The best affiliate programs in South Africa (and companies)
How to track affiliate performance to improve your South African affiliate marketing strategy
Keep reading to host a content-rich, value-packed, and profitable affiliate braai for your new South African audience.
Affiliate Marketing Companies in South Africa
Affiliate marketing companies in South Africa are a great starting place for creating affiliate programs from scratch. Publishers sign up for these giant marketplaces to connect with brands (advertisers) and start earning commissions on affiliate sales.
Maybe you've used Awin or Partnerstack to find brands with affiliate programs in the US. Once you sign up, you can access tons of brands that will pay you commissions for leads and conversions. For example, Awin connects publishers to over 20,000 advertisers.
But many of those brands don't ship to South Africa.
Remember: South African buyers aren't as quick to buy based on recommendations – they're more concerned with convenience and product availability.
Here are some affiliate marketing companies South Africa is home to that can help you cater specifically to local sensibilities:
Affiliate.co.za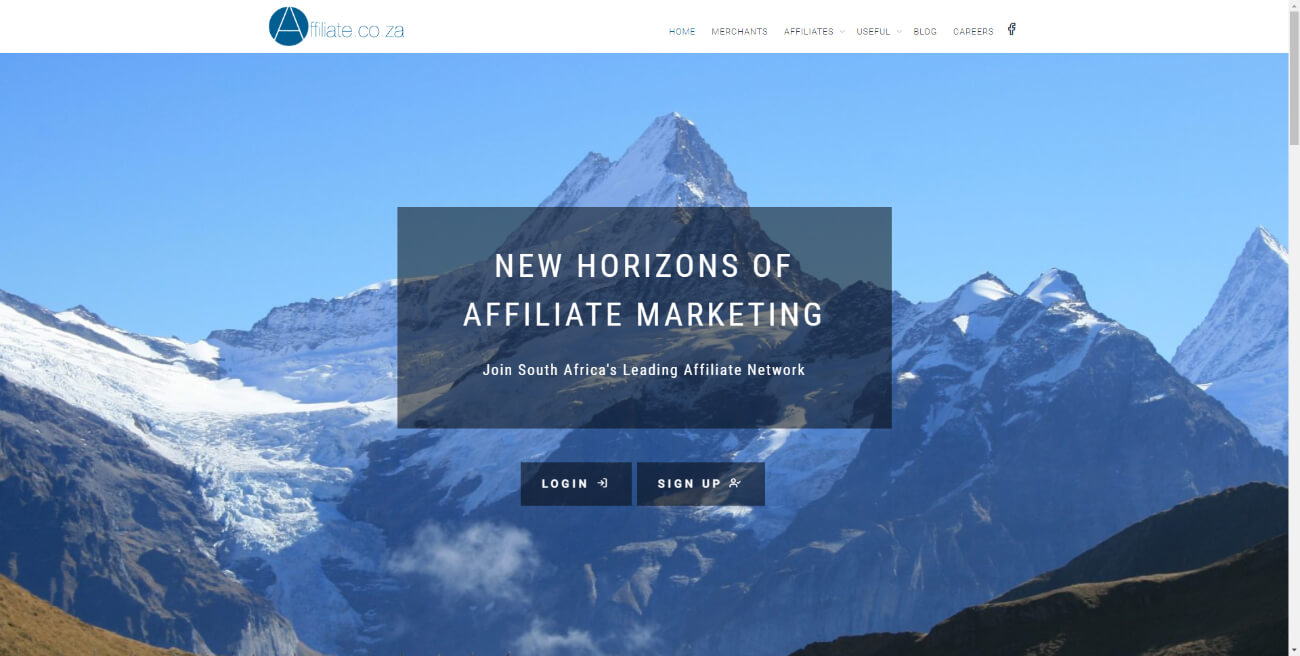 Affiliate.co.za describes themselves as South Africa's leading affiliate network – and we're inclined to agree! The platform is especially helpful for connecting finance content creators and publishers to some of South Africa's leading finance companies, like DebtExpertCo.za, Bidvest, CashLoan.co.za, and Youinsure.co.za. They even highlight the most profitable advertisers on their homepage, which you might find useful marketing to finance-conscious consumers during today's economic downturn.
Plus, finance is a profitable affiliate marketing niche in general, bringing in $500 – $20,000 per month, with the most SEO-savvy bloggers bringing in the big bucks! Bloggers tend to make the most coin when creating content about remote work, budgeting, survey sites, and cash apps. While finance is normally a competitive niche, you'll notice less competition in the South African market. Ka-ching!
Not in the finance biz? Other popular brands in this network include Etihad Airways, Shaw Academy, and Budget Insurance.
Getting started is easy. Beginner affiliates are welcome as long as they have a reputable channel and voice. This network teaches new players about the trade with their unique resource, the Affiliate Academy.
AdMarula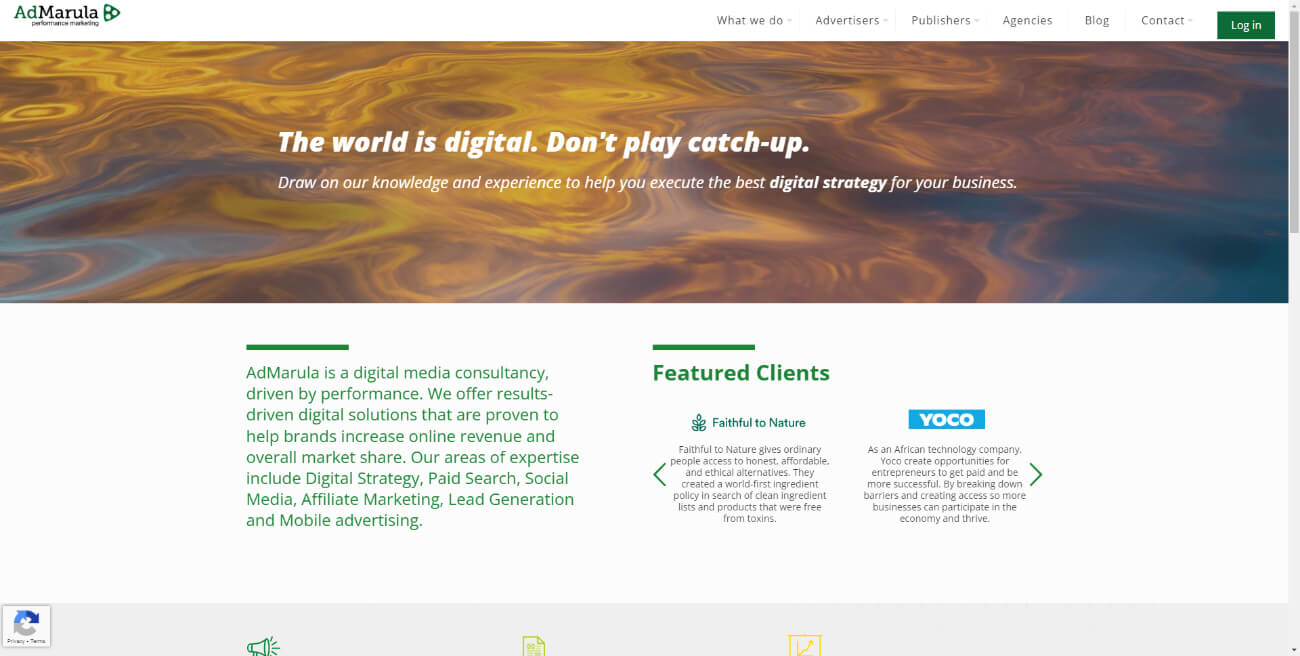 AdMarula CEO Daniel Gross has identified a shift in South African brands, away from PPC and display ads and toward social media and affiliate marketing.
Based in Johannesburg, this network connects you to popular brands among South Africans, like Superbalist, TravelCheck, and Arcadia Finance. Advertisers can base commissions on cost per lead, click, action, or impression, providing publishers with a wide range of possibilities.
Signing up is easy for aspiring South African affiliates, but remember to give your website and social channels a professional sweep before applying.
Keep an eye on AdMarula's blog to catch monthly profiles of successful publishers, like Mamma Bear Love. Here's one about a baby backpack from Home Choice, a South African brand that ships across the country: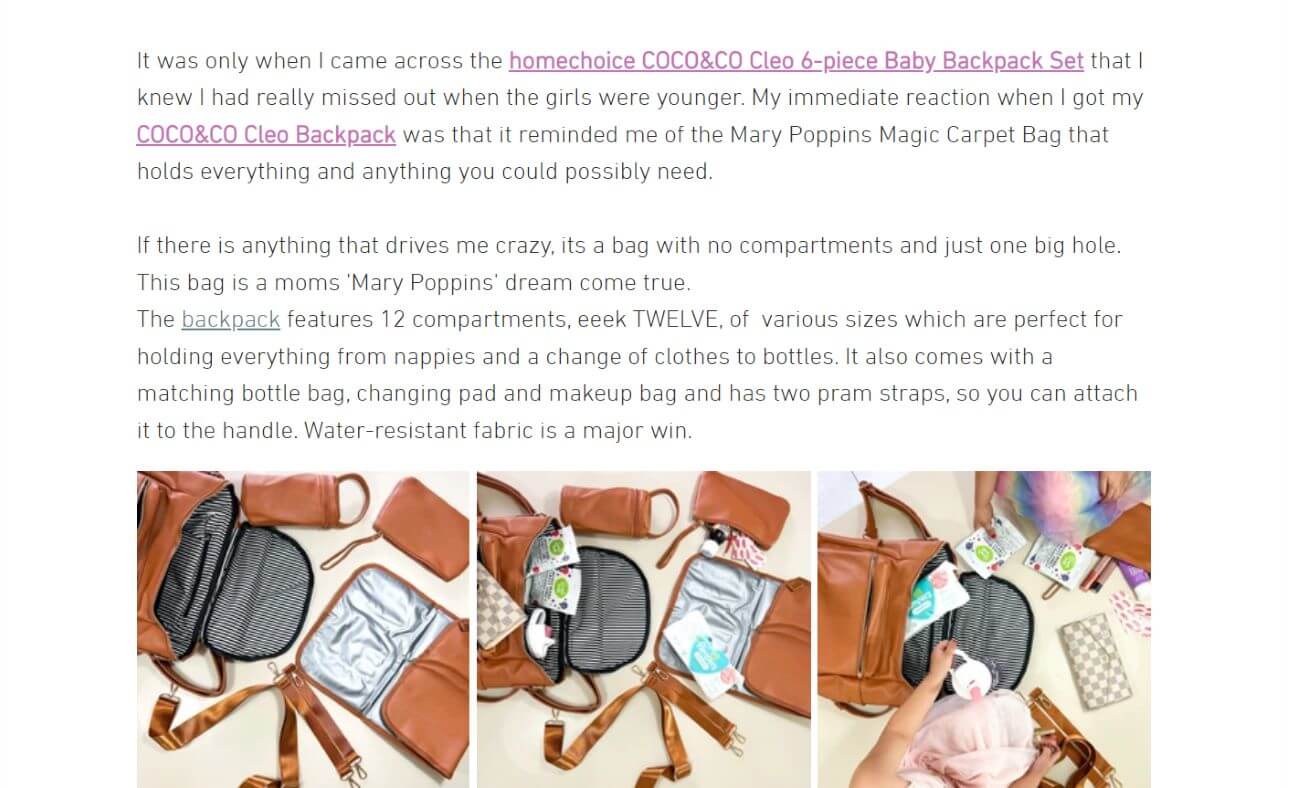 CJ Affiliate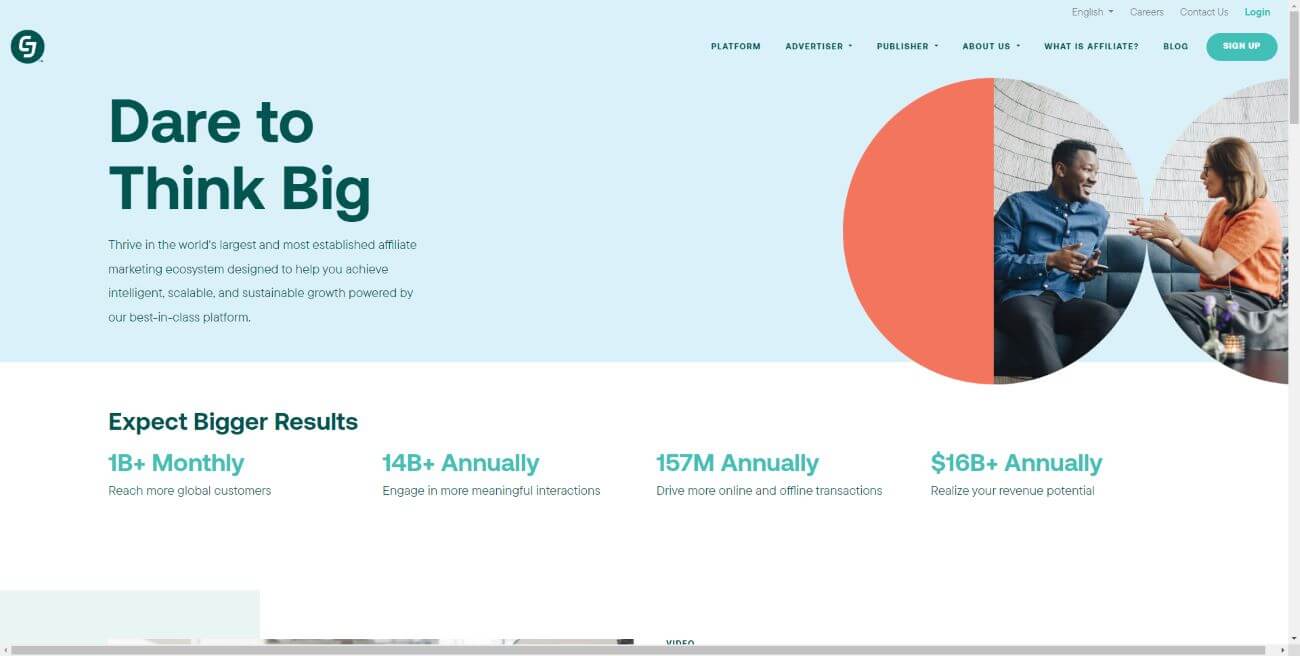 CJ is a big player in the affiliate world, driving billions of dollars of revenue to brands and affiliates each year.
Some of their advertisers include global brands like IHG Hotels & Resorts, Priceline, and Barnes & Noble – all of whom either ship to South Africa or are accessible online. Our favorite feature? CJ has a great product selection UX.
Publishers can access localization practices, get tailored advice from experts, and receive flexible payment in different currencies. All you need to sign up is a website with a valid URL. You should also keep your SEO in check, since publishers with little traffic might have their accounts deactivated.
Impact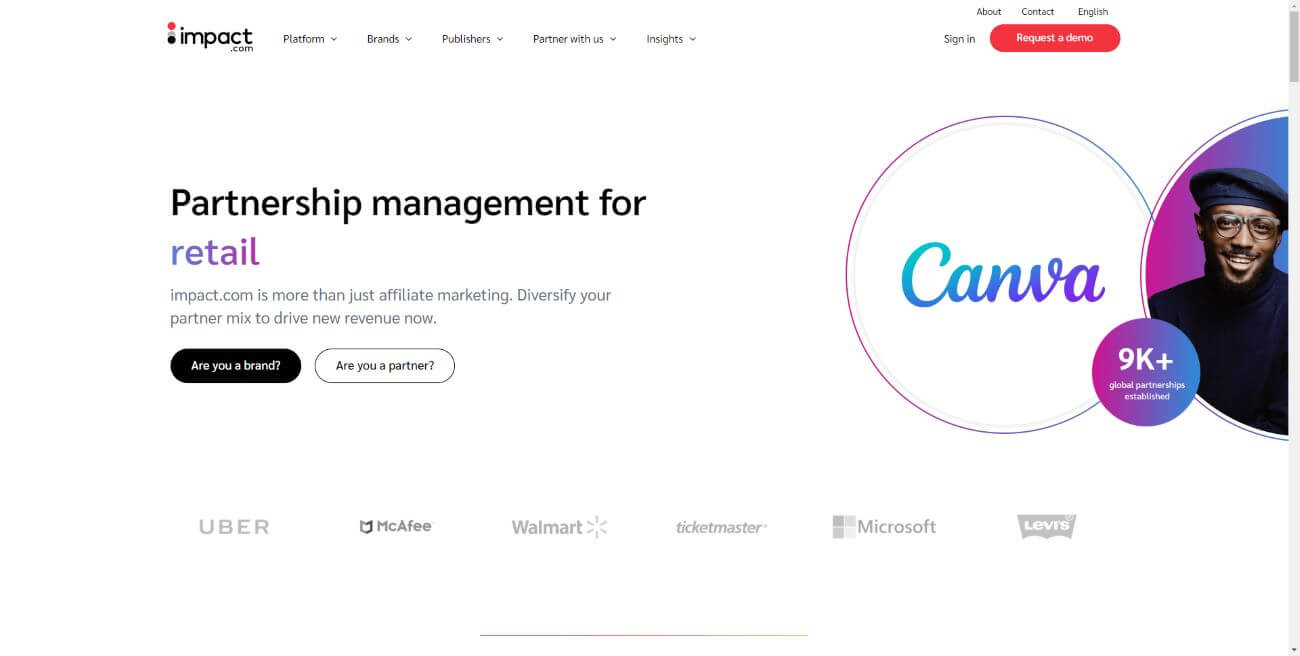 Tech, travel, fashion, finance, beauty – whatever your niche, Impact has it all with 2,500+ advertisers. The global platform has curated resources and tips for affiliates based on what type of publisher they are: influencers, content publishers and bloggers, premium news sites, and more.
Impact has generated over $200 million for its partners and streamlined the process with automated contracts, direct linking, and product catalogs.
As for its South African appeal?
The platform's elegant search functionality helps you narrow down companies that sell to South Africa by showing a wide range of visible terms, locations, and contact information.
By the way, Impact is known for bringing the two first South African affiliate programs to market: USNfit and Mr Price.
Best Affiliate Programs in South Africa
We know that South Africans have different product access and shopping behaviors than Americans do. What kinds of brands would be worth partnering with to speak to local needs? Our observation: travel, fashion, and finance.
To get started, here are the best affiliate programs in South Africa:
Amazon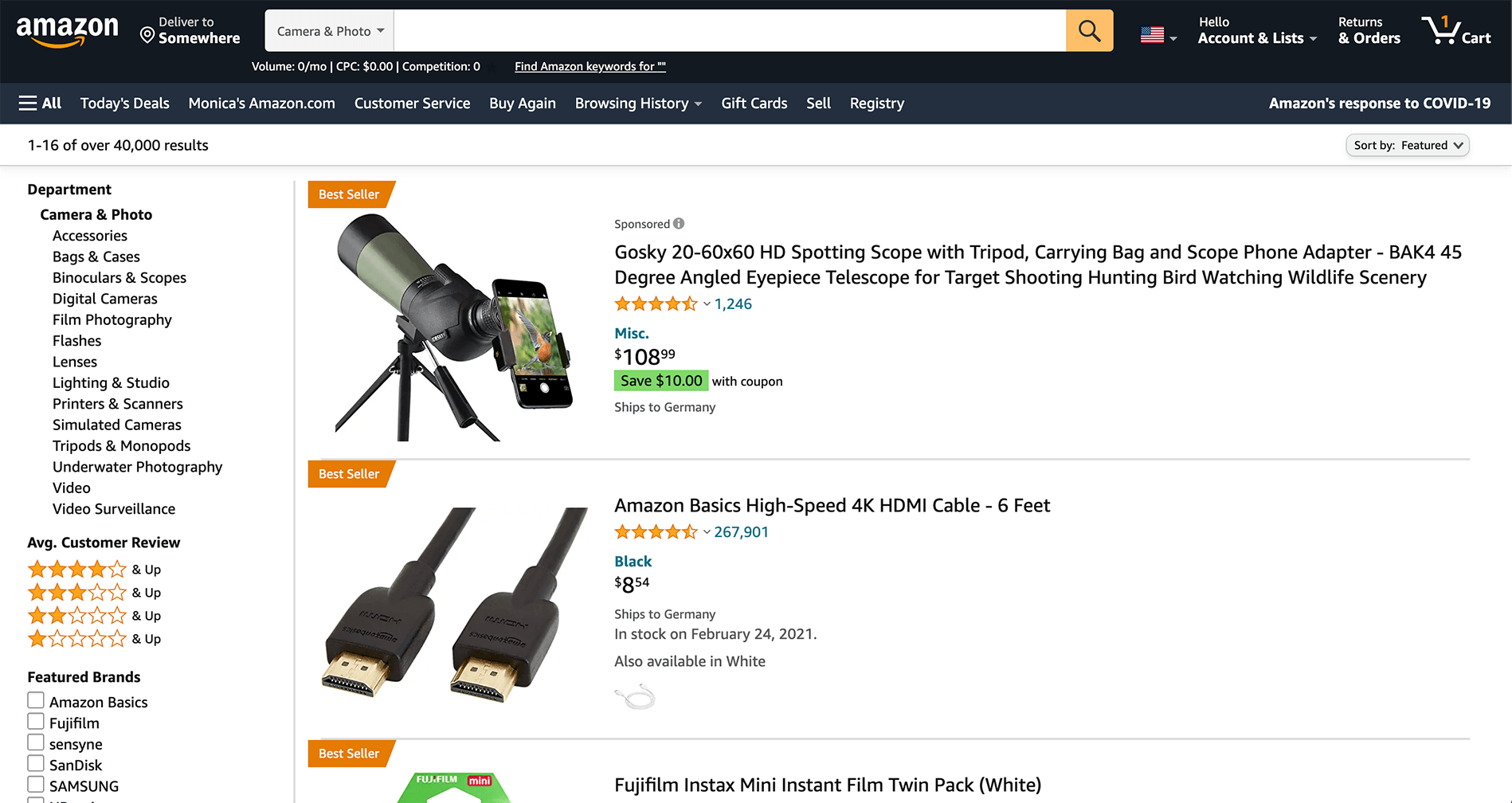 The Amazon Associates Program is arguably the easiest program to start with if you're a beginner in the South African market. The online marketplace features millions of products.
But what if South African audiences can't access Prime Shipping? South African buyers value mere product availability in their shopping criteria, so the Amazon products that are actually available for paid shipping should be the focus of your affiliate content.
Some good news: Amazon has big plans to expand Prime shipping to South Africa this year and open warehouses throughout the country.
Fiverr Affiliates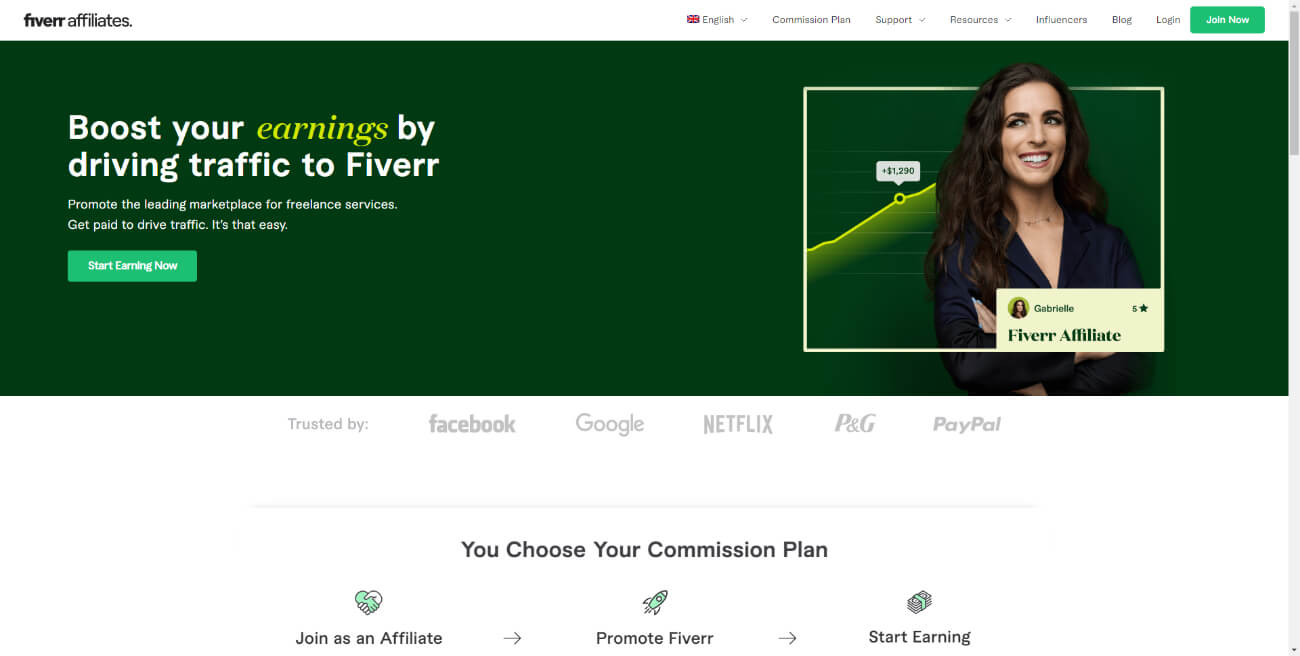 Remember Fiverr? The freelancer marketplace has shown impressive growth, adapting to serve the growing digital nomad movement worldwide – including in South Africa.
The Fiverr Affiliates Program is a fabulous choice for the freelancer and digital nomad, or anyone working with affiliate South Africa brands or audiences. Commissions are generous, with $15 – $150 CPA or $10 + 10% of revenue for one year.
Johannesburg-based content creator Malebo Nkosi shows her YouTube subscribers an honest breakdown of her Fiverr affiliate income, noting that more social media promotion would have helped her achieve more revenue.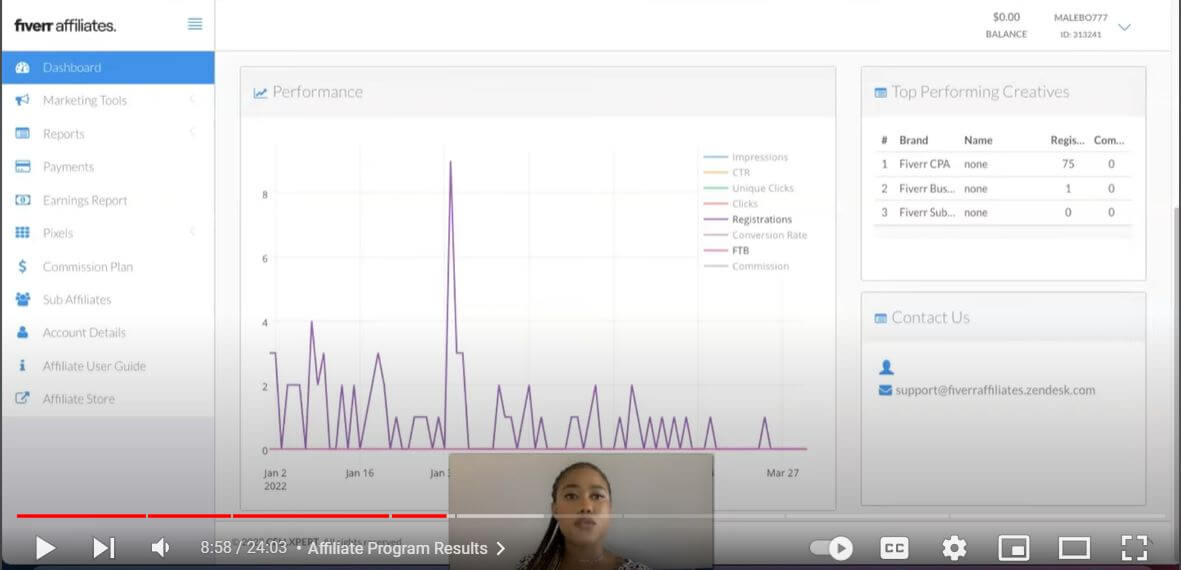 Our business writer Natalie Robin recommends promoting the same affiliate link in multiple content forms, including social, coupon roundups, gift guides, tutorials, and product comparisons.
Mr Price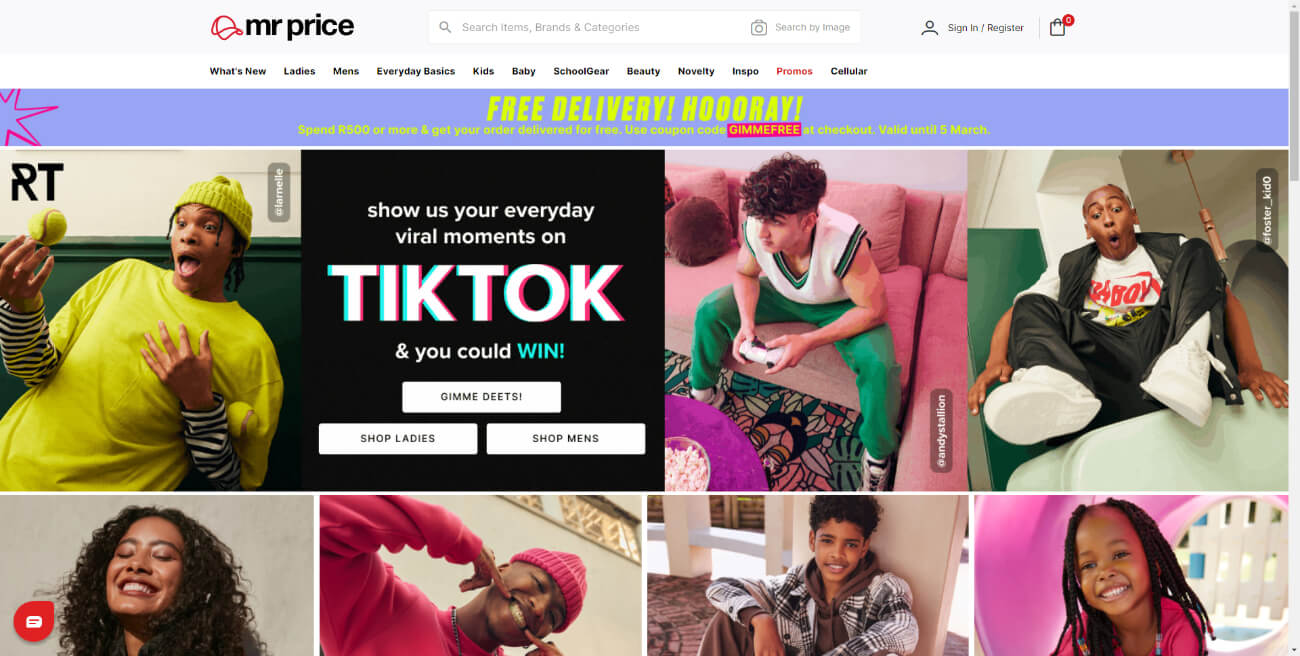 Some of the top clothing retailers in the world won't ship to South Africa. And when they do, they charge an arm and a leg just for a three-month lag time. Imagine your South African audience receiving a package within three to five days! Might not be Prime-level fast, but it's still hella convenient.
Mr Price is a beauty and apparel retailer that ships the latest South African styles around the country within five days tops. Their affiliate program's 5% commission might feel small, but the 30-day cookie period can help you rake up serious sales if you're on top of your SEO.
Mantality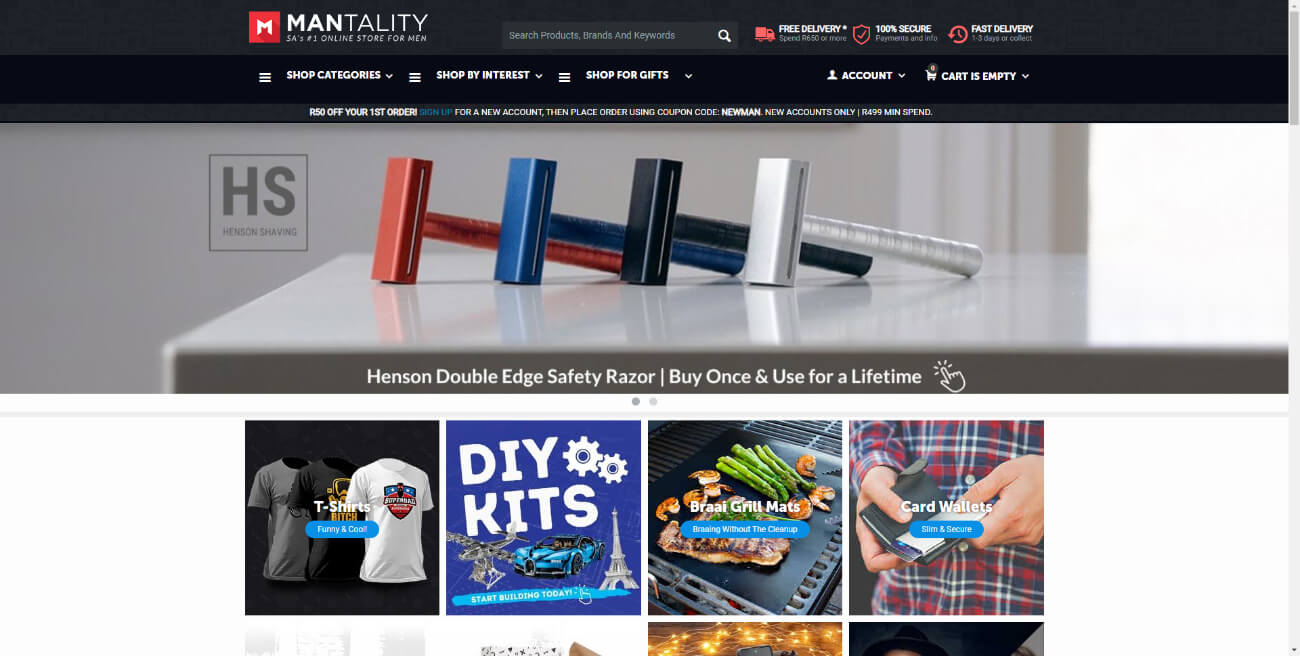 Did you know South Africa is facing a severe electronic component shortage? Specifically, the country is low on valuable materials to make gadgets like gaming consoles and computers. Sure, you can still find the products at South African stores – but considering inflation and the modest average South African salary, they're always too expensive.
Mantality is a welcome brand in South Africa for its male-centered electronic products. Their mass inventory paired with easy online ordering softens the regularly high price of electronics. Plus, affiliates can promote it with ease – just tack a into your content calendar. Gifts for him, anyone?
Cape Town-native communications professional Evan Ross likes Mantality's program for two main reasons:
Trust: Mantality launched in 2008, and has built credibility and a quality brand reputation ever since.
Commission: Affiliates earn 10% off any converted buyer's order value, on top of R30. Pretty sweet!
USNfit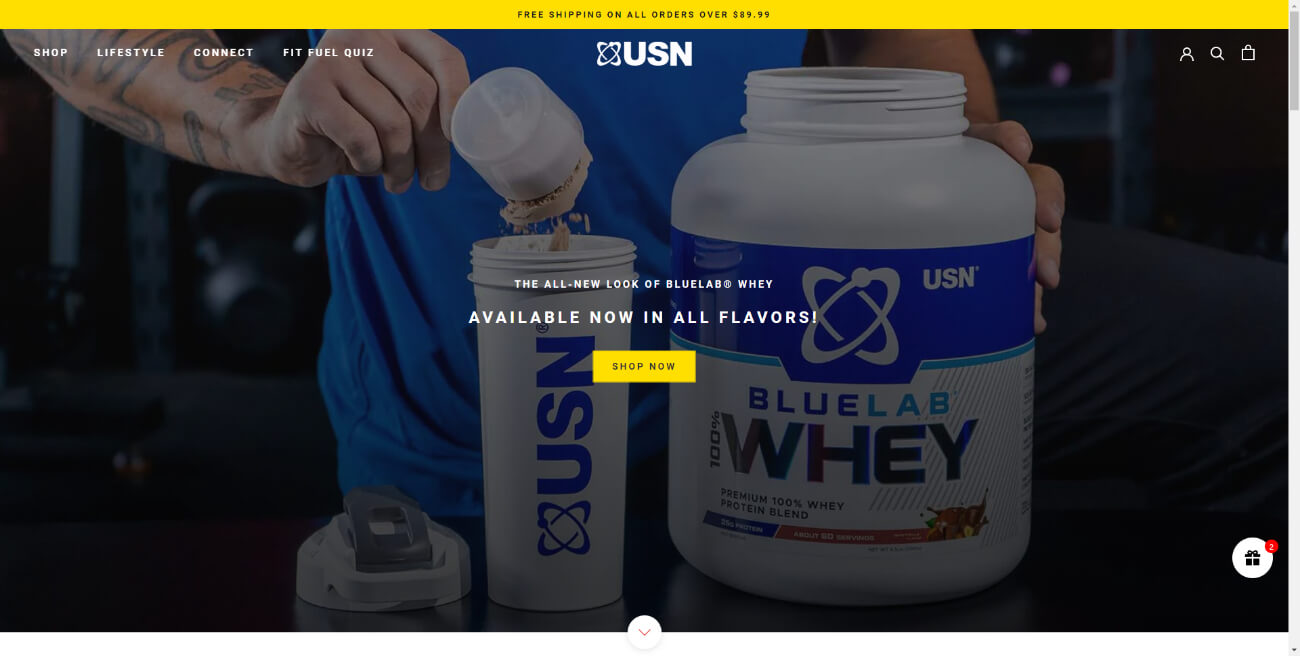 South Africa has a growing fitness industry, with more gyms and wellness centers popping up around the country every year. We can also see a growing interest in fitness products through Google search trends. For example, queries about health supplements have achieved breakout status in South Africa this past year (increased by over 5,000%).
If you're a fitness influencer, you'll want an affiliate program that South Africans can access. Enter USNfit, a wellness product provider selling workout aids, weight supplements, vitamin supplements, pre-workout items, apparel, and more. Signing up is stress-free, but ensure all your social media channels have regular posts, engagement, and strong SEO.
Travelstart
Today's adventurer seeks unique travel advice, cheap flight deals, and easy booking. Few big travel affiliate programs show as much attention to South African buyers as Travelstart does. Especially since the recent price hike in flights from South Africa, the site's focus on Middle Eastern and African audiences is smart.
This booking platform offers specific affiliate sign-up pages by country through Impact. Affiliates will have valuable access to full-time support, performance marketing resource materials, free creative assets, banners, and more. Convenient, yes, and lucrative, too – Travelstart offers $6 – 8 per conversion.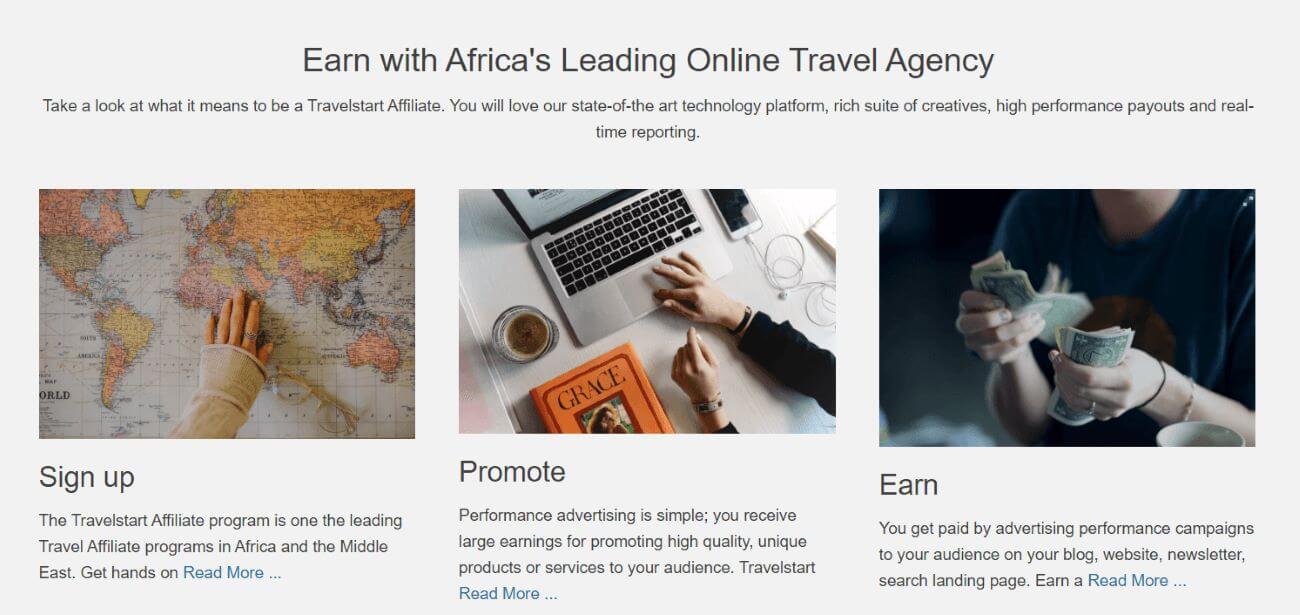 How to choose affiliate programs in SA
So your new partner ships to South Africa. Congrats! However, to make money and please your audience, now you have to form a genuine personal connection with both your products and your readers.
Johannesburg-based lifestyle content creator Xihla elaborates:
When starting out, most people don't have a budget to hire a content writer, so they end up having to write their own content.
Sound familiar? In this case, Xihla recommends writing about topics and products you genuinely enjoy.
And your readers will notice.
It would suck having to promote something that you don't like, because creating content for it would be grinding teeth for you.
Sixty-nine percent of South Africans tend to distrust first, until they see evidence of truth. This means your content needs to be especially persuasive with this audience. Local affiliates and genuine interest bring the authenticity you need.
Niche you are in
Say you run a travel blog. You probably like writing about camping gear, digital nomading, and how to live on a tight budget. One day, you notice a convenient commission opportunity for a popular clothing retailer in South Africa, like Mr Price.
Application, check. Approval, check. SEO strategy, check. But where are the conversions? Here's the problem: your audience trusts you for practical content to help them travel – not shopping therapy.
What now?
It's vital to align your affiliate marketing strategy with the niche your audience sees you as an expert in, not something tangential or unrelated.
For example, this Cape Town blogger regularly posts articles documenting her adventures in and around the city. She'll describe weekends here and there, accommodation experiences, and restaurant options for South African audiences.
This snippet of her latest review of the Tintswalo Safari Lodge showcases her audience and expertise:

Travel photos in the review are also quality-assured.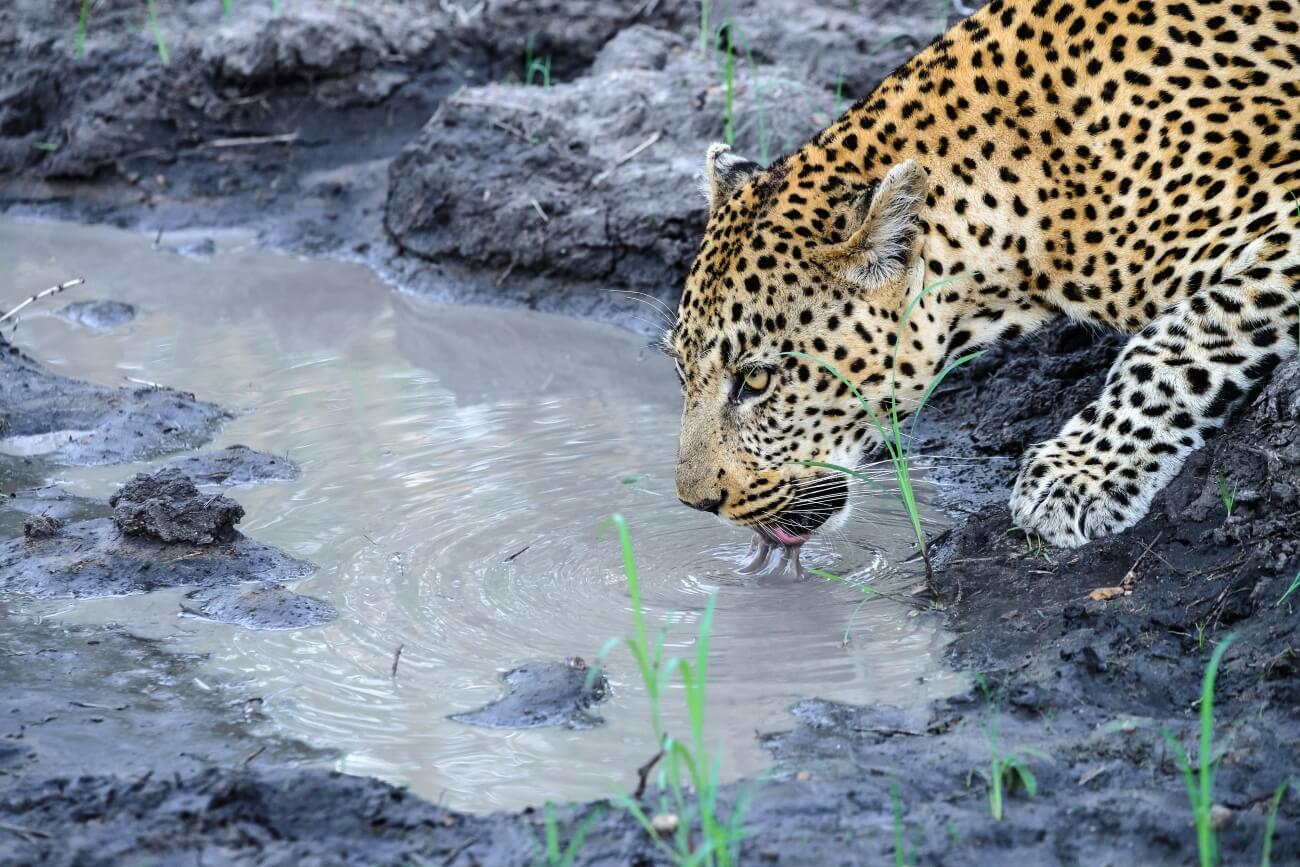 PRO TIP:
Promote companies that feature more your niche-related products.
If you lean too far away from your niche, make sure to explain why certain products that may not seem relevant at first are applicable to your niche.
Considering your blog is in travel niche, prioritize the companies that offer travel-related products like travel credit cards or accommodation sites to promote.
But if you still choose to promote Mr Price, their products might work if you narrow down on travel-related items, like water bottles or clothing for different climates.
Products you promote
Ask yourself: "Will my audience really use the products I'm promoting?"
Think about specs, interest, and pricing. Unless you have a niche audience with high income, South African salaries are lower than your average American or UK pay. This means you might have a harder time getting conversions on higher-ticket items.
Johannesburg marketers Xihla & Busi found a niche CBD drink from South African company Good Leaf that fits well with their lifestyle content on Instagram: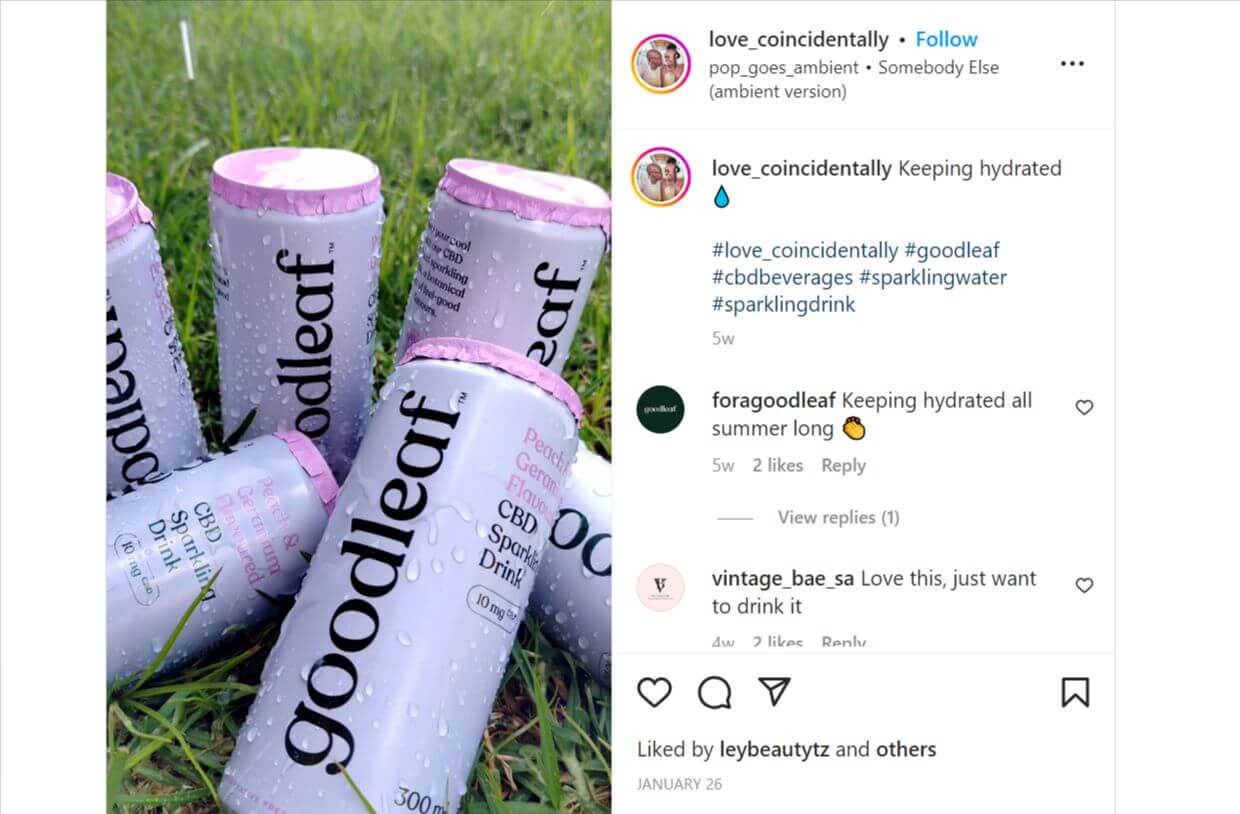 Conduct audience research through surveys and social media engagement to find out what kinds of products your audience is already buying. From there, your product reviews, best-of lists, and other helpful guides should highlight similar, ideally better options.
Commission you receive
Affiliate marketing programs for South Africa vary in commission, with rates ranging from 5% to 60%. While that high end is appealing, you need to consider whether your particular audience will use your products before focusing all your energy on that affiliate marketing program.
Low commissions work if the demand is there. All things considered, we'd recommend a diversified approach.
Suppose you feature a lot of Amazon products on your South Africa-focused blog. In this case, you might expand your SEO strategy to other regions throughout Africa as well to increase traffic, since product availability and shipping will likely be similar.
Conclusion
The South African market has one major perk:
It isn't oversaturated.
So while you might not see the volume of conversions you do now in the US, UK, Canada, and elsewhere, those audiences are loyal to affiliates whose content and products they consume every day. Your time will be well spent in South Africa if you can speak to local needs and attitudes.
While there are many South African businesses without affiliate programs (like Pick n Pay and Woolworths), the market is growing. You can be among the first on the scene. Cultivating a loyal South African audience will prepare you for when even more brands start up their affiliate programs.
The trick of the trade? Plan for success, and measure everything you can. You'll need to make data-driven decisions at speed and scale in South Africa, and Affilimate's dashboard and robust analytics can help you visualize where your conversions and clicks come from each month.
Jumpstart your South African affiliate marketing journey today with Affilimate's free 14-day trial!