Affiliate Marketing In Canada: How to Monetize Your First Campaign
By Natalie Robin · Updated Jan 26, 2023
In the last few years, affiliate marketing in Canada has shot up in popularity as more people pursue so-called side hustles to supplement their income.
This shows up in Google Trends data, where searches for the term "affiliate marketing" in Canada have tripled over the past five years.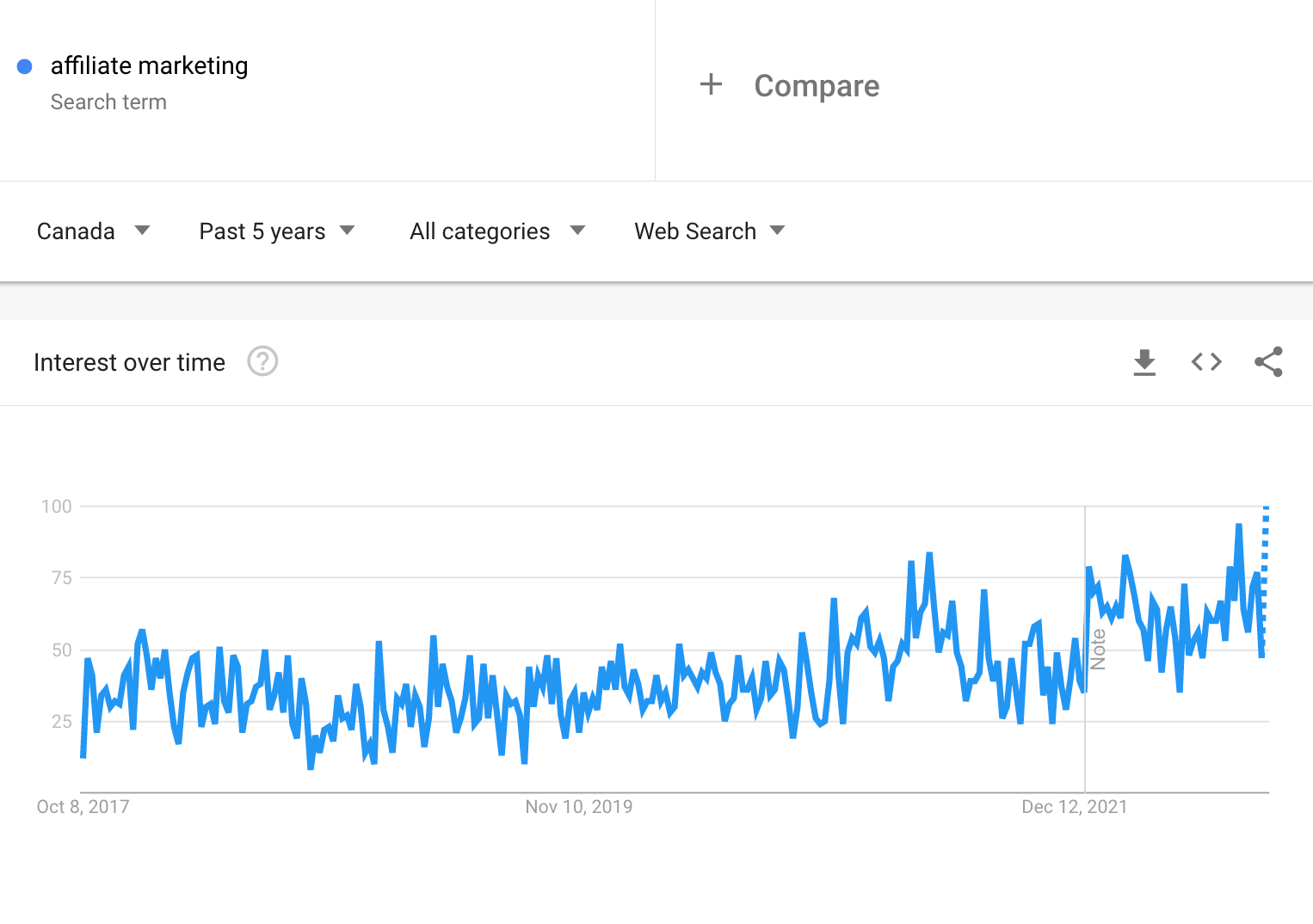 And there's a few reasons for this: from inflation, to the very real struggle that is buying a home for young people in cities across Canada, to people seeking out more flexible work schedules.
In response to these challenges, Millennials and Gen Z are turning to finance content creators' advice – finding creative (and legitimate!) ways to get ahead.
From content creation, to influencer marketing, to photography and digital marketing, young Canadians are taking advantage of their digital-savvy skills to pad their resumes, and make a few bucks in the process.
And it's easy to see why affiliate marketing is on their list of options.
Affiliate marketing is a low barrier to entry business model in Canada, since it can cost under $100 to set up a website and get started.
According to Entrepreneur.com, it accounts for 16% of all online sales in Canada, and the industry is growing at a steady 10% each year.
On top of this, the Canadian population is about 11% of the entire US population – and fewer people translates to less competition when applying to programs and promoting products.
Plus, many affiliate programs pay out in US dollars, (even if you're using the Canadian version of their affiliate program) which means that Canadian affiliates can benefit from the conversion rate.
Read on to learn about how to get started with affiliate marketing in Canada, plus companies and programs to work with.
How to do Affiliate Marketing in Canada
A major benefit of affiliate marketing is that it can be much more passive than other monetization methods.
You can create one piece of content and update it on a yearly basis.
If you optimize your content properly, it can generate more than other content creation methods.
For example, seeking out sponsored posts and brand deals, and doing product photoshoots for Instagram and TikTok can be much more active and time-consuming.
Other benefits of affiliate marketing in Canada include:
Canadian affiliates can earn $USD (depending on the program): Many affiliate programs pay out in USD, so Canadian affiliates can benefit from a higher conversion rate.
There's a low barrier to entry: Start-up costs are exceptionally low compared to other kinds of businesses in Canada. It can take less than $100 dollars to purchase a domain, hosting, and a website template. In contrast, the average small business owner needs to invest $5000 to $10,000 upfront to get started (and that's on the low end). To that note, affiliate marketing even made Shopify Canada's 2022 roundup of the best small business ideas.
You don't need a huge audience to start earning: Unlike display advertising, you don't need tens of thousands monthly site visitors to see a reasonable return. Plus, your audience isn't required to be based in Canada. However, your affiliate marketing success will depend on how you present your content. Following a template can be a great place to start.
It can be a "set it and forget it" model: Once you've created the piece of affiliate commerce content, you can publish it and let it do the work (aka: make sales) for you.
You don't have to worry about product distribution: As an affiliate marketer you promote other brand's products – however you're not responsible for getting that product to the customer's doorstep.
If you're not sure where to start or how to position your brand as an authority in your niche, take a look at the following examples of successful affiliate marketing bloggers in Canada.
Mommy on Purpose: This blog focuses primarily on roundup posts that spotlight the products she promotes. Each of her posts are tailored to moms and moms-to-be.

Food Bloggers of Canada: This Canadian food and recipe blog promotes cookbooks through affiliate links, which perfectly matches their audience's interest.

If you want to see success as an affiliate marketer, following a proven step by step process will increase the likelihood that you'll be successful.
This is true whether you're a Canadian affiliate or you're located internationally.
Here are the six steps to follow when getting started with affiliate marketing in Canada.
Step 1. Pick a niche and start your affiliate website
We've said it before, and we'll say it again – choosing a profitable affiliate niche is a huge key to your success as an affiliate marketer.
That's because if no one is searching for (or interested in) what you're promoting, you won't see any sales.
If you're getting stuck at this step, check out Affilimate's guide on choosing a profitable niche.
After this, you can begin creating your affiliate website.
This step includes choosing things like:
A domain name
Hosting platform
Website theme
Branding
Once you have these foundational pieces set up, you can start writing content and promoting your website.
Quick note: You don't technically have to have a website to start affiliate marketing – however some programs won't accept you without one.
Plus, a website helps to establish you as a brand, and allows you to have a home base to host other marketing and business ventures; from your email list, to online courses, and more.
So, if you're putting time and effort into starting an affiliate marketing business, launching a website and a blog is highly recommended.
Step 2. Drive traffic to your affiliate website
Driving targeted traffic to your affiliate website is one of the most challenging (if not the most) steps of affiliate marketing.
Here are a few strategies and resources to refer to when you're getting started with driving traffic to your website and getting eyes on your content.
Target buyer-intent keywords: With affiliate marketing, you want to meet your audience at the end of the buyer funnel. You can achieve this by targeting buyer-intent keywords that match your audience's search intent.
Leverage social media marketing: Building an audience on social media can create great brand awareness for your business. If you set them up properly, social media channels can also send a ton of traffic to your affiliate offers. Read our guides on Instagram, Pinterest, YouTube and more on the Affilimate blog.
Build your email list: Growing your email list is like a security blanket for your site traffic. That's because it's a marketing audience that you actually own. If your social media channel gets shut down, you can still contact your audience through email (and hopefully avoid too many losses in the process). Just be aware that not all affiliate programs allow affiliate links in emails.
Each of these types of marketing can be extremely effective.
Having said that, when you're just getting started and you have few resources to allocate, we recommend focusing on just one marketing channel.
Optimize, master, and put your first marketing channel on autopilot before moving on to another.
That way, you won't get distracted and you'll be much more effective as a result.
If you're not sure which marketing channel to focus on, ask yourself the following questions:
Which marketing channel would take the least amount of time for me to maintain?
Which channel would be the easiest for me to learn (has the shortest learning curve)?
Which method would be the cheapest for me to get started?
Your answer to these questions will depend on your existing skill set, the capital you have to work with, and your personality.
Keep in mind that what works for one affiliate marketer won't necessarily be the best fit for you.
However, these questions will give you a solid starting point when deciding where to focus your time and energy.
Step 3. Choose affiliate partners and affiliate programs
Emphasize the importance of checking if the affiliate programs are valid in Canada (checking terms of service and program details to find out)
Next, it's time to choose affiliate marketing programs in Canada that align with your niche.
In this step, it's important to do your due diligence to make sure that the programs you sign up for are legitimate and valid in Canada.
Unfortunately, like a lot of online industries, there are some scams to be wary of.
Here are a few things to check off of your "due diligence" list before signing up to a new affiliate program.
Read the terms and conditions thoroughly. Not only will this inform you of how you're expected to comply with the program, but you can check if these are terms you are comfortable with.
Research the affiliate program. If you're unsure about whether an affiliate program or network is legitimate, head over to Google. See if there are any reputable affiliates or influencers who have worked with them, and if they have good reviews.
Spammy programs often look like spam. If the website is poorly designed, has bad sales copy, and generally seems unprofessional, don't ignore it. Plus, associating your brand with messy content can negatively affect the impression you give your audience.
Step 4. Create affiliate marketing content
Now for the fun part.
Once you have all of the logistics in place, you can begin creating affiliate marketing content – also known as commerce content.
This can take a lot of different forms.
Here are a few examples of affiliate marketing content strategies.
Instagram Stories: If you're a fashion blogger, you can share Stories of your daily outfits and link to the clothes and accessories that you're wearing.
Blog posts: Write buyer guides, product review blogs, and other conversion-focused content to help generate revenue on a recurring basis. This is one of the most passive forms of affiliate marketing.
YouTube videos: If you've ever watched a YouTube tutorial, chances are you've seen creators promote products in the descriptions of their videos. Those product links are perfect opportunities to promote affiliate links. Just make sure that you properly disclose your affiliate links according to Canadian branded content guidelines every time.
Step 5. Find your affiliate marketing strategy
The right affiliate marketing strategy for you will depend on your niche, the types of products you promote, and your promotion channels.
Check out this roundup post of 20+ affiliate marketing tips from successful affiliate marketers to help you get started.
Step 6. Track your affiliate income
Step six is probably the most exciting.
This is where you'll start to see your hard work pay off.
When you start generating revenue from multiple affiliate programs, keeping track of everything can be time consuming.
Affiliate tools like Affilimate can consolidate your affiliate data to keep track of your earnings, and pinpoint areas where your conversion pages may be falling short.
These tools can help you to earn more by finding areas where you can further optimize your affiliate content.
Affiliate Marketing Companies in Canada
There are several well-known affiliate companies, brands, and merchants that are available in Canada, some of which have platforms dedicated to Canada-based affiliate creators.
Below is a list of legitimate affiliate networks that Canadian content creators can sign up to.
Affiliate Networks available in Canada
Affiliate Brands & Merchants in Canada
Affiliate Marketing Programs in Canada
Best Buy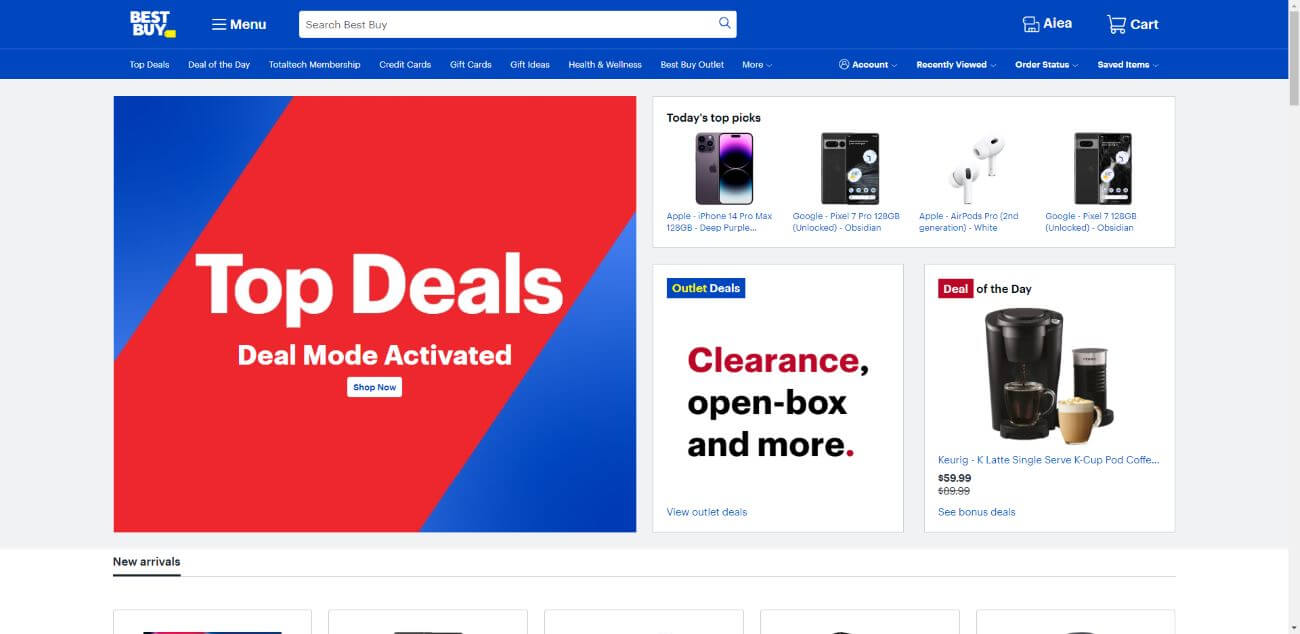 Best Buy especially has a big box electronics store which is a go-to destination for students, professionals, and business offices alike.
It's a brand that customers trust, and as an affiliate, the stronger the brand image, the easier it is to convert products.
To become a Best Buy affiliate, you can sign up through the affiliate networks Sovrn and Impact.
Best Buy is a household name brand throughout Canada.
Canadian affiliates can benefit from a commission rate that's double what they offer to the US market.
In order to be accepted to the Best Buy Canada affiliate program, affiliates must have a Canadian audience in the electronics niche – or an audience that has an interest in Best Buy's range of products.
Amazon's Canadian program
Amazon affiliate marketing Canada – known as Amazon Associates – is one of the most user friendly programs to get started with.
They're present in markets worldwide, and have a huge suite of products to fit most niches.
That means that you can sign up to your country's specific program and align it with where your audience is.
As a result, you won't miss out on commissions from sending your Canadian audience to a US-based website, for example.
However, they do have some particular program requirements to be aware of.
When you sign up, make sure to read the terms and conditions in full, as they list a number of rules of compliance, from disclosures on your website, to identifying yourself as an associate.
Failure to comply can result in termination of your account.
Read the full Amazon Associates Canada terms and conditions here.
Wayfair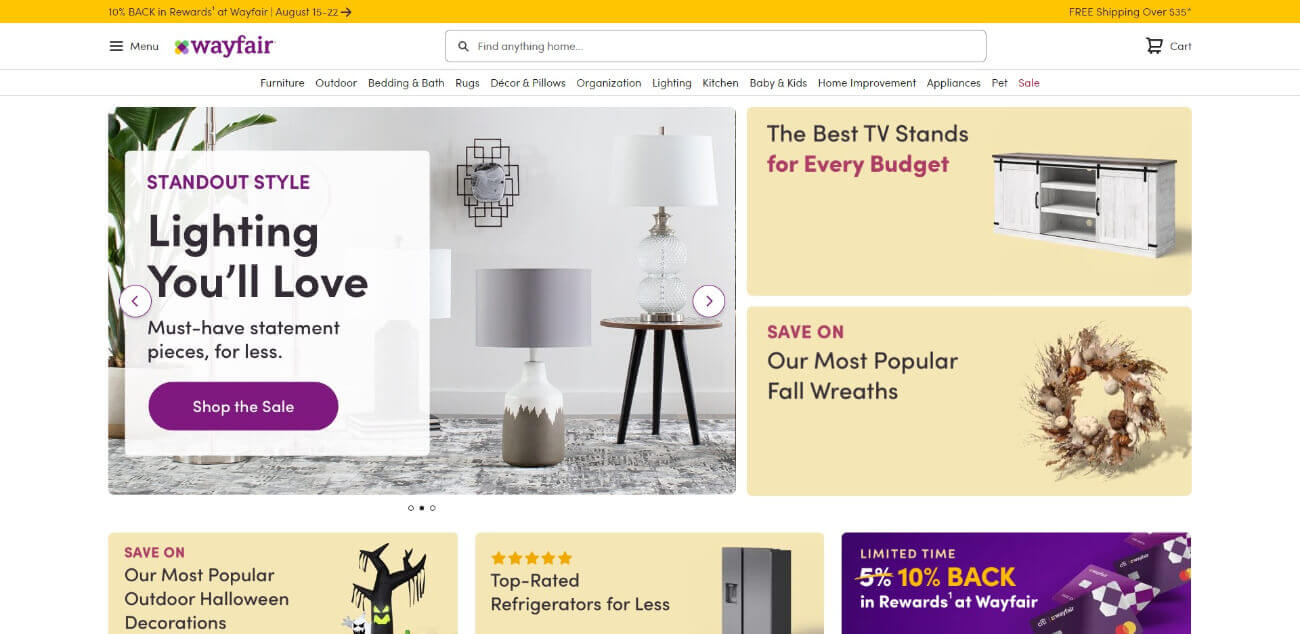 Program name: Wayfair Affiliate Program
Network / Software: CJ Affiliate, FlexOffers, Sovrn
Commission: 3% for item DE_Existing_Customer_Including_Voucher, 4% for item DE_Sale_New_Customer_Including_Voucher, 5% for item DE_Sale_Existing_Customer_No_Voucher, 6% for item DE_Sale_New_Customer_No_Voucher (CJ Affiliate), 1-6% depending on the type of referred customers, with/without voucher, cashback/non-cashback affiliate (CJ Affiliate), 5% for converted sales on birchlane.com, wayfair.ca (CJ Affiliate), 0.8-4.8% depending on the type of referred customers, with/without voucher, cashback/non-cashback affiliate (FlexOffers), 0-7.2% for sales derived from birchlane.com, wayfair.com, allmodern.com and jossandmain.com (FlexOffers), 0-6% depending on the type of referred customers, with/without voucher, cashback/non-cashback affiliate (Sovrn), 0-5% depending on the type of customers, with/without voucher, cashback/non-cashback affiliate (Sovrn)
Cookie duration: 30 days (CJ Affiliate, FlexOffers), 14 days (CJ Affiliate), 7 days (FlexOffers), Not listed (Sovrn)
Markets: DE (CJ Affiliate), UK (CJ Affiliate), US (CJ Affiliate), UK, DE (FlexOffers), NA (FlexOffers), UK (Sovrn), DE (Sovrn)
Wayfair advertises a few partnership options on its "About Us" page, with its affiliate program appearing closer to the page's bottom. Overall, Wayfair offers two double - whammy benefits over Amazon — high order values and subsequent generous commission.
The site's average order value (AOV) is $300, and with Wayfair's 7% commission rate, you'll reap about $21 per order. Wayfair also boasts a strong EPC of $1.00-$2.00.
Home Depot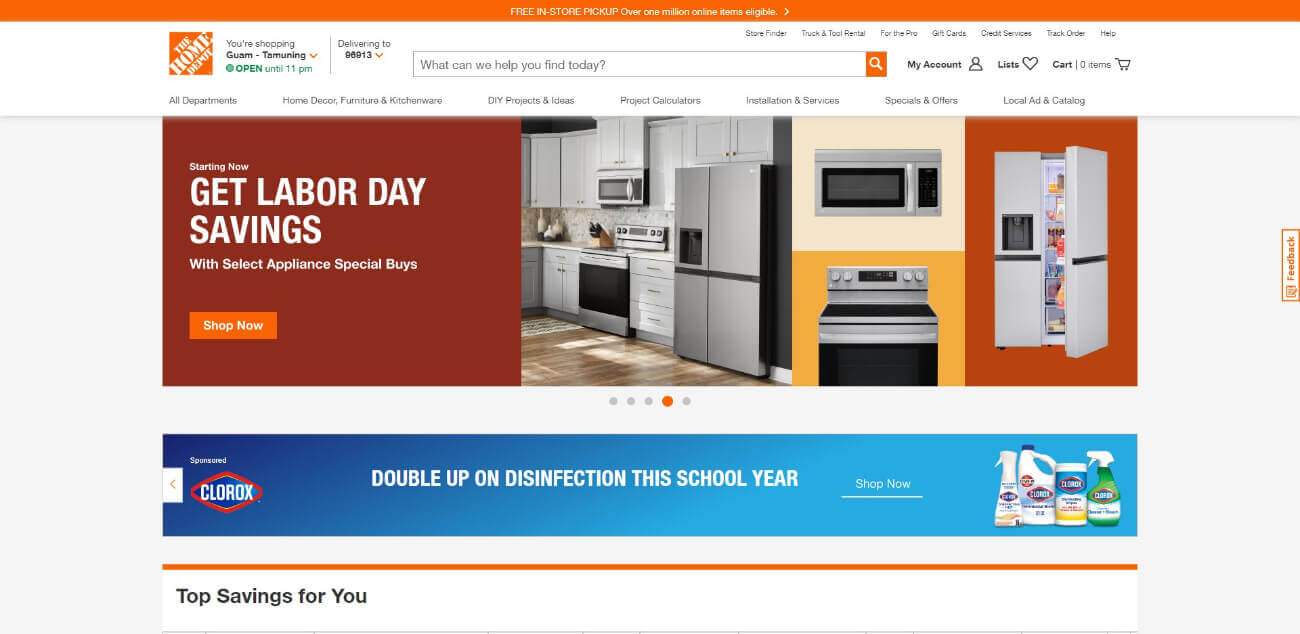 Program name: Home Depot Affiliate Program
Network / Software: Impact, FlexOffers, Skimlinks, Sovrn
Commission: 2% for online sales (Impact), $10.00-$15.00 for each Home Depot Services' Appointment, $10.00-$30.00 for each Issued Home Depot Services' Appointment (Impact), 1.6% of sales (FlexOffers), 6.4% HD Home on sales, 0.8% appliances, default on sales (FlexOffers), 0-8% depending on the SKU list items (Skimlinks), (Sovrn)
Cookie duration: 3 days (Impact, FlexOffers), 30 days (Impact), 1 days (FlexOffers), Not listed (Skimlinks, Sovrn)
Markets: CA (Impact), US (Impact), CA (FlexOffers), US (FlexOffers), US (Skimlinks), Global (Sovrn)
Home Depot only ships to the US and Canada, making its program (one each for Canada and the US) an alternative to Amazon affiliate program with limited reach, especially if your audience is primarily Australian, Latin American, or European. However, the program boasts a longer cookie duration window (1-3 days) compared to Amazon (1 day) and Lowe's (1 day).
If you have a North American home improvement audience (especially Puerto Rico!), you'll benefit from a million products with free-shipping that your web visitors will eat up.
Nordstrom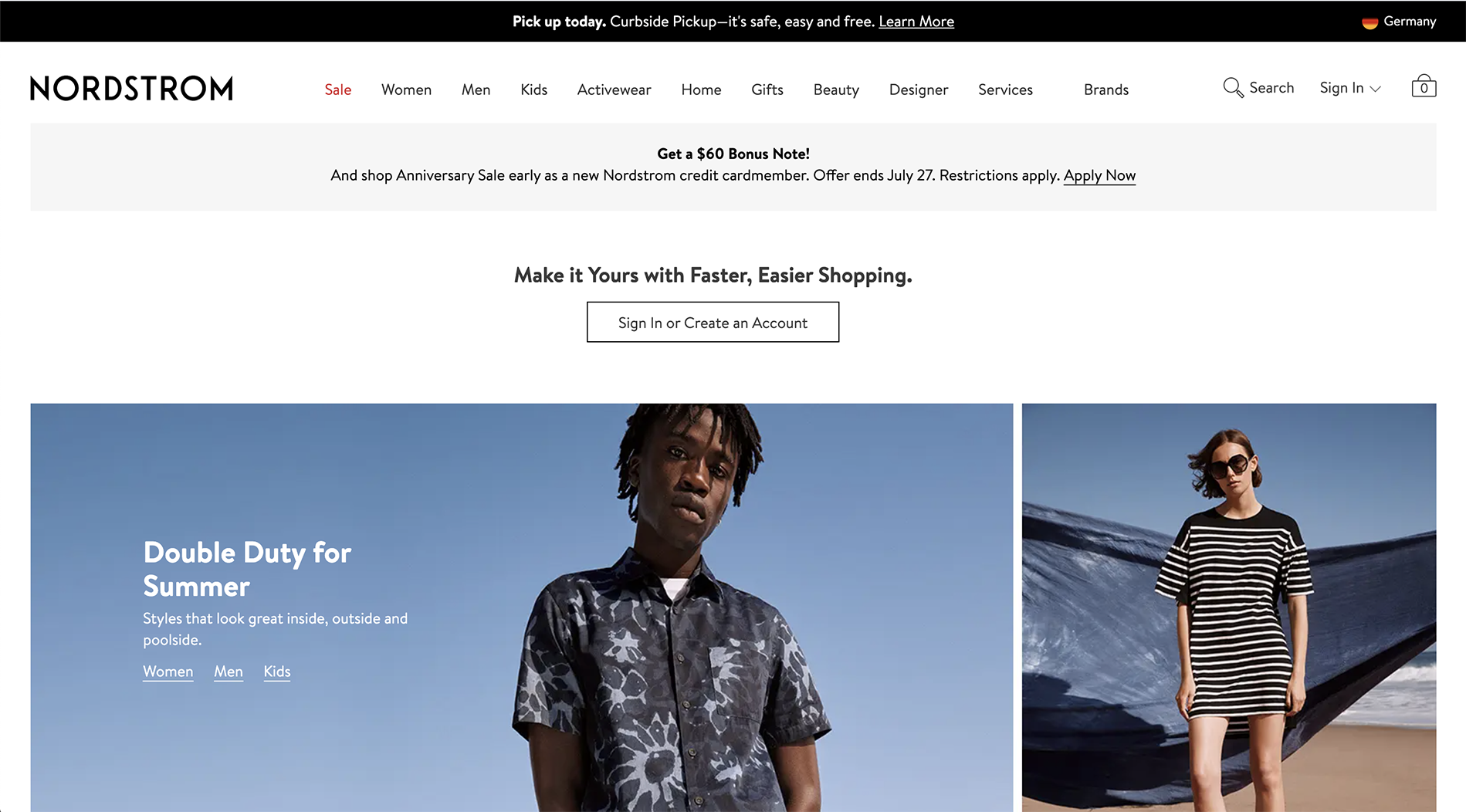 Program name: Nordstrom Affiliate Program
Network / Software: Rakuten
Commission: 1-11% negotiable
Cookie duration: 12 hours
Brands: Alexander McQueen, Balenciaga, Bottega Veneta, Brunello Cucinelli, Burberry, Christian Louboutin, Fendi, Givenchy, Golden Goose, Gucci, Moncler, Off-White, Prada, SAINT LAURENT, The Row, Thom Browne, and Valentino
Markets: Global
Nordstrom is one of the most recognized retailers for high-end clothing in the world. They offer a wide selection from shoes and clothing to makeup and jewelry. You'll find tons of designer clothing brands to promote as an affiliate on Nordstrom's website.
Though with a base commission of 1% when you join through Rakuten, this program is probably only worth promoting if you're able to negotiate your rate out the gate (which can go as high as 11%).
If your audience is more budget-conscious, Nordstrom Rack has its own affiliate program worth a gander. Through Sovrn, you can net up to 12% though the exact commission range isn't disclosed.
Bottom Line
Affiliate marketing in Canada has a lot of benefits, but it's not an easy process.
There's a specific formula that you have to follow in order to be successful.
And refining that process can take quite a bit of time – from months to years.
This considered, if you plan on starting affiliate marketing, be prepared to treat it like a part-time (or full-time!) job.
While the countless YouTube videos promising to teach you how to earn thousands of dollars in one month are inspiring, stay realistic.
Treat affiliate marketing the same way you would with any other professional venture: with time, patience, and integrity.
With this mindset, you'll be able to maintain your stamina and reach your revenue goals like other top Canadian affiliate marketers.