10 Reasons Website Investors Should Use Affilimate
By Mushfiq Sarker · Updated Jul 9, 2022
If you've heard of Affilimate, you'll probably know that the software provides a convenient way to keep track of your affiliate revenue, links, and content through a slick, easy-to-use dashboard.
It's perfect for anyone who monetizes a website with affiliate links.
Whether you're a new site just starting to earn, or an established one making seven figures, the software will benefit you more than you probably realize.
However, in this article, I will focus on how Affilimate can help anyone investing in websites who wants to increase their revenue and website value through affiliate marketing.
Website flippers and investors can benefit from the software in many ways, which we'll get to in a moment.
But first.
What Exactly Is A Website Investor?
A website investor buys and sells websites. They visit website brokers and marketplaces that specialize in listing websites for sale, or arrange sales privately. For example, Empire Flippers is a website broker, and Flippa is an online marketplace.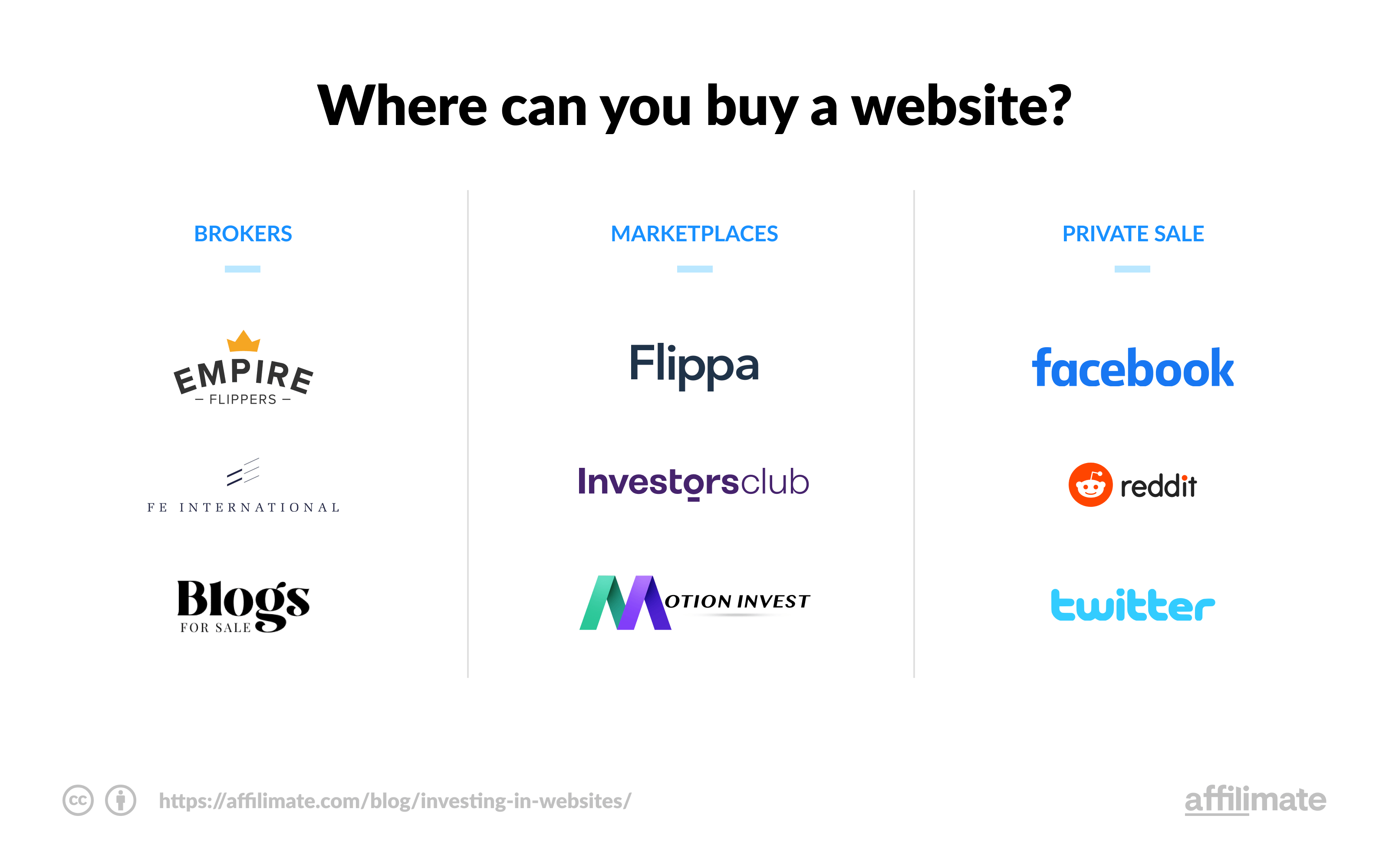 While they offer different services, their primary aim is to provide a solution for anyone looking to buy or sell a website.
Website investors make money by purchasing a website and increasing the value over time. They do this by adding content, link building, redesigning, and growing revenue through various monetization methods such as affiliate marketing.
Typically, it takes around 12 months from purchase to sale, but this can vary.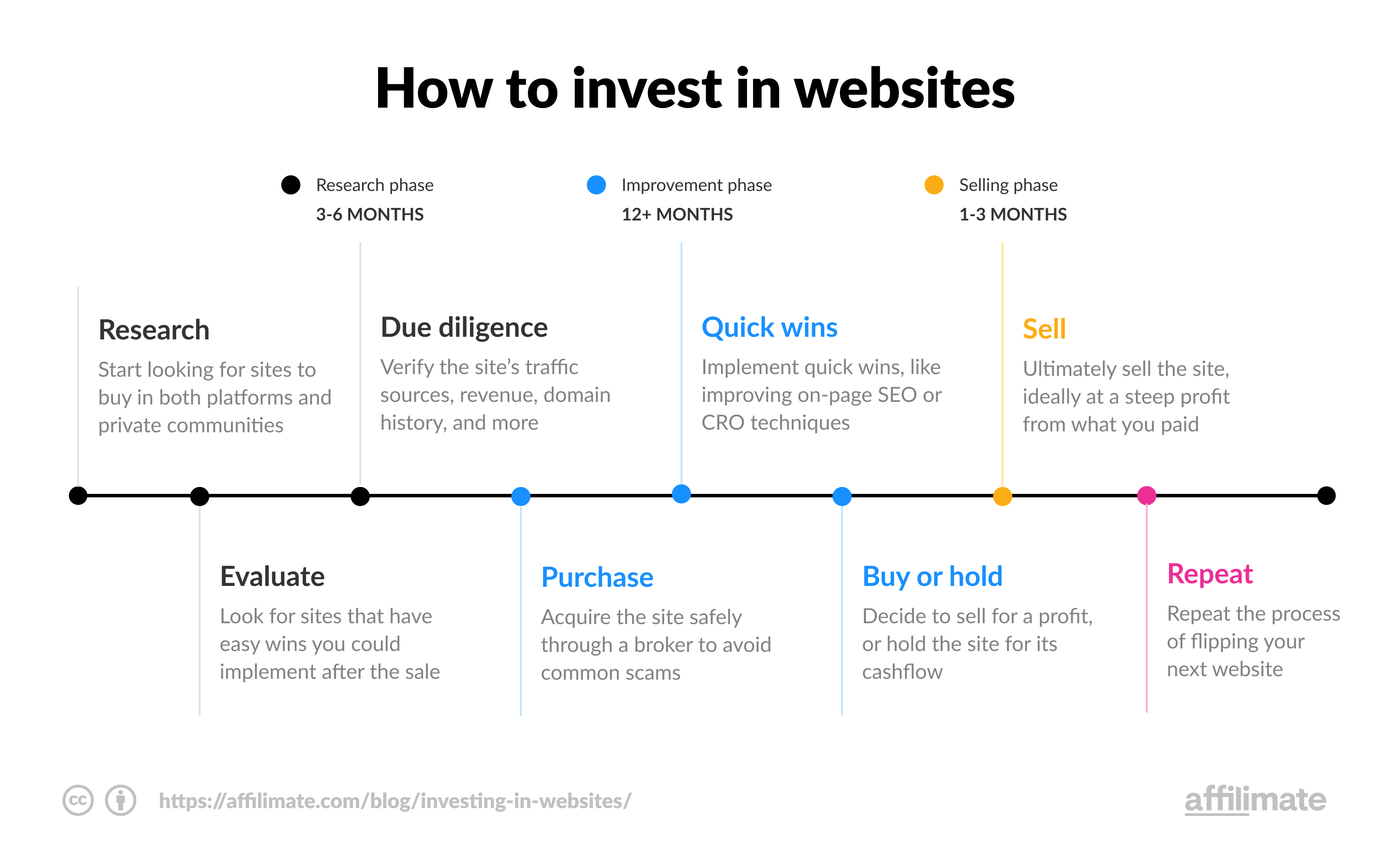 A multiplier guides the valuation based on monthly revenue when selling the site. For example, the typical rate at the moment is around 35x. So if your website earns $2,000 per month, you can list the site for sale at $70,000 — not a bad profit if they purchased it for $20,000 twelve months ago!
Of course, there's a learning process involved with digital real estate, and you need to know how to perform due diligence and vetting before investing.
Still, overall, that's how a website investor makes money. And if you know what you're doing, website flipping is a fantastic business model.
What is Affilimate, and how can a website flipper benefit from the software?
Affilimate is an affiliate marketing tool that tracks affiliate links and commissions generated by your website.
The software keeps all your affiliate data in one place and provides analytics and insights to organize, report, and grow your affiliate revenue.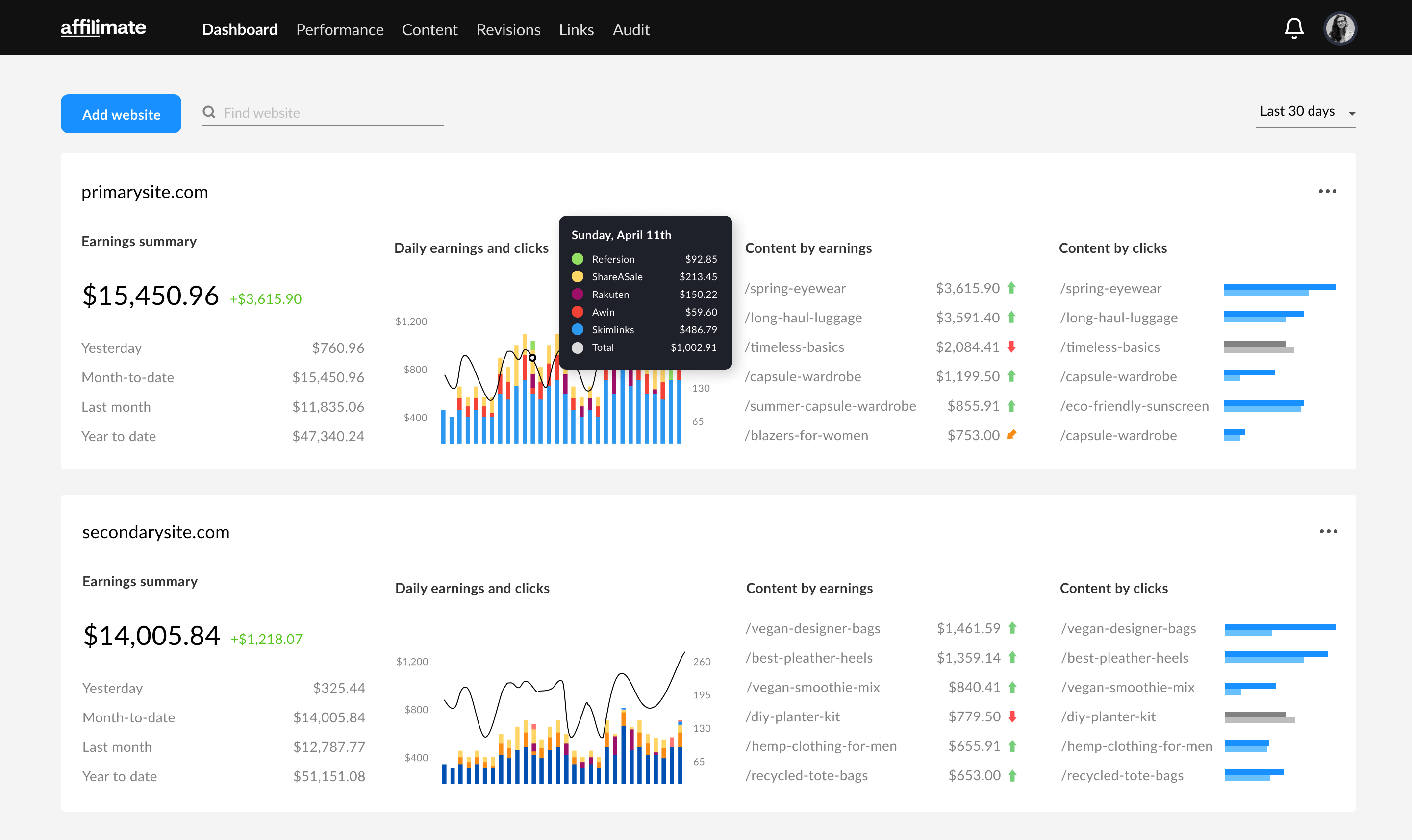 Like most website owners, you probably have multiple affiliate campaigns, advertisers, and links. It can become a nightmare keeping track of things, so using Affilimate will solve this immediately.
However, that's just one of the ways it can help you.
There are many more benefits, which we'll discuss now.
10 Reasons Website Investors Should Use Affilimate
I have listed below ten reasons why website investors should consider using Affilimate. If you're monetizing with affiliate links, here are the reasons to use the software.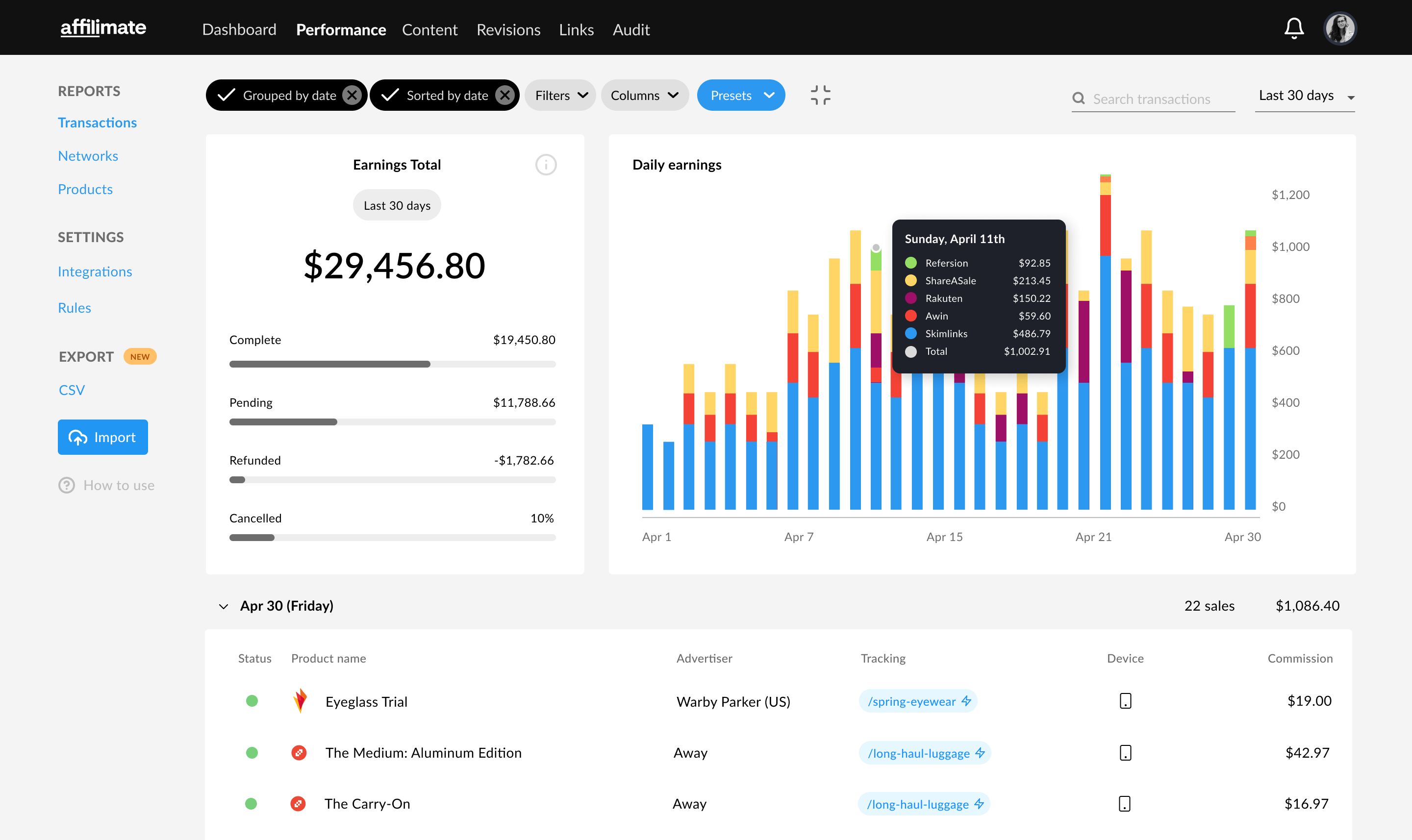 1. Save time by logging into a single affiliate dashboard
Imagine an affiliate dashboard that shows the different networks, links, and commissions earned in one place — that's what you get with Affilimate.
You can integrate with over 100 platforms, including the popular ones like Amazon, Clickbank, JV Zoo, CJ Affiliate, Awin, and many more.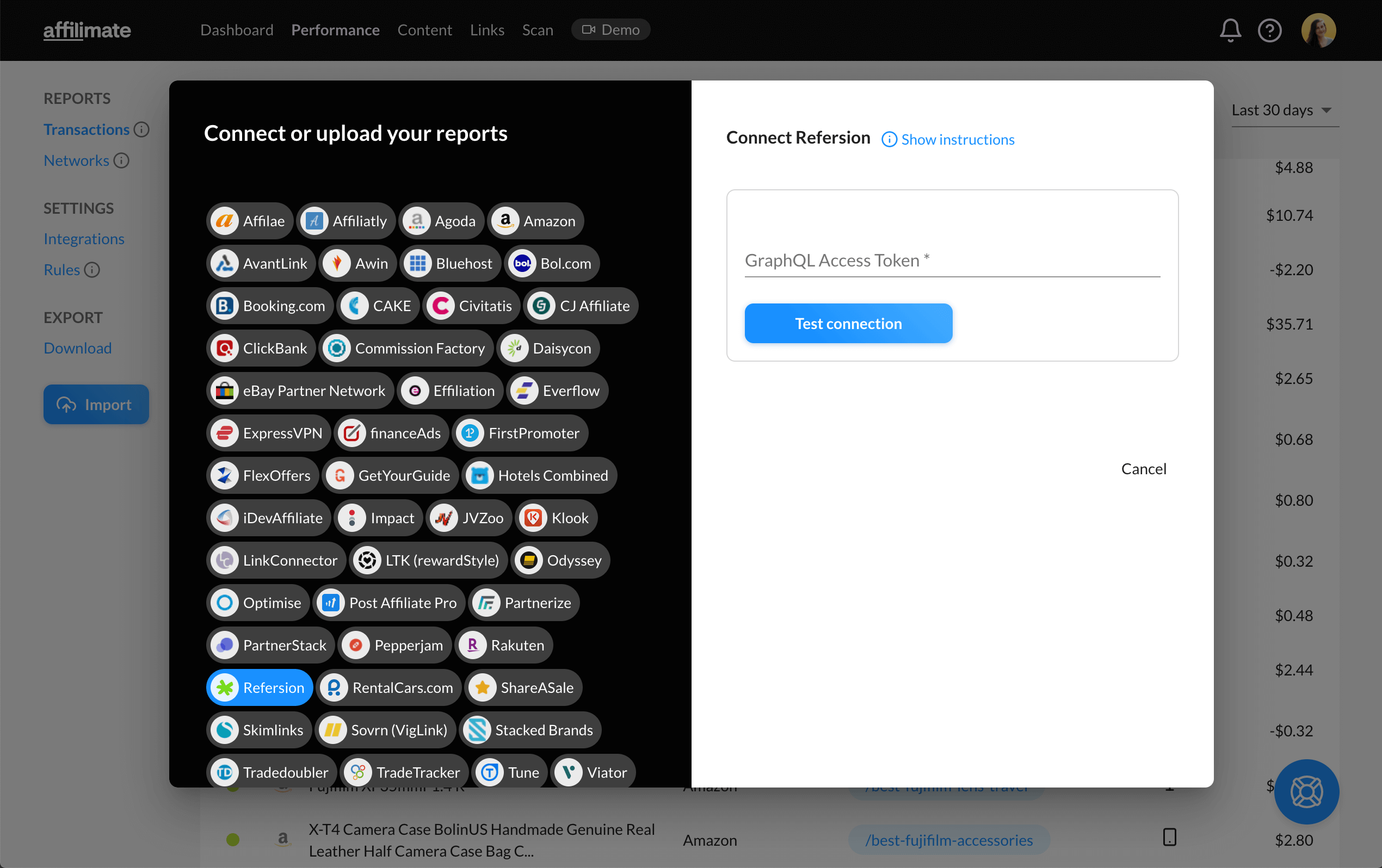 In addition, you can click on any commission to take a deeper look at the information, including product information and metadata.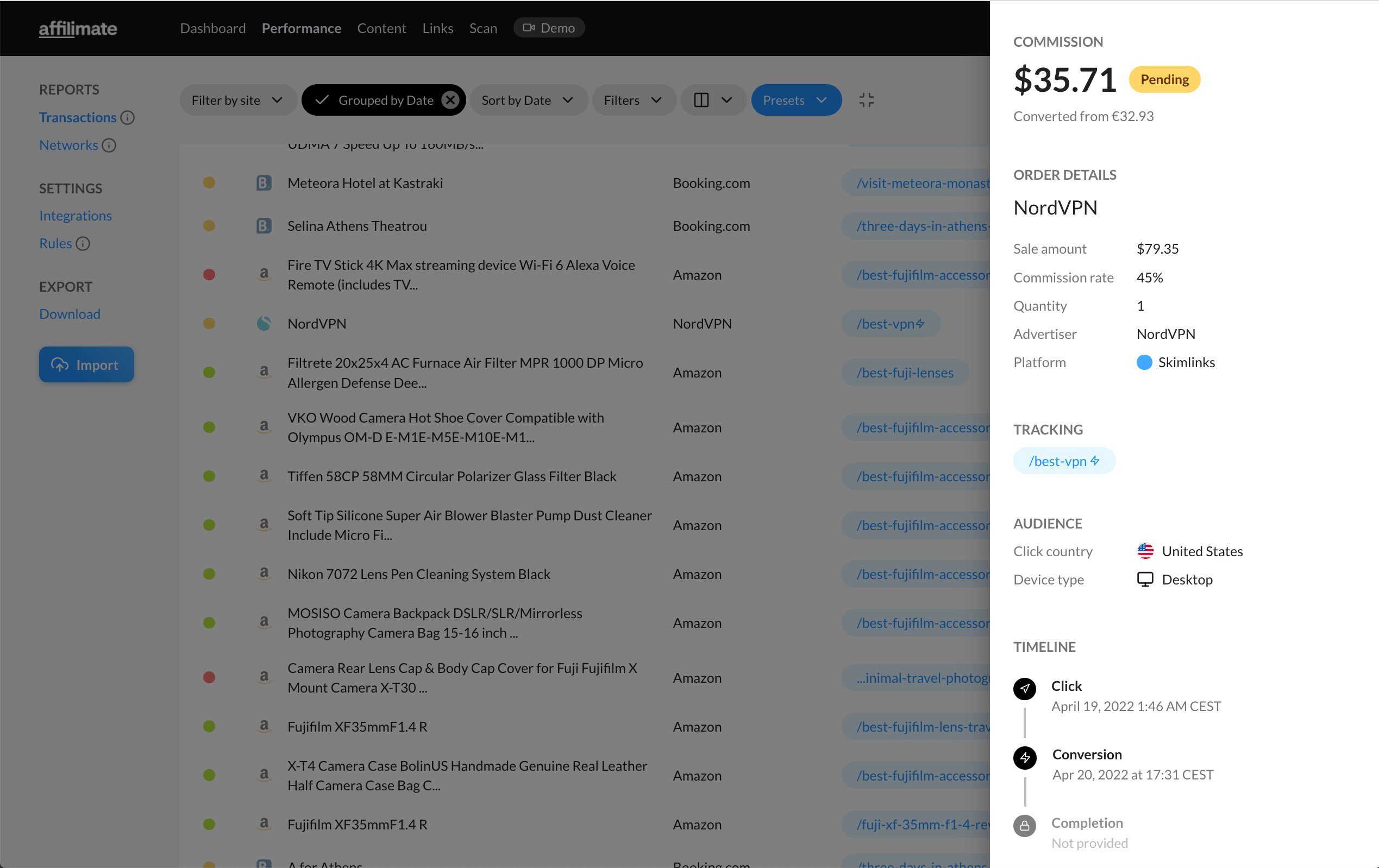 It's beneficial because you can quickly jump into the network or affiliate link of choice to see how you're performing, and it helps keep things organized.
The dashboard also gives you a visual glance at the following:
Earning summary for specific date ranges
Daily-earnings and clicks
Content by earnings
Content by clicks
2. Know exactly what each affiliate link is earning (and double down)
When you click on the links menu, you get a list of the affiliate links you're targeting. These are automatically imported when you set up your account.
You can add or remove them and also filter for clicks and earnings from a specific date.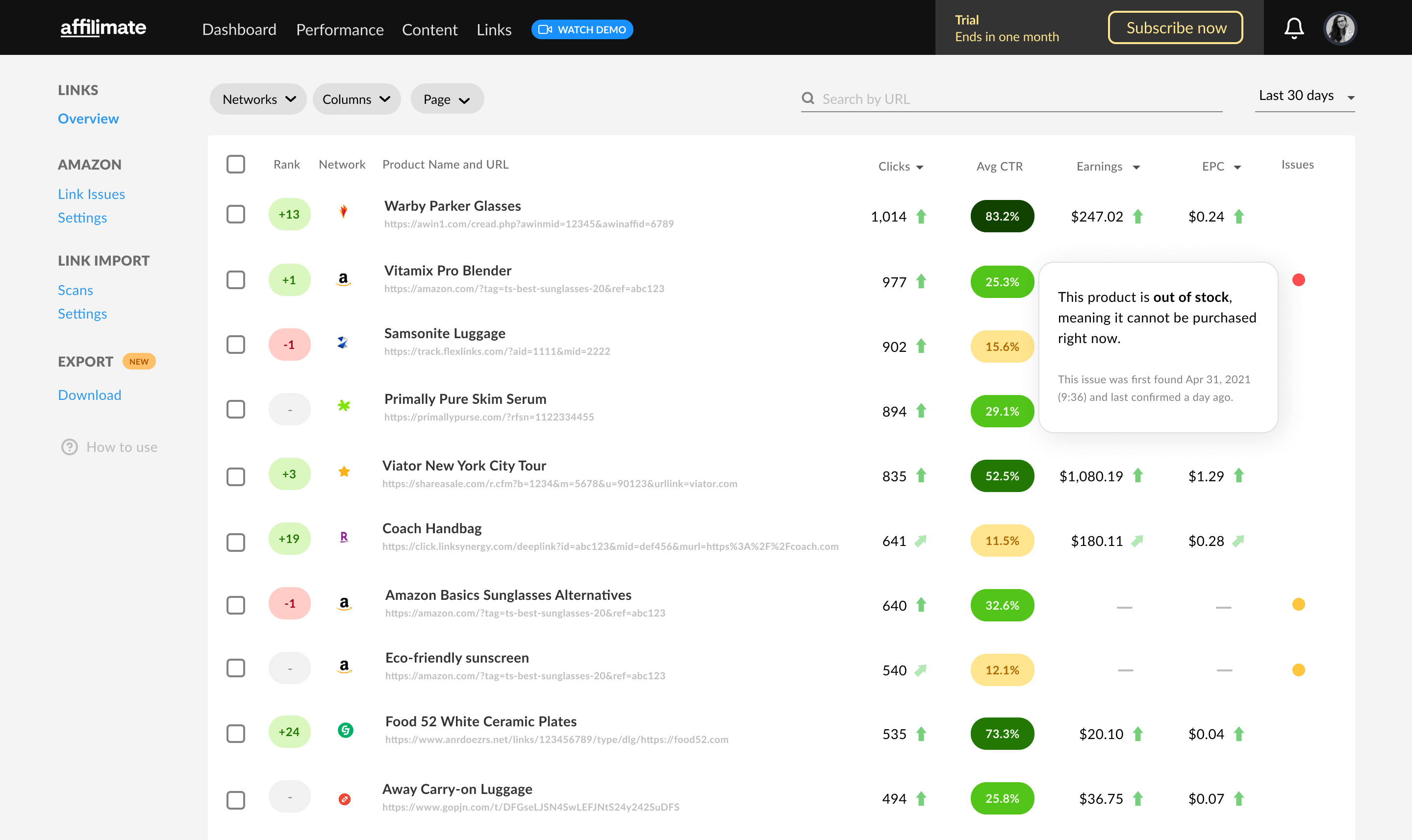 You can see which affiliate links are performing well and double your efforts in promoting the ones converting the best. You already know the link brings in revenue, so create more affiliate content targeting this affiliate product/service, and target it through your email list.
Doing this will increase your revenue, which is one of the main goals of a website flipper.
3. Stay organized with affiliate revenue attribution for each link (plus errors)
Being organized is crucial for any business and will impress your potential buyers when it comes to selling. By using this software, you will stay in control of your affiliate link management and be able to show essential details for each link.
You can see data on the EPC (earnings per click), clicks, and revenue for each link.
Another benefit of using the tool is finding broken affiliate links that could cost you a small fortune each month. If you're using Amazon, this is where you'll discover the most broken links, so it saves you time and money when your affiliate links send your traffic to out-of-stock products.
4. Discover which of your content is performing best
Knowing what pages on your website are the best performing regarding page views, CTR (click-through rate), and RPM (revenue per mile - 1,000 impressions) is helpful for many things, including content creation.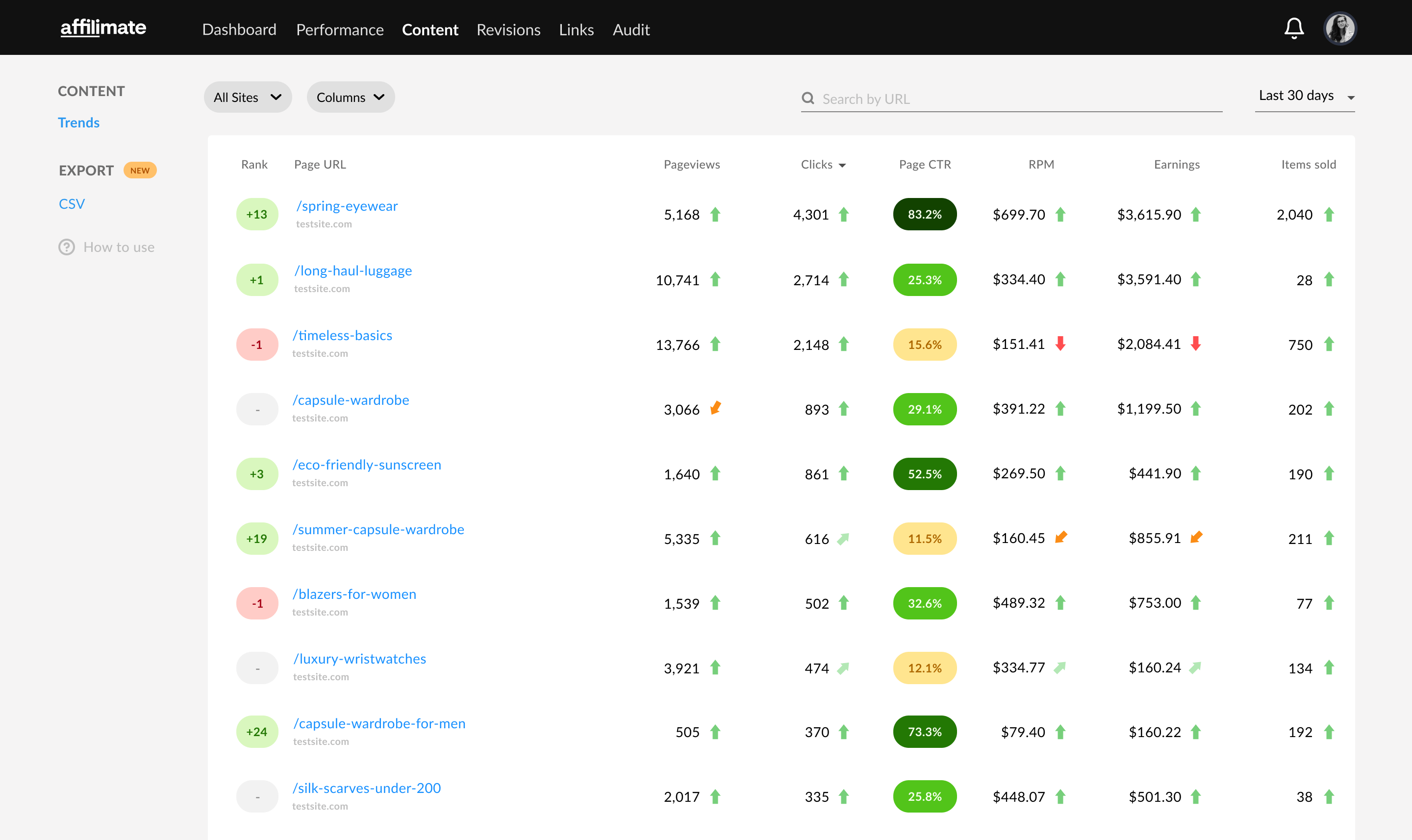 Understanding these metrics can help you create content your audience is interested in reading. For example, you can take the content's main topic and generate more of the same content or branch out to subcategories related to the main topic.
New content creation is a popular strategy used by website investors because it's the best way to get organic search traffic, which will help you rank for more keywords in the SERPs.
5. Detailed content analytics
Content analytics is another helpful feature that gives you a better understanding of your article's metrics.
According to an article published in Forbes, a survey from Deloitte states that a combined total of 74% of respondents agreed that analytics helps you to enable better key strategic initiatives, make better decisions, and improve relationships with customers and business partners.
You can compare links against other links to see which performs better and discover which affiliate products perform best on the same page.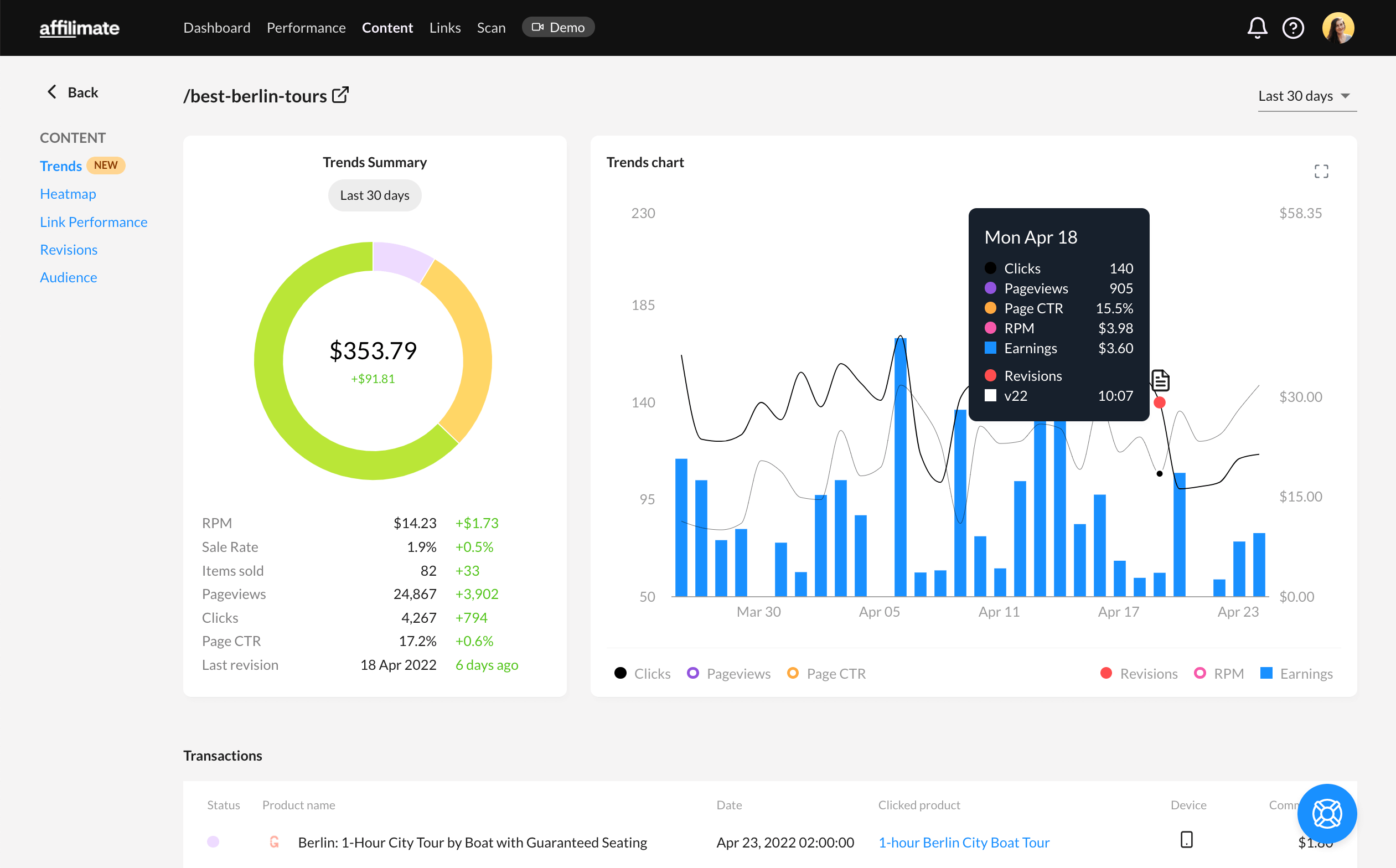 It's also great for discovering which changes (you have made on the pages and posts) have produced the best results. The software automatically splits up the data by date and revision so that you can see this data without any manual setting up on your part.
6. See a visual view of your conversions through heatmaps
The heatmap is another helpful feature that provides you with a visual view of your content, showing you which buttons, links, elements, and copy are driving the most conversions.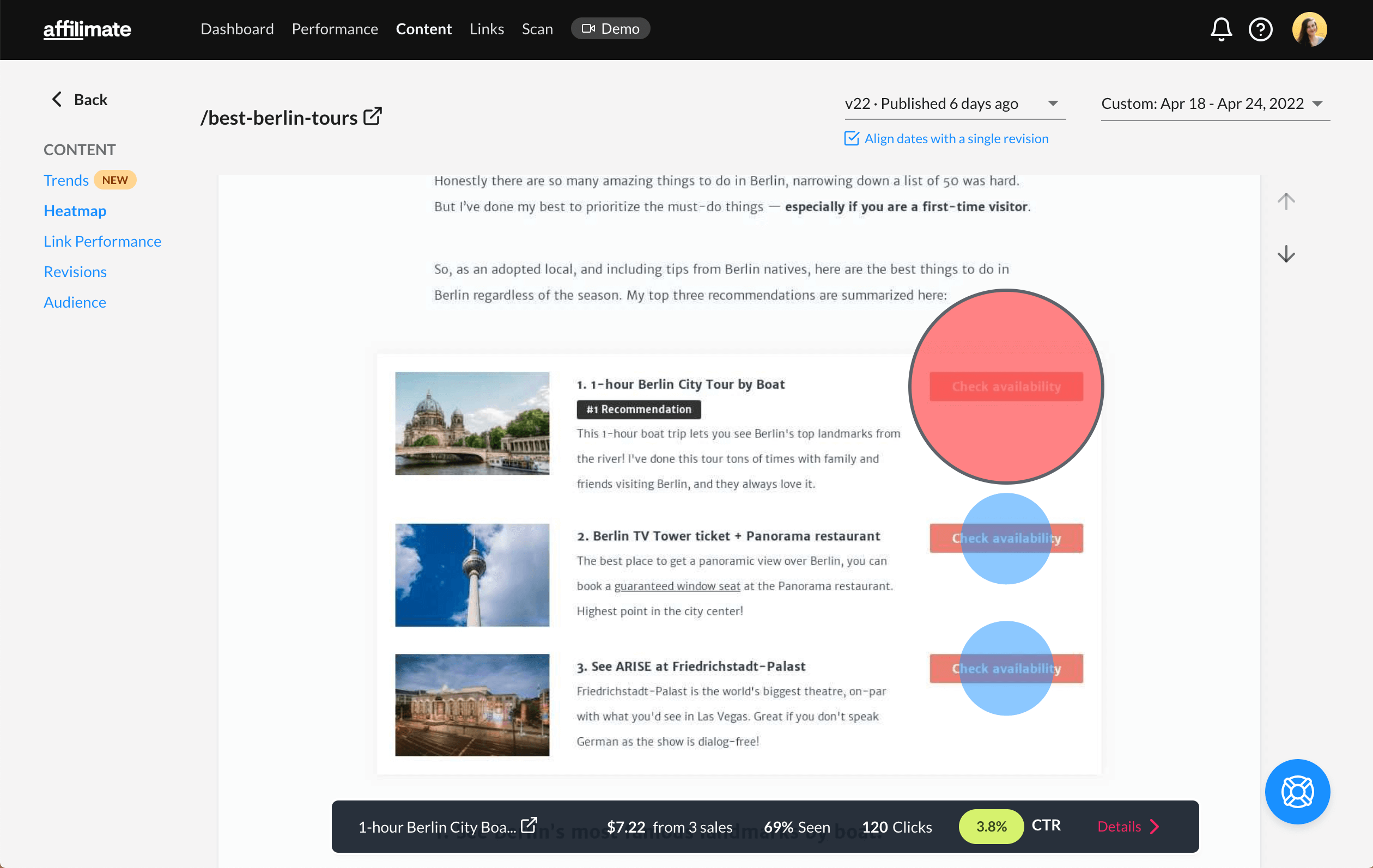 Affilimate's heatmap software will highlight heat areas for the popular parts of your site, and it's pretty slick compared to other heatmap tools.
Because Affilimate uses a low amount of data for this feature, it enables them to avoid any speed issues.
You get to see the best places to have your ads, buttons, and links for specific pages so you can copy this throughout your entire website.
7. Export your affiliate links into CSV/Excel
When selling a website, it's essential to be organized and have all the available data for the buyer. For example, if you have been making money from affiliate links on your site, you can impress them with a list of all the affiliate links you use.
Instead of doing this one by one, you can download a complete list from inside the software and save it as a spreadsheet.
Another valuable way to use this feature is if you want to give the list to a third party for them to go through and identify the broken links and fix them for you
8. Invite team members and writers
If you outsource writing or have a team of workers, you can provide them with separate login details to view reports or perform tasks.
You can ask your writers to look at the content that's performing well and produce content of a similar layout and style.
If you want to impress a potential buyer, you could give them login details and let them look at how your site is performing and how much each link is making you — they'll be impressed and instantly know that your affiliate income is genuine.
9. Ability to request new integrations
There are over 100 integration options available, so whichever affiliate network you use will likely be compatible with the software.
But in case something is missing, you can easily file an Integration Request from inside the app.
There are new integrations added every single month.
10. Excellent support
I don't care how good software is; if the support is lacking, I don't purchase; however, that's not the case with Affilimate.
Setting up your site is pretty simple, and there's support there if you need it. After logging in, you see a great getting started video, which is short but covers everything you need to know.
You'll notice that each section has a help center icon and a chat box to contact support if needed.
I contacted support via email, and the reply was swift, accurate, and polite.
In addition, they have a blog and an extensive knowledge base, plus you can book a demo where a team member will personally walk you through the software.
Summing up & actionable points
Affilimate is an excellent tool for website investors who monetize their websites through affiliate marketing. It enables you to keep track of your affiliate links and much more under a straightforward platform.
If you're selling your website, you can use the invite teams feature and the reports to impress the potential buyer.
If you're building a website, the features such as content analytics, revenue attribution, and link management will help you find opportunities to increase your website's overall value.
Here are the actionable takeaways from the article:
Affilimate integrates with over 100 affiliate platforms
The dashboard gives you a convenient overview of all your affiliate links and networks
You can use the software to discover the best-performing content for your website
Heatmaps make it easy to see the best-performing links and areas on your site
You can export reports, invite teams and show your data to potential buyers
A demo version and a no credit card needed trial make it a no-brainer to test out the software.