The Best How To Guide Template for Bloggers (Plus Examples)
By Chrissy Kapralos · Updated Jul 10, 2023
Readers love when affiliates solve problems for them. The best way to lend a helping hand? A how-to guide.
People are busy.
With a social life, love life, and financial life that somehow all need to be tended to on the very same day, where do we turn for advice on how to sort everything out?
Google.
Maybe it's learning how to make a Ramos Gin Fizz for that cocktail party you planned for this weekend. Or how to decide on the perfect hotel for your honeymoon. Or how to finally get rid of your credit card debt.
Notice something familiar about all these topics? Along with so many others, they each have potential for affiliate content – specifically a how-to guide template.
A Ramos Gin Fizz how-to guide could have affiliate links from all the highest-revenue alcohol affiliate programs and Amazon example cocktail products.
How to pick the perfect honeymoon suite in Tulum during the busy season?
Hello, travel affiliate program links! And if you write a credit card debt quick-reference guide? You could feature lower-interest options from credit cards with affiliate programs.
We could go on with endless niche potential, but you have one vital task before you get typing:
Writing a "how-to guide template" that promises traffic and conversions.
We'll walk you through the step-by-step making of a how-to guide, share expert tips, and show you how to maximize performance with Affilimate's dashboard and analytics!
What is a "how to" guide?
A how-to guide can be a type of commerce content that walks your readers through a given task with clear steps, guidelines, personal tips, and further considerations.
The blog article is a common content format for how-to guides, but YouTube videos and social media slides are also popular.
You can create how-to guides for pretty much any task you think your readers would find useful.
Brand products, like the blender Vitamix, are good source material for how-to guides. You might create a generic "how to use my Vitamix" how-to guide or something more specific like "how to make soup with my Vitamix."
And that Amazon affiliate link makes it an "affiliate how-to guide."
But you can write how-to guides for more grand endeavors, too. A travel blogger might create a detailed how-to guide for gaining citizenship in a country. The steps in that guide could range from compiling necessary documents to expert tips for navigating bureaucracy.
Why would a reader turn to an affiliate how-to guide rather than the Vitamix instruction manual or their embassy's website for emigration instructions? The affiliate how-to guide offers the uniquely valuable personal experience that no organization's boring website could provide.
Ryazan Tristram, founder of travel blog Everything Zany, stresses that a how-to guide should have a "personal and first-hand experience touch to it." That way, it'll stand out from competitors like Tristram's dual-citizenship how-to guide for Filipinos: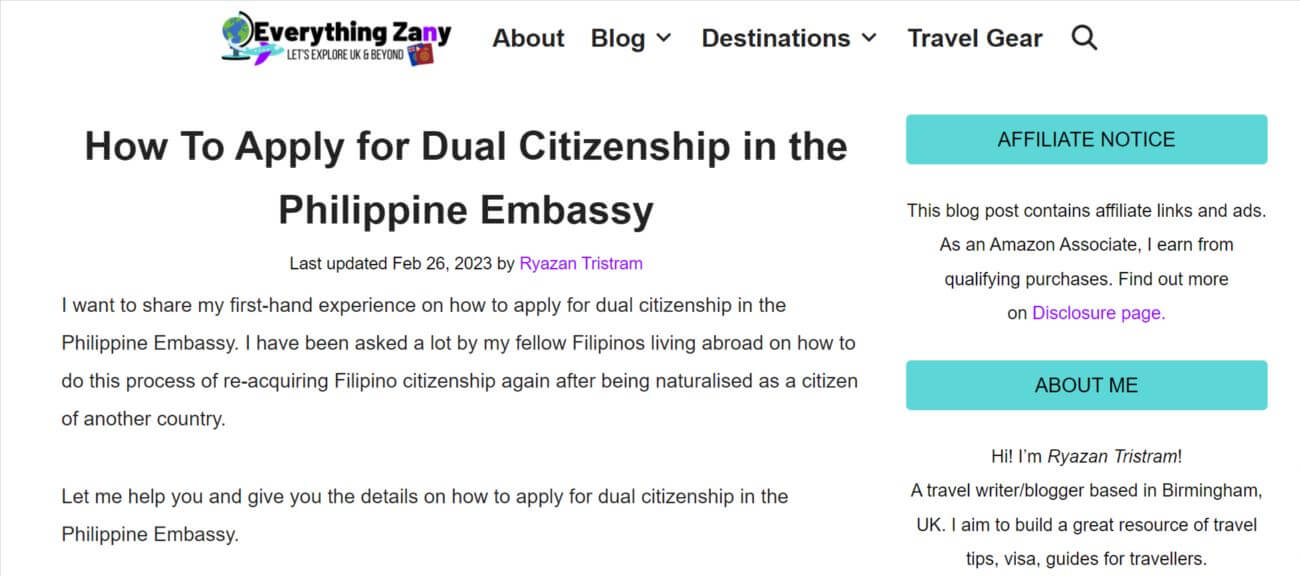 These how-to guides might not always have direct affiliate links within them. However, they provide value to a reader and could encourage more traffic to other web pages that do have affiliate links.
Search Engine Journal describes how-to guides as a way to:
Display your knowledge and authority
Expand your web presence
Minimize a reader's learning curve
Save your readers time and frustration
How to guide template
As part of our ongoing research into emerging affiliate marketing trends, Affilimate leveraged our heatmaps and content analytics tools to study how-to guides. We can now make exciting observations about content types, topics, and web elements that generate the most user activity, traffic, clicks, and sales for our affiliate clients in plain view. On top of that, it's clear that the how-to guides that drive engagement and conversation rates all follow the same formula.
Ready to be a source of knowledge and relief for your readers? Here's how to write a how-to guide template, which includes:
1. A catchy title
Your title should capture two things: search intent and interests. Let's start with intent. Web users have four motivations for searching online: informational, transactional, navigational, and commercial.
Search intent breakdown:
Informational: User is seeking information
Transactional (Buyer): User is looking to buy something
Navigational: User is looking for a specific brand or website
Commercial: User is almost at the transactional stage, but needs more research.
Blogging Wizard recommends placing informational intent queries like "how to x" all over your headings, meta descriptions, and of course, in the title.
Check out this example of catching both intent and interest from How-To Geek:
To land on an eye-catching title, you'll also need to infuse clear buyer intent keywords accordingly.
But the reader's interest will only peak if they see straight away that your how-to guide will solve their problem. Give them a taste, just like what Coco & Eve did: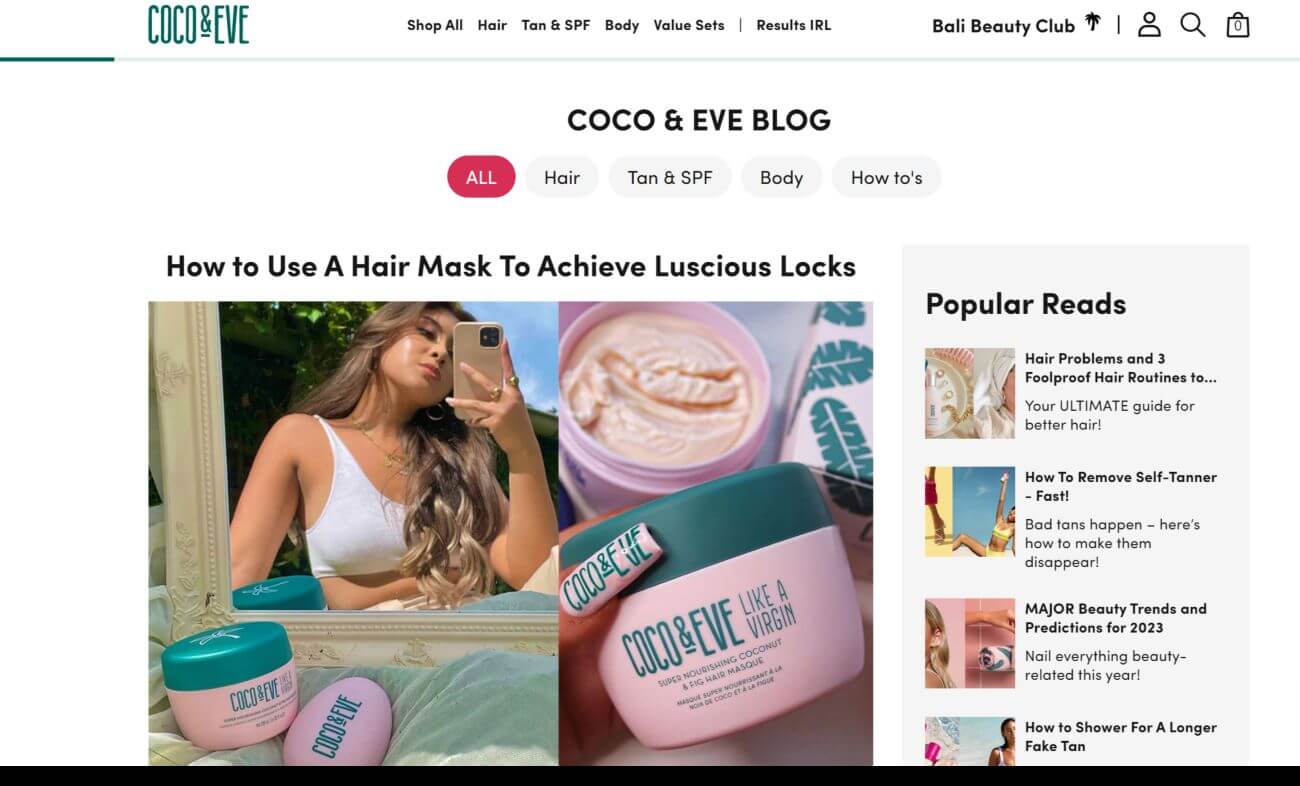 To review, the ideal formula for a how-to guide title is:
How to + Verb + Topic or Brand Name + Result = The Perfect Title
2. A straight-to-the-point intro
The intro to your how-to guide should be short and sweet.
You don't want to take away from the meat of the guide (the steps and expert advice), but you should still engage your reader.
Yvonne Ivanescu, founder of travel blog Now In Portugal, recommends using intros to tell readers why they should trust your judgment:
Remember to demonstrate first-hand experience from the get-go. This will help Google's search quality rater guidelines: E-E-A-T (Experience, Expertise, Authoritativeness, and Trustworthiness).
Nina Clapperton, founder of She Knows SEO, agrees with the importance of E-E-A-T and shares her go-to intro formula:
I love using Jamie I.F.'s SPEAR framework for intros, which involves answering the user's question, addressing their pain points, demonstrating your expertise, and using language specific to your audience.
But she goes a step further with her "Costco free sample" rule:
I give readers a taste of 1-3 pieces of information below. Since your intro is like a billboard for your post, you want people to see at a glance that you are going to help them.
We love Clapperton's data-driven approach. But don't be afraid to add some lightheartedness to your intro in the style of Rebecca Grabowski, founder of The Travel ScrapBook:
I keep it short and strong and personal.
I try to add a bit of humor since that tends to make people feel as though this will be an informative and entertaining article that isn't so dry.
3. A hook that grabs readers' attention
Next up, you should clearly state what your how-to guide is about and how it will help your reader.
An efficient blogger might accomplish this step within a concise intro, like Kat Smith, founder of A Way Abroad, does: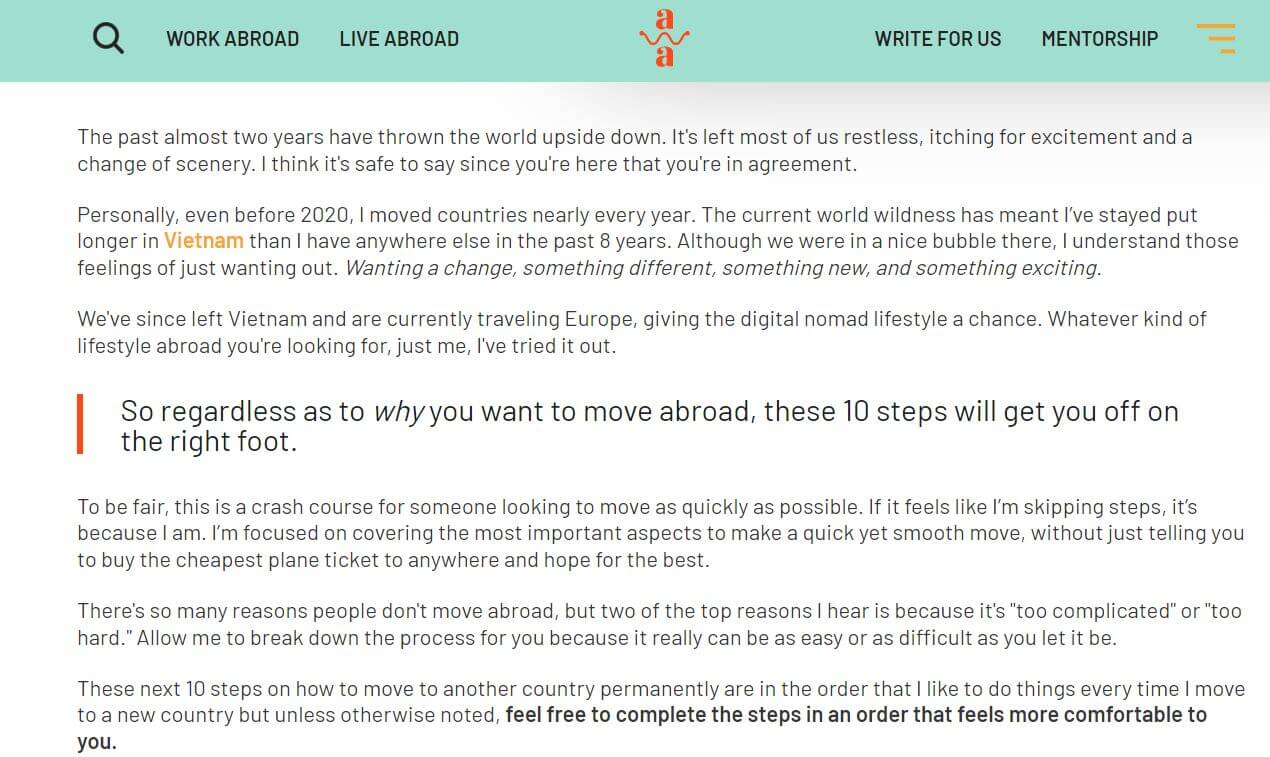 We especially love the text highlighted halfway through the intro that clearly defines what the reader will accomplish by reading Smith's article.
But you might also dive into greater detail about how your how-to guide solves your reader's pain point in a new section.
Elena Butler, part of the team behind Love and Lavender, adds a second intro section before the steps to resonate even more with the reader: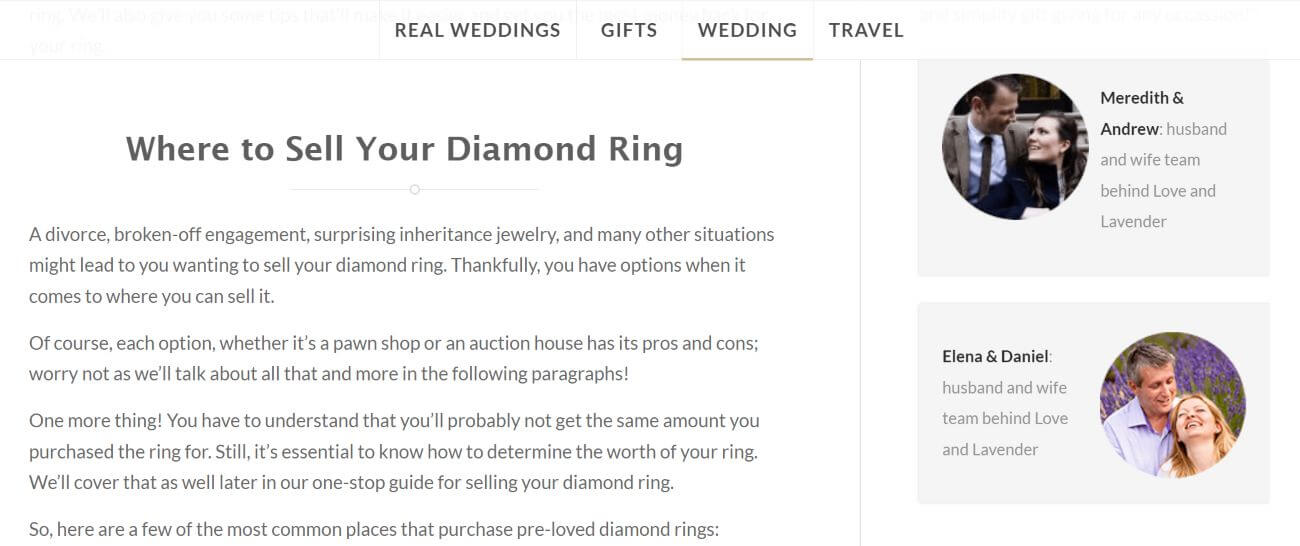 Usually, how-to guides help readers solve an issue. Our guides are written to include practical and actionable information that would help our readers solve a problem they're facing.
Whether you get to the how-to steps quickly or take your time to demonstrate your authority on the subject, make sure your readers have all the context they need before you jump into your guide.
4. A "too long; didn't read" (TL;DR) summary
Your process section gives your reader a play-by-play – accessible, logical instructions to accomplish the task at hand. But before you dive into the steps, we'd recommend listing each step in a skimmable list to ease the user experience.
Why? Because if you don't, you risk boring or even losing your readers.
High bounce rate has entered the chat.
Scannable bullet lists keep your reader focused. Content marketing expert Jayson DeMers posits that plummeting attention spans cause more readers to consume skimmed content than deep content.
Don't get us wrong – your how-to instructions should still be comprehensive. But you can't ignore your readers' skimming preferences. We think a short summary list accommodates both worlds.
wikiHow sticks this list right at the top of their article: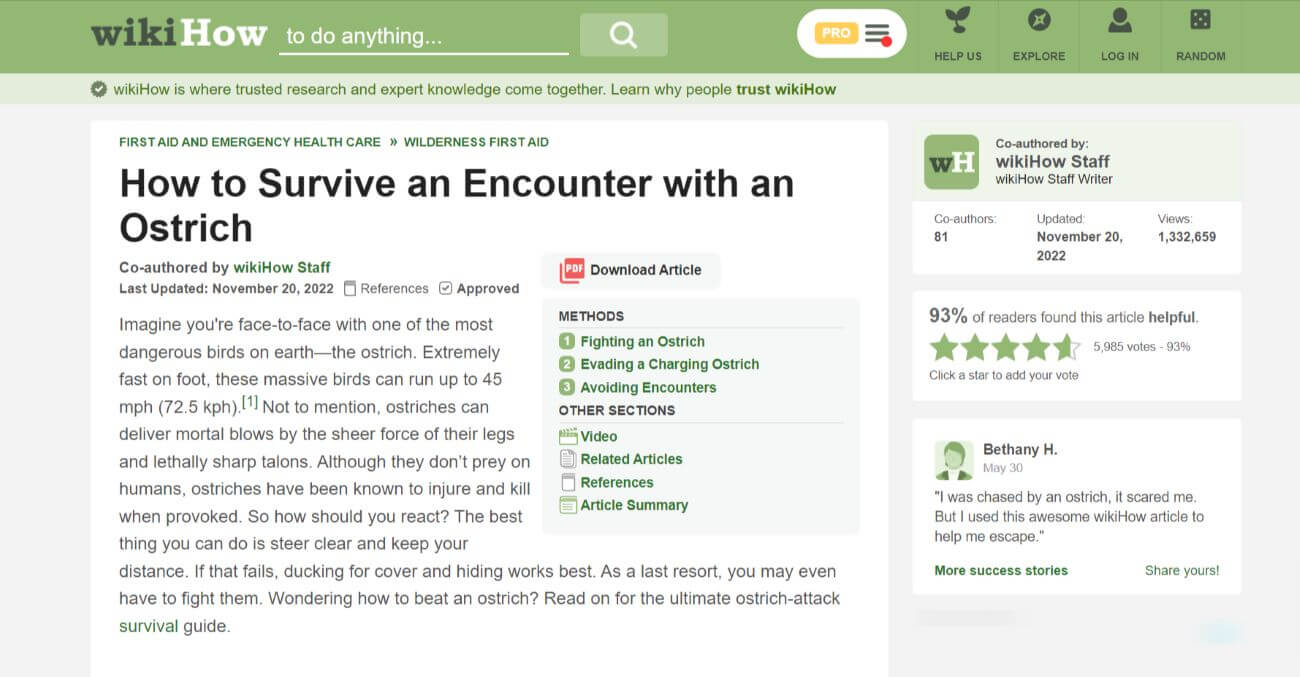 Even YouTube affiliates recognize skimmability as vital for today's time-pressed reader. Check out how this hair influencer offers video shortcuts for each step on YouTube: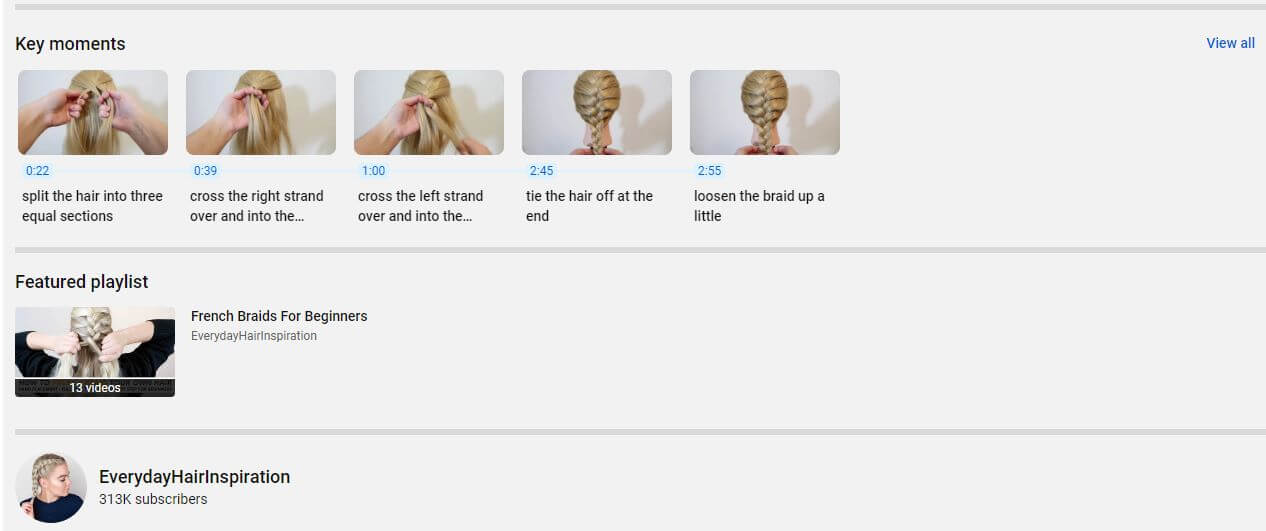 Now that you've prepared your reader with Cole's Notes, it's time to dive into the details.
5. A step-by-step guide that explains the "how-to"
This is the most important part of your how-to guide. When you break down your personal process for accomplishing something to your reader, you're their teacher. Hopefully, they will imitate you and achieve the same success you (and those who you've read about) have had in the past.
Each instruction should have active language, like verbs. For example, here's how we verb out our gift guide template: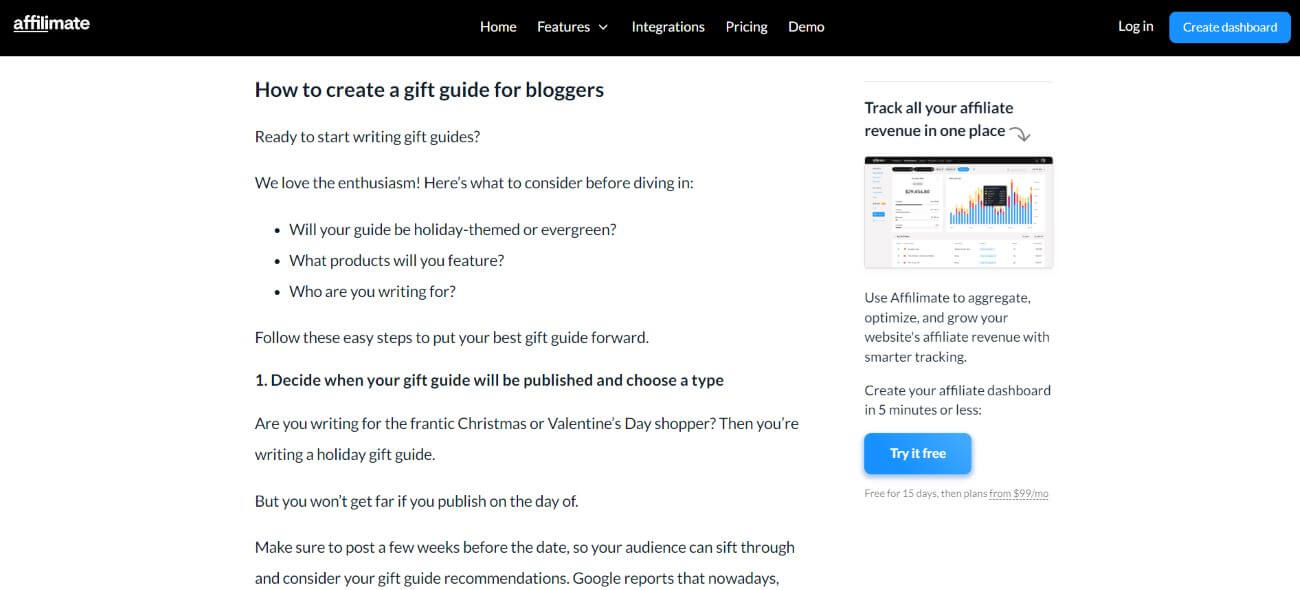 Some how-to guides simply bold the title of each step, but we suggest using a numbered list to ensure the reader understands that the order is important.
After the header for the step, write a short, clear paragraph explaining how to take it. Bonus points if you include a picture to help your reader visualize the process!
6. Insider tips
How can your reader get the most out of your how-to guide? They want those insider tips!
Think of it like the Half-Blood Prince's special tips in his potions textbook that helped Harry Potter maintain the top spot in his class.
You want to give your audience that same competitive edge.
Alyson Long of World Travel Family goes the extra mile by creating an exclusive convenience tool for her "How to Get Around Thailand" guide: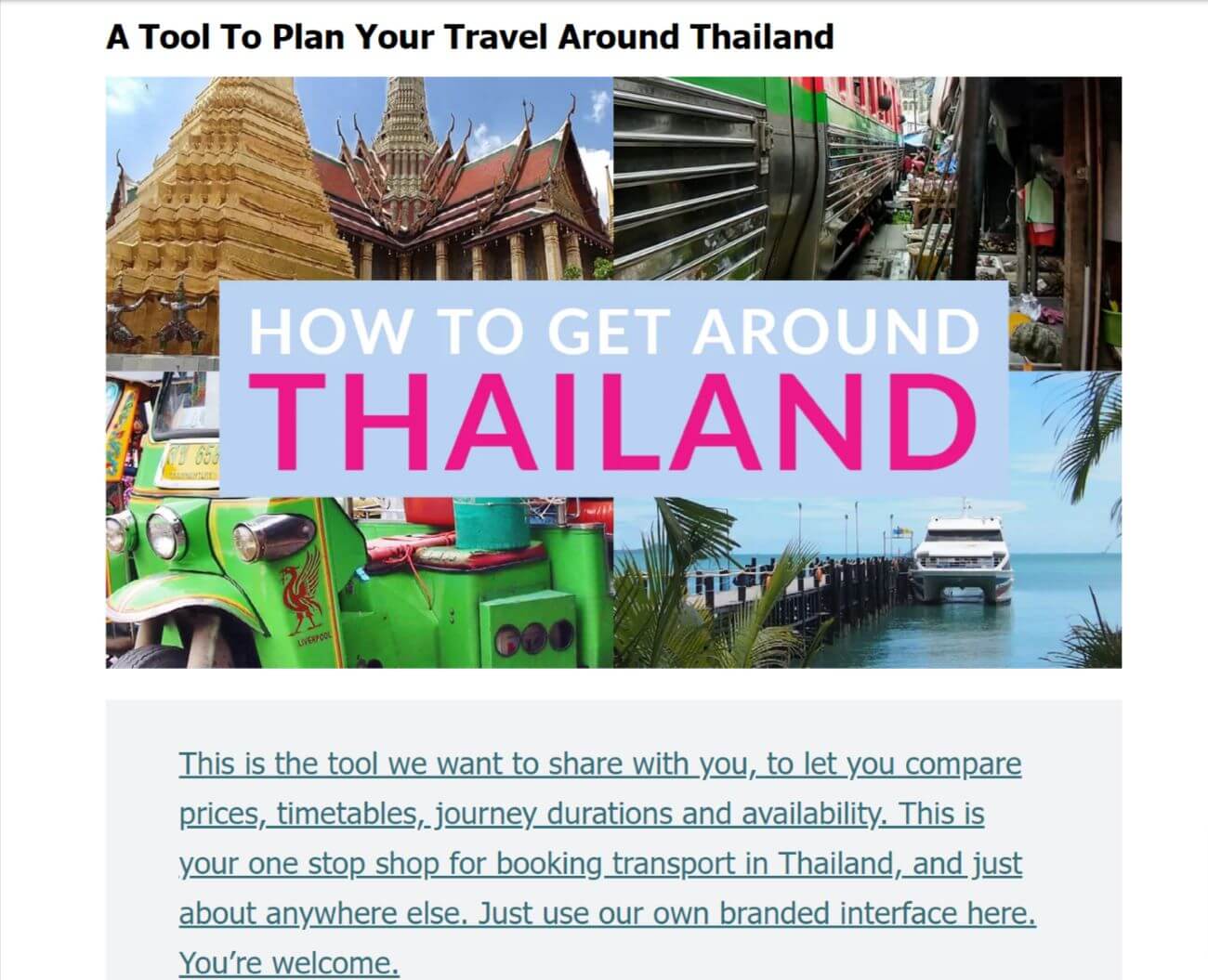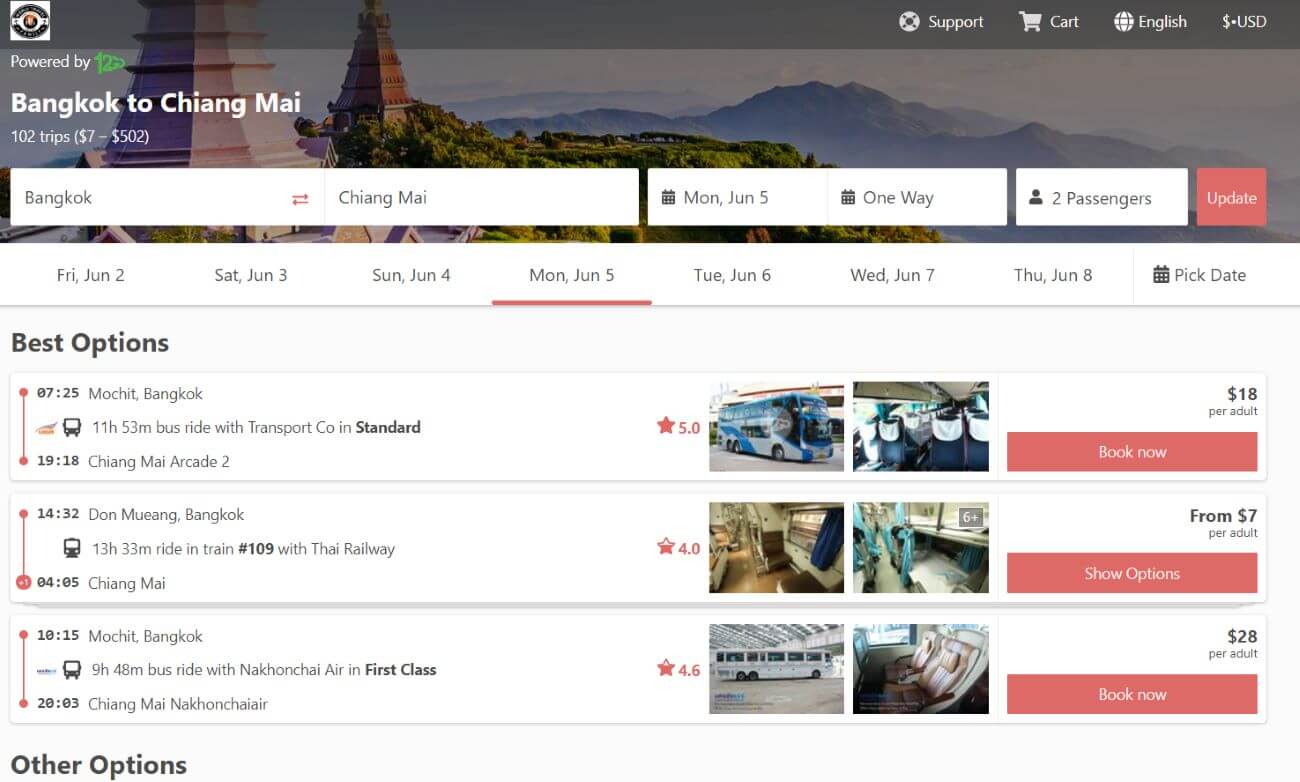 But if you can't create a travel tool, your reader will still appreciate some bulleted tips to support their journey. You might include specific times or techniques that you tried to achieve a quicker result, like using a special setting on a gadget, or talking to a specific person in a shop.
7. A conclusion that calls the reader to act
Summarize the anticipated result and what value it will bring your readers. This section should also offer some imagery, so your reader can visualize the fruits of their labor.
You might also provide next steps for how to maximize value in your how-to guide. Perhaps it's an invitation to book your consulting services or subscribe to your newsletter. Alternatively, the The Book Satchel directs readers to check out more articles on similar topics:

How to create a "how to" guide
Step #1: Plan your topic with personal experiences
We need a brainstorming session, stat. And the best place to start is your personal experiences. If you keep a journal, that's a great place to look. If not, try to remember what you've been up to lately, problems you've solved, or experiences you've had that your audience would be interested in.
Of course, keyword research comes into play in topic brainstorming as well (more on that shortly) – but not before personal experience.
Why? Kristen Allred, founder of The Trippy Life, says personal experiences are what her readers crave the most in how-to guides:
My readers want someone who knows what they're talking about.
It's really easy to spot right away if a writer is compiling information they found on the internet or if they have personal knowledge and experience.
She also stresses how much personal experience matters to Google.
Google loves it when you have personal experience and photos about the topic you are writing about.
Step #2: Conduct keyword research
If your audience is typing "how to x" on Google, chances are x is a good topic to consider.
But you should carefully vet keywords for:
Relevance to your niche
Relevance to your personal experience
Competitiveness amongst the rest of Google's search results
For example, Allred prefers using keywords that she deems easy to rank for.
She Knows Her SEO's Clapperton feels the same way, saying this about her process
I start with Keysearch or Ahrefs looking for a seed/root keyword. Then, I filter by difficulty, number of words (long-tail keywords have higher CTR), and by actual traffic.
Her process of elimination?
I won't write on a topic of the top three results that answer it so perfectly that nothing else needs to be written.
These competitors are hyper-niched to the topic and/or they have insanely high domain authorities (DAs) that I can't beat.
Here are some tools and resources you might consider for keyword research:
Google Trends
Semrush
Ahrefs
Facebook forums and other social media
RankIQ
Keysearch
Competitor analysis
Remember: Even if your personal experience doesn't match the popular keyword query your audience is using right this second, it's important to stay proactive.
Step #3: Keep the research going
Maybe your keyword research shows your audience is curious about flying with an airline that you've never flown with before.
In this case, the best solution would be to book a flight.
And when that's not feasible? Clapperton recommends diving even deeper into product research:
I look for YouTube videos with people using the products to see how they actually hold up in real life.
I then read customer reviews, check Facebook groups, and often even call the provider to ask further questions.
I ask for information as though I'm a customer to help me fill in more details on my experience.
Kamila Jakubjakova, founder of Expat in Canada, recognizes the influence of high product ratings:
My how-to guide products are a mix of personal things I've tried and research. The onus is on us, the bloggers, to recommend high-quality products.
You should have used the product – but if you haven't, take the time to look up reviews. If a product has 1,000 5-star reviews (but you've never used it), then it's probably safe to consider it.
Aside from direct experience, you should study your competitors' content. Chances are, you won't be the first person to have written a how-to guide on the topic at hand.
You can learn a lot from competitors, especially as a source of inspiration for how to reach your readers in your own unique way.
Annette Jones, founder of All Around Oz, uses competitive research to discover new, unique ways to wow her readers:
[I conduct] lots of research to find what is missing in posts already ranking for the how-to guide. Then, I fill in the gaps.
Love and Lavender's Elena Butler concurs and even takes competitor research back to her keywords:
Typically, we review top ten ranking articles and aim to cover the main topics converted by our competitors, and a few angles competitors left out.
So in order of importance, these are the items that should influence your how-to topics:
Personal experience
Keyword and competitor research
Product research and customer reviews
Once the research is done, it's time for writing and editing your how-to guide.
Step #4: Put your process to paper
Time to write out your steps. But don't rely on your memory of your process alone. Use our how-to guide template as a checklist to guide the work– just remember to pay extra attention to #5, "Explain the process and the steps."
Maybe you'll walk yourself through the process as you make notes on the steps, like Jakubjakova does:
I take notes and screenshots while I'm using a product. It helps me remember important points to include.
You might want to include more on visual prompts to help the reader envision your process like Freedom Ahn Chevalier, founder of EarthSurfer, does:
I flow chart the process and write from the visual.
Chevalier also adds personal screenshots to help the reader mimic her process as closely as possible: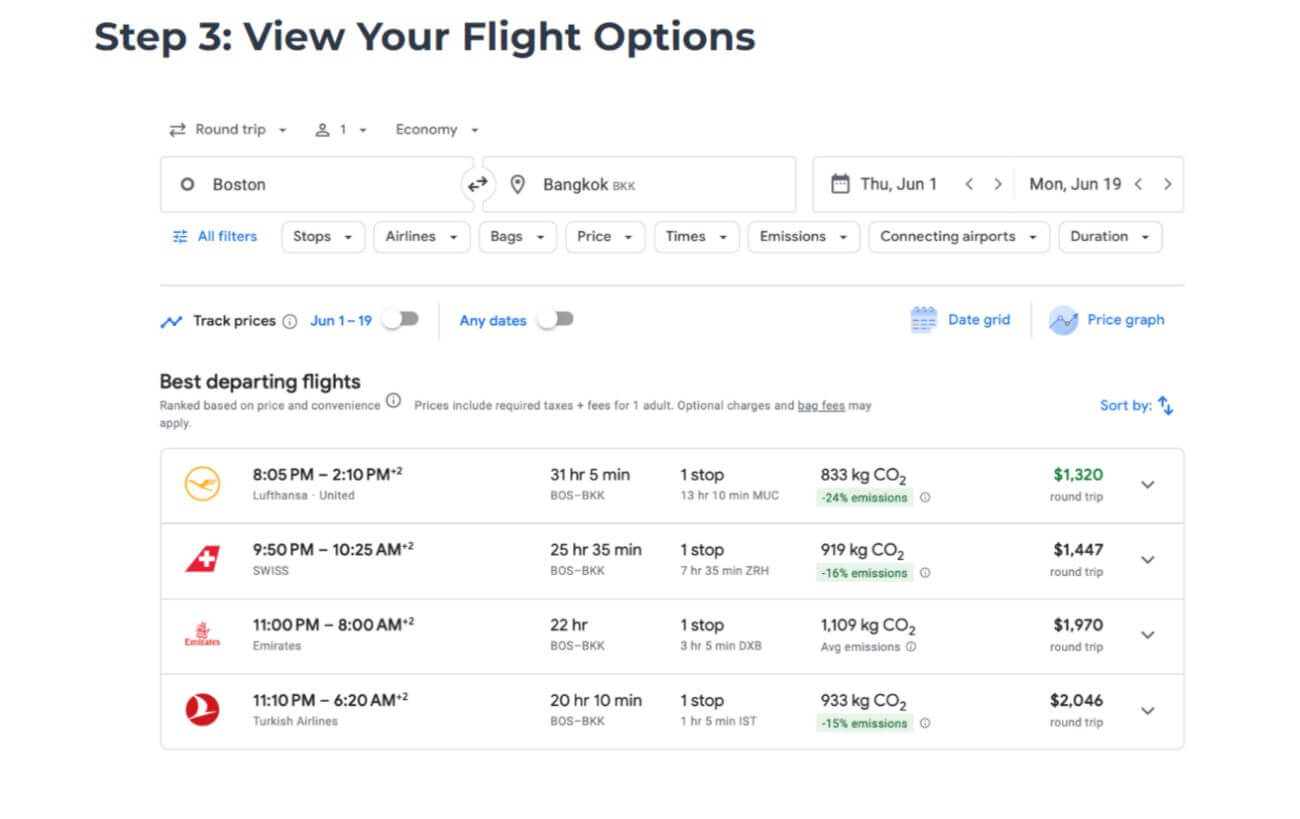 Step #5: Edit and test it – more than once
Last year, I took a recipe editing course.
We were advised to test out every step of every recipe, or at the very least, to imagine testing it out.
If any step feels unclear to you, you run the risk of your reader burning their turkey – and subsequently your cookbook out of irritation.
An unedited how-to guide will not only frustrate your reader – it will also undermine your authority and put their confidence in you at risk. That's why you have to retrace your steps one by one to ensure you've captured everything.
Yvonne McArthur, founder of Guate Adventure, always reviews for flow:
I start with an outline, then read through it to check for flow. I ask myself if it would make sense to me as a reader. Sometimes as I'm writing, I'll realize the flow isn't right and rearrange.
Chevalier takes things up a notch by enlisting an objective reviewer:
I hire a beta reader who knows nothing about the subject to review it and point out any parts that don't make sense/require clarification.
Here are some questions to ask yourself as you edit your how-to guide:
Could I carry out these instructions confidently without any prior knowledge, or would I still have questions?
Am I bored? Does the copy feel like it can be amply expressed in fewer words?
Are the steps in order? Have I skipped anything?
Does the how-to guide show enough examples, images, and visual cues to help visualize progress?
Does the last step clearly demonstrate a result?
Next up, you might want to consider post-publication duties: promotion, traffic, and results.
Step #6: Drive traffic to your how-to guide
Even before you hit "publish," you should know how you're going to put your content on your audience's radar. Search engine optimization (SEO), email marketing, and social media are your friends here.
A super affiliate like Chevalier might start seeing traffic immediately:
In 15 years of marketing, I've never had to push well-written guides to get attention – they find their legs organically. Good guides get shared.
Still, a little on-page SEO and backlinks never hurt. For Ivanescu from Now In Portugal, the answer to traffic is always SEO.
I focus 100% on organic traffic. I think that SEO is the most powerful way to get it.
The Trippy Life's Allred sprinkles in some email marketing:
I promote all my blog posts the same – newsletter, social media, etc. But the main way I get traffic is through SEO.
And Dawn Robson, founder of Culture Feasting, dives into the internet trenches to find ideal readers: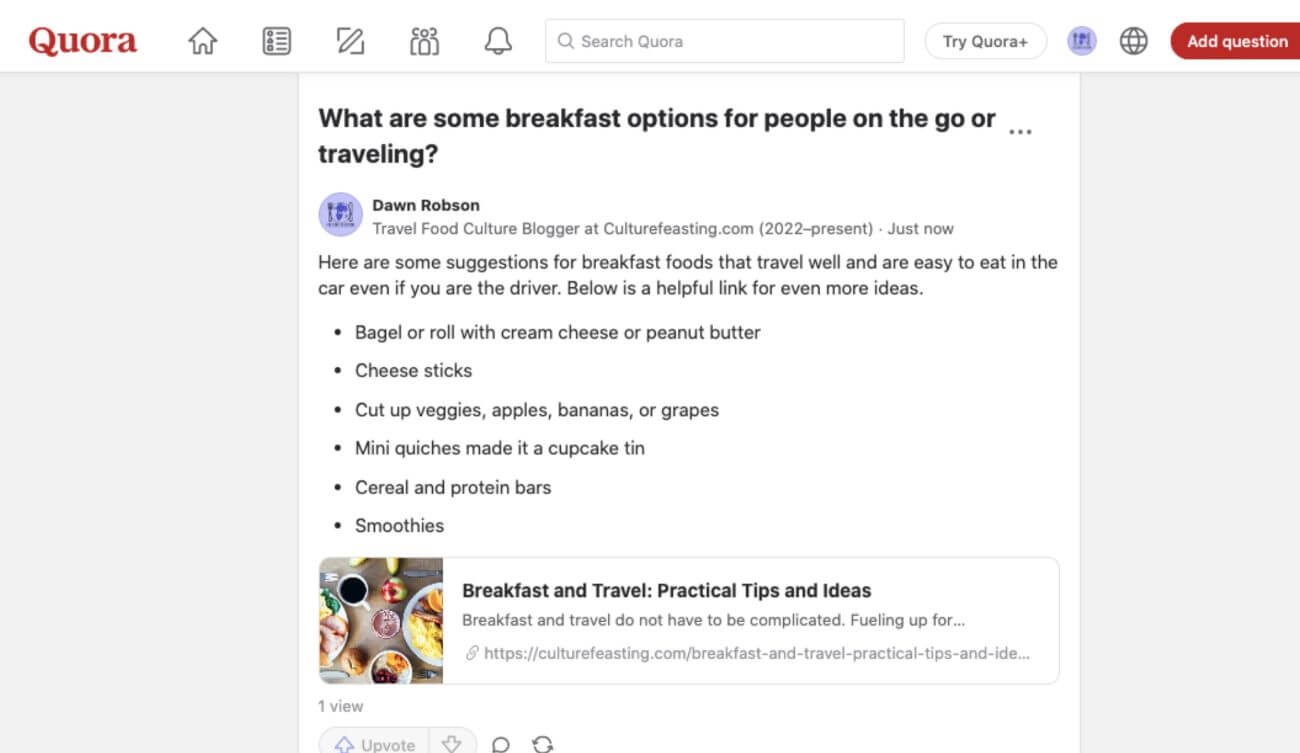 I look at places where people are asking the question I have answered in the article. This could be Facebook groups or Reddit.
Then, I try to answer in a concise, helpful way and drop the link to provide more information.
Need more traffic inspiration? Check out our roundup of the 10 best free traffic sources for affiliate marketing.
Step #7: Measure performance
Congratulations! Your slammin' how-to guide is out in the world gracing your readers with clarity, value, and time savings. Are you blushing? You should be.
But what should you do if/when that initial buzz dips, and after a few weeks, tumbleweeds roll past your once-poppin' webpage?
As an affiliate publisher, the exact arrival time, number, and duration of those tumbleweeds are your business. In other words?
You need to measure performance from publication to now so you can make predictions about future traffic. Affilimate's customizable analytics suite makes it easy to measure the most important performance indicators, including:
Click-through rate (CTR)
Rank
Clicks
Earnings per click (EPCs)
Impressions
Views
Transactions
So let's say your clicks are high but customers are bouncing off your website in a snap. Affilimate's heatmaps can help you pinpoint exactly where you lost them.
Maybe you bored them in your intro. Or one step was a bit too confusing.
You can fix these and use this data to improve your broader strategy for the rest of your content calendar.
Before you venture off to craft your own how-to guide, here are a few important parting tips.
Bonus: tips for an ultimate how to guide
Looking to leverage your how-to guide? Read on for insider tips from our contributors:
Top tip – Ensure your step-by-step guide has a clear "problem" and "solution"
I like to think that these how-to guides are the problem solvers for my audience. It helps them to solve their problem or make a decision based on what they can read from your blog.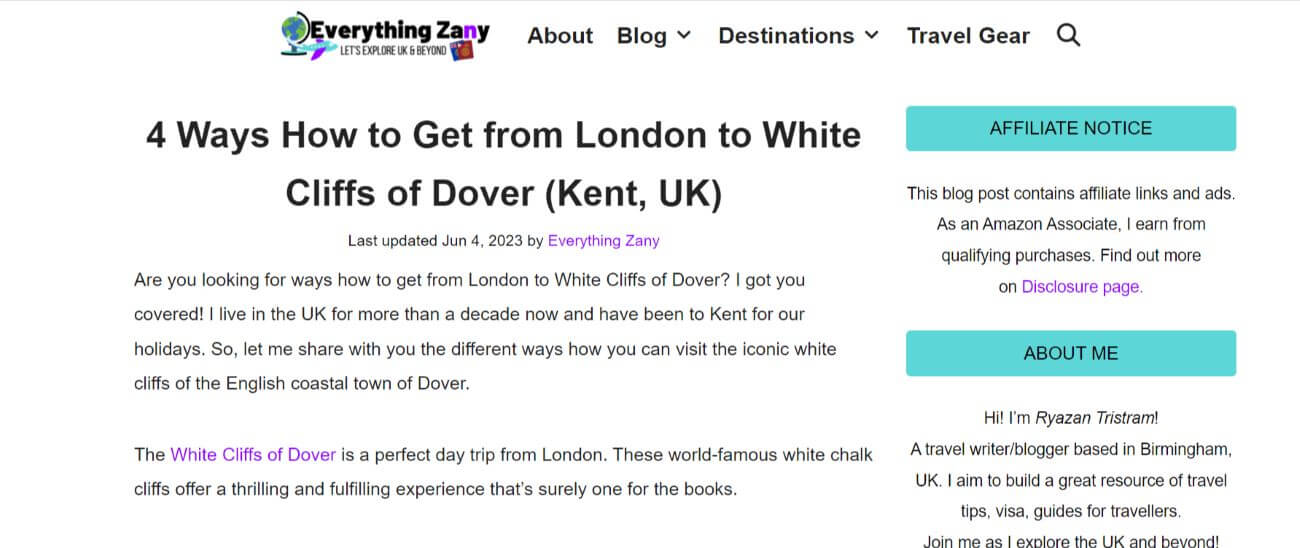 Tip for content layout – Make your how-to guide skimmable
Make the article as digestible as possible.
Organize your article with appropriate headings, a table of contents that stands out and gorgeous photos to break up the paragraphs – this can make it easy for people to read through the article.
Ivanescu takes her own advice with short, breezy paragraphs, bolded themes, and digestible bullet lists: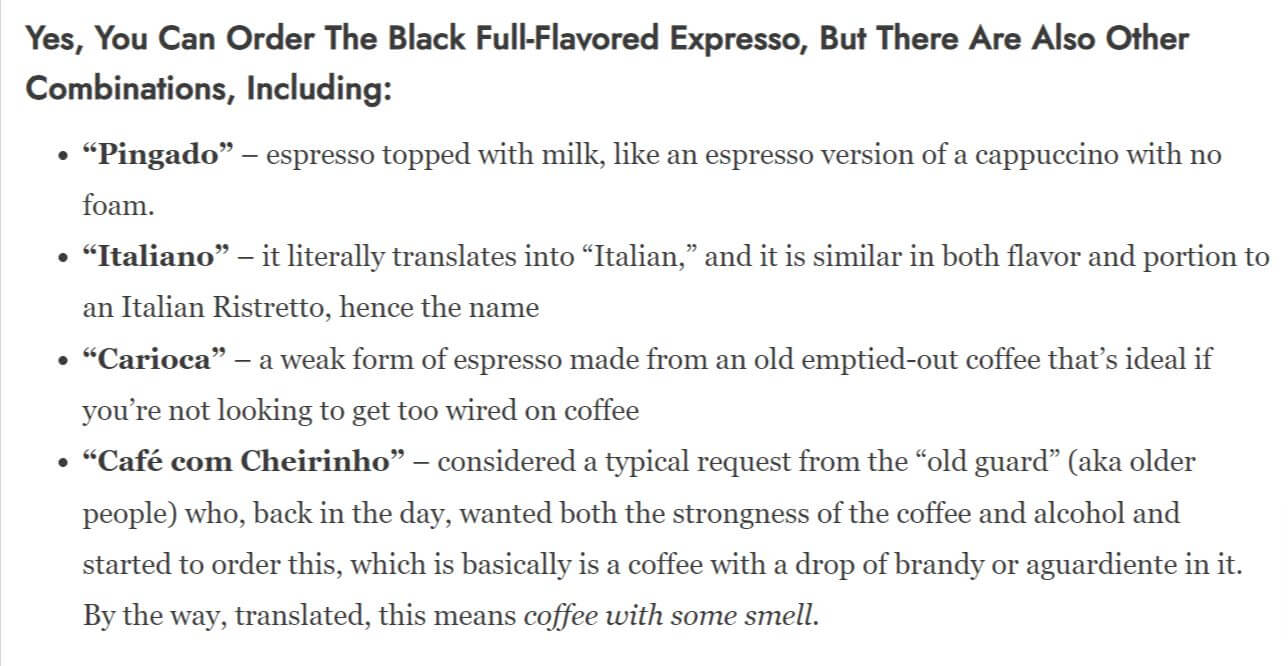 SEO tip – Prioritize personal experience first, keywords second, and competitive research third (Allred, The Trippy Life):
My guide is in the #2 spot on Google. It is beating The New York Times among several other large sites. I believe it is because I have my own vacation rental and therefore personal experience.

Advanced tip – Think about where your how-to guides fit into your overall content strategy
How-to guides are an important part of my strategy when writing about places in my niche that have not been covered adequately from another source.
Time to put it into practice
The data shows that exceptional how-to guides that generate engagement and revenue all follow a straightforward formula that you can start using today. Remember to bookmark this how-to guide on how-to guides – you can use it for endless content ideas year-round.
If you're excited to start using data-designed how-to guides to bring more attention to your site, check out your audience's social media buzz, use keyword tools, and leverage your personal experiences for inspiration. You'll get the creative juice to start writing in no time, and this handy how-to guide template will help you along the way.
But don't forget: Even exceptional how-to guides and other kinds of affiliate content won't create a successful affiliate marketing business overnight. To maximize your content's reach, you'll need to track performance on an ongoing basis.
After all, you shouldn't just wish to have eyes and ears out wherever your audience is scrolling, clicking, and, most importantly, making purchases – you should find ways to optimize this process.
Affilimate pulls affiliate links, content analytics, and more into intuitive dashboards that help you make smart, data-driven decisions. Sign up for Affilimate's free trial to put your content to work today.