6 Types of Affiliate Marketing for Savvy Affiliates in 2023
By Chrissy Kapralos · Updated Jan 31, 2023
The world is an affiliate's oyster – but you'll only snag the pearl by leveraging the right types of affiliate marketing.
A restaurant might have a lovely rooftop patio, while another has an exclusive meal-kit service. Then there's the food truck down the street, the chef-turned-nutritional-social-media-coach, and the quick-serve takeout joint.
We know what these businesses have in common – they all sell food. Their decision to follow different paths – different business models – will have a direct impact on their success. Affiliate marketing is no exception. Just like other businesses have different models, affiliates can choose from different types of affiliate marketing.
Are you into fitness? You might have a fabulous YouTube channel with classes where you share affiliate links to bicep blasters and booty bands. Subscribers? 50,000, you say? Not bad at all!
But what if your skills and content could garner you even more traffic and commissions on other platforms?
Imagine: A perfectly poised SEO blog; your very own fitness coupon website; or even a scroll-worthy Instagram account to compliment your YouTube channel.
Even if you're most successful with your existing affiliate marketing channel, it's important to learn about every type of affiliate marketing, so you can maximize the impact of your valuable time and energy.
1. Blogs and content: Media publishers and bloggers
Ever dive into expert opinions about your favorite type of cuisine? Or read about a blogger's experience traveling in Bali? Bloggers are well-equipped to generate affiliate income if they have the traffic.
The Performance Marketing Association (PMA) recently released its latest report on the affiliate marketing types different industries have been spending big on. We'll refer to a few of PMA's industry insights throughout this article, starting with blog content.
Media publishers and bloggers – aka "content and content-heavy subnetwork publishers" – account for 27% of companies' affiliate marketing spend. And 24% if you swap out subnetworks for comparison sites: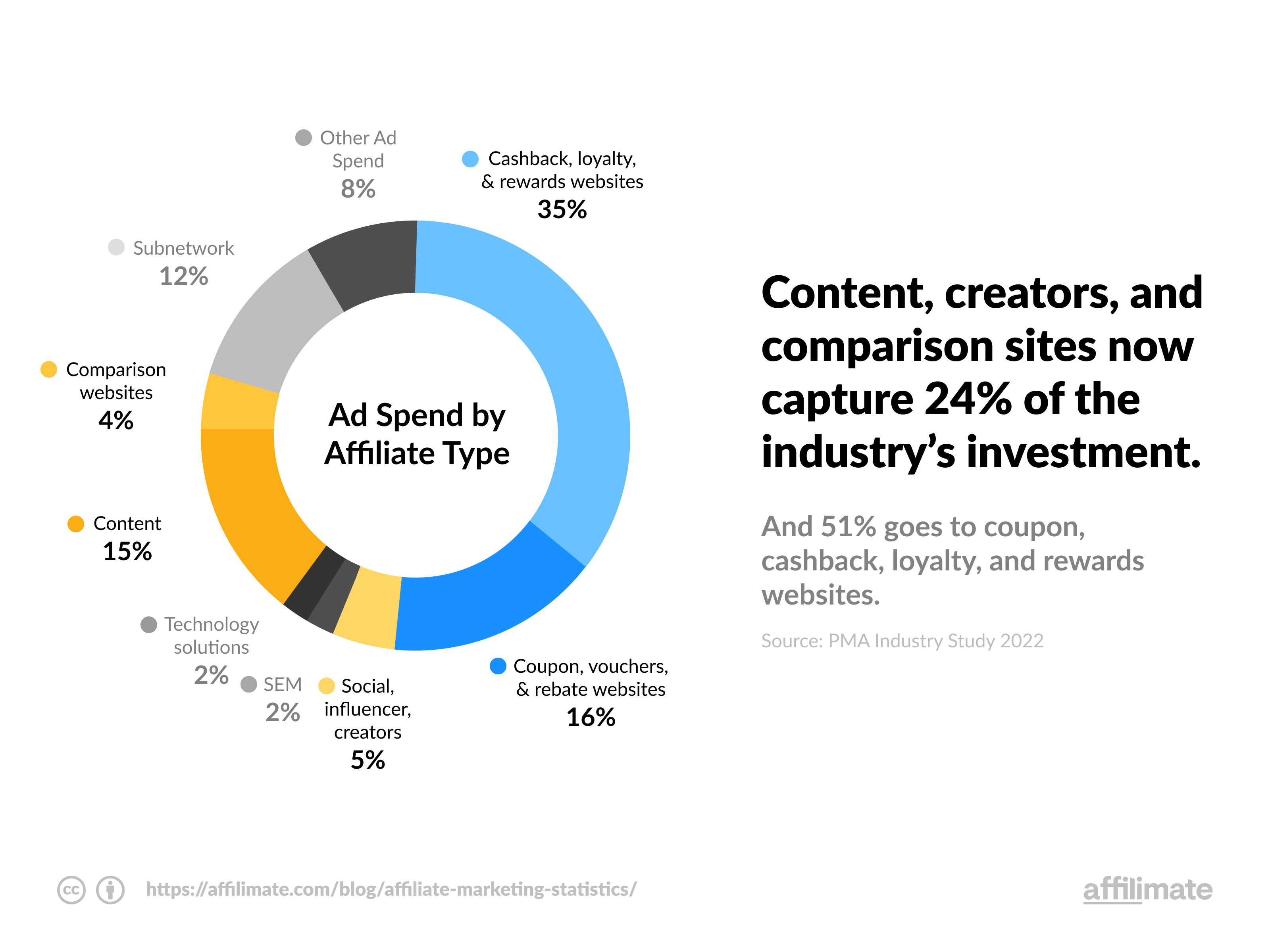 So what are some top names in your content consumption roster? Maybe it's Healthline for getting rid of that cough or Lonely Planet for travel tips – Red Ventures, a media company with many websites, owns both. They once topped the list of most profitable American companies but recently fell off, dipping below $2 billion in revenue.

Still, Red Ventures manages different types of affiliate marketing websites with great success. Lonely Planet, for example, isn't your average blog. This travel site is a well-oiled media publisher with an optimal SEO strategy, regular content, and endless affiliate links that bring revenue.
No wonder they have millions of web visits each month: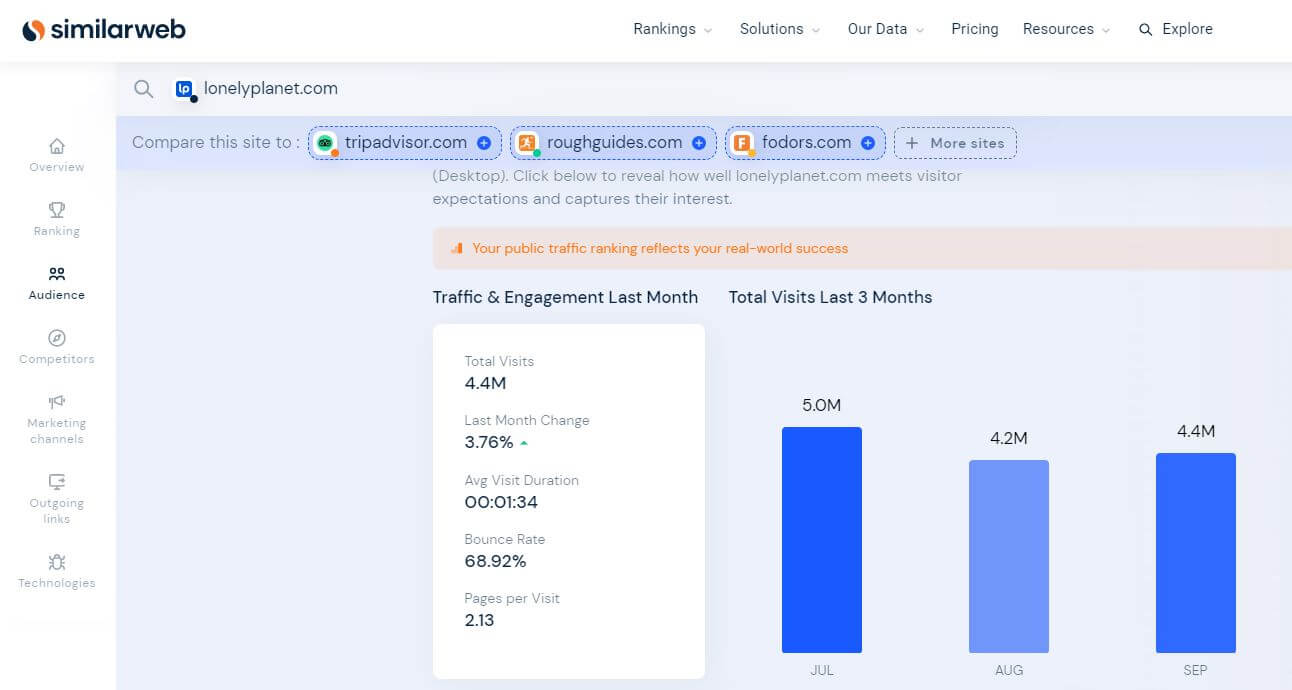 This type of traffic and revenue is consistent with the PMA's finding that major media publishers earn about 46% of content affiliate revenue vs. the 35% bloggers earn.
Still, affiliate marketing for bloggers is a lucrative pathway if you:
Understand your audience.
Promote your links.
Create a data-driven strategy.
Hype up your SEO.
Keanen Buckley, Thinkific partner, manager, and founder of the blog consulting business KeanenBuckley.com, counts blogging as a favorite affiliate type.
Bloggers might be my favorite type of affiliate partner.
Their businesses are built around the affiliate model, so they're putting out a ton of middle and bottom-funnel content to drive sustainable, organic traffic.
They can operate as an extension of your own content marketing team, and they're often very self-sufficient.
For example, just look at Alyson Long's travel blog, World Travel Family. Her blog is jam-packed with valuable and relatable insights for traveling families, complete with honest suggestions for products her audience would actually benefit from.
We love her down-to-earth voice, and matter-of-fact promotions – an anti-theft travel bag sounds like an especially helpful tool for the traveling family.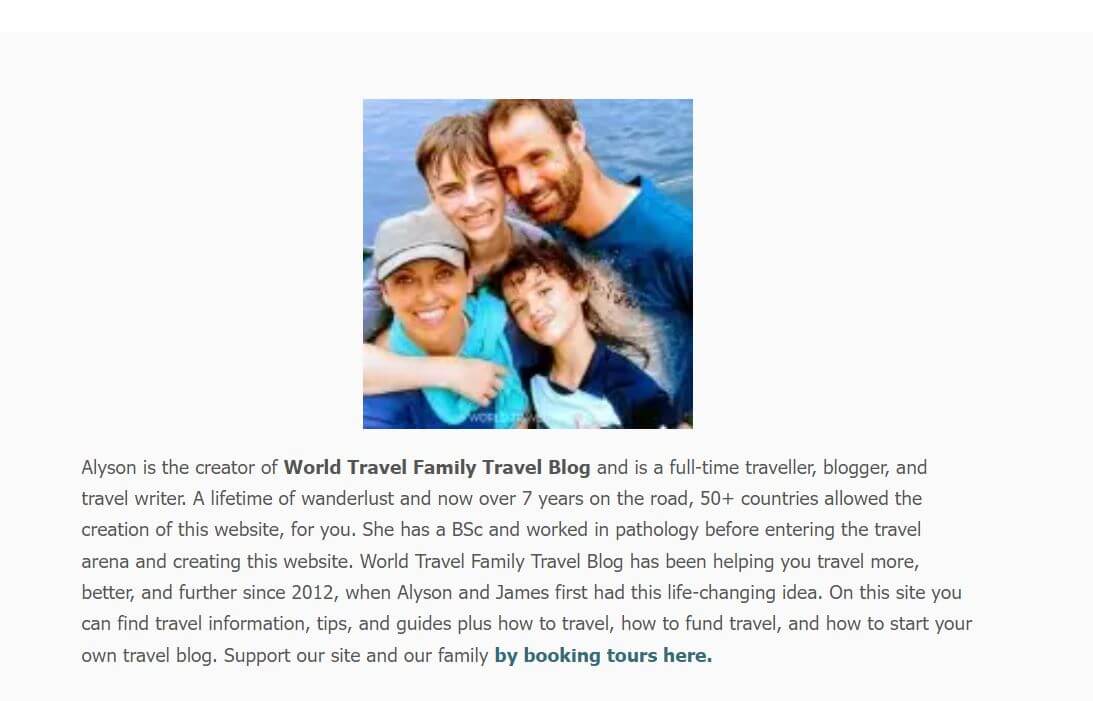 Alyson Long obviously isn't as big an entity as Lonely Planet. However, her approachable personality and writing have attracted over 160,000 visitors this past month across the world, not just in her native Australia.
Regardless of the types of affiliates you decide to approach – personable bloggers or giant media publishers – you'll need the right insights to engage them effectively and see the results and revenue you're after. Affilimate can help with aggregated commissions, link management, and content analytics!
Don't take our word for it. Long just wrote us an inspiring note:
I have at least quadrupled my affiliate revenue since getting Affilimate – cheers!
Pros of media publishers/bloggers: Easy to start a blog, but…
Cons of media publishers/bloggers: Requires long-term SEO strategy (minimum one year) to see results
2. Social, influencer, and creator
Social media influencers and creators excel at one of the most important parts of marketing: building customer trust. It's easier to trust people than corporations. In fact, 37% of customers trust influencers more than brands.
And influencers level with audiences enough to create common ground, relatability, and trust. Today's social media influencers create community and build relationships with audiences from Twitter, Pinterest, Instagram, YouTube, Facebook, Reddit, Discord, and more.
One Instagram influencer that comes to mind is Charlotte Smythe, owner of @cleanfoodiecravings. She's a coffee connoisseur who delights her 228,000 followers with satisfying videos of coffee concoctions, clean eats, home decor inspiration, and organization tips.
As a lifestyle Instagram affiliate, Smythe features many links from Amazon for espresso machines and accessories, food items, creams, and small furniture pieces.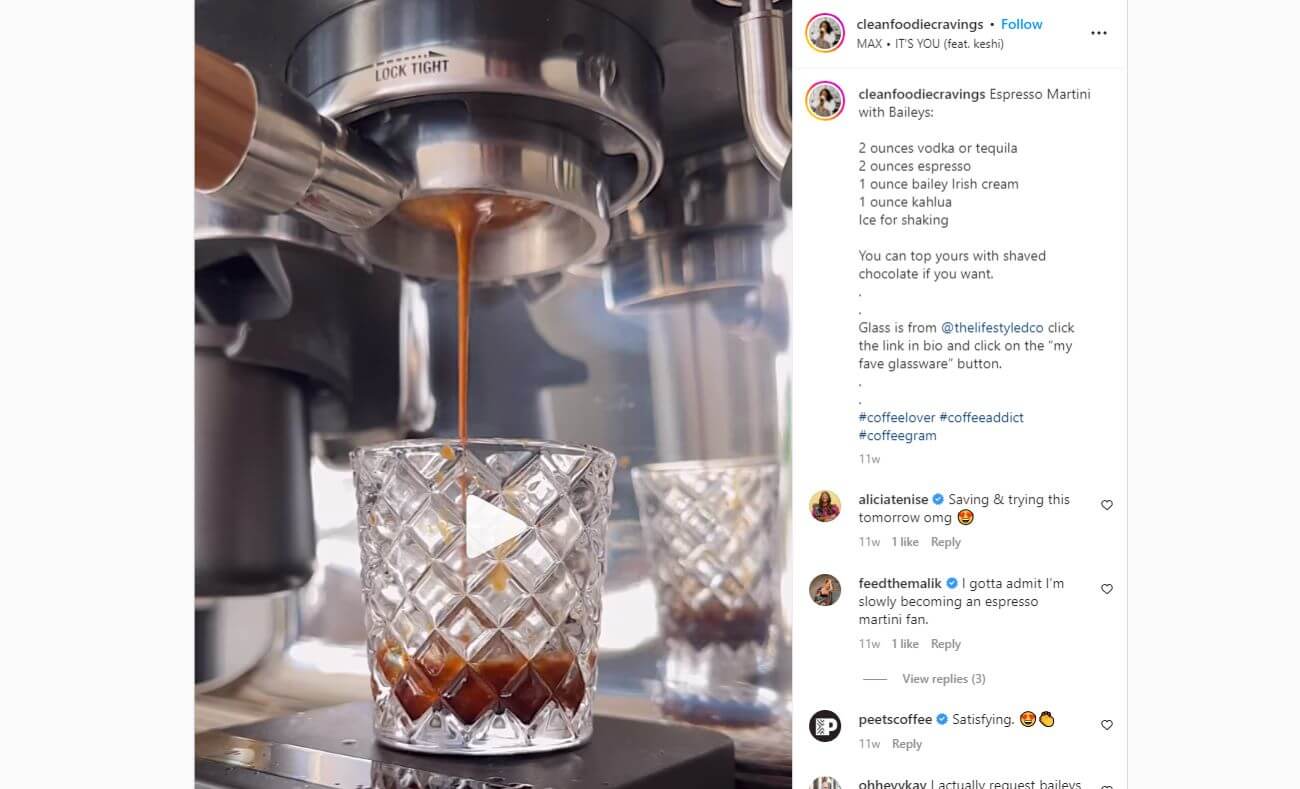 Smythe also does brand partnerships with companies like Whole Foods, linking and tagging appropriately in visually appealing, seasonally relevant posts like this Thanksgiving reel: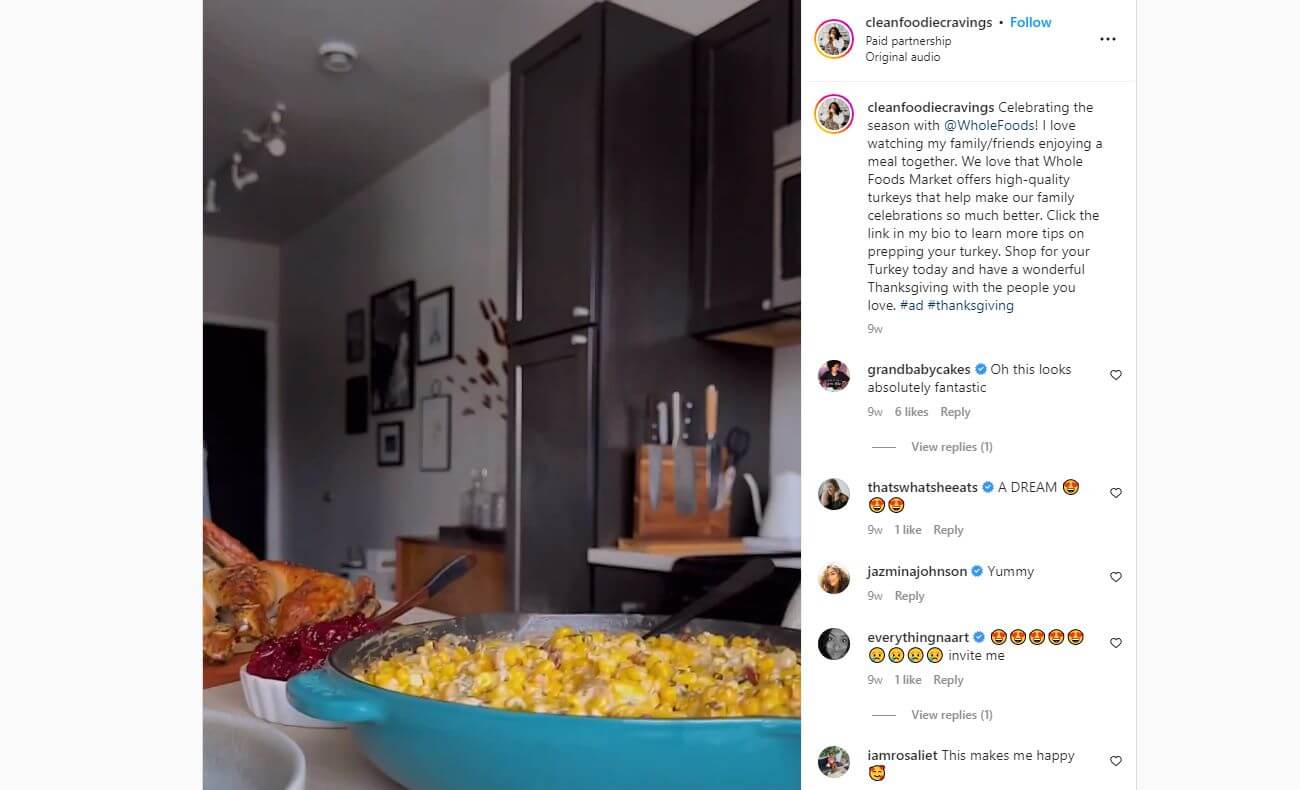 She casually directs viewers to the link page in her bio, where they can check out her own Amazon storefront.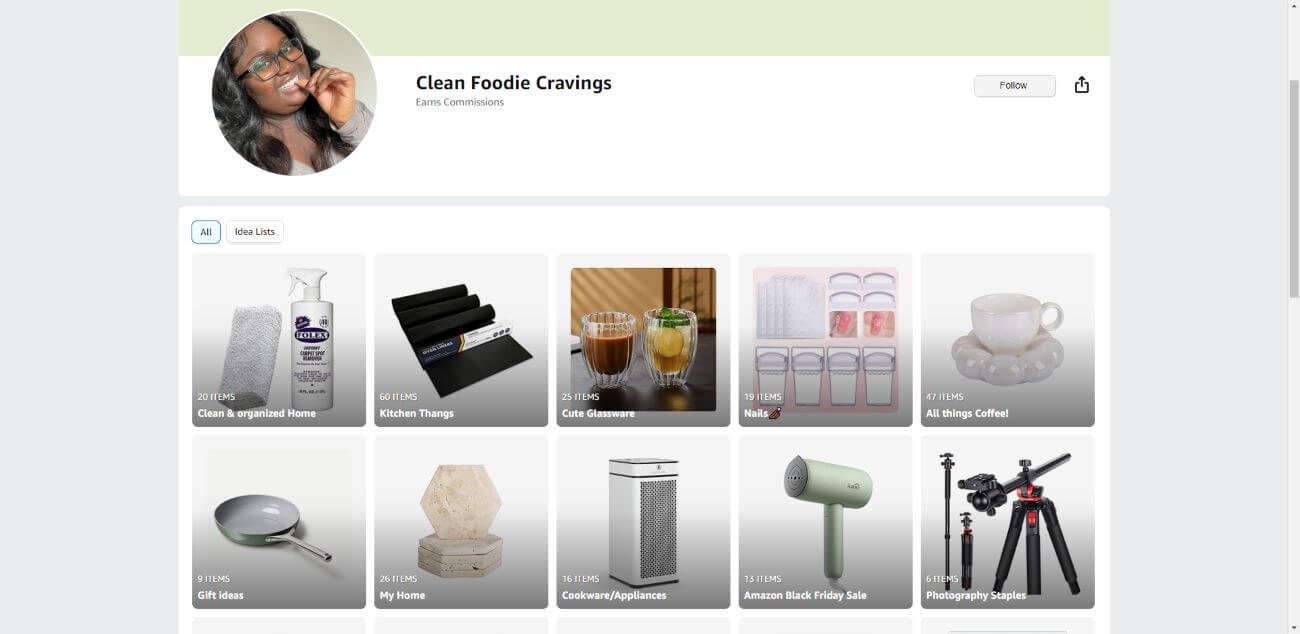 With 245,000 followers on Instagram, Charlotte Smythe is considered a macro-influencer, (that's anyone with between 100,000 to 1,000,000 followers on their platform).
A quick browse through her posts shows her initiative in trying to capture the 70% of people who tend to find their next purchase on Instagram.
Smythe follows a few important principles to crush it as an Instagram affiliate that you can follow, too:
Consistency. She posts everyday or every other day.
Community. She builds authentic connections with her audience.
Partnerships. She's always working with other strong brands.
Appeal. She only posts delectable, satisfying, visually stunning content.
The upside and downside of doing affiliate marketing on social media?
Pros of influencer affiliate marketing: You can be yourself and feel authentic to your values as you market products.
Cons of influencer affiliate marketing: Influencer marketing attracts many visitors, but many don't convert until you spend years building your social media presence. Buckley says:
They're [social media influencers] great for generating impressions and engagement, but their audiences aren't typically ready to conver.
3. Paid traffic affiliate marketing
Affiliates that don't have owned media properties can also buy traffic from platforms like Zeydoo and Propeller Ads.
The idea is that consumers who really like a particular product don't want to waste time getting it. By sending traffic directly to the landing page, paid traffic affiliates help the business attract more customers and help the customers get on with their day.
Luke Kling, founder of affiliate marketing forum and community AffLIFT, describes the good and bad of paid traffic:
One big pro of buying traffic is the potential scale. There are billions of eyeballs you can access every single day. However, paid traffic also comes with a big risk. What if none of the visitors you are paying to get to your site convert? The potential scale of buying traffic is great, but it also means if you are not generating sales, you can spend a lot of money quickly with little return.
Practicing what he preaches, Kling uses paid traffic affiliate marketing to generate more revenue for his forum.
I run tons of paid search campaigns to get new users registering to affLIFT and then use email marketing and retargeting campaigns to help show the benefits of the community so they'll pay to upgrade and engage in our discussions
Because of the traffic I am able to generate through the community, brands do pay me to help drive traffic to them as well. I currently work with over 200 different companies to help bring them new partners from our community of over 80,000 affiliates!
But Keanen Buckley sees a few more potential obstacles with paid traffic.
[Paid traffic platforms] definitely have their place in some verticals. In my experience, you lose a lot of visibility into where/how your product or service is being promoted. You also need to be very selective when it comes to picking the platforms you sign up to.
Pros of paid traffic: Immense new traffic and large numbers of new leads
Cons of paid traffic: Large upfront cost with the potential of minimal conversions
4. Comparison websites
Think of a product you own: your air fryer, for example. Now, think of how many alternatives were available when you made that purchase. Why did you pick the air fryer you picked? Perhaps a favorite blogger or influencer helped you decide. But if you had wanted a more objective view, you might have visited a comparison website instead.
Because of the amount of information at our fingertips, today's shoppers feel obligated to ensure they're making the best possible decision every time they open their wallets. That goes for everything from credit products and travel accommodations to kitchen gadgets and car accessories.
Let's say you're contemplating a trip to Norway to see the northern lights. You might conduct some research on travel comparison site Tripadvisor, first:
But ideas for how to experience the Northern Lights are just the tip of the iceberg when it comes to Tripadvisor's nearly billion-dollar enterprise.
Remember, you can aggregate Tripadvisor affiliate commissions and insights along with your other partners through Affilimate's integration
So, what benefits can you access with a comparison website versus a blogger or influencer? The potential for targeting a vast range of keywords stands out.
Here's what Thinkific's Buckley had to say about it:
[Comparison websites] are great for targeting long-tail keywords and can generate some great mid-to-bottom funnel traffic
See, influencers and bloggers have a specific niche of expertise. While some compare multiple products, it's hard for one person to honestly compare products outside their niche.
On the other hand, comparison websites have teams of reviewers to cover a wide range of audience interests.
Check out how the personal finance comparison site MoneySavingExpert walks through different broadband, television, insurance, loan, and credit card products to help people save money: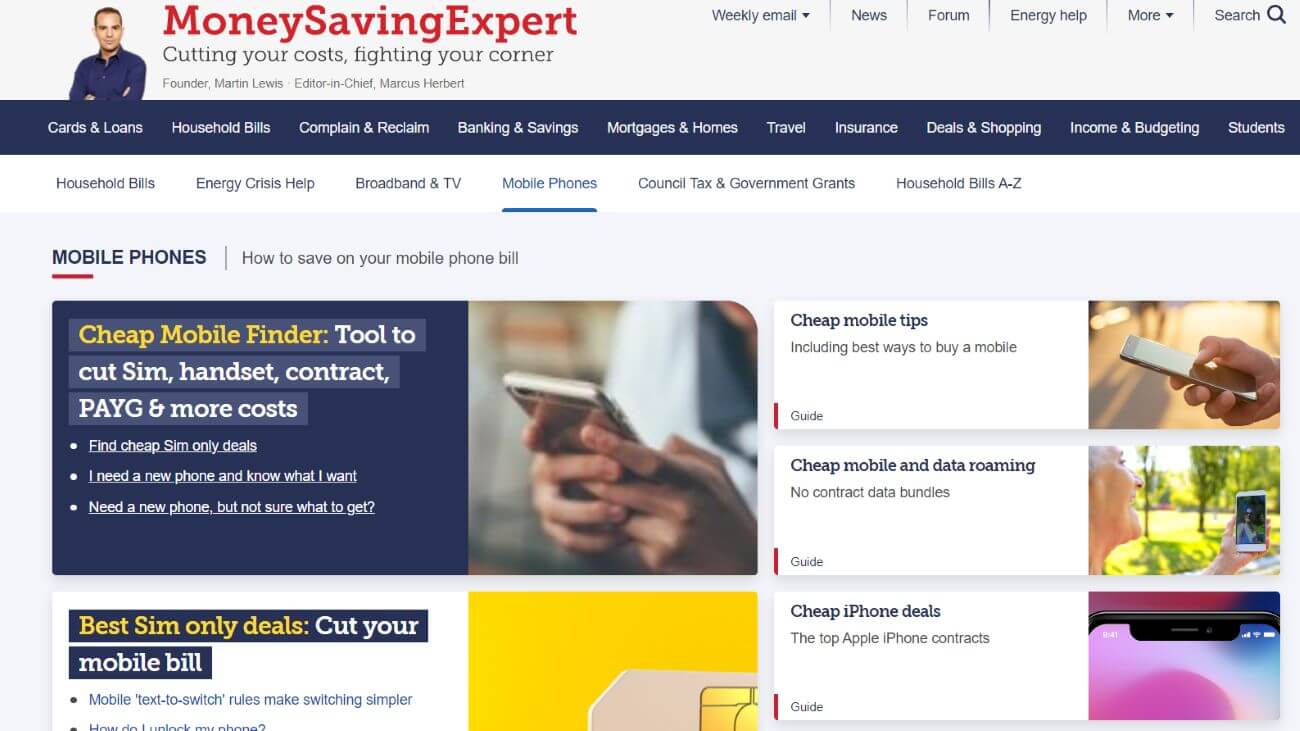 With 65 staffers, MoneySavingExpert even generates enough affiliate income to avoid using any display ads. Plus, they don't incorporate affiliate links until after an article has been written. This helps them prioritize their customers' needs over revenue and maintain the crucial trust in their brand.
Pros of comparison websites: Fantastic medium for keyword targeting and wide audience capture
Cons of comparison websites: Hard to start solo; Requires up-front investment in staff and SEO to generate results
5. Cashback, loyalty, and rewards
What's better than a discount? Cashback and rewards, according to PMA's report. "Specifically, 35% of total spending, or just over 1 in 3 dollars, went to cashback, loyalty, and rewards publishers (aka, websites and apps).
Just look at Rakuten. You might be more familiar with Rakuten as one of the biggest affiliate networks – but the affiliate giant also has a cashback app: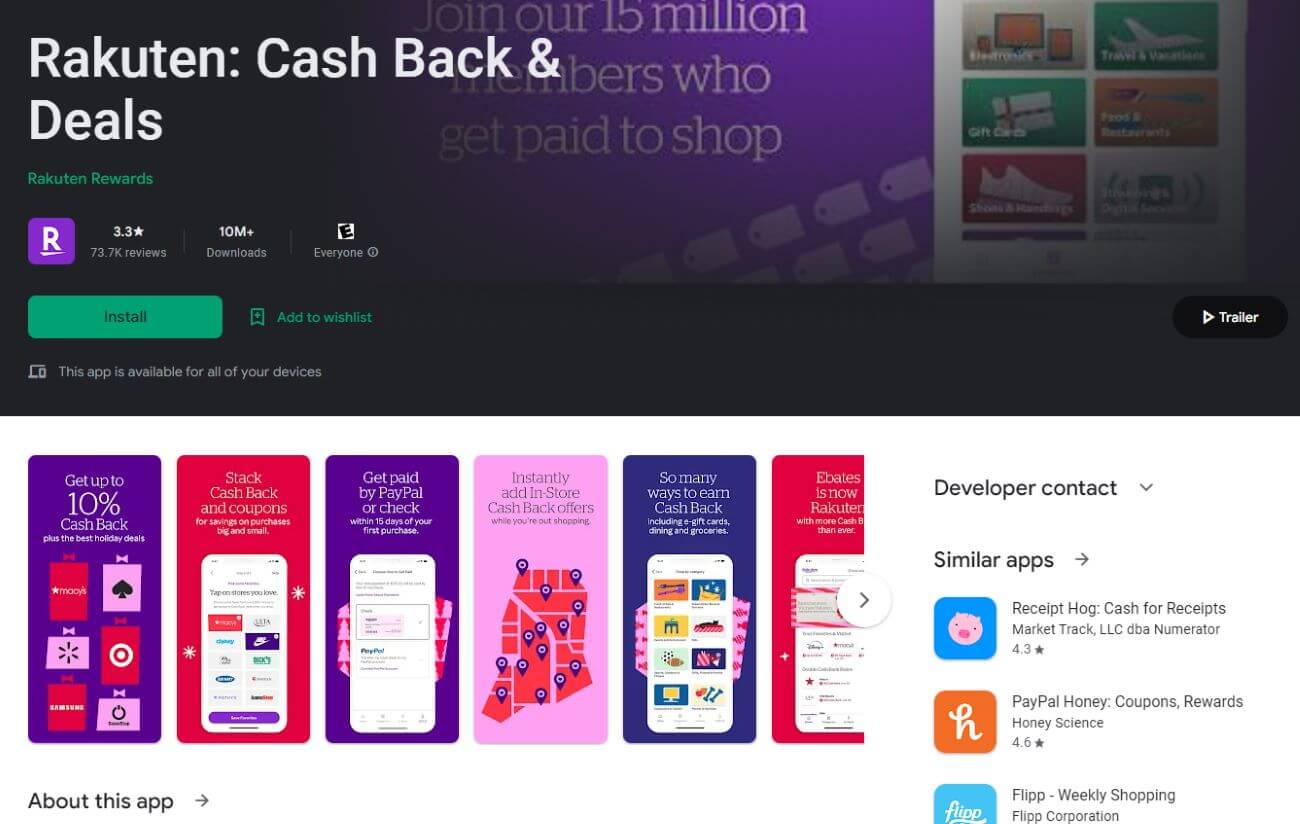 Another popular cashback website is Swagbucks. If you've ever received a gift card for taking a survey or shopping online, then you may already be familiar with Swagbucks. They're owned by Prodege, a marketing and consumer insights company that flaunts these impressive stats to potential brands:
Imagine your dream partners could see the amazing stats you have about your audience – they'd be lining up to sign you onto their affiliate program!
Of course, you'd need a strong platform to capture that insight. After conducting your own market research, Affilimate can fill in the gaps in the metadata with our content analytics features.
Not yet convinced? Prodege was valued at over $1 billion in a recent equity investment. Plus, the company makes about a 5% commission on all purchases made through its sites. Experts suggest that this success stems from consumers' willingness to freely share their data in exchange for cashback or rewards.
Pros of cashback, loyalty, and rewards: High audience interest and ease of data gathering
Cons of cashback, loyalty, and rewards: Privacy issues; brand reputation could suffer. Customers are impatient and frequently complain about delays in receiving payments, which is typical for these sites.
6. Coupon and vouchers
Who doesn't have a Honey extension on their browser? The automatic coupon application saves you time browsing coupon sites to find codes for your latest online purchase. Talk about convenience – even PayPal caught on, who recently purchased Honey for a whopping $4 billion.
Meaning? Coupon sites have a strong presence in affiliate marketing, maintaining the second-largest market spend at 16%. They're also enjoyed by a wide range of audiences, making them attractive to many different types of brands.
As the PMA report finds, there's "literally no demographic" for coupon users. In other words, almost everyone uses coupons. After all, why else would Groupon, a site that offers discounts for popular business products and services, make nearly $1 billion each year?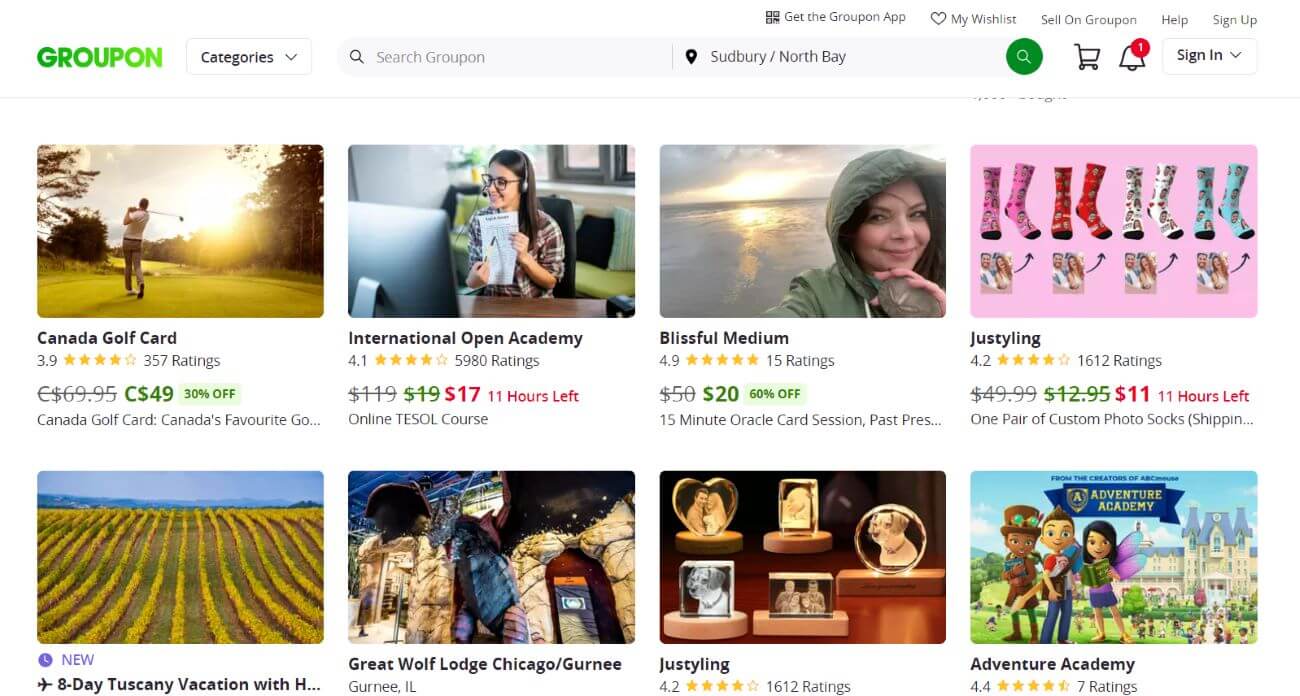 Of course, some brands are understandably hesitant to use coupon sites.
According to Buckley,
Marketers need to ask themselves if they want their brand to be known as a 'discount brand,' which could result in the market never wanting to pay full price for a product.
But a brand could easily combat the darker "discount" status by maintaining exclusivity through rare deals and select partnerships. And a valuable coupon affiliate like yourself could help each brand with those strategic decisions. As well, coupon sites help you increase average order value (AOV) with limited-time discounts. If your customers averages $50 per product, even a 10% discount on a $70 product might be the gentle push they need to spend more (and earn you more commission).
Coupon affiliates can also get creative in their specific offerings. For example, Gocertify helps brands verify audience credentials and subsequently target marketing campaigns to them. Gocertify helps you offer discounts to special groups like firefighters, military personnel, teachers, supermarket staff, and more.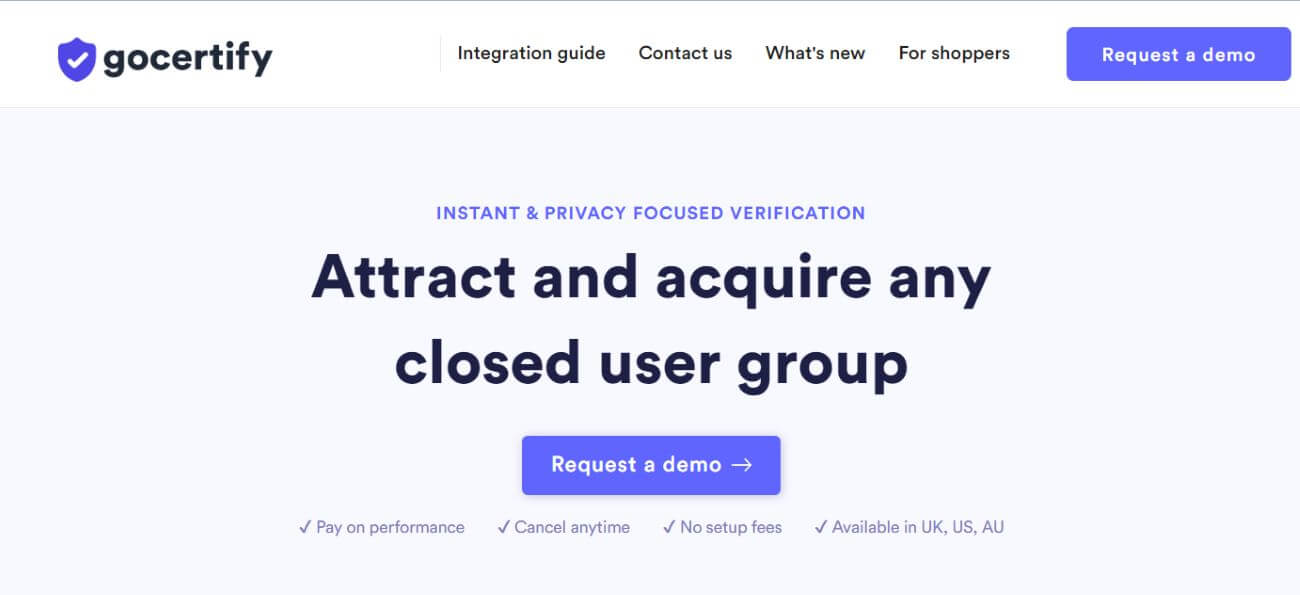 We asked Gocertify's founder Jonny Matthews what prompted his niche coupon site. He offered some insights into this unique affiliate type and how he met an existing challenge:
I noticed such a demand for healthcare discounts during COVID. I also noticed obstacles in how brands were giving these discounts, namely the long process in verifying customers and information security worries.
Matthews shares that he's become the biggest publisher for select retailers within a few months. But the potential for audience segments surpasses job credentials.
We do run other offers for broader groups, for example, verifying if someone has followed a brand on social media, made a donation to a specific charity, or completed a certain activity on Strava, the running app.
Pros of coupon and vouchers: Large audience
Cons of coupon and vouchers: Perception of being a "discount" brand
Wrapping-up
Now that you're up to speed on all the affiliate marketing types, which one do you think will benefit your business the most?
We know, we know – they all have potential. Whichever affiliate types you may be gravitating towards, the most important thing is to test them out.
Are you confident in front of a camera? You might excel as an influencer affiliate. Do you have a head for coding? Maybe your true calling is to create new coupon websites for niche brands. Remember: start with a strategy that allows you to play to your strengths…then try it out!
As Keanen Buckley puts it:
The truth is, all of these types of affiliates are important to a healthy partnerships ecosystem.
And after all,
Successful affiliate programs make their partners an extension of their overall business. You want as much coverage as possible throughout the marketing funnel.
So you're running a coupon site, a Twitter influencer account, or high-traffic blog. What's next? To make strategic decisions about your affiliate programs better and faster – and to bring in as much affiliate revenue as possible – you'll need a platform that helps you keep important data top-of-mind and delivers insight into the programs that are and are not working.
Ready to use data-driven insights to level up your affiliate program and increase your revenue?? Try Affilimate today!